Apple II Forever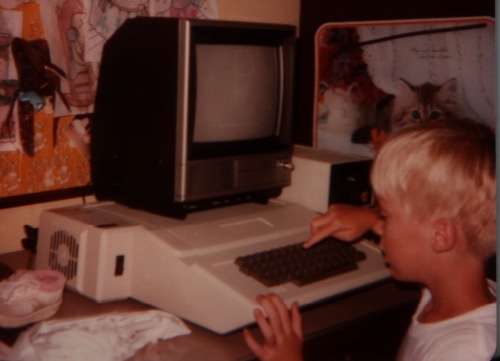 The author using an Apple II in 1983
---
Years ago, the only computer I had access to was an Apple II. I spent a lot of time hacking on it in BASIC, but we eventually got a 386 before I got into serious programming.

I do still own an Apple system, and still create projects on it when I have the time...

---
Projects of Mine
Tom Bombem 6502. A video game written in 6502 apple 2 assembler.
Linux Logo 6502. I ported my assembly language linux_logo program to 6502 assembly.
Linux Apple Dos 3.3 filesystem driver. Mount your old Apple II disk images as a Linux filesystem!
Apple Dos 3.3 utilities. mkdos33fs, dos33defrag, make_b, asoft_detoken, userspace dos33 tool.
upload_slow.c. A program to upload programs slowly from Linux to the Apple II monitor over a super-serial link.
I plan (hope) to make an ARM accelerator card that runs Linux that plugs into the Apple II, much as the z-80 cp/m cards did back in the day. (Turns out someone else has managed to do this before me, but I still might try it anyway).
Other Interesting Projects (not by me)
---
Back to VMW Productions