6-Channel Apple II Chiptune Player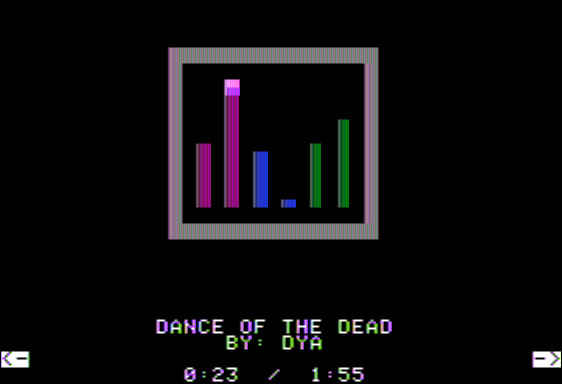 ---
Details
This is a quick hack to get 6-channel chiptunes playing with an Apple II with a Mockingboard card.

More info can be found on playing a wider selection of 3-channel chiptunes at my VMW Chiptune Player page.

I made this to play a song provided by Dya.

The long term plan is to create a player that can play PT3 pro-tracker files directly. This will avoid the current issue where I repack the files into my custom KRW format which needs 14k+10k of RAM for each set of 3 channels to play (plus slow LZ4 decoding).


---
System Requirements
This needs a Mockingboard card in Slot #4
You also need 64k of RAM (so, a language card on II+ and earlier)
It might only work on IIe enhanced and more recent due to taking interrupts while the language card is active. (older machine ROM firmware does not support this well)
This has only been tested on recent AppleWin
It does not seem to work under MAME for some reason.
---
Downloads
Apple II Code/Disk Images
---
Other Apple2 Projects
---
Back to the VMW Software Productions Page