Magic Mentos
Over the years I have enjoyed eating Mentos. This has nothing to do with their weird advertising campaigns, and a lot to do with the easy availability of them at the John Carroll bookstore.

So for no good reason, here is a list of the various flavors I've had. This only counts the long roll form... See here for mini rolls, here for boxes, and here for gum.

Yes, I know this is not an original idea. (see here or here).
---
The Big Three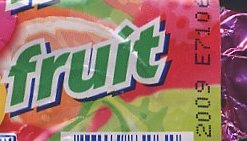 Mixed Fruit. The most common flavor, in my experience. I like them OK. The "Fruit" labeled Mentos with the fancy colored foil I bought in England.




Mint. Sometimes referred to as "albino". My least favorite of the big three, a bit strong for me.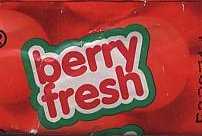 Strawberry. Also sometimes known as "Berry Fresh". My favorite of the more common flavors. For a while these were harder to find, but recently they've made a comeback.
---
Harder to find Flavors


Cinnamon. I like this flavor. They were really common for a while, but now a bit rarer. I think I paid an exorbitant price for this particular pack at the Denver airport.






Green Apple. The local P&C grocery store was running some sort of "limited edition" pack that had this flavor. A bit sour, but I like them.
Also shown are a pack from Germany and a more recent US pack I found on clearance at Food City.




Grape. Another "limited edition" flavor found at P&C. I like this flavor too.




Grapefruit. These are supposedly available in the US, but I've never seen them. Kristina surprised me with a huge batch of them at Easter. Very sour. I like them, but it is too easy to eat too many in one sitting. I like how they are fortified with Vitamin C.




Kiss Me. I got these at the Knoxville airport. Most of the package is regular white mint, but there are two red-tinted mints in the middle.




Peach. I found these in a candy store at Pier 39 in San Francisco. The new crown in the "most expensive mentos" category, they cost nearly $2 for a roll. I really liked the flavor though, and the peach-colored foil on the ends was a nice touch. I also got a pack of Licorice here with English labeling (unlike the Dutch Pack listed below).




Piña Colada and Mojito. Super-awesome Mentos finder Katrina brought these back from Hawaii for me! The Piña Colada ones had a very interesting coconut taste. Mojito were a bit bland. I suppose it would have helped if I ever drank cocktails.


USA:



Germany:



Rainbow. This is the American take on Rainbow mentos. I include the German version for reference. The American version has watermelon (green with red inside), cherry, orange, raspberry, grape, pineapple and strawberry. I like the cherry flavor a lot.




Sours. Includes new flavor Watermelon. Kristina somehow found a roll of these for me as a wedding present.





Easy to Connect / Say Hello / Fruit. These have pictures of things to do printed on each candy. I got these at the Phildaelphia airport.




Emoticon / Say Hello / Strawberry. These have weird face pictures on them. Again, I got these at the Phildaelphia airport.





Candy Cane. Yet another mint flavor. Tastes just like a candy cane. Continues the trend of having pictures on them. K got me a bunch of these for Christmas.




Blue Raspberry. K risked poor mask discipline at the Dollar General to get these (it was an exclusive flavor there?) Taste just like you'd expect. Notice that they're in a smaller roll than normal (29.7g instead of 37.5g).
---
Japanese Flavors


Lime Lemon. Kristina got these for my 1/2 birthday. She has been impressive with her mentos-obtaining skills. I like the taste of these; they are much stronger than the "lemon" yellow mentos you'll find in combo rolls.




'n Cream. I got these from Kristina for Christmas in 2007. They are indeed creamy, and the base flavor is some sort of melon, a bit reminiscent of cantaloupe.




Pine Fresh. I got these from Kristina for my birthday in 2008. They taste like pineapple, just as you'd expect.




Choco White. K got these for me in 2019 sometime. They were good, but similar tasting to the other Choco varieties.
---
Hong Kong Flavors


Lychee. I got these online. The taste is interesting, I've possibly never had Lychee in real life so I can't tell you how authentic it is.



Grape Mix. I also got these online. Three colors of candy, each a different grape variety. A bit sour. I like this better than the plain "grape" flavor you sometimes find in the US.


---
European Flavors
Ordered Online
I admit I cheated. I was curious as to how I could find some of the more obscure European-only flavors of Mentos. Then I suddenly realized this is the modern age, and to use the internet. So I quickly found a Dutch Grocery store in California that sold Mentos online.




Licorice. Another flavor you don't want to eat too many of at once. Tastes just like Licorice.



Strong Mint. If you thought regular mint was strong, these will definitely open your sinuses.




Red Orange. Maybe the US equivelant would be Blood Orange? In any case these have a nice mild flavor, not as sour as some of the citrus varieties.




Air Action. I'm not sure if these count, but they sure look like Mentos to me. They are strongly mint, stronger than regular but not as strong as "Strong".


England



Berry Mix. These include raspberry, black currant and cherry. I got these for £0.80 at a news shop in Bourton-on-the-Water, England. I really like the flavor of currant candies, so I was glad to find these.
Also shown is a French/Dutch/German labeled pack that my in-laws picked up for me somewhere else in Europe.
Germany
On a recent trip to Germany I was on the lookout for new flavors, and I managed to find some! As of April 2010 the going price was about a Euro a roll (though the duty-free ones were much cheaper).




Fresh Cola: I liked the taste of these. I first found them at the train station in Mannheim.




Rainbow: Includes grape, strawberry, orange, watermelon, pineapple, raspberry, and green apple. My favorite of those is raspberry. (Note the different flavor selection than the american rainbow flavor).




Spearmint: I can't really tell much difference between these and regular mint. I bought these near the boat docks on the Chiemsee.




Watermelon Mango Orange: I got these in a giant novelty container in the duty-free shop in the Frankfurt airport.

The Netherlands
Despite being the home to Mentos, I was unable to find any interesting flavors during the day I spent there. Disappointing.
Slovenia


Grape: This looks very similar to the US version, but these are a pack my sisters-in-law picked up for me in Slovenia.
Croatia


Watermelon: My sisters-in-law picked up this roll of Watermelon for me while they were in Croatia.
---
Australia
Our friend Katrina moved to Australia and was nice enough to send some of the hard-to-get flavors my way.




Berry Blast: Strawberry, Raspberry and Black Currant. Unlike the previously mentioned "Berry Mix" this pack has Strawberry instead of Cherry.




Citrus: Grapefruit, Lime and Orange. I like the Lime flavor, which was new to me.




Green and Gold: Apple and Pineapple, also Australia's soccer colors.




Orange: Limited Edition!




Watermelon: Another limited edition. Unlike the European watermelon flavors, I feel like these tasted a bit more like canteloupe.




Tropical: Passionfruit, Citrus Mango and Pineapple. I liked these, a bit tarter than the citrus ones.

Australia Mentos correspondant Katrina outdid herself and sent me a number of new flavors!




Black Currant: Finally in standalone form! I like this flavor.




Lemon Lime: A good combination, the lime is especially good




Pineapple: Tastes as you'd expect.




Raspberry: Nice to have these standalone, I liked them previously in berry mix.




Mystery Mentos: Mysterious! (Apparently guessing the flavor was some sort of contest). They tasted citrusy (the main ingredient listed is grapefruit juice).




Mint Mix: Mint, Spearmint, Fresh Mint, Black Mint. An interesting idea. The black mints are overwhelming and quickly clear out your sinuses.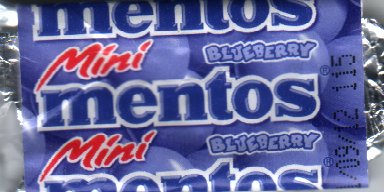 Blueberry: I usually only list the minis on a separate page, but Blueberry was an interesting enough flavor to be worthy of mention. I like this flavor a lot, and it tasted very much like blueberry.

Another Australian friend, Nicky, obtained some Mentos for me!




Rainbow: Again, a different combination of rainbow flavors from the American or European versions. This pack has strawberry, apple, grape, orange, grapefruit and new flavors kiwi and cranberry!




Choco & Caramel: These are interesting as they are more like a chewy caramel candy, and you'll note that the endcaps aren't actual foil.




Choco & Mint: Sorry for the wrapper quality, these aren't foil lined like normal mentos, so they don't squish flat. Caramel and mint is an interesting combination but I liked them.



Pink Lemonade: This batch was sour, reminiscent of the grapefruit flavor.


---
More imported
A student of mine, Chris M, found these at an import shop here in Maine:




Duo Strawberry/Lime: an interesting combination of flavors.




Erdbeer (Strawberry) Mix: Sweet/Original/Sour. I liked the sweet flavor best.




"Shakies": I liked the peach shake flavor the best of these.




Choco & Caramel (German)

Later that year we stopped by the import shop ourself and got one more flavor, this one is labeled in Cyrillic and is possibly from Bulgaria?



"Rainbow 2 New Flavors": Presumably the new flavors are blueberry and grapefruit.


---
Just received a large shipment of mentos from France in return for sending some labels over: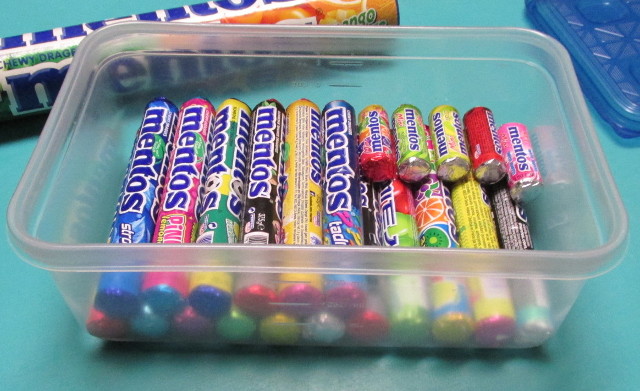 Pink Lemonade -- I liked them, sour

Duo Black Ice (Menta Verde/ Menta Forte) -- towards the high end of minty (I have to admit the various levels of mint are lost on me)

Tadi Ne (Turkish Mystery)

Strong Mint (Blue)

Strong Mint (Grey)

Licorice Mint

Mix on the Beach (Peach/Orange, Strawberry/Banana, PassionFruit/Mango)

Reglisse (French Licorice)

Rainbow Special Edition (Lemon/Watermelon)

Rainbow Special Edition (Lemon/Cherry)

Soda Mix (Unknown Language)

Apple (Japanese)

Raspberry/Melon (Somewhere cyrillic?)

Matcha (Rich Green Tea, Japanese). I really liked these.

New Rainbow (Kiwi, Cranberry Yuzu)

Fruits Acidules (Sour Fruit?)

Strawberry / Green Apple

---
Yet to try: there are rumors of Barley Mint, Banana 'n Cream, Fuji Apple, Ice Pomelo, Dalandan, Ponkan, Chlorophyl, Wintergreen, Soft Fruit, Japenese Plum (Ume), Lime-mint, Juicy Mango, Juicy Cassis, Lemon Yogurt, Jam Filled Strawberry Lemon, Pomelo, Choco and White Caramel, Strawberry Yogurt, Peach-Orange, Coconut-Pineapple, Mango Soda, Apple Cider, Circus Fun, but I have yet to find them...
---
Other mentos products eaten by me:
---
Other mentos things:
---
Back to my pictures page
---
Last updated 23 January 2020