Vince Finally Stays at Home for a Weekend
---
At the end of August Kristina came for a visit.

After an abandoned attempt to find a parking lot in Ithaca, and severely detoured due to construction, we ended up at Treman Park again. Unfortunately it was hot and humid, but that did not stop us!

On the way in after buying a parking pass they offered us free samples of breakfast cereal. Odd. It is new Kellogg's Smore Cereal.

I had been to the lower falls before (See here for details).

We hiked "2 miles" to Lucifer Falls. Every distance in the park was marked "2 miles" no matter how far along the trail you had traveled. Here is a picture of the falls patched together as it is so huge.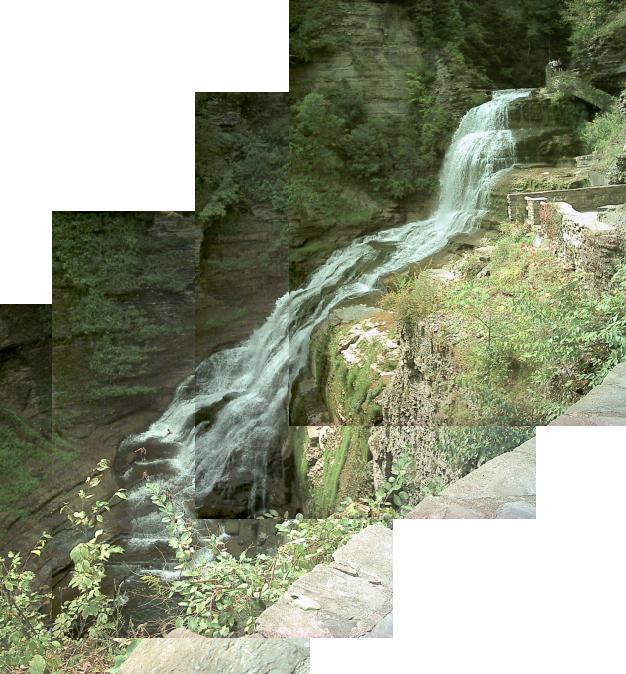 Above the falls is a neat gorge and flume.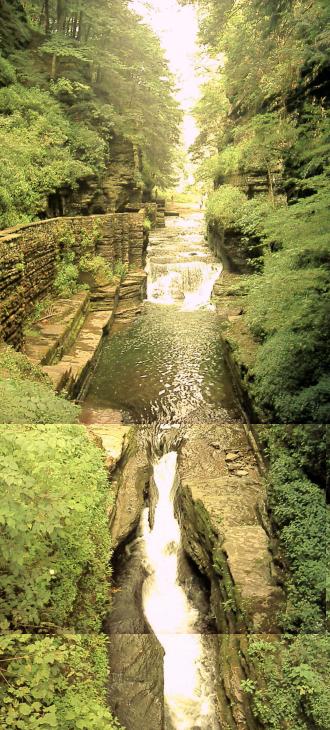 We then hiked back along the mis-named "Rim Trail" that was very buggy and not very scenic.

At the end we changed into swimsuits and got into the 68 degree water at the base of the lower falls. Kristina swam out to the waterfall, I was boring and stayed in the shallow end. Lest you think this was illicit swimming, they actually have the stream dammed up here with lifeguards and a diving board and everything.
---
The next day we went to Taughannock Park (which I have described before here and here). I was beginning to wish I had bought an Empire Park pass. We walked to the falls, and back. We had a nice picnic lunch (and I managed to start the charcoal fire first try and with no lighter fluid!). We were going to go swimming in the lake, but a thunderstorm came up and they closed the beach. Meanwhile we drove to the upper overlook of the falls.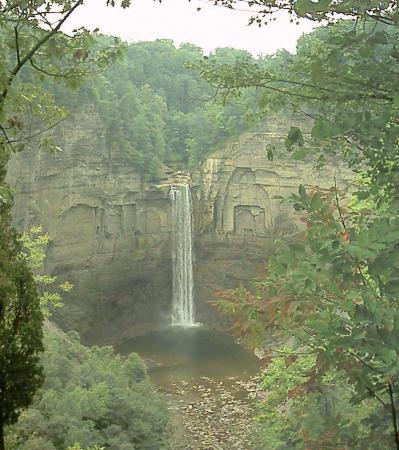 We kept going and found the not often talked about upper falls. It would be quite a waterfall in its own right but is overshadowed by the one downstream. There is a nice viewing area from a former train bridge.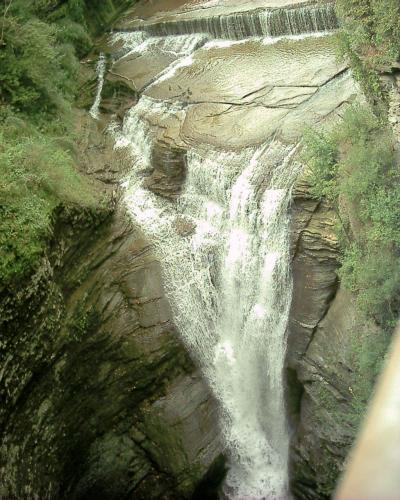 After this we went to Cornell to see a TMBG show that I had found out about at the last minute. Sadly there was an opening band and a thunderstorm delay so the concert didn't start until hours later. Poor Kristina would have much rather been swimming!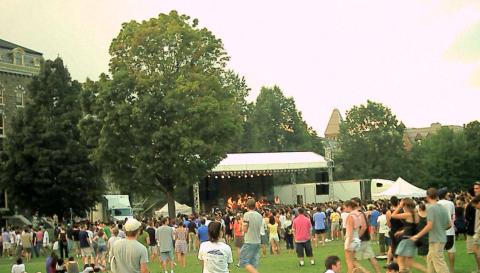 The concert was my 9th (I think). It was similar to the recent Baltimore one, except for the addition of "End of the Tour". I could just be getting old and picky, but their concerts have been repetitve lately and not quite as exciting as they used to be.

And then, sadly, the weekend was over and Kristina had to leave.
---
Back to late summer travels page