Vince's Trans-continental Trip
18 May 2005 - Wednesday
---
This day was a special day, it was the day I turned 10,000 days old.
---
Kristina and I woke super early in the morning to get an early start.

0 Miles - Left Abingdon, Maryland
We traveled through Western Maryland on I-70. I'm semi-ashamed to admit I had never been further west than Frederick before. One of the highlights was passing through the famous Sidling Cut where a cut was made through the mountain rather than building a tunnel:



We decided to take I-68 instead of getting onto the Pennsylvania turnpike, avoiding some tolls and also the infamous Breezewood PA. We also got to pass through the narrow part of Maryland, where it is barely 2 miles wide.

209 Miles - Arrived West Virginia
Temporarily in West Virginia, we then took I-79.

252 Miles - Arrived Pennsylvania

308 Miles - Arrived West Virginia (again)
Now going through the narrow point of West Virginia that sticks straight up. We crossed the Ohio River at Wheeling.

322 Miles - Arrived Ohio
This was my first visit to Ohio! By this point we were back on I-70 and cutting straight across the state, through Zanesville, Columbus, and near Dayton. They had cool pictorial designs on their sound-barriers (space themed, since many astronauts and Wright Brothers were from this area).

We saw this truck... yes the egg council creeps have apparently gotten to my family too! Although as far as I know there's no relation.



550 Miles - Arrived Indiana
My first time to this state as well. Actually, except for Utah and California, all of the remaining states on this trip were new to me.

We drove through Indianapolis, home of the former Baltimore Colts. Here's the skyline: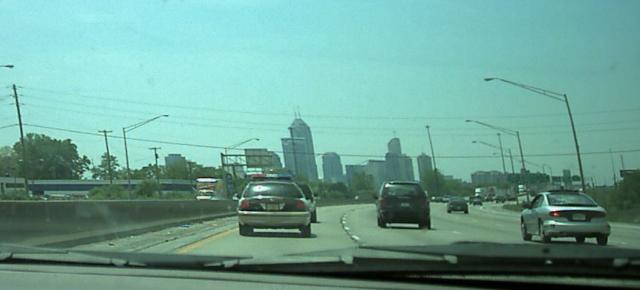 We got on I-74 after cutting through the city. We passed near the racetrack, although the big race was a week away.

Soon began the recurring theme of our trip, the orange highway signs announcing "Road Construction Ahead" inevitably followed by "Right Lane Closed, Merge Left". There was a lot of road construction going on, giving credence to the old joke about there being two seasons in the Midwest, Winter and Construction. We were lucky, except for one spot we never had to come to a complete stop despite all of the road work.

715 Miles - Arrived Illinois
In Illinois we drove through Urbana-Champaign (home of UIUC, and also a former home of Kristina's family), Bloomington, and Peoria. Our route was chosen for us around Peoria, as the I-74 bridge was out so we had to detour around on the beltway.

We finally reached the Mississippi River:



In the distance you can see the "Quad Cities" of Davenport Iowa, Bettendorf Iowa, Rock Island Illinois, and Moline Illinois.

944 Miles - Arrived Iowa
By this point It is starting to get dark.
We're now on I-80. We passed near Herbert Hoover's grave.

We also passed near the Amana Colony, a Utopian society that founded a series of small towns that became more famous for appliances, and now seems to be the site of a large Outlet Mall.

We stopped in Iowa City, home of the University of Iowa. We ate at a Steak 'n Shake. These are really neat restaurants, where you are seated like a fancier restaurant but the food is fast-food-like and came super quickly. Good "steak" based burgers and sandwiches, and a huge variety of milkshakes.

It had started raining, but luckily the rain thinned out a bit and we stopped for the night at the Altoona Motel 6, just outside Des Moines by the Adventureland Theme Park. The Motel 6 was unexpectedly fancy.

1100 Miles - Arrived Des Moines, IA

---
Day 1 - 1100 Miles Traveled, 1398 Miles Total
---
---
Back to the main trip page