Vince's Trans-continental Trip
19 May 2005 - Thursday
---
As always we woke early, but it was easier as we were on Central Daylight Time by now.

0 Miles - Left Des Moines, Iowa
We started by going north on I-35, but then taking progressively smaller roads. Despite the stereotype of Iowa being vast corn fields with nothing much else around, you'd be surprised at how big and bustling some of the random towns along the way were, especially if they were county seats.

Here is some typical flat Iowa farmland:




A lot of the rivers along the way looked flooded; this was a common theme throughout our trip. I am not sure of this was a result of spring snowmelt, or if the whole Midwest had gotten massive rains recently.

Around 10am or so we arrived in West Bend Iowa, home of the Grotto of the Redemption. This is the work of a Catholic priest, one Paul Dobberstein. In the 1880s he contracted pneumonia, and prayed for his health. When he got better he decided to make his life's work to build the shrine. It is completely coated in rocks, petrified wood, and gems from all over the world.

Here is a picture of the front, with a tiny Kristina in the foreground: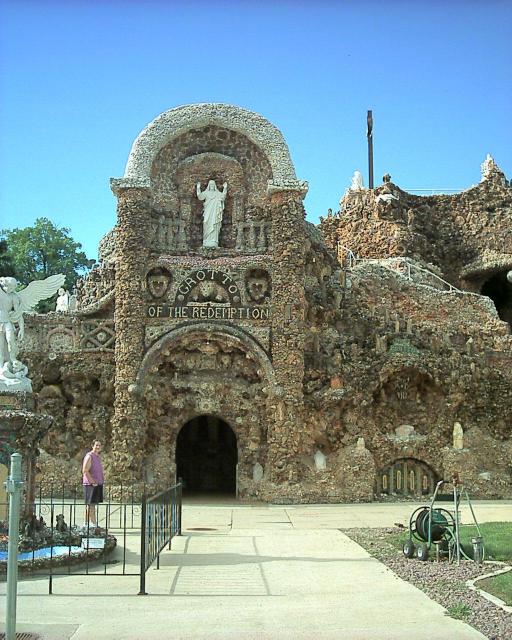 The stations of the cross and various scenes from the life of Jesus are acted out amongst the rocks. You can also climb to the top and survey the Iowa countryside. Here is Jesus, his mother, and the cross.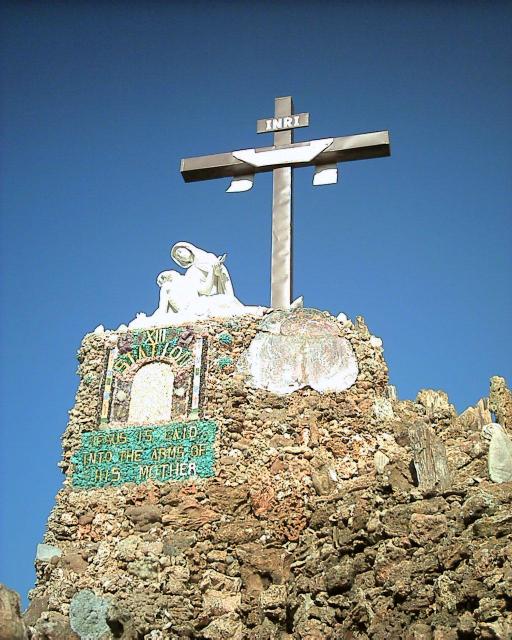 There were numerous rooms you could enter, and also other things made with the rocks. Here is the snake, which was tempting Adam and Eve: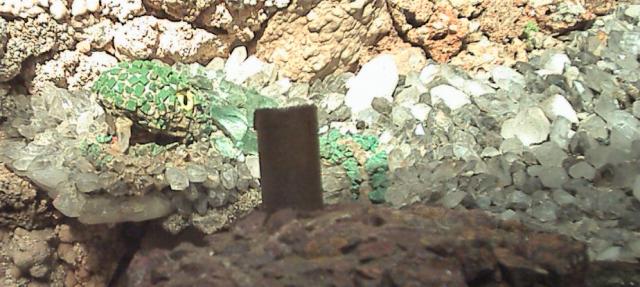 Even the outbuildings were covered with rocks. Those are geodes arrayed in patterns, the green is malachite, and there are giant hunks of quartz everywhere.



And here is a statue of the man who made all of this possible. You can't tell, but he's holding a geologist hammer.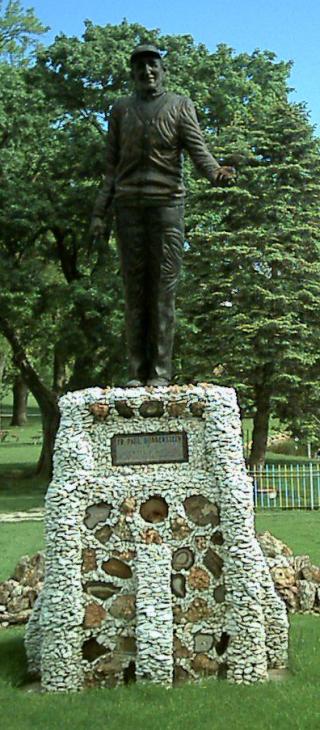 The whole place was amazing, but alas we had to get back on the road. We drove through Cylinder Iowa (which did indeed have giant Cylinders) and through Spencer Iowa (which had a "beltway" [more of a bypass] that seemed to be a dirt road that admittedly did bypass the busy US-71 corridor). In this part of the country you can't go two blocks without passing a Lutheran Church.

We got gas in Spencer. Buying gasoline became a confusing endeavor. In the Midwest, premium gas is cheaper than regular. This is because premium has 10% ethanol added, and the ethanol is heavily subsidized. To make things worse, the gas typically came in 86 88 and 91 octanes... my car is only supposed to take 87. Luckily for me my owners manual said my engine could handle 10% ethanol just fine. It gets even worse in Wyoming and other mountainous states where "regular" tended to be only 85 octane.

We traveled through the resort town of Spirit Lake, Iowa, and on to Minnesota. It was interesting that as you neared Minnesota the landscape got hillier, and there were these beautiful blue lakes everywhere.

223 Miles - Arrived Minnesota
Here is an example of the scenery:



We picked up I-90 in Minnesota and continued heading west. The speed limit here, and for much of our trip, was 75mph, the fastest I've ever legally driven.
---
---
Back to the main trip page