New Hampshire Trip - The End
Saturday was our last full day in Littleton. It rained all day, so we stayed in town. A lot of the pictures on the first page actually were taken this day; my camera was unintentionally set to "fuzzy" that day.

One thing we did was go a few buildings down from our hotel to Chutter's, which has the world's longest continuous candy counter (at least according to the Guinness Book of World Records). (Mmm, they also have pretty good fudge. -K)

Here I am selecting some candy:



Here is their rainbow selection of Jelly Beans: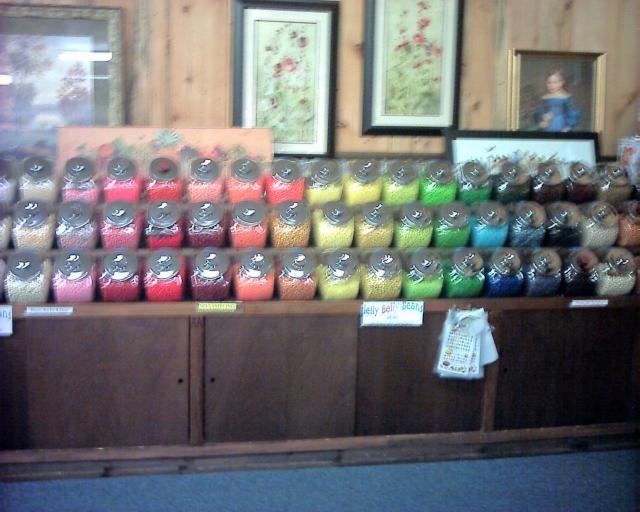 And here is their rainbow selection of M&M candies: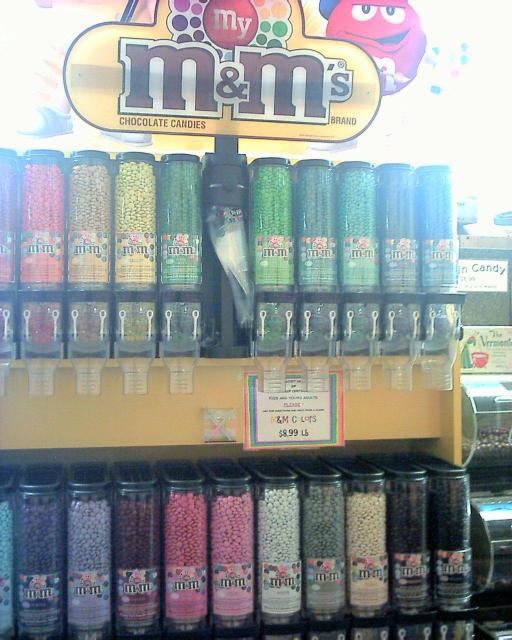 We walked around downtown and saw a movie at the local theater (The Wallace and Gromit movie. I'm not sure why he puts in every other detail but then leaves relevant ones out. -K), and sadly packed for our return trip.

The next day we drove home. First we stopped at Shaw's for some Maple Chunk Bread. We took 302 south, and the road was reduced to one lane due to flood damage (which was the only impact of all the flooding we saw on our trip). We took I-91 south to White River Junction where we caught US-4 across Vermont.

We drove above Quechee Gorge the so-called "Grand Canyon of Vermont", but didn't stop due to the rain.

We also passed the home of Justin Morgan, who originated the Morgan Horse.

We drove through the famous ski area in Killington Vermont and finally at the New York border the rain stopped (at least temporarily).

We drove through a corner of Adirondack Park, including White Hall, NY which makes the unlikely claim that it is the birthplace of the US Navy (due to anti-British activity on Lake Champlain in 1775). See here if you are more curious on this topic.

We drove toward Albany, had a lot of trouble finding a gas station there, and finally arrived safely back in Ithaca! And thus ends our exciting trip to the White Mountains.
---
Go here to see pictures with Kristina in them (password required)
---
Back to main trip page