New Hampshire Trip - Crawford Notch
So after our morning trip to the top of Mt. Washington, we spent the rest of the day visiting waterfalls. Now we were in Crawford Notch, which US 302 runs through south-west of Mt Washington.

We first hiked along a trail and some stepping stones to Gibbs Falls (10). Or at least we think it was Gibbs Falls, it is hard to know sometimes when you are at the actual "falls" (Because the babbling mountain brooks are full of falls -K):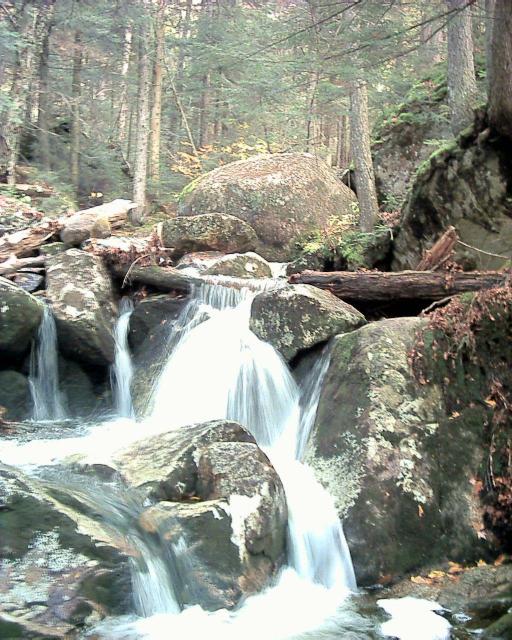 To get to the next set of Falls we parked at a railway station and had to sneak across the tracks to find the trail, the Cascade Loop. The first was Beecher Cascade (11):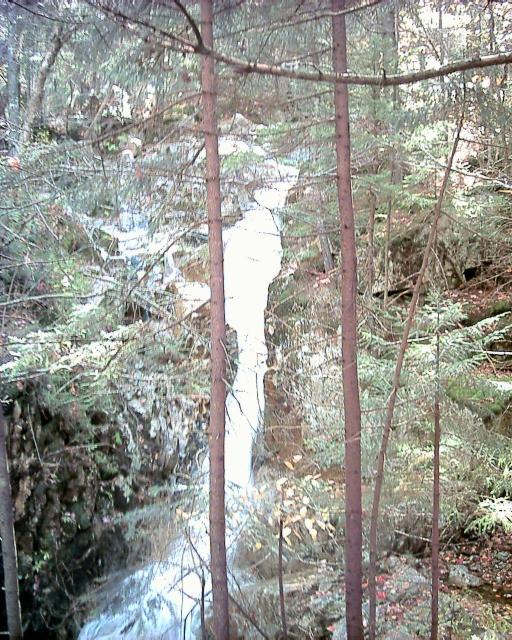 And the next was Pearl Cascade (12):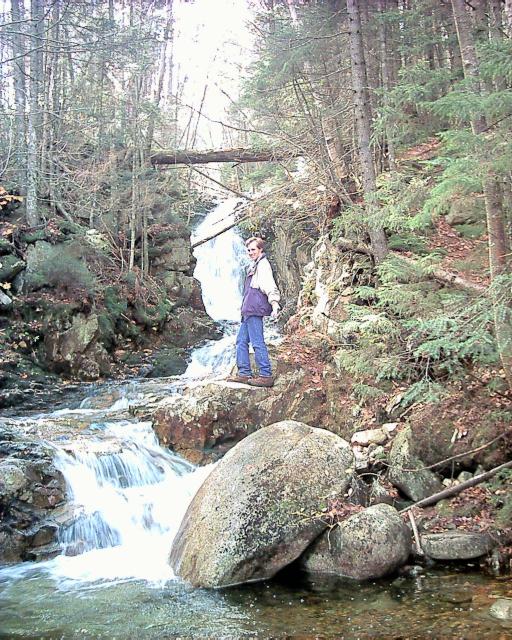 The next two waterfalls were right on the side of the road. The author of the waterfall book seemed to think these falls were wasted on the people driving by; it is true you appreciate a fall more after you've hiked 2 miles up a steep cliff trail. (Our pictures don't give you enough feel for how much of that we actually did. -K)

Here is the Flume Cascade (13):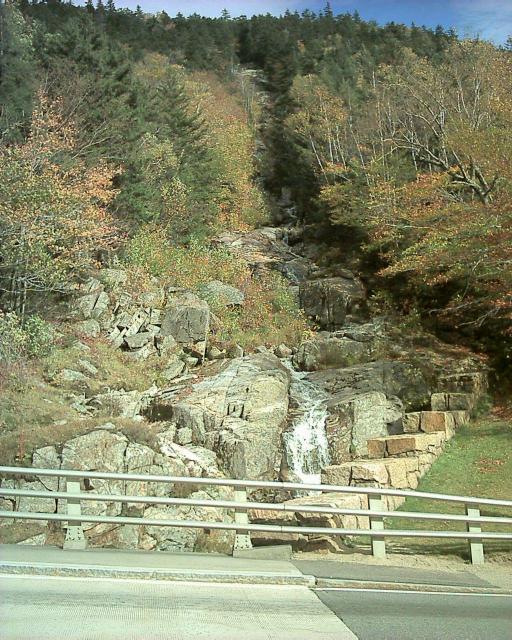 If you've ever wondered what a Notch looks like, here's a great picture of US 302 heading straight into Crawford Notch: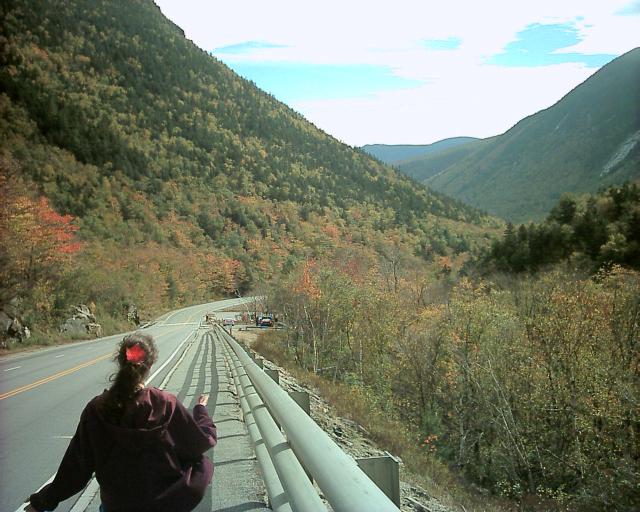 Here is the other roadside falls, the Silver Cascade (14). There are pictures of Kristina swimming at the base of this as a child.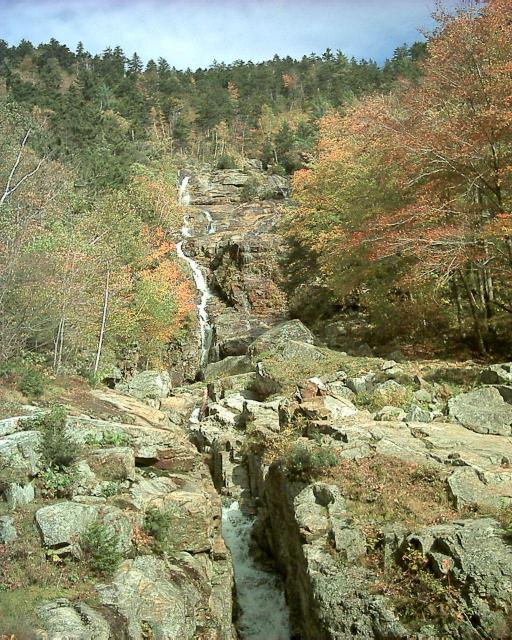 After this we decided to take the long moderately steep trail ("easy" says the guidebook -K) to see Arethusa Falls. This is the highest falls in New Hampshire and had many more people at it than the other falls we visited.

We took the more scenic side trail to catch some other waterfalls along the way. Here is Coliseum Falls (15):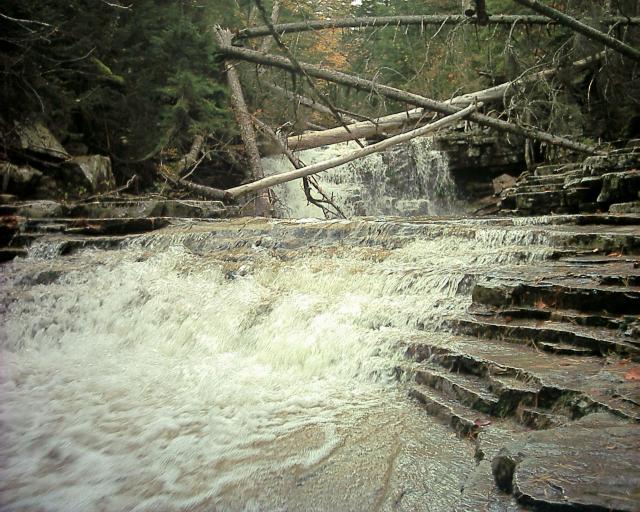 Next we came to Bemis Brook Falls (16):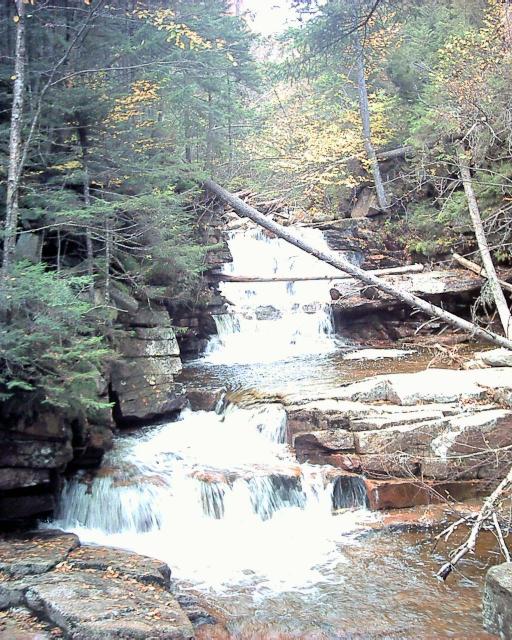 After that falls, the "trail" went literally straight up the side of a cliff. It was a lot steeper than the picture conveys: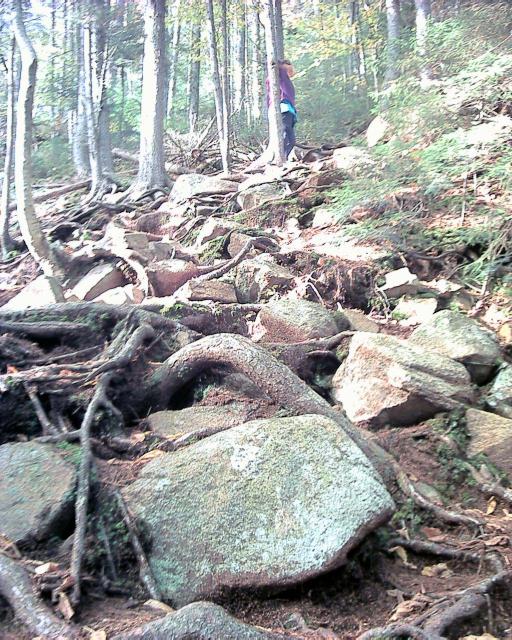 After much more walking, mostly uphill, and a few false alarms about nearly being there, we finally got to Arethusa Falls (17). Very pretty. (Worth it. -K) Here it is (with a random stranger in the picture for scale):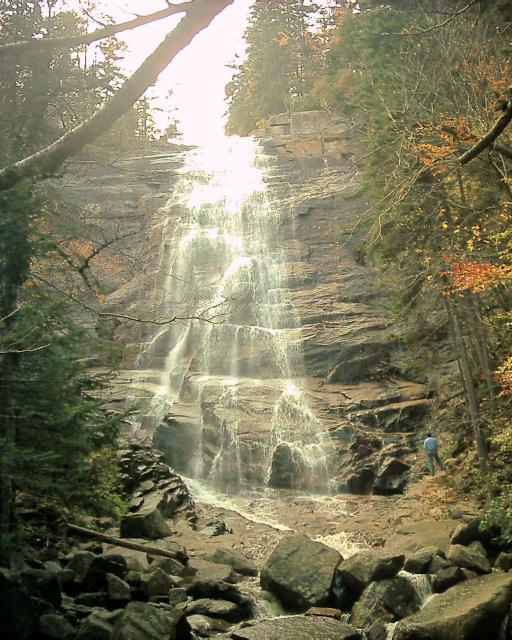 After resting a while, we turned around and made the trip back (and downhill) a lot faster than the way up. We were fairly tired at this point, but there was another waterfall in the area so we went there too.

This one wasn't as bad as a walk, but it had a lot of uphill to the trail. I apologize for the washed out picture; my camera was having issues with the combination of overcast days and forest canopy. Here it is, Ripley Falls (18):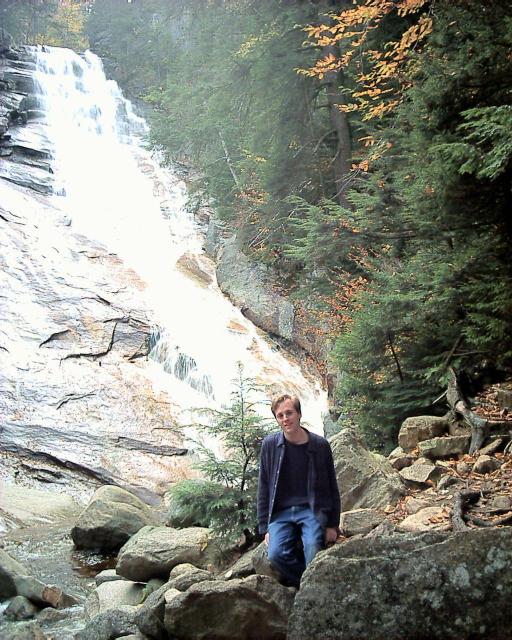 After this it was starting to get dark, and we were very tired, so we returned to Littleton and ate dinner at the Littleton Diner.
---
Next day... more waterfalls