German Trip Day 7: 29 April 2010
We woke up early, with the plan to use the hotel's hot-tub. It turned out it cost money to do that, so we skipped that plan. We also hoped to see the salt mine in Berchtesgaden, but it was still on winter hours (until the day after we left).

So instead we loaded up the car and headed back to Schweinfurt. Along the way we stopped at the Chiemsee, a large lake. In Prien we caught a ferry to Herrenchiemsee, one of the islands in the lake.




The island is home to the third of King Ludwig II's castles. It was meant to look like Versailles.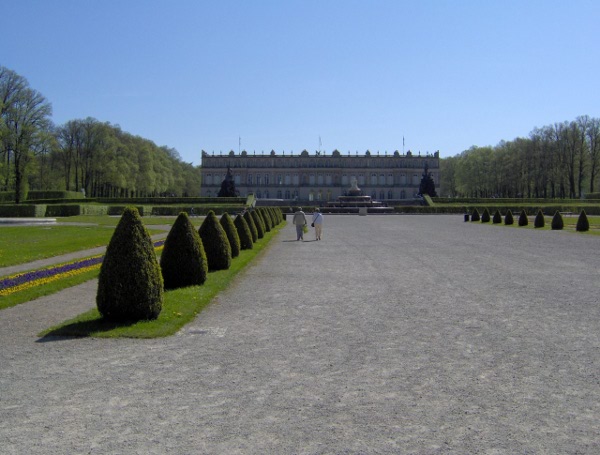 He only got to live there for a week before his untimely death (he mysteriously drowned in waist-deep water the day after his relatives got him declared insane). We toured the castle, parts of it were amazing, but not all of it was finished.

Bats are welcome in the palace: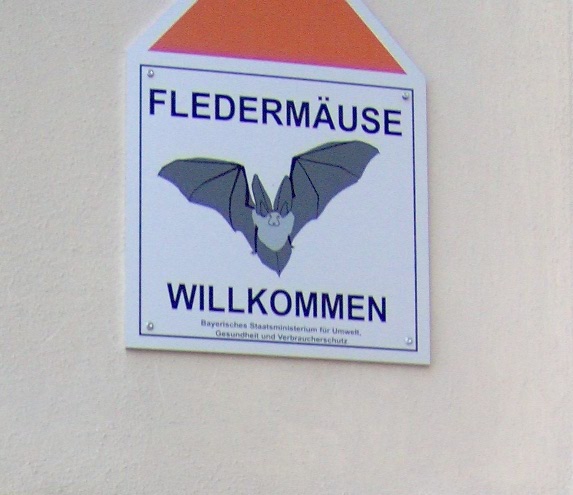 There were pretty views from the island: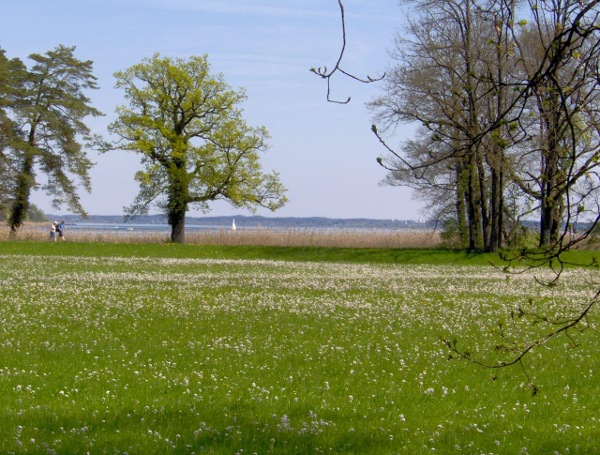 We caught the ferry back, and it was full of grade-schoolers on a pirate adventure trip.

We ate at a cafe on the edge of the lake. K got apple strudel (mit Sahne und Eis). I got Wiener Würstel, which you can see here along with my glass of Johannesbeersohne (bubbly black currant juice):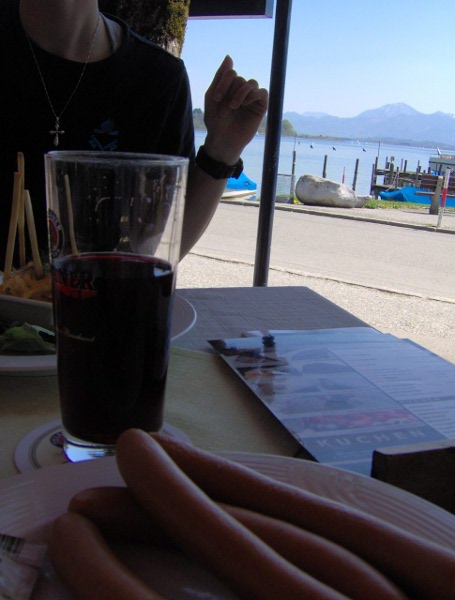 Our next stop was the Post Office. It was closed for lunch until 2pm, and when it finally opened the clerk couldn't get the door open. It did eventually open, and I bought postcard stamps, despite making many German mistakes. J did much better at communicating with the Germans than I did on this trip, as she has a practical vocabulary (like how to deal with restaurants, etc) wheras my book learning from German class has many important gaps when dealing with real people.

Now we got back in the car for the long drive back. Along the way we saw yellow fields, and fields where they were growing hops: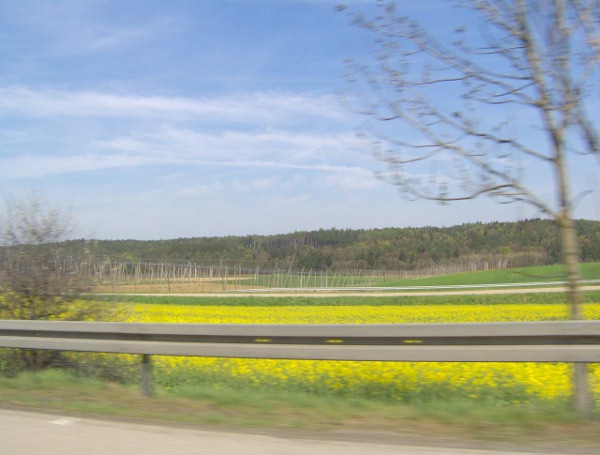 We got the tour of Schweinfurt, and ate at a cafe at the town center. Here's J and I waiting for our food: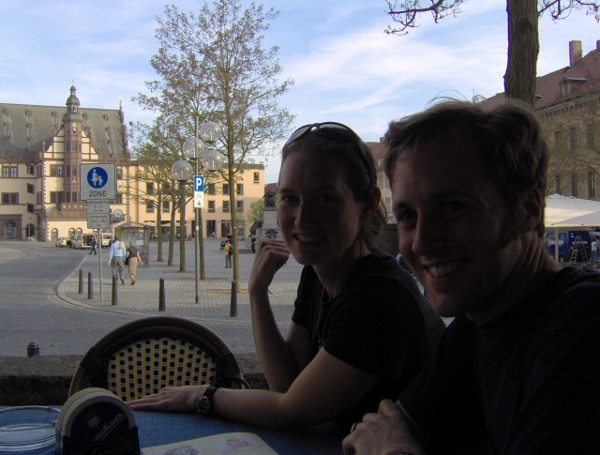 We got some Spargel soup to share. It was good: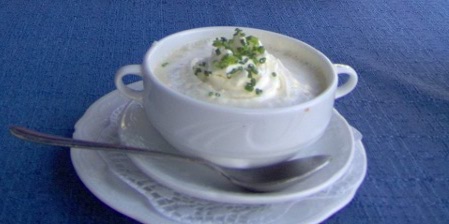 The church tower in Schweinfurt has cannonballs lodged in it from the 30 Years War: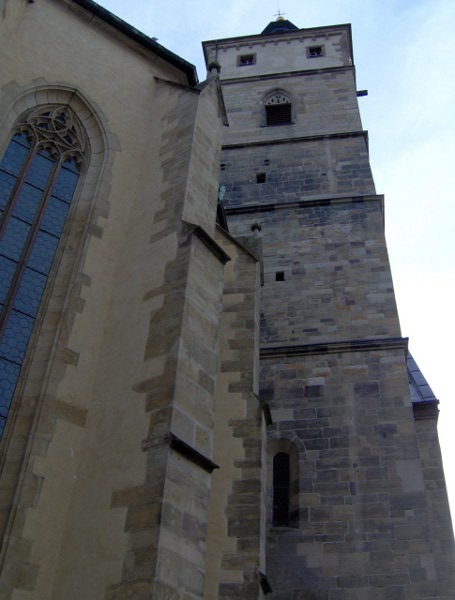 Here's the town wall: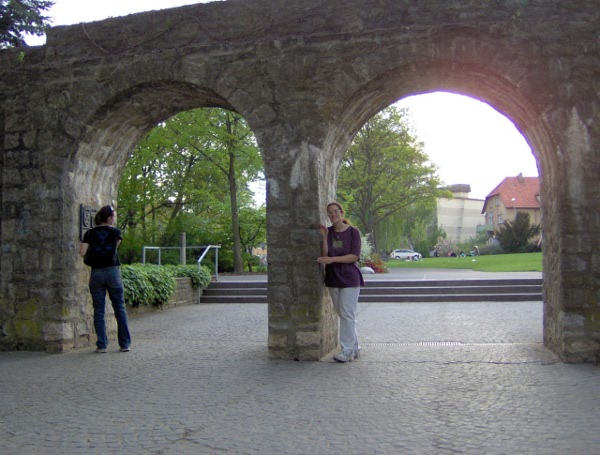 J knows many people in town, incuding the owner of her favorite ice cream store. We got huge sundaes: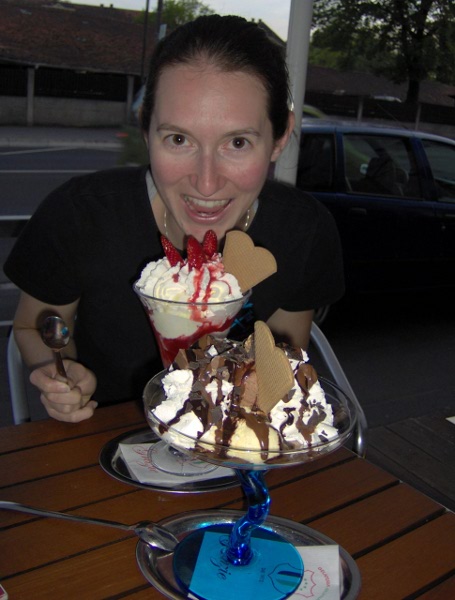 Then we went back to her house, and packed for the trip home...
---
On to Day 8
---
Back to main page