Cayuga Trail Adventures
Fall in Ithaca is a beautiful time, and it means fun adventures before the snow comes. (Luckily we missed out on the record early lake-effect snow that pounded Buffalo, although Kristina's parents got stuck overnight on the Thruway because of it...)

As always we went to the Ithaca Booksale and added to our already huge book collection. I'm running out of titles to get, but there are always infinite Mystery books for Kristina. Afterward we went to Purity Ice Cream because it was their 80th anniversary and they had 23 cent ice-cream cones.

We also picked apples, once at Baker's Acres with Kristina's family, and then later at Grisamore Farms where we picked 30 pounds of Yellow Delicious: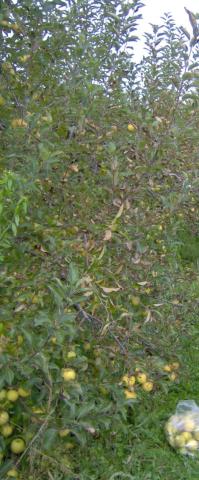 The weather was pleasant (though a bit chilly) so Kristina and I went for a walk along the Cayuga Tail. Apparently this trail was blazed 60 years ago by two young brothers and it cuts through a large amount of pretty scenery.

It was interesting trying to find a trail head for this trail. We parked just off of route 366 in Varna and had to follow a future rail-trail that eventually the Cayuga Trail joined.

We then followed the trail off into the woods. There was a decrepit Scotch Pine grove, which apparently was planted with "defective European stock".

The trail winds around Fall Creek, a stream you've seen elsewhere on this site due to the number of waterfalls on its lower end. On this part though, in an area known as Monkey Run, the stream is known for its impressive cliffs.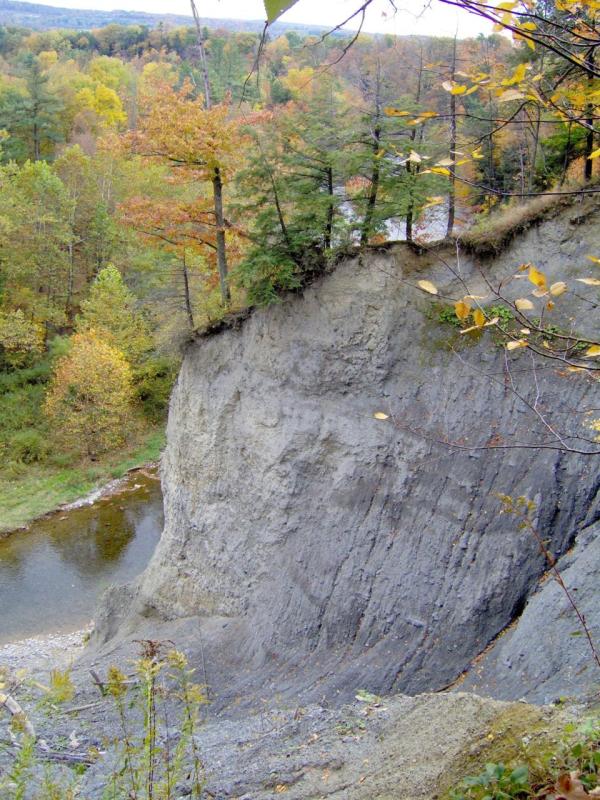 These cliffs look much like the ones at Chimney Bluff Park, and as always in northern New York, if there is a strange geological feature, you can guess it was caused by glaciers (in this case depositing piles of silt that have since eroded away).

Here is another view: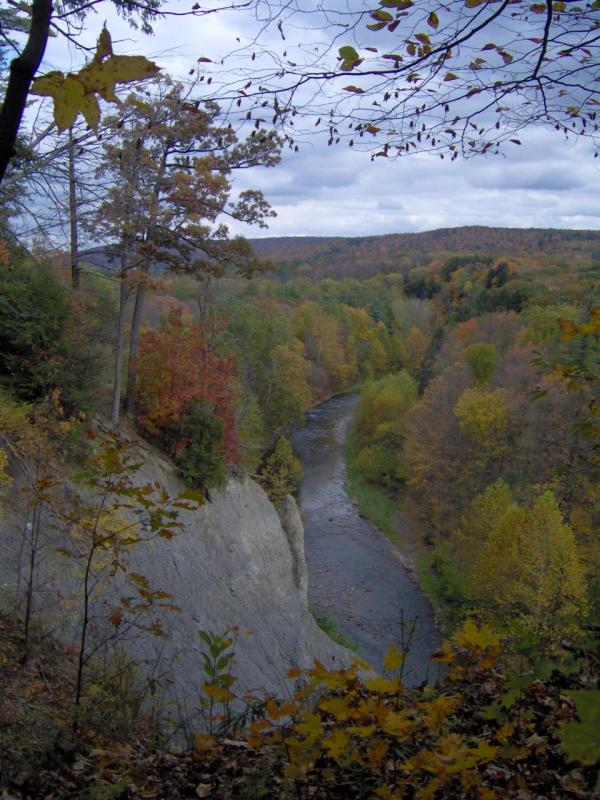 The trail spends a lot of time going up from the stream, to the top of the cliff, around a farmer's field, then back. Also, the blazes can be hard to follow, often when you most need them. It is a very nice trail though, and extremely convenient to where we live.

The next weekend we went back and followed the part of the trail we hadn't gotten to the previous week. There had been lots of rain, so the trail was underwater in places, and Fall Creek was full.

Here is a view of trees along the trail: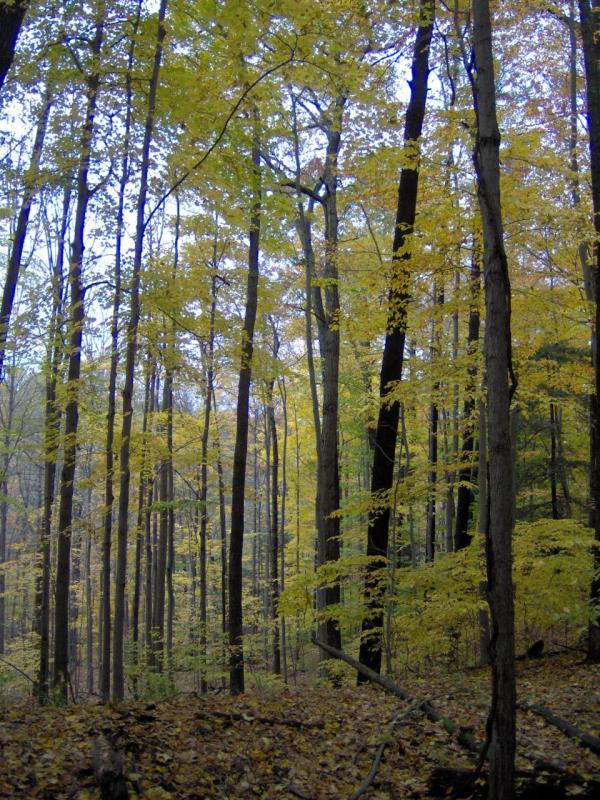 We took the trail down until we reached the Suspension Bridge at Cornell Plantations: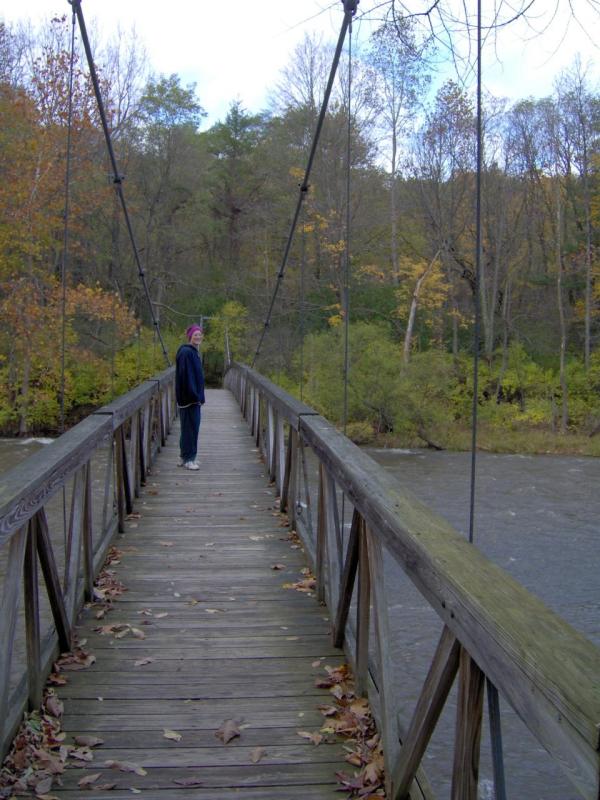 We have walked most of the trails at the Plantations already, so we decided to stay on the far side of the brige and press on along an un-named trail. This quickly became water-covered, but we found a nice grassy side-trail we thought would take us back to the road. Instead it turned out to be the route from some sort of recent footrace, and it took us straight up the hill and dumped us out in the middle of the Cornell golf course. We dodged the golfers and took the long way back to the trail.

Eventually we got back to the trail, and made it safely home before the rain came.
---
Back to Fall 2006 Adventures