Day 4 - Oxford
14 July 2007 - Saturday
This was the one day we could sleep in a bit later, although Kristina woke up early as usual. Jen was taking the 3-hour bus from Cambridge to see us. Jess and Kristina took the bus to go meet her, while Marie and I set off on foot along the river. This should have taken roughly the same amount of time, but of course we somehow managed to unintentionally take the long way [i.e., get lost] and kept everyone waiting.

Here is a boat house along the Thames, or the Isis as it is known in Oxford [Why??]. (A week later this area was hit by heavy rains and flooding)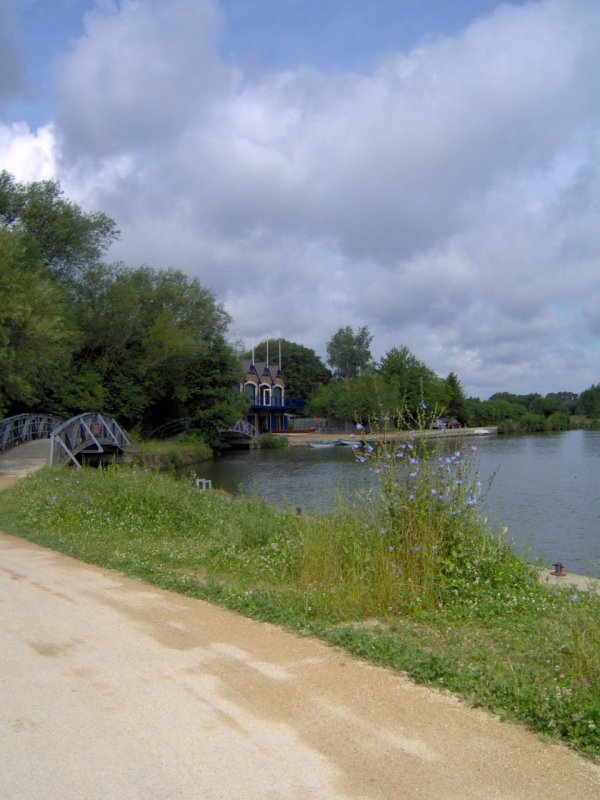 Near here is the track where Roger Bannister broke the 4-minute mile.

We continued on, and passed a cricket field: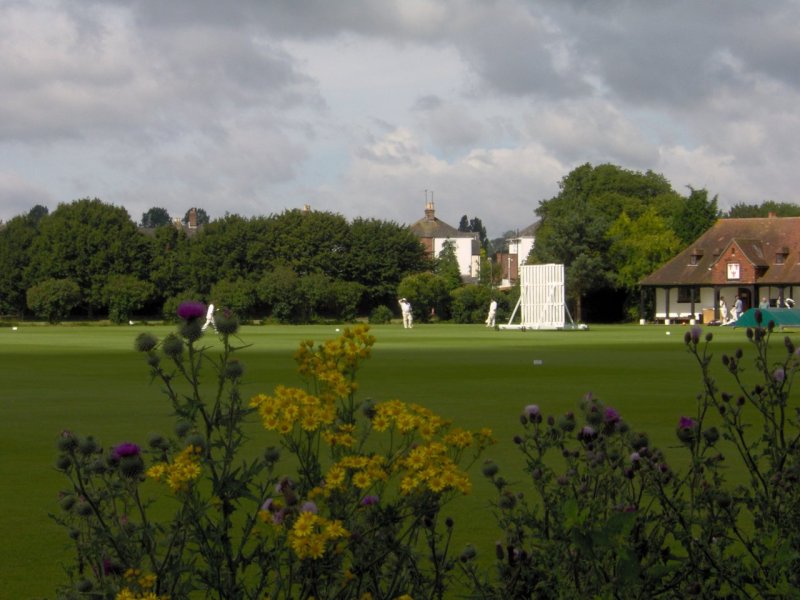 We eventually found everyone, and started touring the area. Here is Carfax Tower (carfax means "crossroads") which is at the center of town. The tower used to have a bigger church attached but that was removed for road-widening purposes: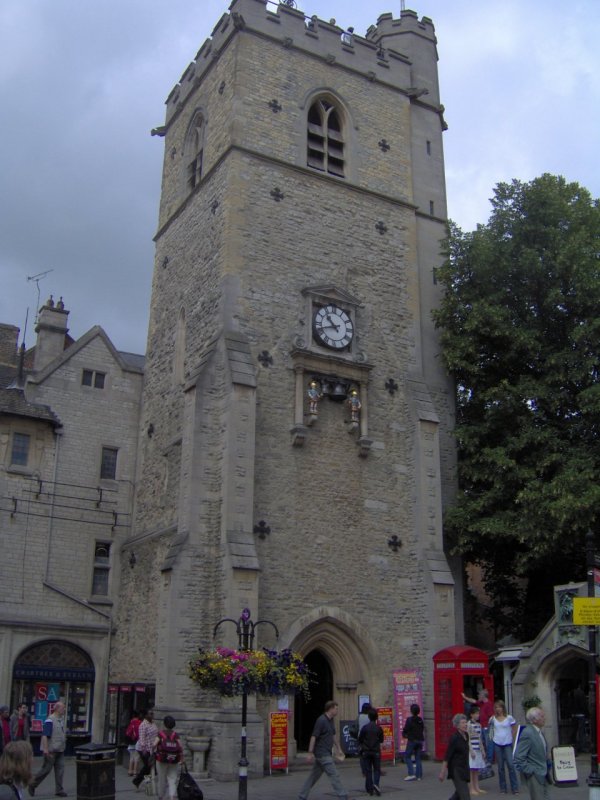 Our first stop was Christ Church College. Here is Tom Tower, where we ended up surrounded by student tourists from Spain. The tower used to keep Oxford time (GMT+5 minutes). (Excuse my poor photo manipulating skills in trying to merge two pictures together). Like many building you come across in England, it was designed by Christopher Wren.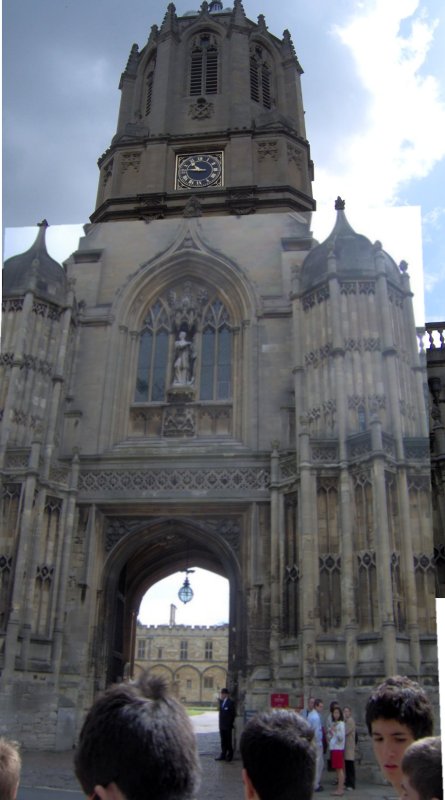 Here is the pretty memorial garden outside Christ Church: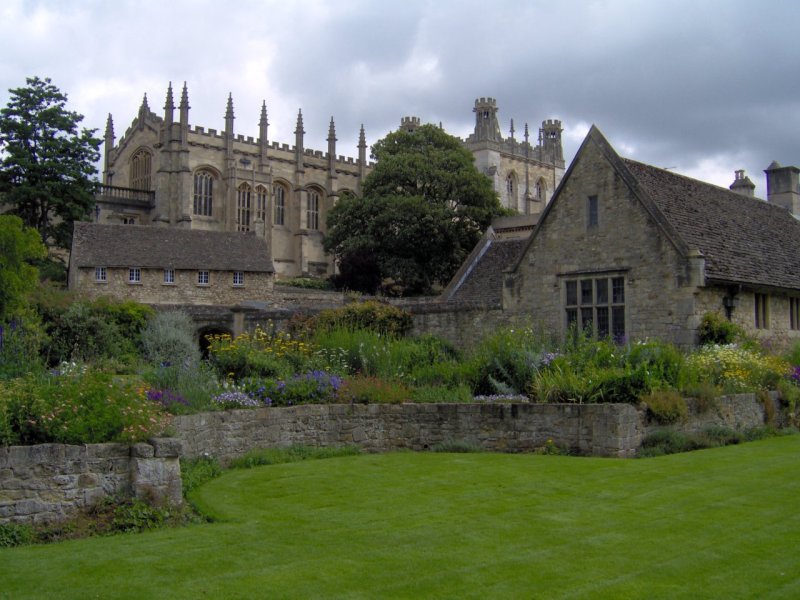 Here is the Dining Hall, where they filmed parts of the Harry Potter movies. Coincidentally, Cornell has an exact replica of this room in Risley Hall.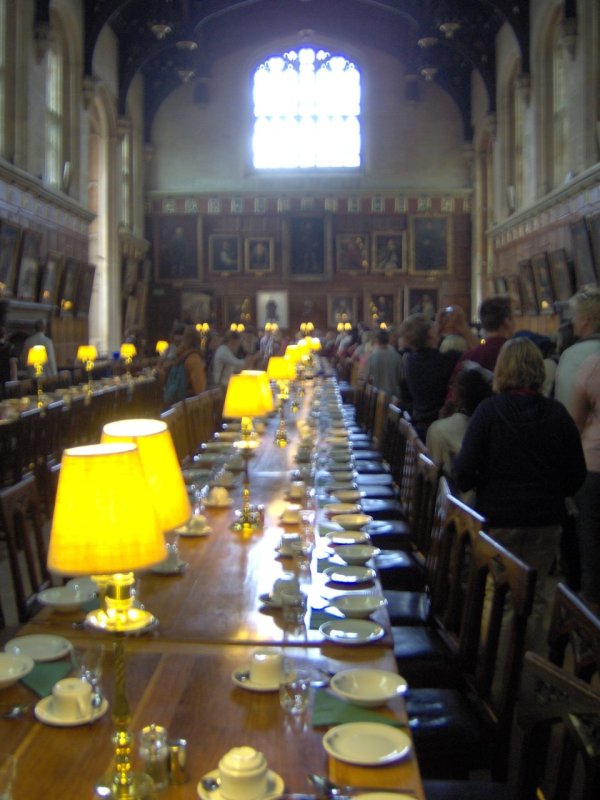 We went into the chapel, which is also the local Cathedral. This was one of the few churches we went into that allowed photography (or at least, didn't visibly disallow it). It has the weird sideways pews that are common in older English churches; tomorrow when we attend services in Canterbury we get to sit in pews like this.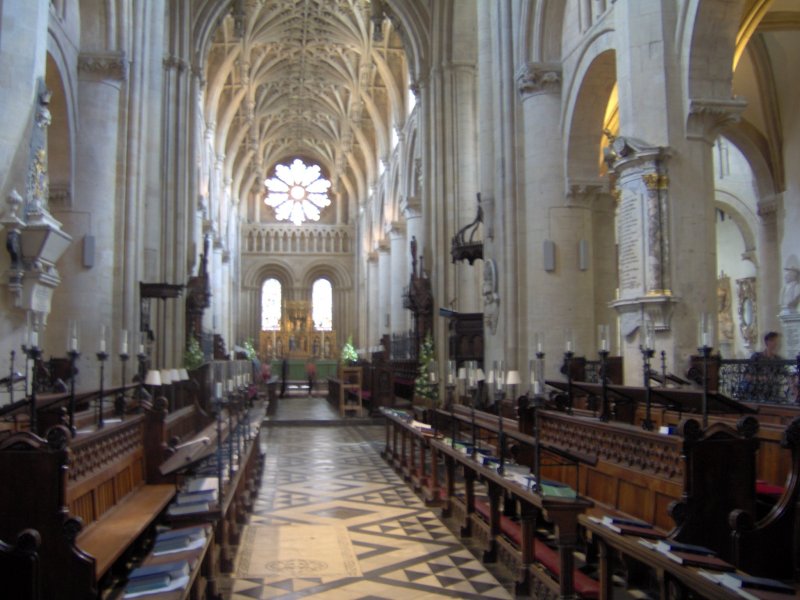 Christ Church is where Lewis Carroll spent a lot of time, so they made a lot of claims about things that may have inspired him. The chestnut tree in this picture is supposedly the one the model for the Cheshire cat would sit in: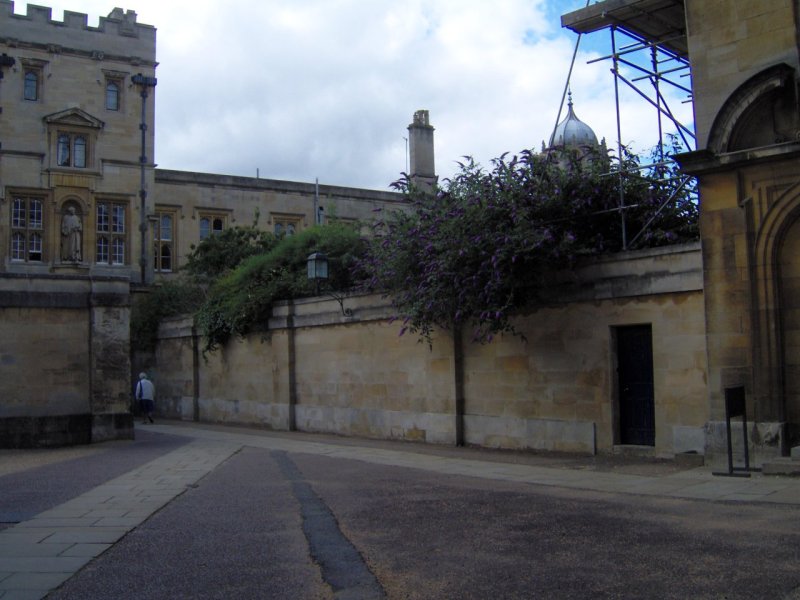 We followed the other tourists and ended up at Merton College (where Tolkien taught):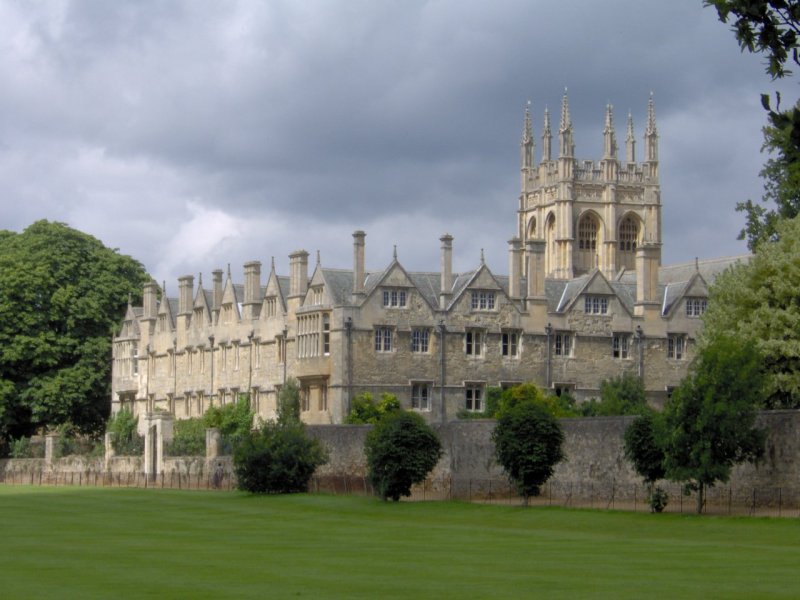 Next we went to the Botanic Garden. It was pretty neat. The greenhouses were the most fun; they had a lot of obscure tropical herbs, plants, fruits and flowers.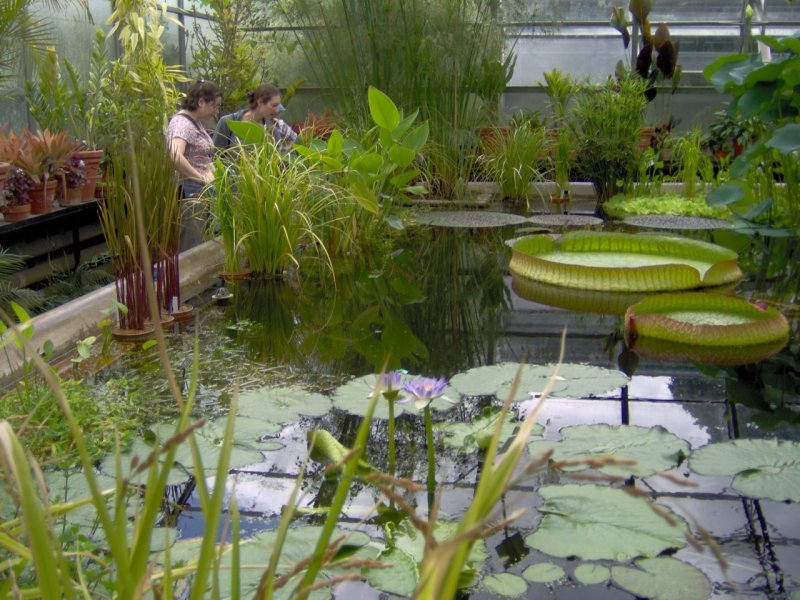 Here is Marie in front of Tolkien's favorite tree.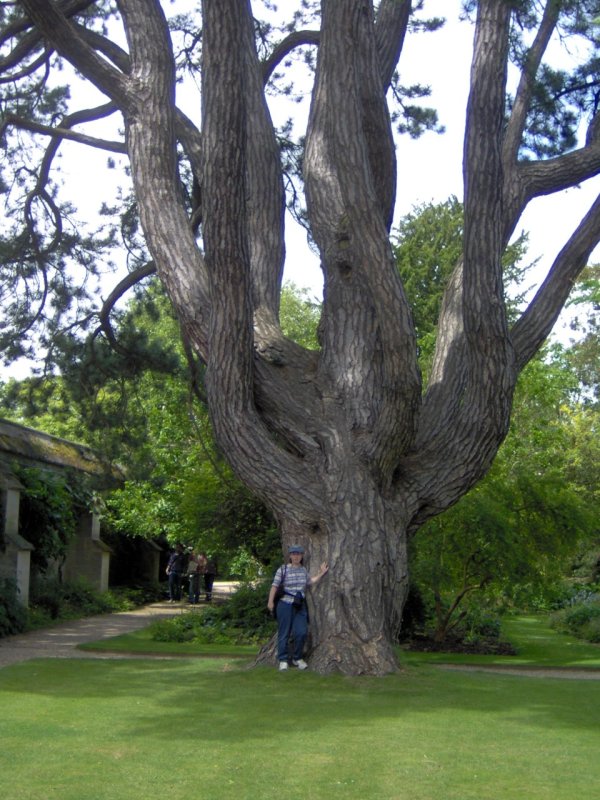 We next went to Magdalen (pronounced maudlin) College, also home to many famous people.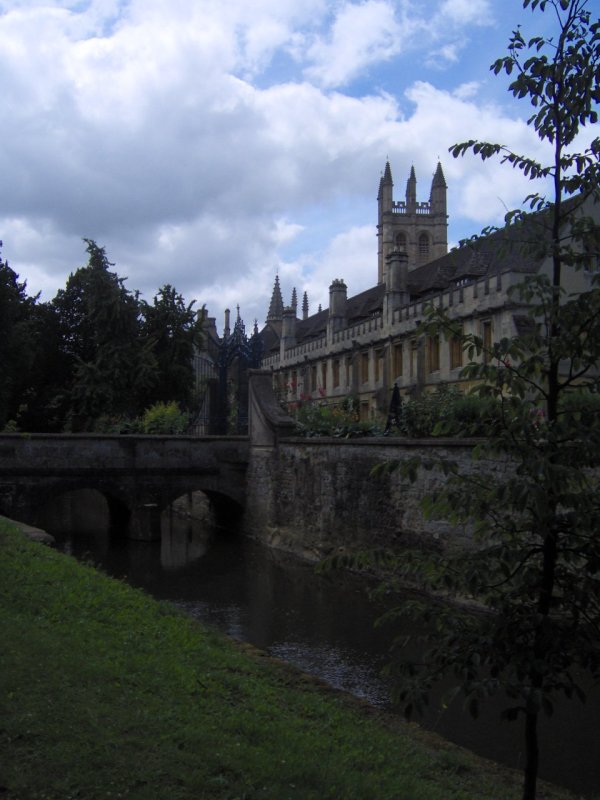 This was CS Lewis's college. It had a beautifully ornate chapel too: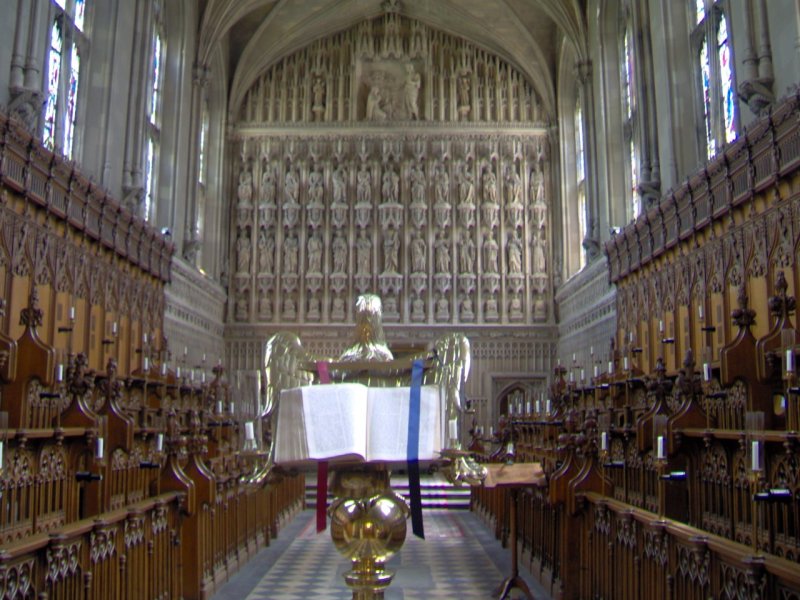 They had a sepia-looking stained glass window that I found very unique: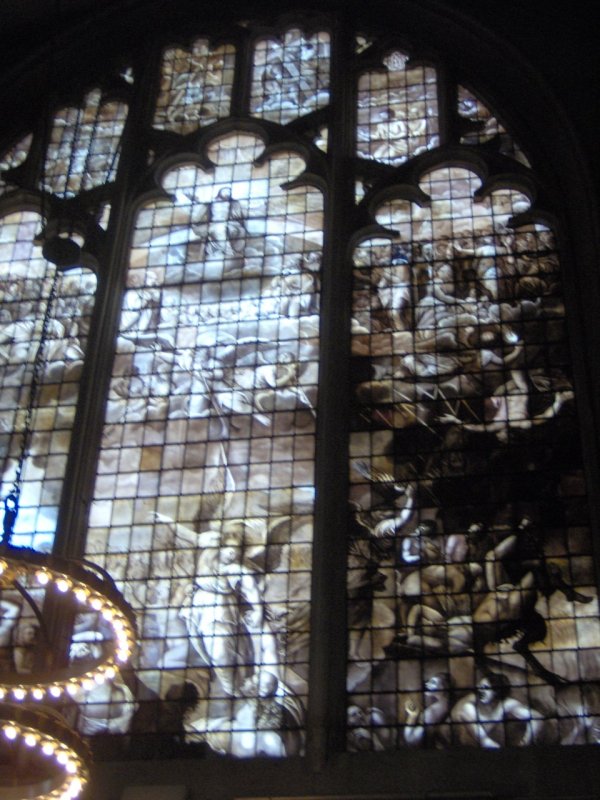 For some reason in England it is considered exotic to have fenced-in areas full of red deer. Here in Ithaca we have too many deer, so it was less of a novelty for us: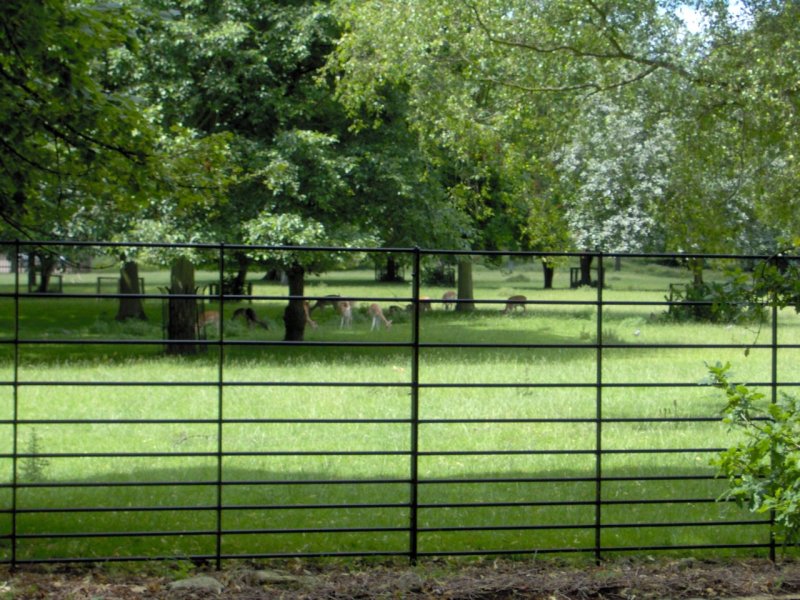 ---
On to Day 4 in Oxford (continued)