Cambridge - Day 2
12 July 2007 - Thursday

Kristina woke up really early and went for a walk, a trend that continued for the rest of the trip. The rest of us woke up still early, but at a more reasonable hour.

We went down and had a full English breakfast. There are a lot of permutations on the breakfast; what I had was sausage, eggs, toast, bacon and of course tea. We caused trouble by asking for tap water, which started a trend among the other guests asking for it too.

We checked out, but luckily we were allowed to store our bags there until later in the day.

I had my GPS unit running for part of the morning, so here is a quick view of part of our route: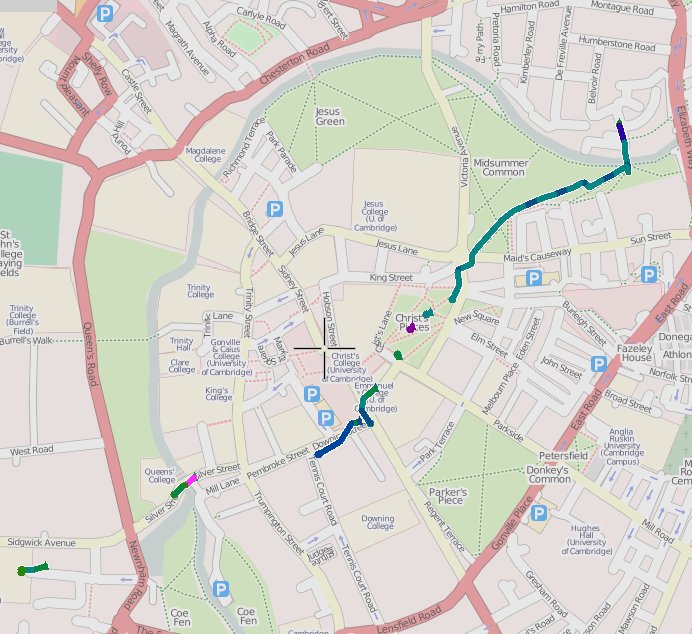 We passed by the Mathematical Bridge. Legend has it Newton designed it to fit together without nails. Supposedly as a prank some students took it apart and couldn't get it back together without resorting to using nails. Unfortunately, the tour guide I bought says this story is a myth, but it's too good not to tell.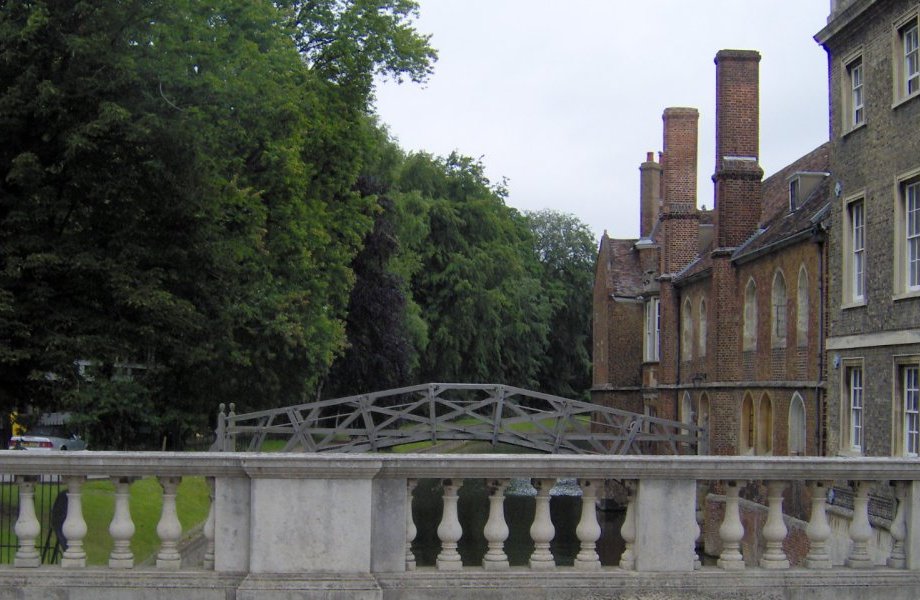 Every college had fancy gardens; this is the sunken garden at Newnham College: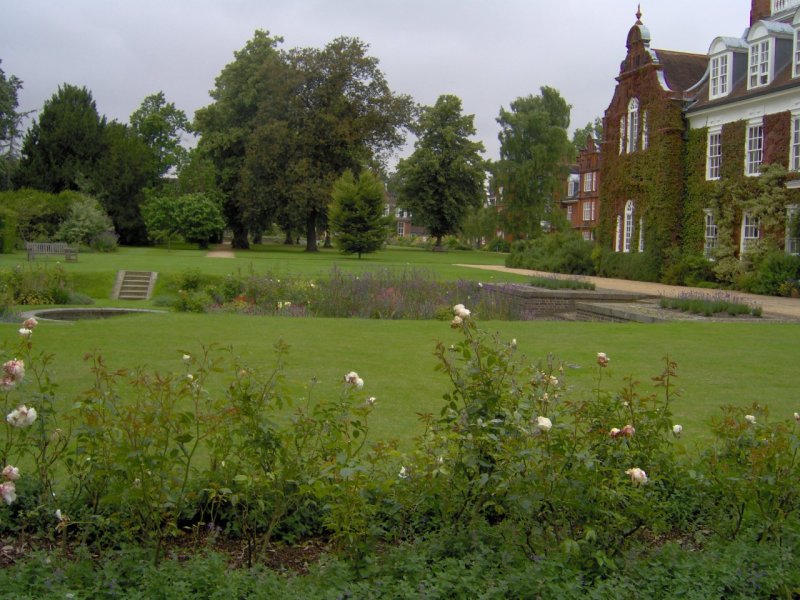 We then walked along a pretty area called "The Backs". From there you can see many of the colleges. Here is the most famous, Kings College. What you can't see in this picture is that cows are grazing in the foreground.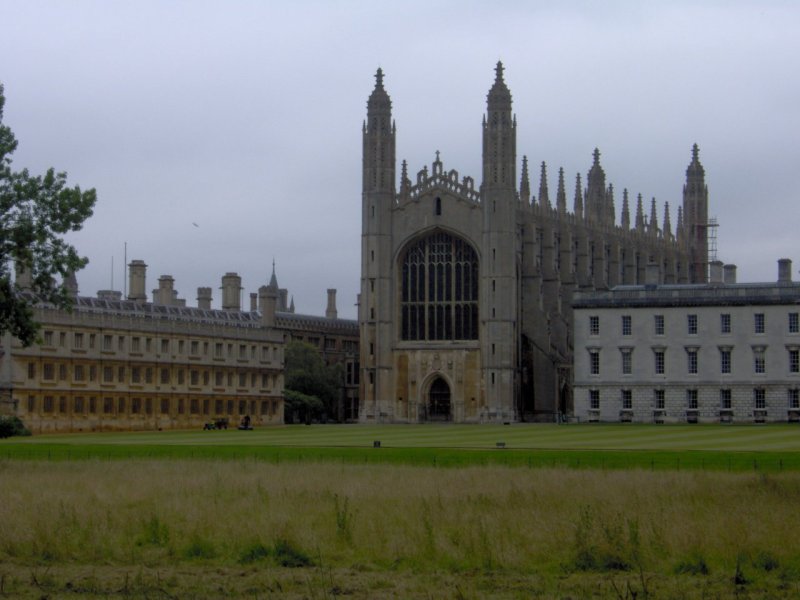 We then walked by Clare College. No fun allowed beyond these gates!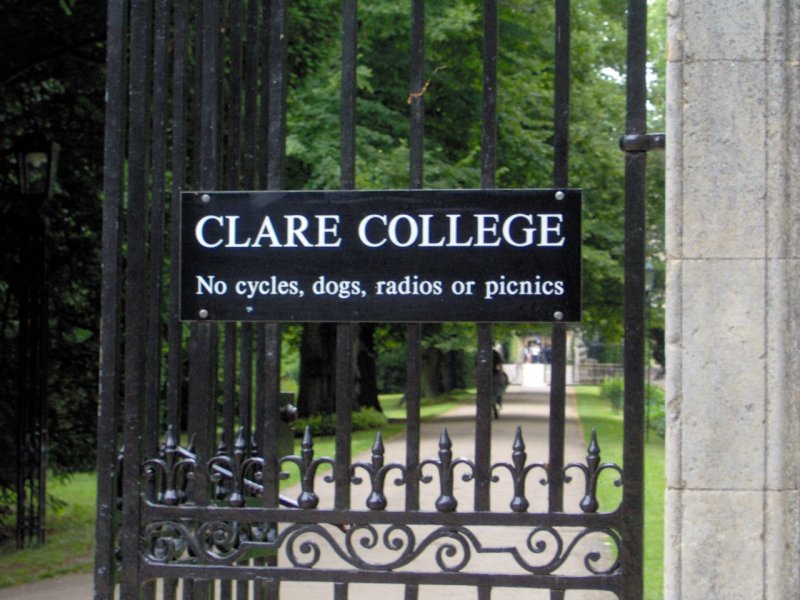 Watson of DNA fame went here, so in the other direction from these gates is a weird looking double-helix statue.

As you might have gathered, a lot of famous people went to Cambridge. So everywhere you went you're reminded of Newton, Darwin, Hawking, etc.

As always the river is scenic: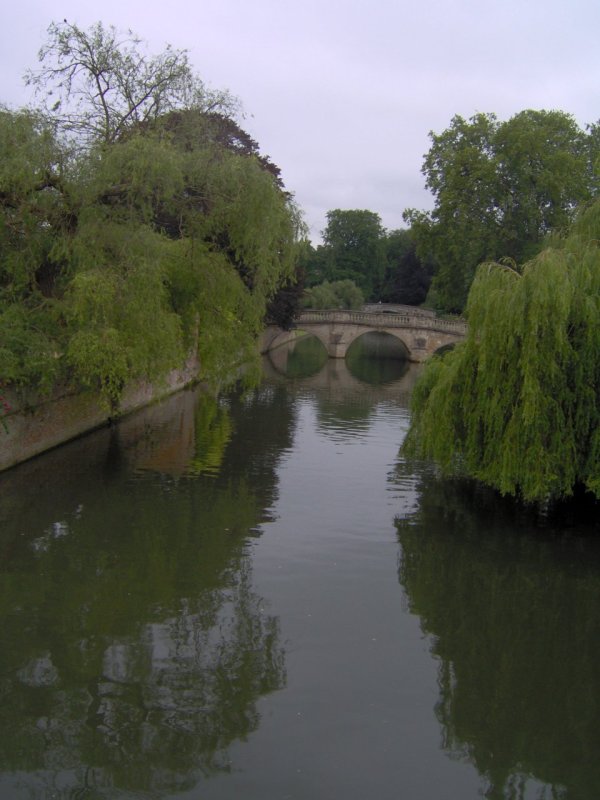 I liked this tree-lined walk into Trinity College: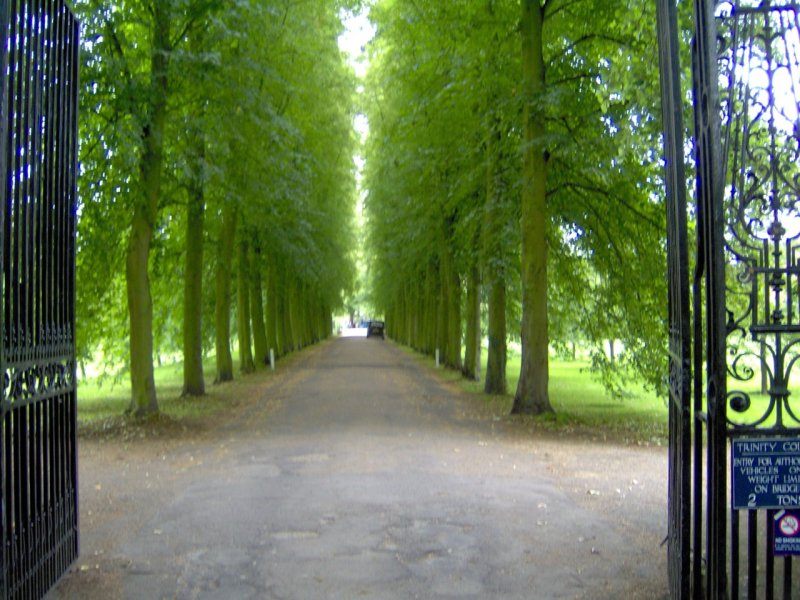 We went into Trinity college; they also have scenic and well-maintained grounds. The gardeners were all wearing formal suits while doing their gardening.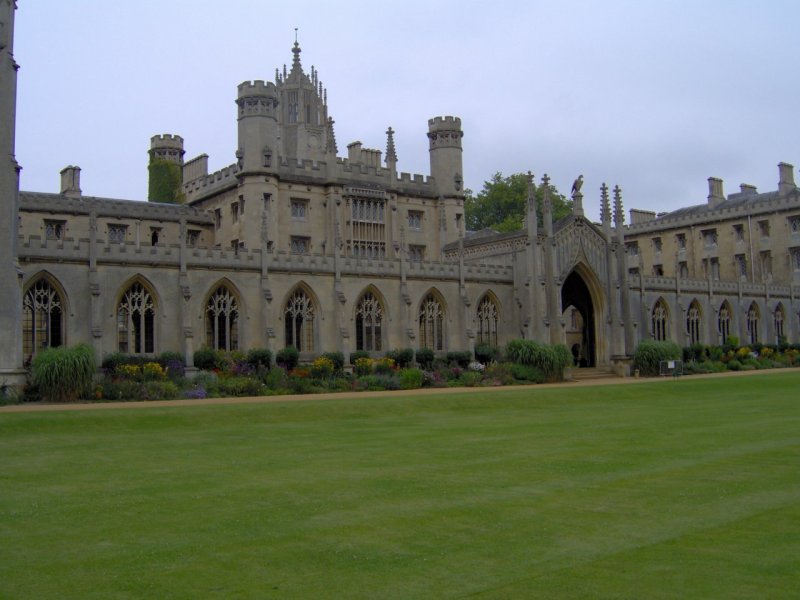 Here's the Bridge of Sighs, modeled on the one in Venice. We walked across it.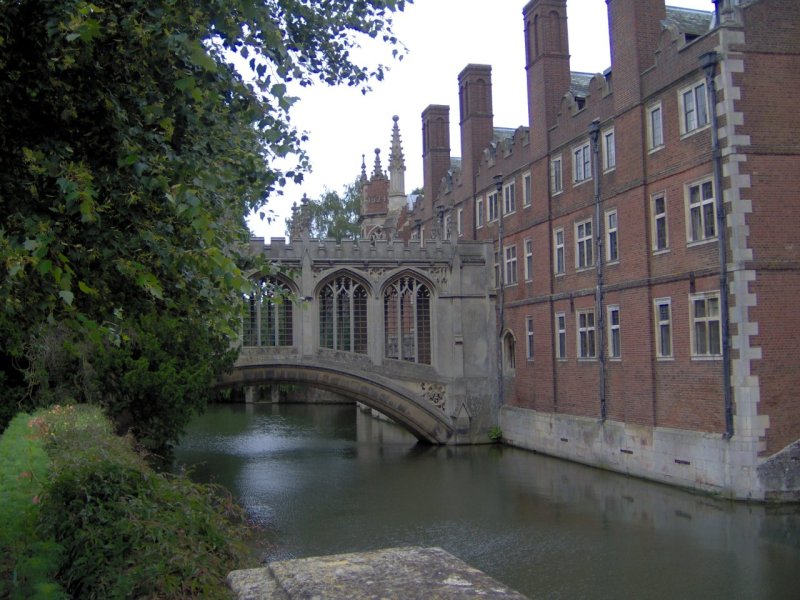 Here is the Round Church, built in 1130 to look like church of the Holy Sepulchre in Jerusalem: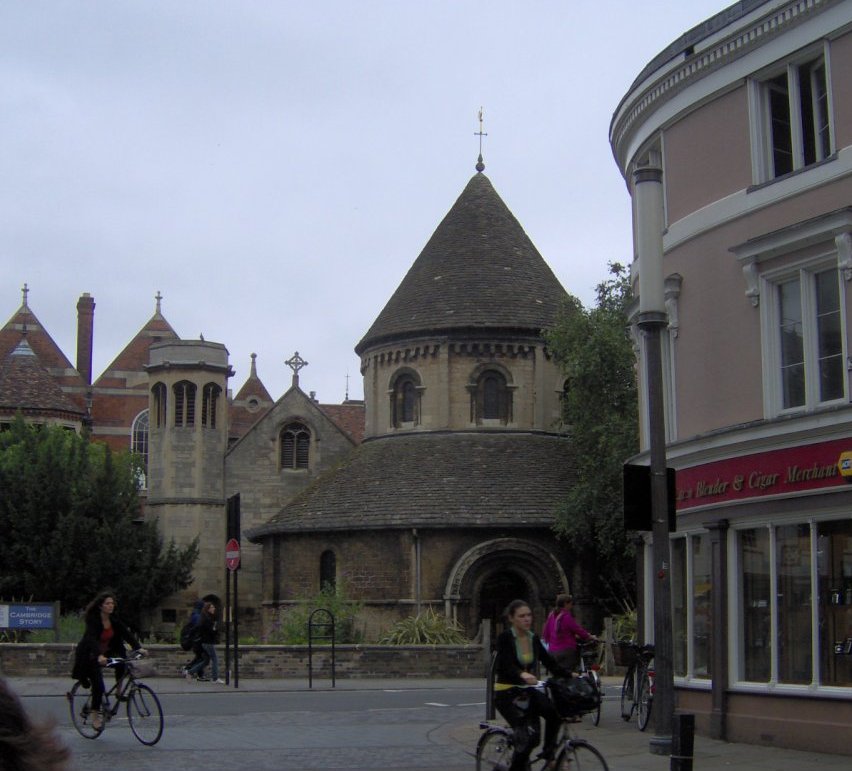 We walked down the Kings Parade, and into St Mary's church, whose bells played Westminster chimes 60 years before Westminster did.

Here is what is supposedly a descendant of the tree that dropped an apple on Sir Isaac Newton's head, inspiring his famous thoughts on gravity.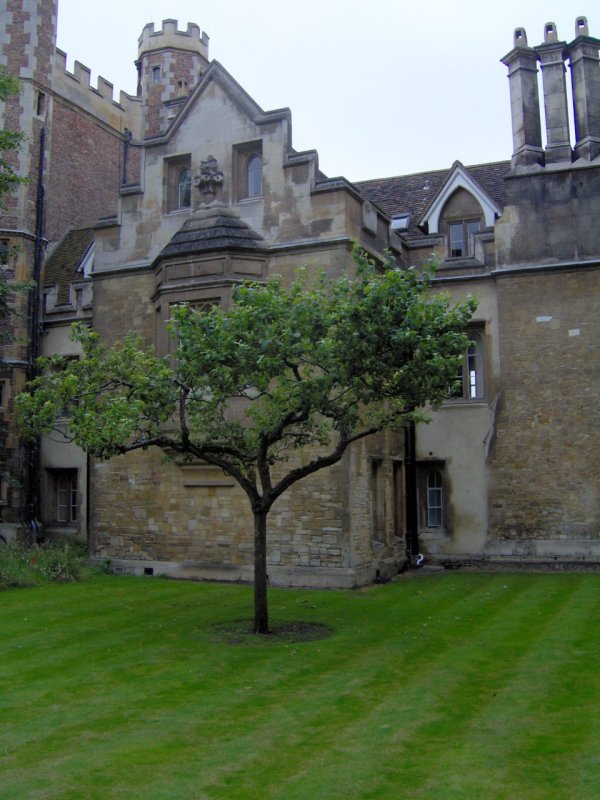 Here's Henry the VIII on Trinity's Great Gate. The students kept stealing his sword and replacing it with other objects until the college gave up replacing it. Currently he is holding a chair leg.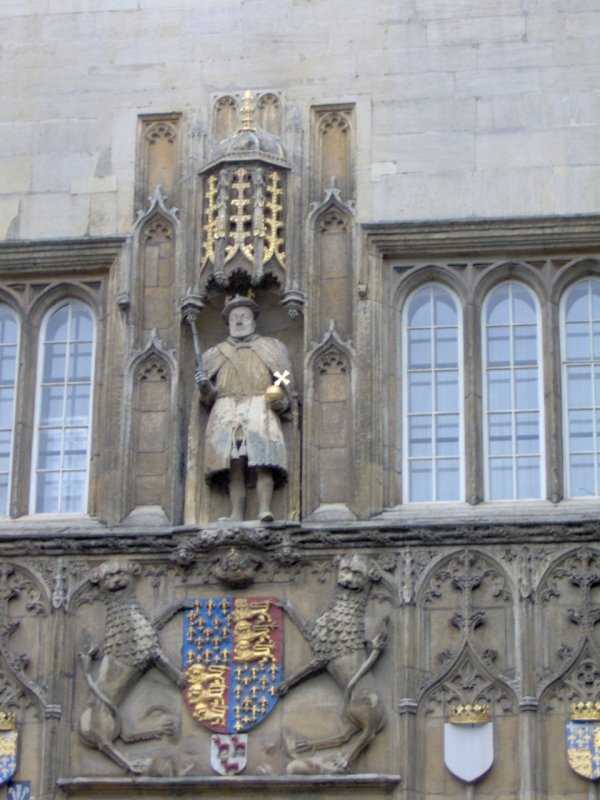 We went inside King's College. Since Jen was a Cambridge student we were able to visit for free as her guests.

Kings College Chapel is beautiful. Unfortunately for you there was a no-camera policy. It has a really impressive fan vaulted ceiling.

We then walked to The Eagle, the pub where the double helix nature of DNA was first announced. On the ceiling of one of the rooms are signatures and notes left by WWII pilots. There was a big delivery truck parked in front of the pub, so no pictures of it.

There was, however, a neat church across street. Kristina really liked how it looked. It is St Ben't's (Benedict's), the oldest church in Cambridge,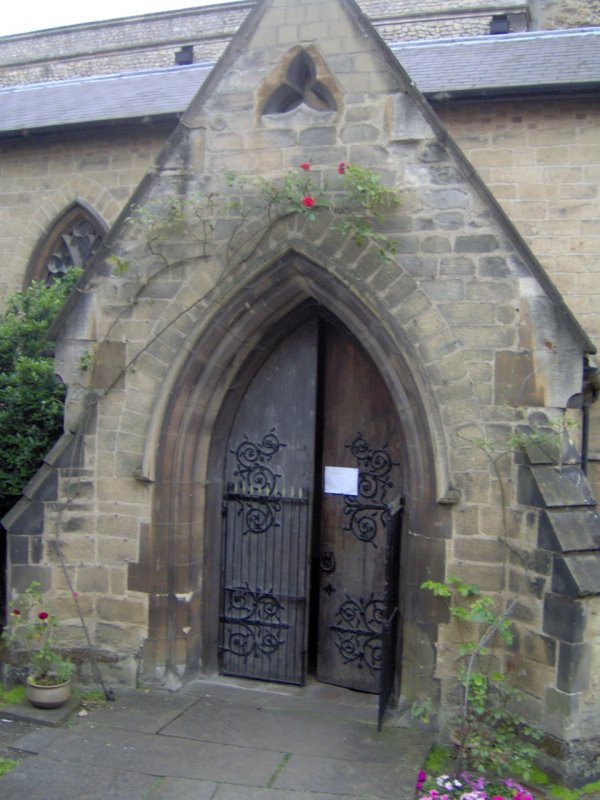 Jen took us to lunch at her College's dining hall, which is much more impressive (well, more Harry Potter-like) than a US college's dining hall.

We went to the impressive Fitzwilliam Museum which had a really diverse collection. Kristina's favorite artifact was a rock specimen table, which was made out of dozens of different minerals.

Afterward we briefly went shopping, then went back to the B&B to get our bags. We nearly got run down by cows on Midsummer Common, and then it started raining (more typical British weather).

We said goodbye to Jen (temporarily) and boarded the bus to Oxford. It was a 3 hour trip via Milton Keynes [ and through every traffic circle in England -K]. We caught another bus to where we were staying, the Brenal Guest House. By the time we were settled in and the owners had the 4th bed set up for us it was 10PM, and we went to sleep.
---
On to day 3 in the Cotswolds
---
Back to the main trip page