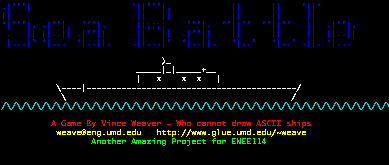 ---
Sea Battle!

Get this pretty neat game. It is similar to the BattleShip (tm) game you might have played before. Try to sink the computer's fleet before he sinks yours!
---
UNIX VERSION: seabattle-1.0.tar.gz (40K)
Compiles on Linux, Irix (SGI) and on SUN
Will not Compile on Digital Unix
Requires curses library
Linux version has color and 8-bit digital sound (if sound card)
DOS VERSION: seabat10.zip (131K)
---

Back to the VMW Software Page
---

Back to my homepage.
---
©VMW Web Design ( vince _at_ deater.net ): 13 May 1997