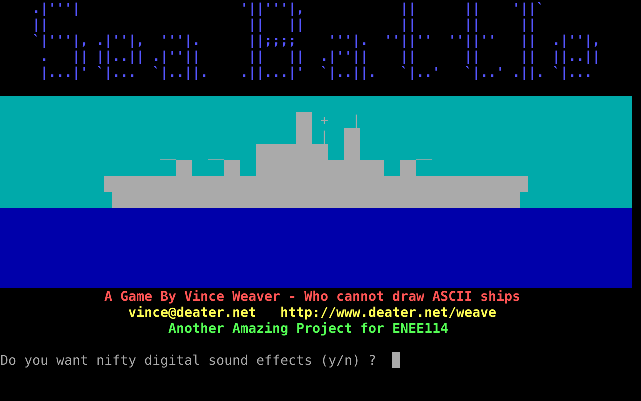 ---
Sea Battle!
Get this pretty neat game. It is similar to the BattleShip (tm) game you might have played before. Try to sink the computer's fleet before he sinks yours!
---
Download!
Get the current release at github: https://github.com/deater/seabattle

Get the current stable release here: seabattle-1.1.tar.gz (42K) (23 December 2021)
---
Screenshot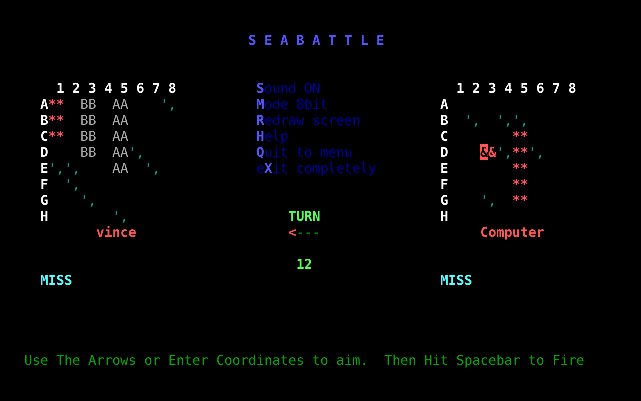 ---
Development notes
23 December 2021
After nearly 25 years, release version 1.1!
Update to compile on FreeBSD and modern Linux.
Fix segfault caused by undefined behavior in C compiler.
Improve the AI slightly.
Better title screen.
Tone down the "must enter all your personal info into a linked list database" at the start
Update 25 year old contact info
Clean up the whitespace (pointless code churn!)
14 May 1997
Release version 1.0!
Tested on Linux, Irix, and SunOS, also on DOS.
Was final project for ENEE114 class at University of Maryland
---
Historical Release from 1997
.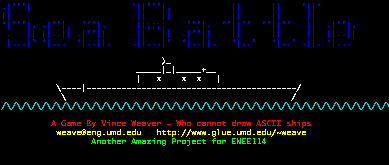 UNIX VERSION: seabattle-1.0.tar.gz (40K) (13 May 1997)
Compiles on Linux, Irix (SGI) and on SUN
Will not Compile on Digital Unix
Requires curses library
Linux version has color and 8-bit digital sound (if sound card)
DOS VERSION: seabat10.zip (131K)
---

Back to the VMW Software Page
---

Back to my homepage.
---
©VMW Web Design ( vince _at_ deater.net ): 23 December 2021