Apple ][ Ootw "Demake"
The Intro, Ending, and many levels redone in 6502-assembly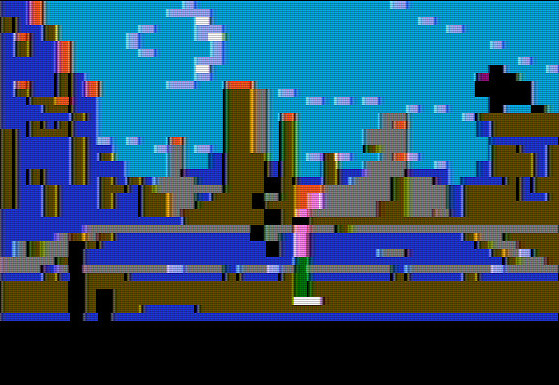 ---
Details
I've always been impressed by Éric Chahi's "Another World" ("Out of this World" in the US). I especially liked the intro movie. Back in the day I played the DOS version, and later the SNES port.

Recently I was inspired by Paul Nicholas' Pico-8 version. It's dangerous when I see colors and say "hey those aren't too far off what the Apple II can do".

So anyway I made a rough version of the intro movie and first few levels of the game using the Apple II (from 1977) Lores (40x48x15 color) graphics mode.

You might say "Hey, there's already an amazing official Apple IIgs version". That's true, but the Apple IIgs came out 10 years later and has an order-of-magnitude better hardware to work with.

You also might say "Hey, now the C64 people responded to your trolling in the video and have an amazing looking version of the intro movie." True, though I think they're using a 1MB cartridge for that, which seems a bit extreme as I think the original Amiga and DOS versions weren't even that big.
---
Video
Long playthrough of the game, with commentary:


Raw capture without commentary, captured on an actual Apple IIe. Sorry for the lousy quality of the music, I was having severe problems with the capture hardware. It sounds slightly better on real hardware (and a lot better under an emulator):



---
Misc Screenshots
---
System Requirements
Any sort of Apple II should work. I haven't tested on IIGS or IIc.
At least 48k of RAM.
End Credits music requires Mockingboard Card in Slot 4.
---
Level Playability
| Level | Percent Done | Notes |
| --- | --- | --- |
| Intro | 95% | I might add music... |
| Level 1 (Outside) | 99% | |
| Level 3 (Vent) | 99% | |
| Level 4 (City) | 90% | no Alien AI |
| Level 5 (Cave) | 5% | Just a placeholder |
| Levels 6 - 13 | 1% | Just placeholders |
| Level 14 (Tank) | 50% | Need button consequences |
| Level 15 (Ending) | 70% | Working on this one |
| End Credits | 99% | Mostly there |
---
Frequently Asked Questions
FAQ
---
TODO List / Known Issues
TODO
---
Downloads
Disk Images
The game currents fits on three floppy images. You can get them all here in a zip file: ootw-v31.zip
Alternately here are the individual disk images:
Source
---
Playing the Game
You can try playing the game in your browser at the internet archive, however you can't switch disks so you're limited to just the intro and first few levels: Another World Apple II at Internet Archive
---
Development Notes
V3.1 notes -- 1 May 2021

Added a lot of the animations for the tank/arena sequence.

Still need to add animations for all the button presses and background actions. It's actually hard to get a comprehensive list of what the buttons do and it's a bit tedious playing the game a zillion times to work out the combinations.


V3.0 notes -- 19 April 2021

Using qboot for disk loading, which makes loading a lot faster.

Re-did the end movie to have a lot more frames, a lot closer to the original now.


V2.9 notes -- 8 April 2021

Finally have the code completely converted to using LZSA so a lot more compact.

Now working on making the ending a bit more complete, the released version was sort of a quick hack.


20 February 2021

Well I got a bit distracted by the Myst demake, I really need to come back and apply all I learned there to this project. I should be able to get things fitting on one disk again, and I really want to add music to the opener.

In the meantime, Eric Chahi finally found out about this project and seems to like it. He's a long-time Apple II user too!



V2.8 notes -- 28 January 2020

A new title screen was added that lets you access all checkpoints via a scrolling menu (this is in 6502 assembly, the old title screen was in Applesoft BASIC). It should also prompt you if you need to flip over the disk.

In addition placeholder levels were added for all the checkpoints, though for most of them it's just a background image you can run across without any actual game content.

A few other bugs were fixed, including problems shooting through shields as well as the doors not working on level4.


Total Replay v2 -- 9/26/2019

You can now play this as part of Total Replay but be warned that the current revision 2 has some bugs and OOTW will crash in some cases (most notably when you beat a level). These bugs will be fixed in the next release.


V2.7 notes -- 8/22/2019

After a lot of hassle, is playable straight through!

Also added some end credits. Was a lot of work, but the Mockingboard music sounded so nice I needed something for it to play over.

I am probably done working on this for a while, out of time :(


V2.6 notes -- 8/19/2019

Finally completed Level1. Was much more of a pain than I thought it would be. I left the code in rough shape back in March and it was a lot of work to get things sorted out, especially the final cutscene with the beast at the end.


V2.5 notes -- 8/15/2019

Level4 is mostly complete! Biggest issue is lack of AI in the bad guys.

This was a big update. Involved the charger, action sequence, and mostly functional doors and gun. Gun can make shields and the large blast.

Things are getting too big and Level5 won't fit on the disk, exploring options to make room.


V2.4 notes -- 8/11/2019

Level3 (the vent scene) is complete! As always, there's a lot more there than you think when you sit down and try to implement it.

I also have been at work on Level4 (which is about half implemented) and Level5 (which is just a placeholder)


V2.3 notes -- 7/30/2019

Added the Level1 underwater arrival scene. The actual game has a cool shimmery water effect that I wasn't able to figure out well enough to replicate (and possibly it wouldn't look all that great in 40x48). Getting the tentacles to animate properly was a pain too.


V2.2 notes -- 7/20/2019

Added the Level2 cage sequence. This was a lot of trouble for a very short sequence. Did add the audio sample (4k of valuable RAM). Still a lot more to add for Level2 (laser gun, doors, enemies, friend AI) so will be pushing the limit of available RAM.


V2.1 notes -- 7/16/2019

More progress on Level2. Was hoping to have more done before kfest.


V2.0 notes -- 7/12/2019

You can run around all of level2 now. No aliens or lasers yet.


V1.9 notes -- 3/23/2019

A lot of somewhat major changes here. Add the rope animation. Added end-of-level1 animation. Added initial backgrounds for level2. A lot of messing around with the sprite drawing code. Jumping and running support.


V1.8 notes -- 3/3/2019

Fix some minor color issues (grey5 vs grey10) as well as have the intro auto-start the game when done.


V1.7 notes -- 3/2/2019

Intro was done, but even after massive optimization took 46k (maximum room I had was 42.25k). Took a while, but eventually have it overlayed the data using LZ4 and now the executable is only 28k or so.


V1.6 notes -- 2/18/2019

Intro is now up through the lightning storm.

You can get some interesting effects when your code goes off the rails:



V1.5 notes -- 2/6/2019

More work on the intro movie, have it more or less OK up through the keypad scene.


V1.4 notes -- 1/28/2019

Added backgrounds for the intro movie. Can now trigger the beast animation. Slugs appear on ceiling but cannot fall yet.


V1.3 notes -- 1/21/2019

Added slugs to second cavern room. Can climb slope in rope room now.


V1.2 notes -- 1/20/2019

Added more of the rooms. Started making the code generic so I can arbitrarily turn on earthquakes in any of the rooms. It's beginning to look like I might get around to implementing much of the game up to the first checkpoint.


V1.1 notes -- 1/19/2019

Had thought I was done, but no, I went and added another room (the rope room to the left of the pool). Still need to enable earthquakes for it (and of course, eventually, rope activities).


V1.0 notes -- 1/18/2019

This was an unexpectedly fun project. Development goes a lot easier when you aren't cycle-counting or worrying about size optimization. As always the Apple II lores color pallette and pixel size are a bit of a challenge.
---
Other Apple II Demakes
---
Other VMW Software Demos / Demakes
---
Other Apple2 Projects
---
Back to the VMW Software Productions Page