Apple II Duke Nukem Proof of Concept
This isn't a full demake/game, just a proof of concept.
---
Details
I threw this together in response to a comment made by Foone.

It's a tile-based platformer for the Apple II, loosely based on Duke Nukem 1 by Apogee Software.
---
Video
Capture of v0.2 on actual hardware (Apple IIe Platinum):


You can watch an emulator capture here: video


---
Screenshots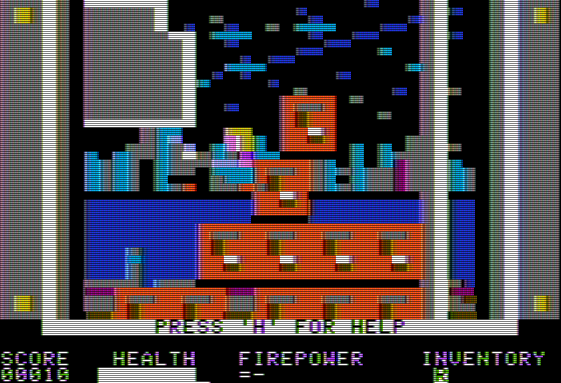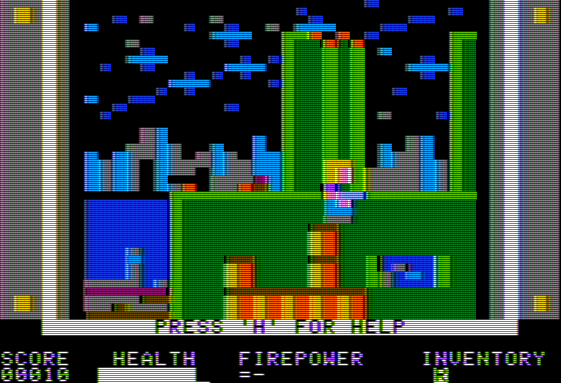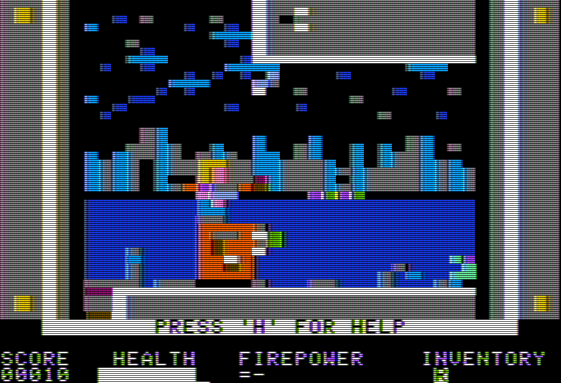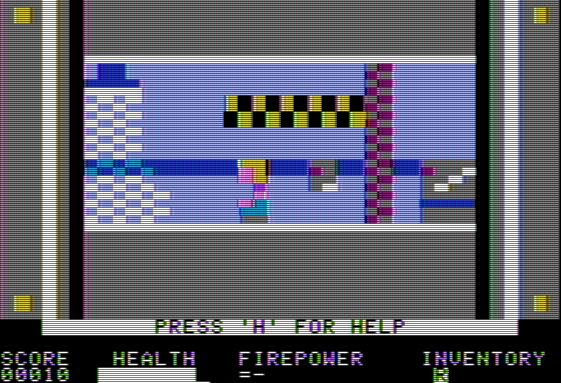 For comparison, here's a screenshot from the original game (DOS/EGA):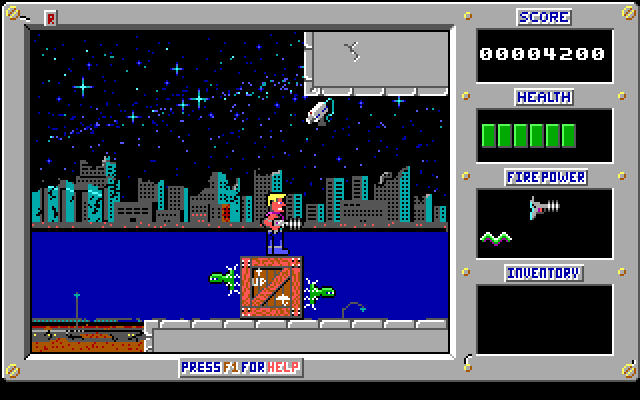 A few screenshots from the "bonus" level: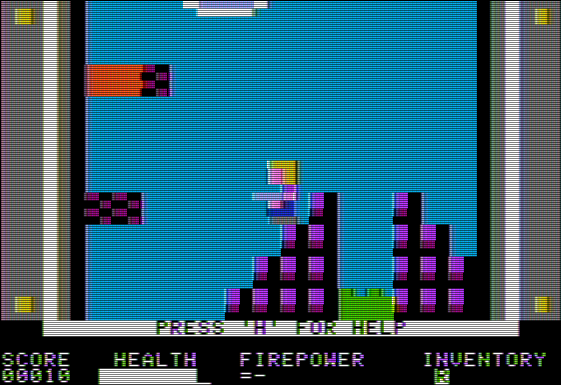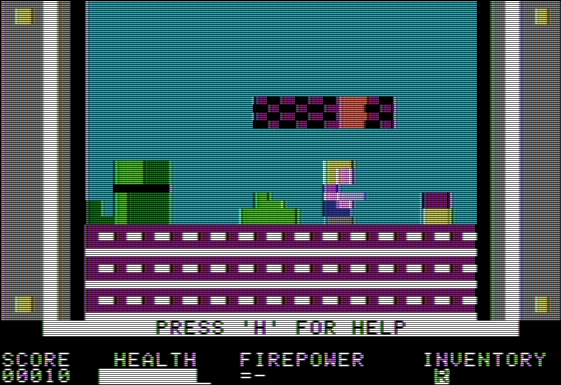 ---
System Requirements
Any sort of Apple II should work (II/II+/IIe)
Should also run on IIc or IIgs but not tested as much
At least 48k of RAM
You probably also want a color monitor
---
Downloads
Disk Image
Source
---
Playing in a Browser
If you don't want to use an emulator / don't have an Apple II at home, you can in theory play in a browser at the internet archive here: Duke Nukem Apple II
---
Frequently Asked Questions
Why not hi-res?

I feel like I have to answer this question a lot. Anyway, the simple answer is hi-res is about 8x worse than lo-res in about every possible metric except for raw pixel count. It's slower, takes more RAM, and is a lot more difficult to code.

Just one example: it took me almost as much time to try to get the colors right in the hi-res intro splash screen as it did to write the actual code for the game.

Here is a quick conversion to HGR:

It would probably look better if someone took the time to dither the art. You might say, what about purple and green? The problem is if you try to mix purple/green with blue/orange you get ZX Spectrum-style color clash, and having transparent sprites becomes difficult. Even just using a proper 4-color subset, getting black in your sprites is difficult without having an extra masking step.

Performance would be horrible too. Someone clever can make a hi-res platformer (see Prince of Persia) but a scrolling platformer would probably be really slow.

What about double-hires? Even more obnoxious than hires.

What about double-lores? Maybe doable, but I like code that runs on an Apple II+ with 48k of RAM.


Why did you release the game in an incomplete state?

I did most of the easy stuff. The major remaining thing is the enemy movement/AI which is difficult. Especially as there are two co-ordinate systems (the tiles and the sprites) and it's a pain mapping back and forth between them.

However the main reason I rushed the release is because I'm really supposed to be grading final exams and final projects right now so I needed to get a release done so I wouldn't be tempted to spend more time on it.


Is there a level editor for the game?

The tilemap is just a big png file where certain parts are tiles and parts are the map. Currently you can have a 256 column by 40 row map using 256 2x4 pixel tiles. This works out to about 10.5k of data. This all compresses really well with LZSA.


---
Development Notes
17 December 2020 -- Release v0.03

Added an interesting Level #2, it's fun having a tile-based engine for Apple II. Also added some appropriate Mockingboard music.

Was fine tuning the controls but possibly made things worse.

16 December 2020 -- Release v0.02

First full release, can more or less "beat" the sample level. Enemies don't move and controls are still a pain.

14 December 2020

Unwisely fleshing this out to a playable demo. Tilemap loaded from PNG. Can more or less walk around and shoot, still no enemies yet. As always awful Apple II keyboard makes the controls a bit awkward.

14 November 2020 -- Release v0.01

Threw a screenshot together in like half an hour as I was curious what it would look like. This was in response to an off-hand post by Foone, something about Duke Nukem being angry about being forced into CGA mode.
---
Other Apple II Demakes
---
Other VMW Software Demos
---
Other Apple2 Projects
---
Back to the VMW Software Productions Page