Christmas 2010
December 2010 was a little cold here in Knoxville, including some brief snow.

We went and got a tree at the only tree farm in Knoxville that is open on weekdays. (The rest are open Saturday only for some reason).

It was a bit of an adventure getting there as the road from the highway was flooded out due to all the rain, so we had to detour.

The tree farm itself was interesting. I guess the best word to describe it is "Appalachain". We found a nice tree though, and they blew the loose needles out of it with a leaf blower. Here I am carrying it back to the car: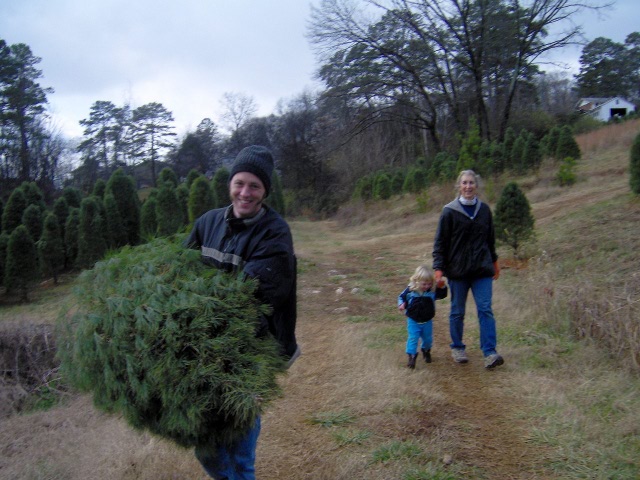 I drove to Atlanta for the FHPM workshop and Micro conference. Things were so exciting they sent a blimp to cover it. Or maybe it's here for the SEC Football Championship Game happening a few blocks away, I'm not sure.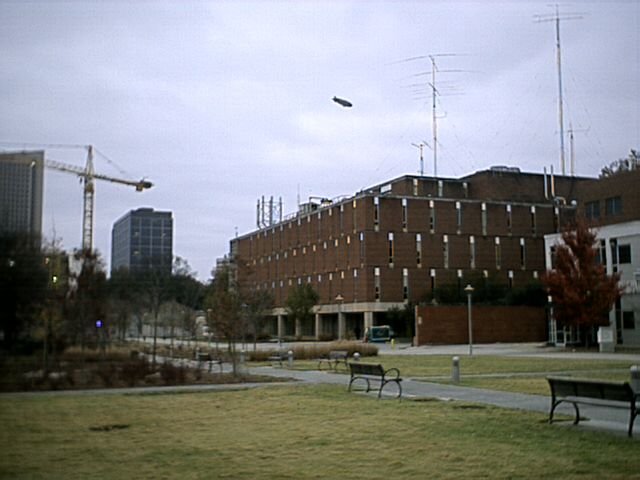 Here are some more low-res pictures from mid-town Atlanta (I had the old camera with me).

Out of morbid curiousity I wanted to see if the panorama software would work with the old camera. It turned out surprisingly well.

Here's the view from my window, looking toward Georgia Tech. (This view is normally blocked by the big-screen TV). To the far left is the Georgia Dome and Boby Dodd Stadium. The red writing on the tall building says "Coca-Cola". The grassy area to the right is actually on the bridge over I-75.




My eeePC didn't have enough disk space to install the panorama software, so I actually ran it with the display exported from a machine at Cornell to my laptop here in Atlanta. That worked better than I thought it would.

Here's the building my talk was in on Saturday. It's huge, and solely for Computer Researchers (and there are more buildings for Computer Engineering and Computer Science). It really is curved, that's not an artifact of the panorama.




I walked around campus, which was pretty empty over the weekend. This building in the background is One Atlantic Center; you can't tell but the pyramid on top is all copper clad and they light it up at night: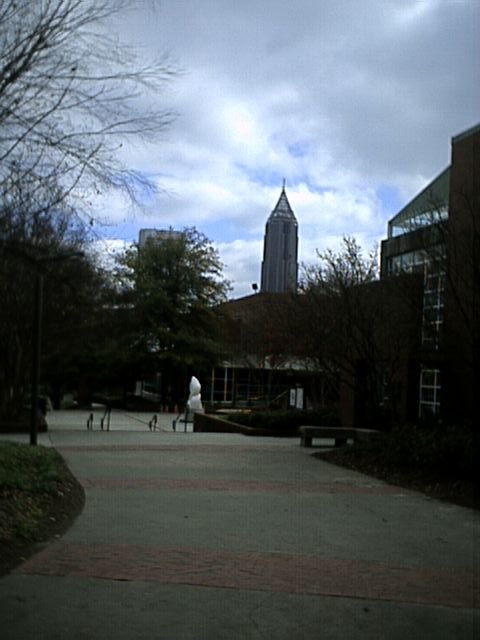 A weird fountain/ampitheater I found when looking for the campus post office. The thing on top of the tower is the symbol you see on the GA Tech logo; I'm not sure which came first.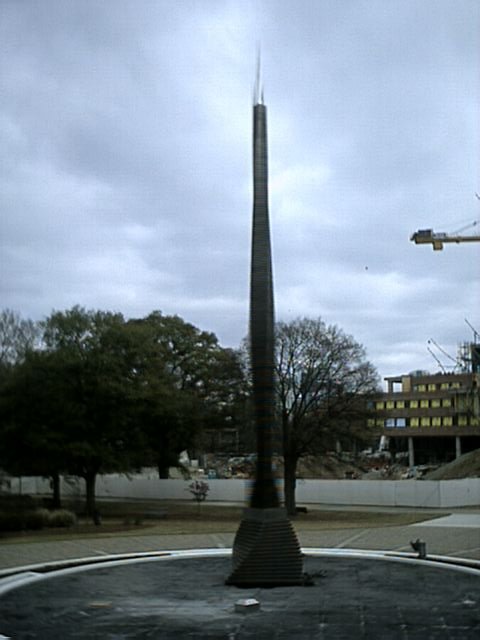 In the hotel lobby they have a replica of the "Ramblin' Wreck from Georgia Tech". You can find out more then you ever wanted to know about the rambling wreck on Wikipedia: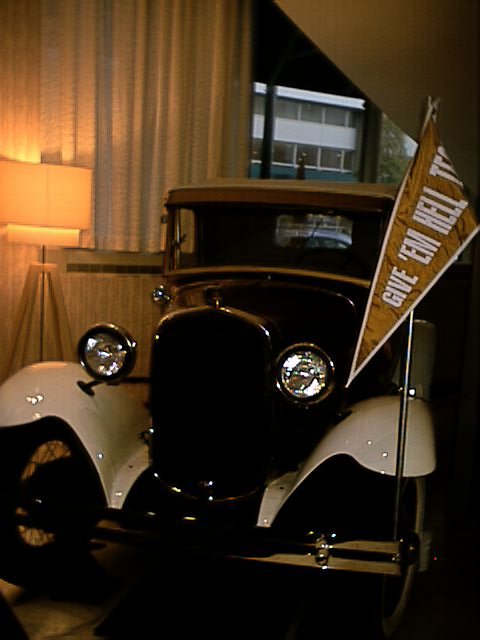 The conference excursion was the Georgia Aquarium. I took a number of poorly lit grainy pictures there.

Big fish: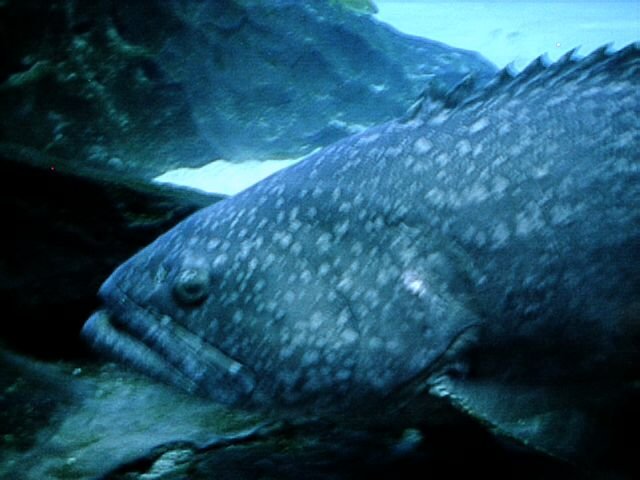 They had a cool tunnel you went through where the fish swam all around: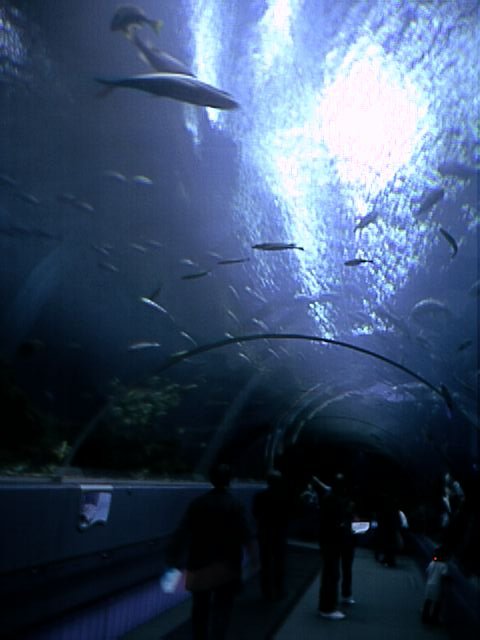 A self portrait of me there. A second-year grad student from Binghamton grabbed my camera and tried to take a better picture of me, but it didn't turn out (She was very confused that my 10-year old digital camera didn't have a preview on the back):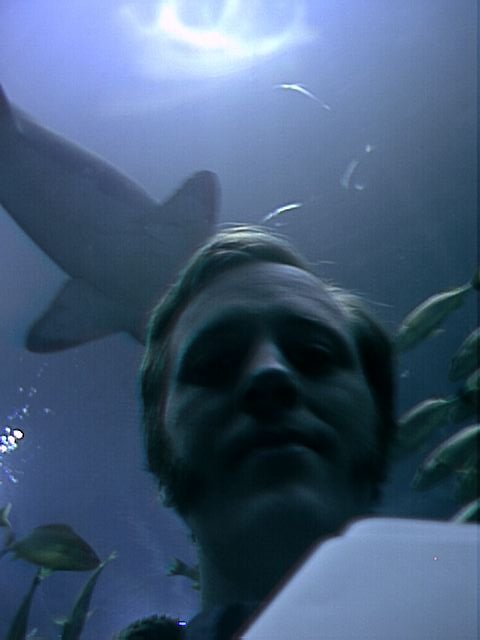 This octopus was pretty cool: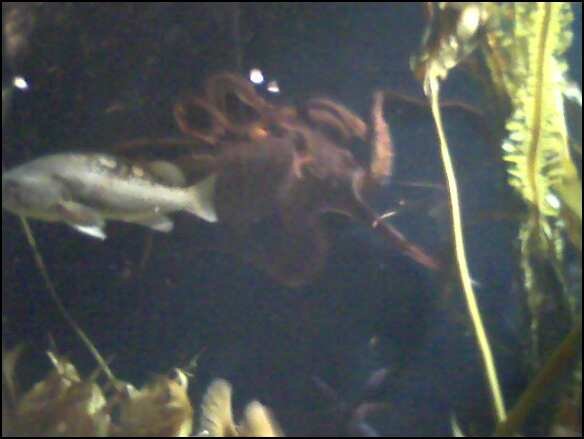 You could climb through a tunnel and pop up in a glass tube among the penguins. This didn't seem to surprise the penguins at all, even when I bonked my head because the exhibit was really designed with kids in mind: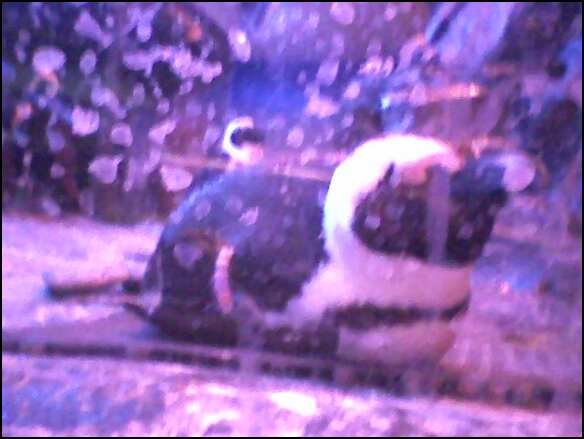 Cool Jellyfish. They also had a neat tank of Pirannahs, though they ruined the impact with a placard that claimed that Pirannahs aren't aggressive and that they typically only bite fishermen in self defense.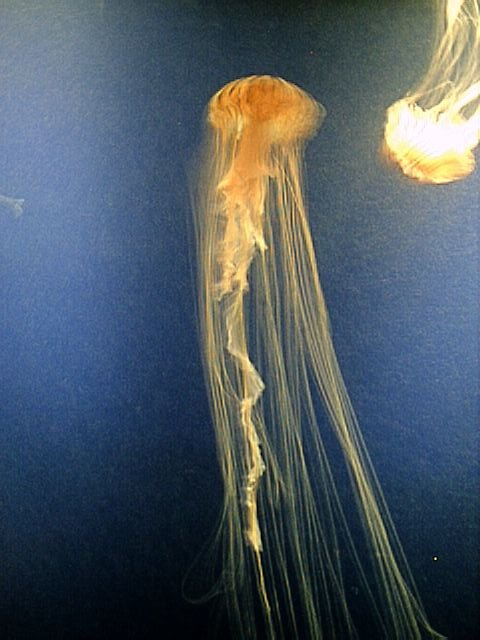 The coral reef exhibit was just like watching Finding Nemo: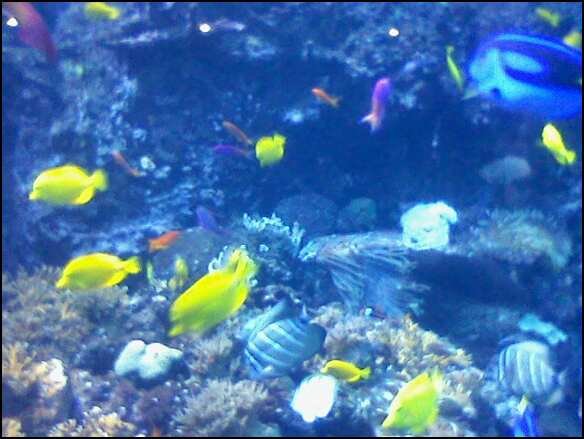 Oh no, Metroids! Where's Samus when you need her?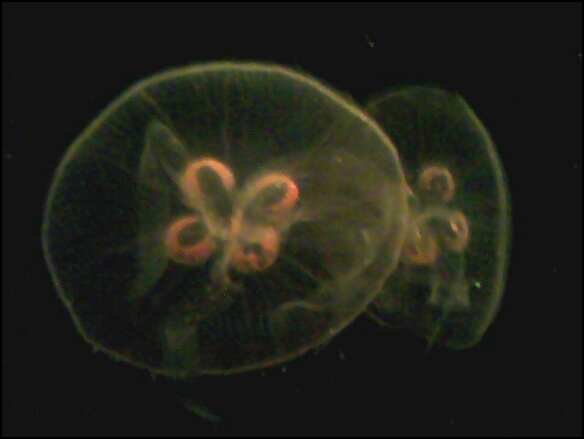 Overall they had a lot of cool fish, but I think the National Aquarium in Baltimore is larger (and has a cool rainforest).

Back to Knoxville, with more decorating. Our stairwell was outfitted with LED lights: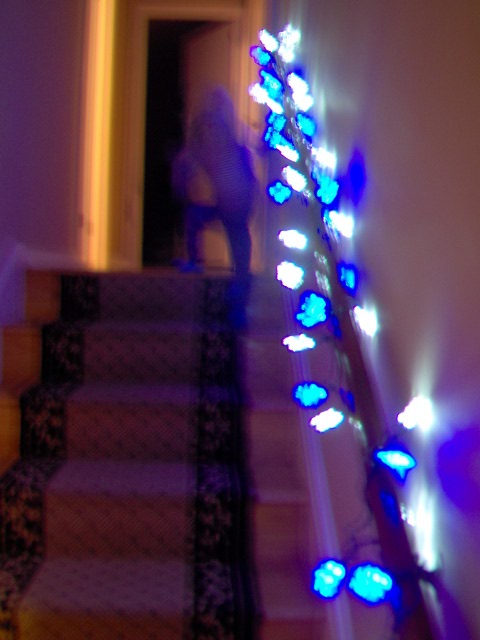 While I was gone they went to the UT Gardens Holiday Express.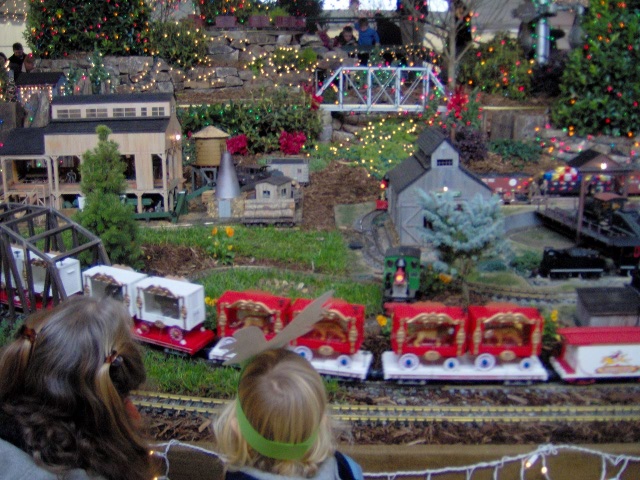 You can see a waterfall, and also a UT-orange themed train: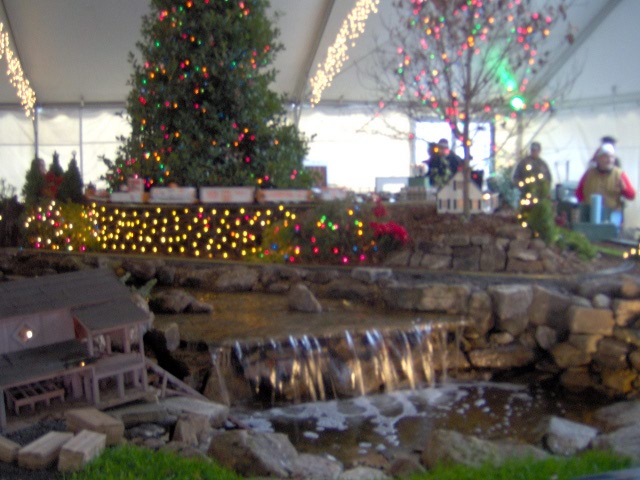 This was K's favorite: train cars with fish in them: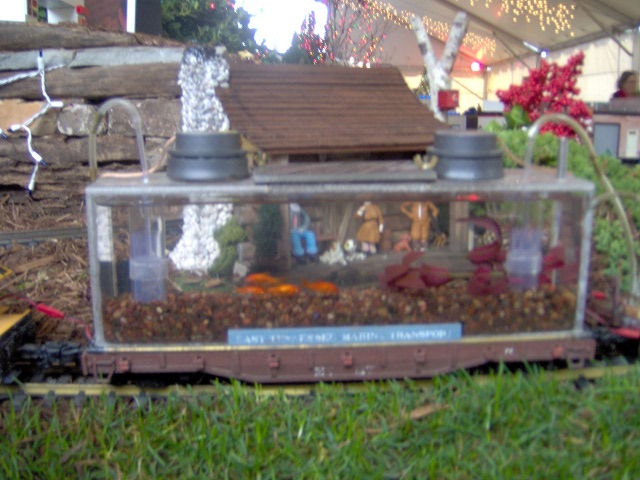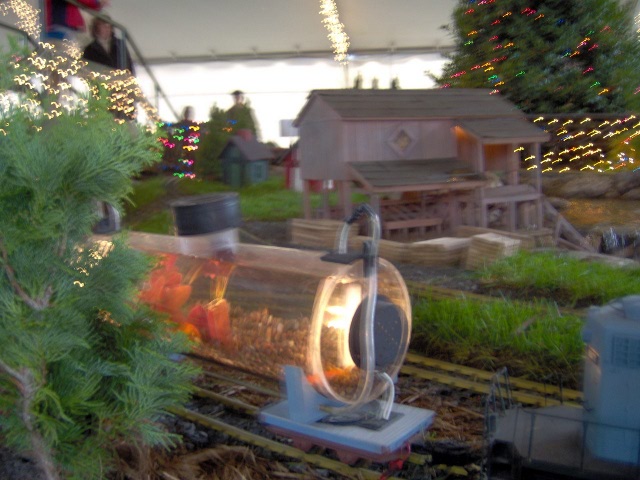 We went to the very corporately named Comcast Christmas at Chilhowee Park to see the lights.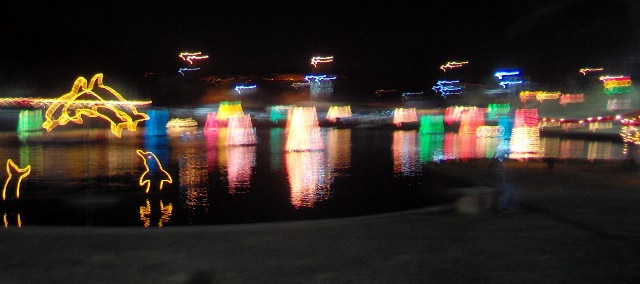 There were a lot of things to do, all with extremely long lines. I think E would have liked the horse-drawn carriage ride, only the line for it was so long I don't know if we ever found where it started.

There was a guy there who had a bunch of model trains running on a trailer; I wonder if you could use it while going down the highway: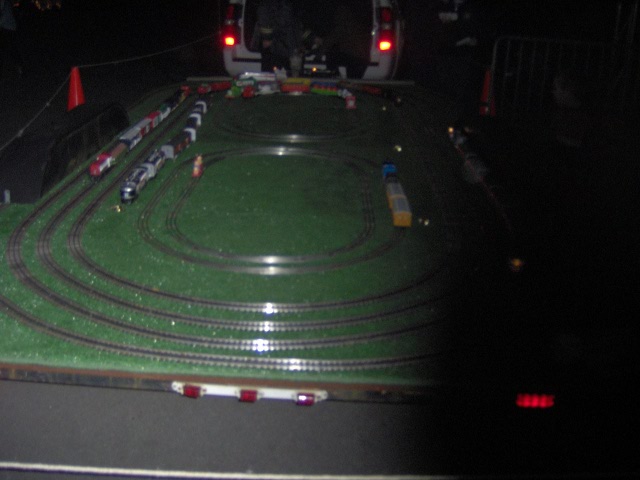 It's snowed again; we barely got more than an inch on the ground, but schools are canceled for and I don't have to go into work until 10AM.

At the Christmas lights event we got a free frisbee. E was excited to try it out (the weather was in the 50s then). You can guess where the frisbee quickly ended up. I'd like to blame the poor aerodynamics of a cheap flying disk for this, rather than any perceived lack of skill: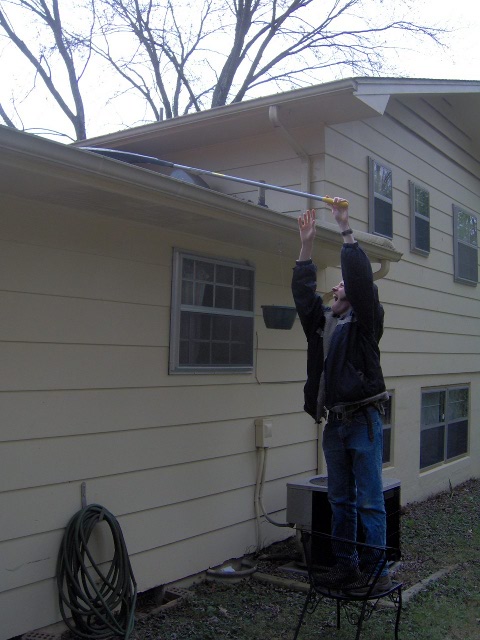 Baby-doll was making sure no one got to the playdough without dealing with him (her?) first: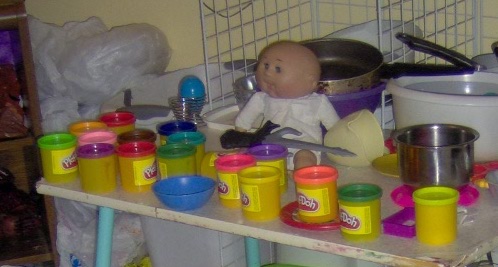 We went back to the model train exhibit so I could get a chance to see it. Here I am with E, who I think is pointing out something to me (rather than giving the whole thing a thumbs-down as it might appear):



K was annoyed I was taking more pictures, as hers were very good. But did she take any panoramas?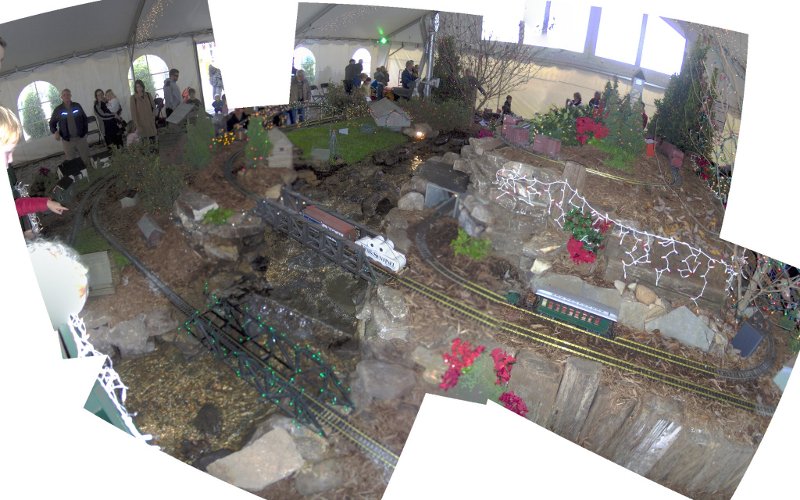 I wasn't sure panoramas would work of objects this close, but they look good if you ignore the fact that the layouts are filled with ghost-trains: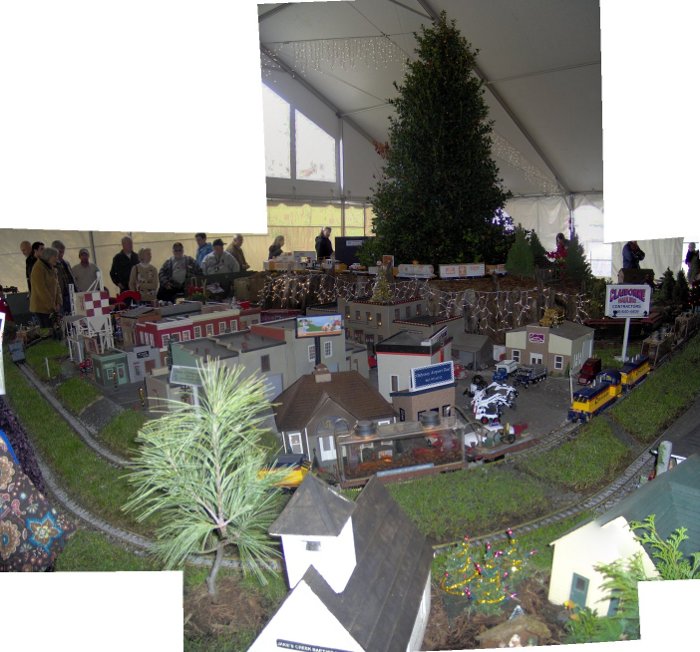 On Sunday we took E to see the Knoxville Nativity Pageant where for the 42nd year a local church has presented a Nativity Pageant for free at the local hockey arena.

By Wednesday they had finally sort-of cleared the roads from the 3" or so of snow we got in Knoxville, only to be hit by an ice-storm Wednesday night. It wasn't a very impressive ice storm, but enough to delay UT opening to noon. I didn't get any good pictures of the ice, you can sorta see some icicles on our patio table: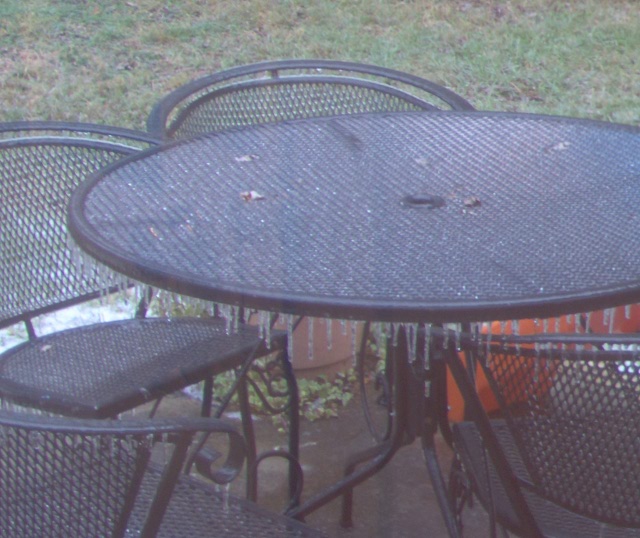 On the plus side the front that brought the ice storm raised the outside temperatures about 30°F. The warmer weather melted our driveway; this is good, as we would have been trapped since our driveway is hard enough to get up as it is without it also being a solid sheet of ice.

As always we were about to set off on a long Christmas trip up the East cost. We hoped for good weather, unlike last year where we got over a foot of snow which canceled my Grandma's party.

Of course K's mom called to say a nor'easter is coming with 5 feet of snow (or something like that) on Monday, when we had planned to drive on to Massachusetts. Luckily the forecasters were alarmist.

We left Knoxville at 5am. There was snow from the TN/VA border on North.

We made it to McSherrystown by 1pm or so and got to hang out with Great-Grandma Weaver. E's Grandparents, Aunt and Uncle all arrived and E got all excited. "Everyone's here!" she said. Her Uncle took her outside to play in the snow: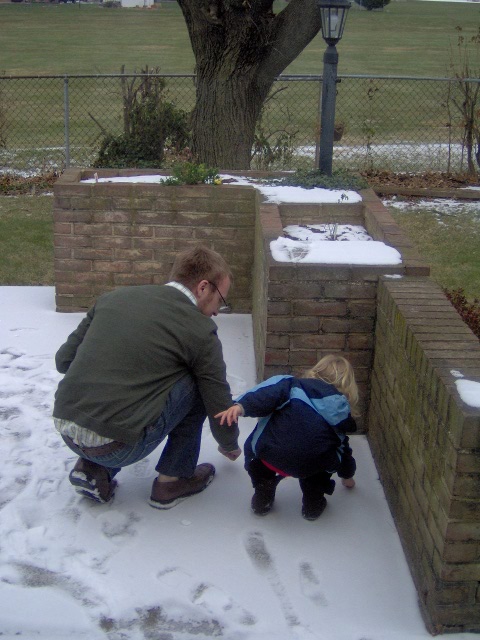 We went to the Inn 94 for our traditional dinner (that we missed last year due to snow).

I got 4.4 pounds of caramel candies, yum: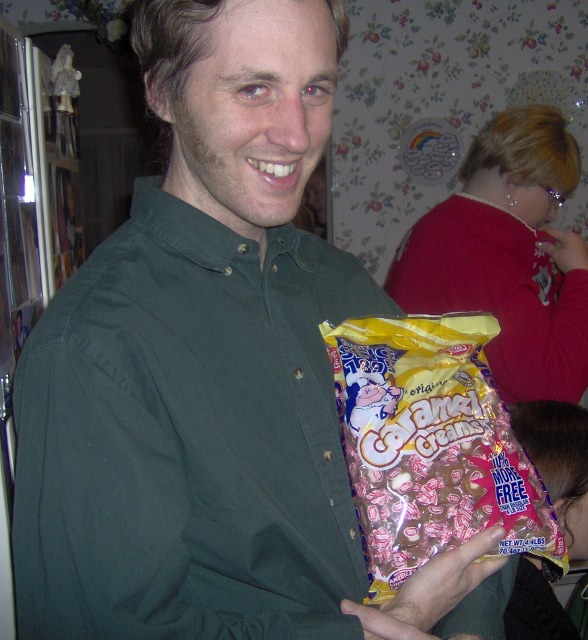 We managed to successfully navigate our way back to Joppatowne, and eventually got to rest.

We visited with my family, and then on Monday we woke up and left by 7. Here you can see the sun rising over the Susquehanna River: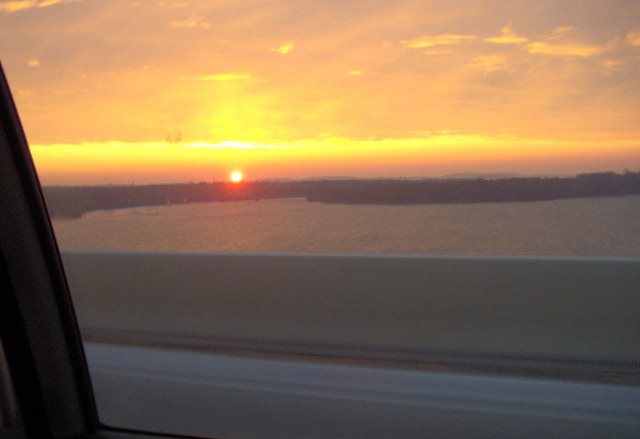 (Alternate title for you Cyrkle fans: The Morning Sun is Rising Like a Red Rubber Ball)

We hit some traffic around exit 12 on the Jersey Turnpike. We made up for that by having no line at all at the George Washington Bridge.

As predicted, there was no snow at all until Rhode Island, and then it really wasn't sticking at all until we neared the Cape. The last little bit was slippery, and we almost got the van stuck on the unplowed court that K's family lives on. We did make it though: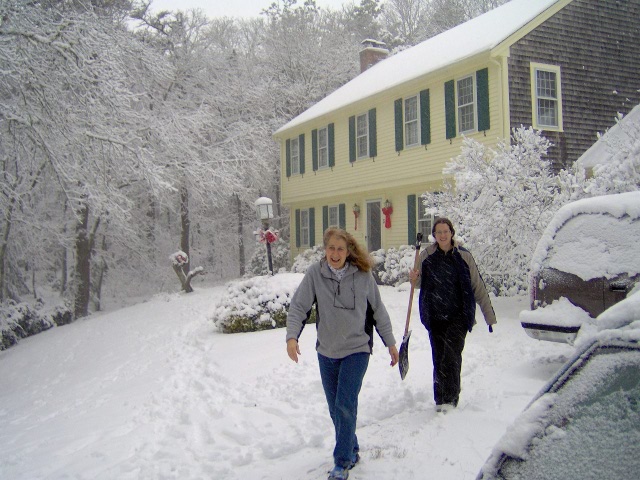 By Tuesday morning there was over a foot of snow on the ground. It was very wet snow, so after going out to shovel I started making some snowmen.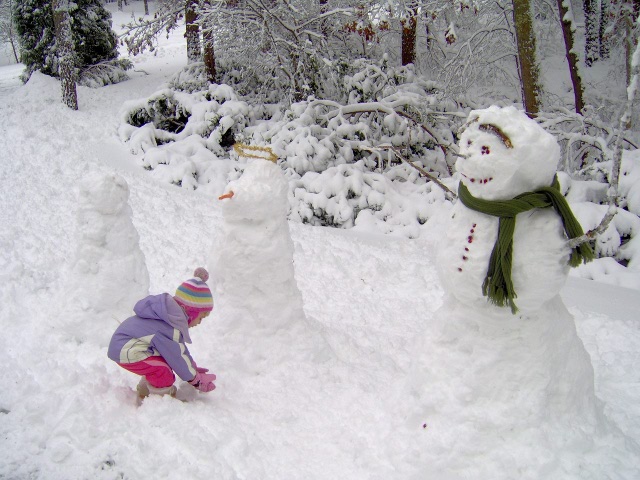 Tucker the dog enjoys playing fetch with snowballs.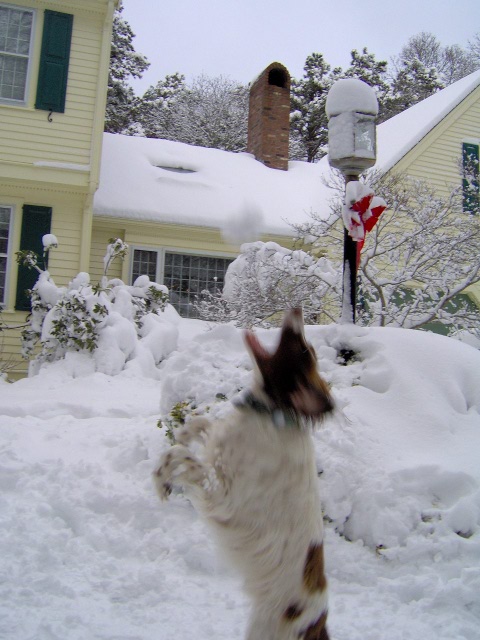 Take one last look at our snowmen, as it was getting warmer out and starting to rain so they might not be long for this world: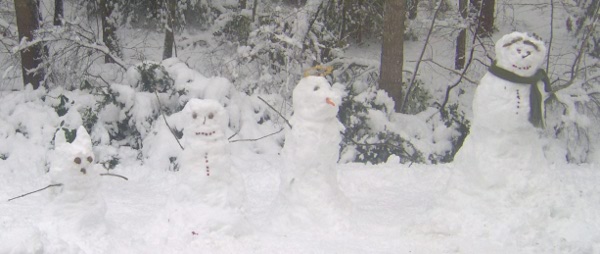 Wednesday morning the snowmen had indeed fallen apart, but I took the remains of the 5 old ones and made two hybrid ones: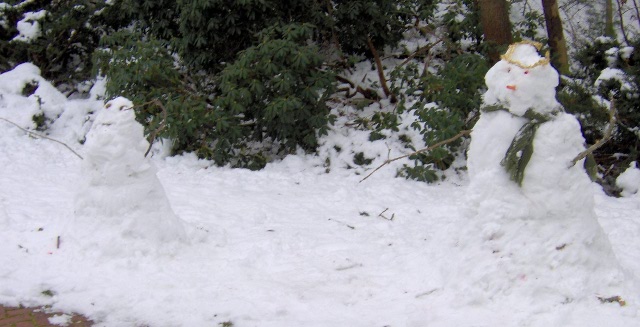 I made the top crust on this apple pie: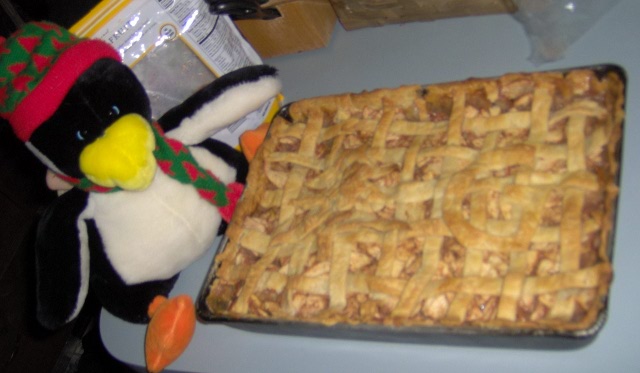 In the afternoon we drove up to Boston to see our friends Brian and Jan. I had forgotten about the joys of Boston traffic. We did get to drive in the breakdown lane since it was rush-hour (even though it was only 3pm).

The same nor'easter that gave us snow on Monday has swirled around and returned, bringing more snow. Getting out of Newton took forever, but we did manage to get onto main roads and outrun the storm. We took a roundabout way home so that we could save $.30/gallon on gas at the grocery store.

On Christmas Eve we stopped by the beach, as K's family is moving away and this would be our last time there.

It was cold and windy.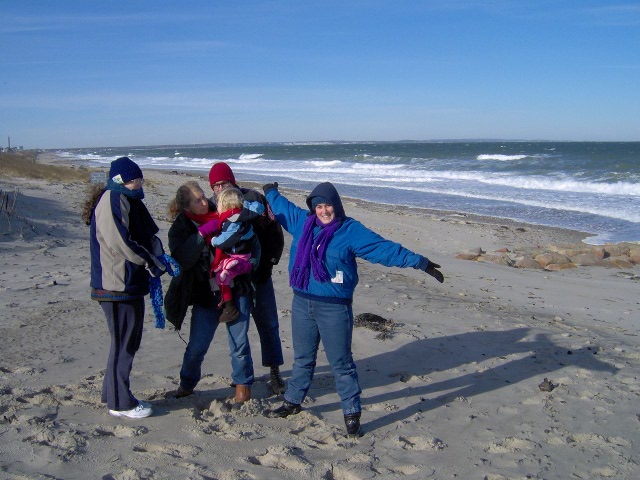 No one listened to K and my advice about getting to church early. In the end despite being almost 15 minutes early it was more or less standing-room-only.

How you might feel on Christmas Eve if you're the parent of a toddler. I think they had me finish off the sparkling grape juice just so they could get this picture: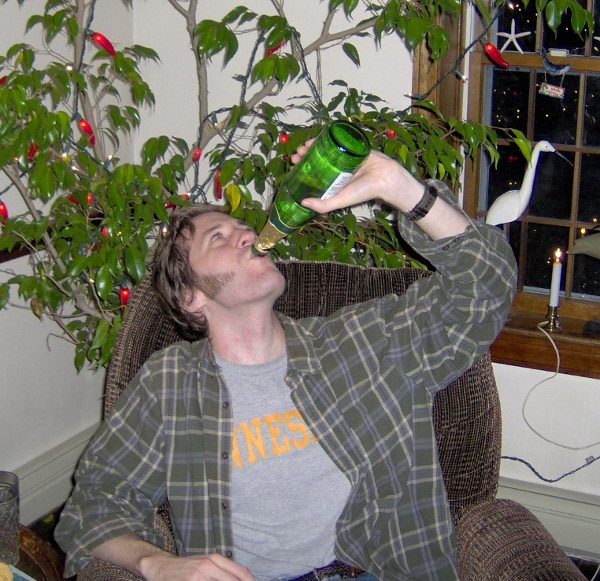 It's Christmas! K woke early and took this picture of the tree. It doesn't look like many presents, but that's because the tradition in K's family is to keep the massive pile of presents in a separate room and bring them in gradually.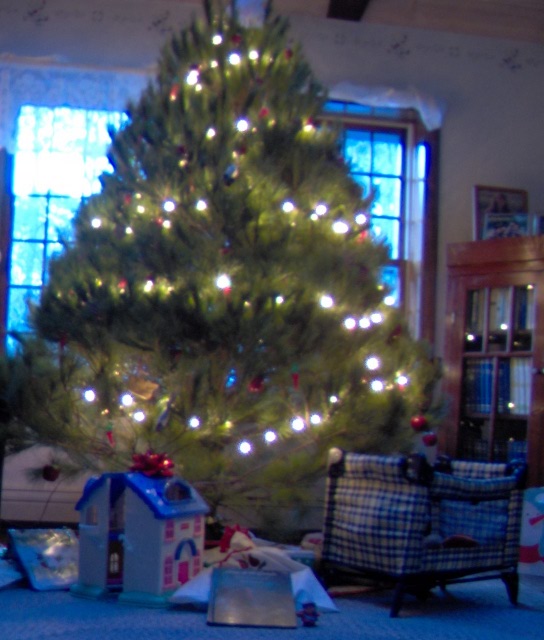 Later, the Blizzard of 2010 knocked out power for 6 hours, so we had some candle-lit adventures. In the end we were on the wrong side of the snow/rain line. We only got a few inches of snow, not the feet they got elsewhere in New England. The snow has delayed our trip back to Maryland.

One last batch of peanut butter balls were made: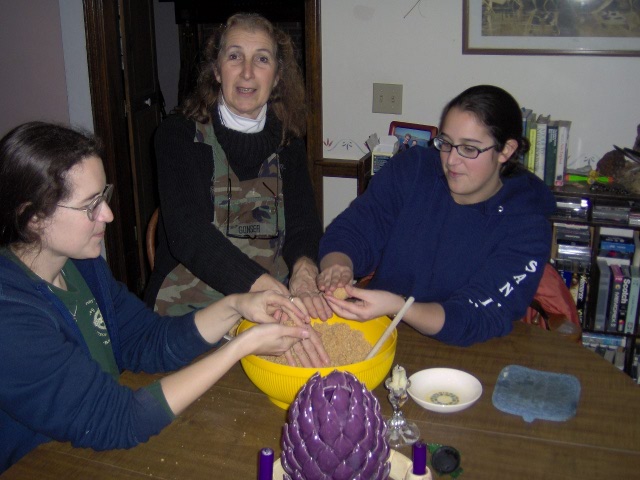 E got a fancy Afghan dress for Christmas but didn't want to wear it. Various other people tried it on to try to convince her to change her mind. Here's her Aunt modeling it: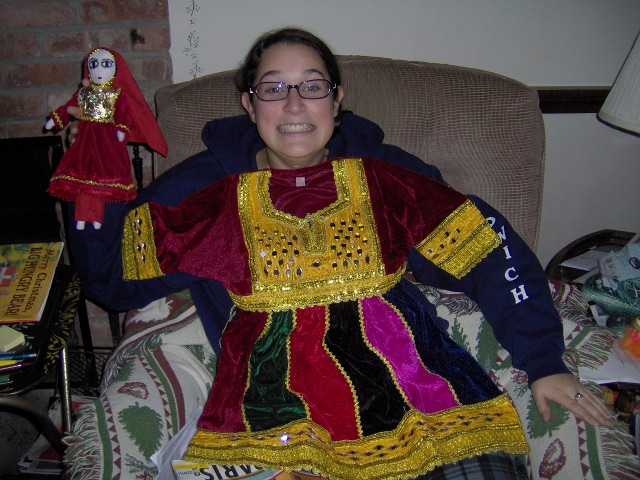 On Tuesday morning we woke at dawn and started our drive back to Maryland. Aunt Laura was along for this drive.

Luckily all the roads were clear (though some merge lanes could have used some work). There was a lot of snow through the NYC area. Traffic was bad in NJ, DE and MD and we had to take various alternate routes. We finally made it to Laura's place in Baltimore around 4pm.

Laura had to prepare for her trip to Paris (she was leaving the next day), so we went on to visit Marie. We had the misfortune of trying to leave downtown Baltimore at 5pm so it took nearly an hour to go the 10 miles to Ellicott City.

We finally got to my parents around 10:30. We went to sleep soon after.

Brandon was nice enough to drive down from PA to visit us. We took him for the traditional walk at Mariner Point Park: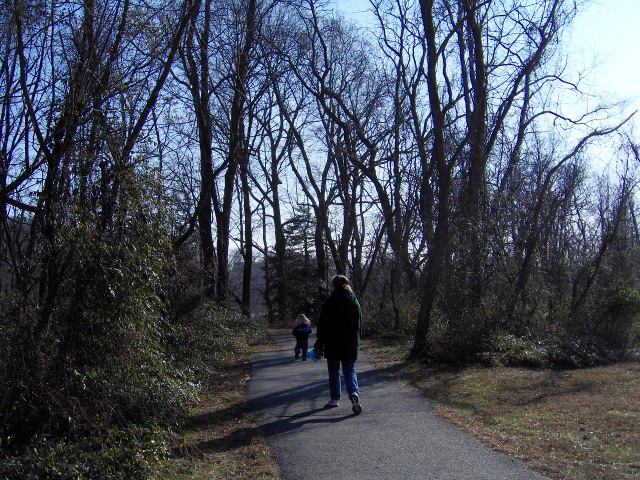 It's been cold enough that there was ice on the water. Here's a panorama I made by hand because I was too lazy to fire up the other laptop.




Brandon gave E a Star Wars alphabet book. L is for Luke and W is for Wookie. K is worried this might lead to hard-to-answer questions like "Mommy, what's a dark lord of the Sith?"

We spent some time playing pinball: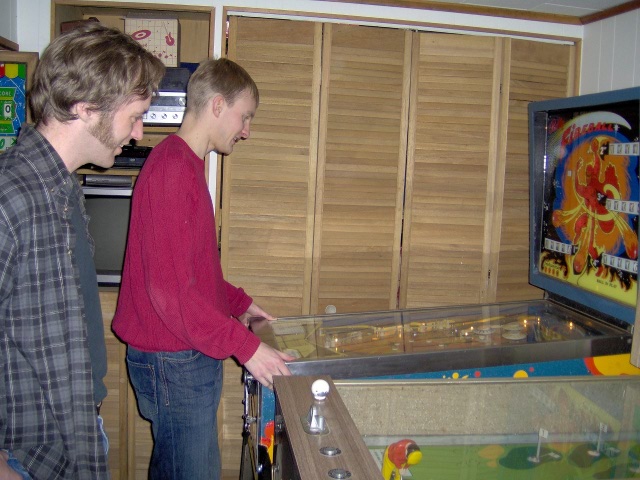 On Thursday we went to Dundalk to see a train garden. My favorite part of the train layout was the Bromo-seltzer tower: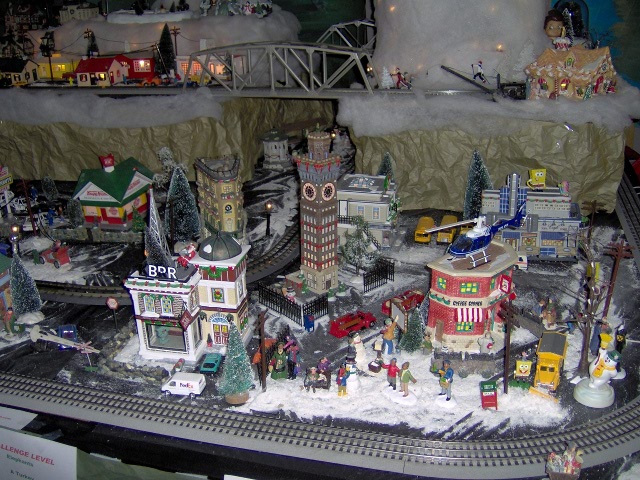 E's Aunt came over to open presents, and it was Grandpa's birthday, so there was ice cream cake!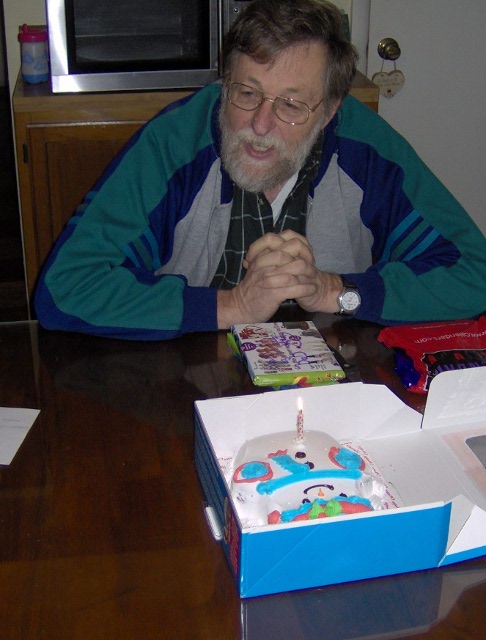 Throwing gumballs in the water out back. Unlike the summertime, they got stuck on the ice:



On New Year's Eve we sadly left E's grandparents and started our long trip back. First we stopped in Columbia to meet my college friend Elaine and her husband Andrew for lunch. I didn't take any pictures of that though.

We next went to visit John, Katy and Baby Sam (who is now a toddler).

Some other friends came over later and we played Trivial Pursuit. This is the first full game of that I've ever played; usually people avoid playing the game with me (even though, as with this time, I never win).

We were going to leave on New Year's day, but we used the excuse of bad storms along the I-81 corridor to stay another day.

John and I played Civ4. It was the first game of network Civ4 John and I have managed to play until completion (I just barely won with a space-race victory in 2001). Katy and K were nice to let us play the game.

Sunday morning we woke at 5am and made the final drive back to Knoxville. We made it in at 1pm or so, and spent the rest of the day unpacking. Everyone is tired!
---
Back to pictures page