Vince's Trans-continental Trip
22 May 2005 - Sunday
---

0 Miles - Left Jackson, Wyoming
We headed Southwest toward Idaho on US-89. We caught up with the Snake River, which was extremely scenic. We followed it until we got to the Palisades Reservoir.

One odd thing to note, is that in some western states the government puts little roadsigns alongside the road where a fatal car accident has happened, to warn you to drive carefully. There was a disturbing number of them all throughout Wyoming.

We passed through Afton, Wyoming, which has multiple claims to fame. They have the world's largest intermittent cold spring, they have the world's largest elkhorn arch (which we drove under). Butch Cassidy and the Sundance Kid were all over the areas we've been driving through, practically every town claims to have been robbed by them. And finally, Afton is the home of Rulon Gardner, the famous Grecco-Roman wrestler from the past few Olympics.

We continued on, and soon we were on the Oregon Trail headed toward Soda Springs, Idaho. You can see Soda Springs just to the left in the picture: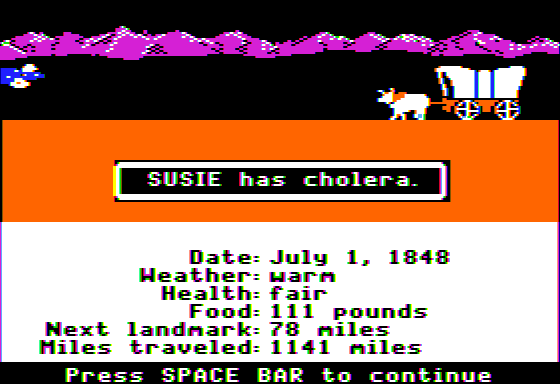 Luckily Susie got better and we decided not to head to Soda Springs, but toward Bear Lake.

97 Miles - Arrived Idaho
We passed through Montpelier, Idaho (named for the capital of Vermont, where Bringham Young was from) and on to Bear Lake. There was some sort of bicycle race happening, we kept passing teams of cyclists going the other way. There were large numbers of black birds with odd white stripes on their backs; probably a common Western bird but it looked strange to our East Coast eyes.

142 Miles - Arrived Utah
Bear lake itself was very pretty, but half-way around we left its inviting shore and headed straight up the mountain.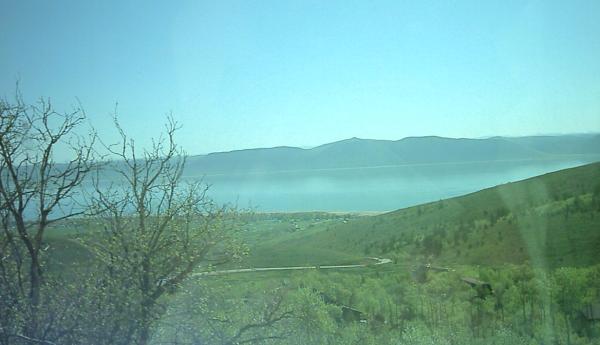 We climbed over the Wasatch Mountains and came down toward the Great Salt Lake. We passed through Logan and Bringham City and came suddenly upon I-15. It was quite a shock to be on an interstate again, especially one that was so busy on a Sunday morning.

We continued through Ogden and into Salt Lake City. We decided to drive around the downtown area just to get a feel for it. We saw the famous Temple Square but my picture of it did not turn out. So instead, here's the State Capitol building:



We then drove out of Salt Lake City and on to the more barren land along the lake. We stopped at a state park to view the lake; I was disappointed. The beach, Saltair Beach, was slime-covered, dead birds littered the area, and the water had a rank smell. You could walk right up to the shore and see the brine shrimp swimming about. I wouldn't have wanted to swim in the lake, even if it would be my one chance in life to actually float in a body of water.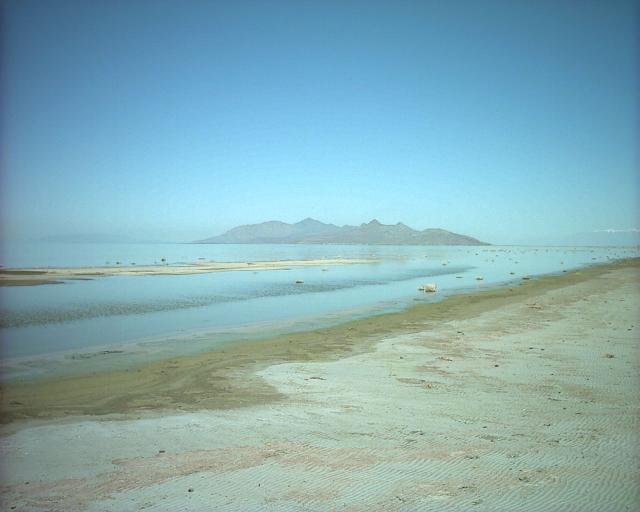 My face got coated in salt spray, which was falling into my eyes the rest of the day.

We then drove the deserted stretch of I-80 through the salt flats. It was just the highway, the train-tracks, and nothing else for miles, except a few salt mines. Oddly the flats seemed to be coated with a thin layer of water. I do not know if that is normal (note... upon some research, yes it is normal for there to be a thin layer of water on the flats in the spring).

After many miles we reached a rest area overlooking the Bonneville Salt Flats. It too seemed to have a layer of water on it, not at all what I pictured a dry lake bed looking like:



We continued on until we reached Nevada.

392 Miles - Arrived Nevada
We are now in the Pacific Time Zone.

Nevada was barren, but surprisingly Mountainous. I-80 kept going up and over some surprisingly large peaks. Besides that though there's not much to say about Nevada.

After a lot of driving we arrived in Reno. After some debate we decided not to eat supper in a Casino, but we drove through the city which was opulent. We continued south to Carson City, the capital. We stayed at the Motel 6, which had possibly the ditziest hotel clerk ever.

We celebrated the near end of our voyage by eating at the Sizzler there.

844 Miles - Arrived Carson City, Nevada

---
Day 5 - 844 Miles Traveled, 3845 Miles Total
---
---
Back to the main trip page