Vince's Trans-continental Trip
20 May 2005 - Friday
---
Again Kristina and I woke early, but again this was mitigated by being in a new time zone, Mountain Daylight Time.

0 Miles - Left Wall, South Dakota
First thing we drove to Mt. Rushmore National Monument. It is in the Black Hills of South Dakota. We got there early. Alas, the park pass didn't cover us here, as it is $8 for parking but the view is free. They have a nice looking visitor center that was built in the last few years. Here's the famous view: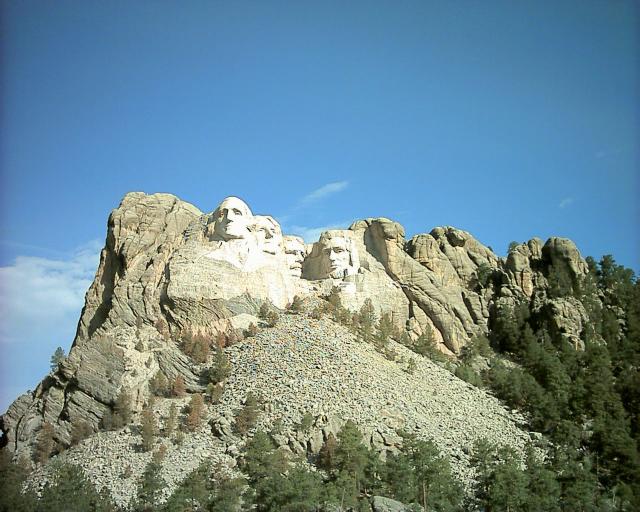 There were trails where you could walk right to the base of the mountain. Here's Abraham Lincoln from up close: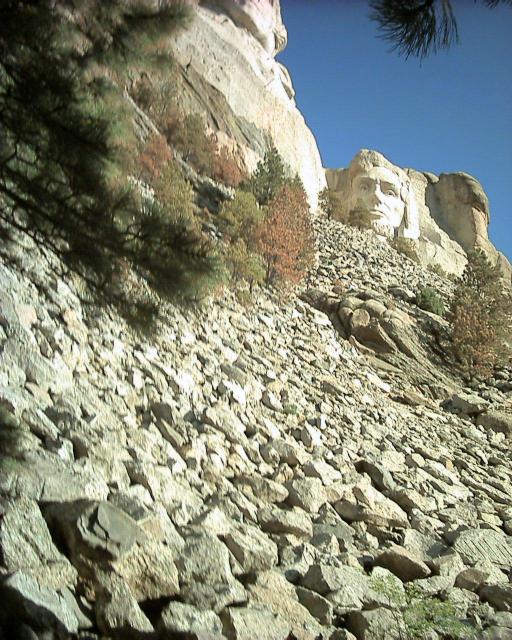 There were little stops to see all of the presidents and info on their respective lives. Alas for Teddy Roosevelt, as he is the hardest to view.

We next drove to Custer State Park. To get there you travel along a lot of switchbacks, including roads that curve so much they pass right over themselves on a bridge. (The local signs called this a Pigtail Bridge). There were also a number of one lane tunnels; I think we went through almost every single one of them. You got to honk your horn before going through to warn oncoming traffic.

The park is filled with wildlife, and there is a convenient loop road. For some reason this particular weekend the admission was free, so we didn't have to pay to get in. Right near the entrance was a wildfire! They had helicopters dropping buckets of water, the whole works. Later we saw up close the lake the helicopters were filling at, but unfortunately I didn't get a picture of that, but here is a picture of a helicopter en route with bucket: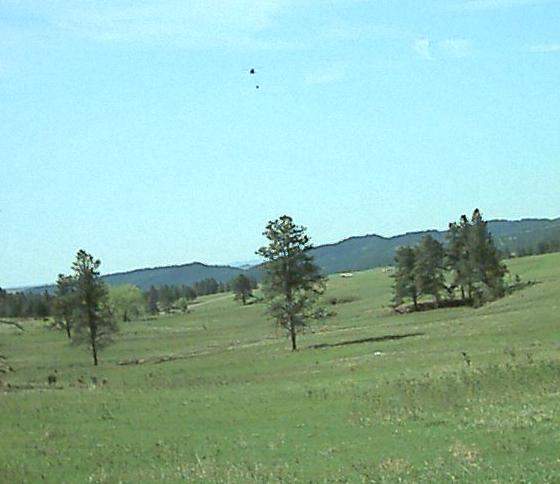 We saw a lot of wildlife, including Bison, but I'll show pictures of them later. After a while the novelty of the Bison wears off. There was also a large prairie dog colony. Here are some pronghorn antelope: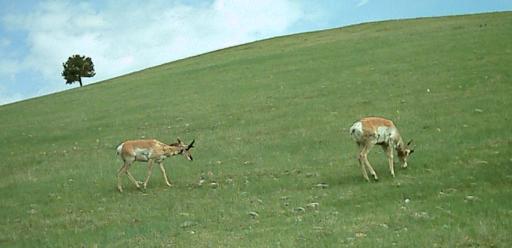 We left Custer and ended up right near Wind Cave National Park. We hadn't planned to go there, but stopped in since we were there. We inquired about the next tour, to find it was leaving in 30 seconds, so we quickly bought tickets and rushed down to the departure area.

Here is the natural entrance to the cave, where some incredibly wiry people used to enter before they built a more modern entrance (we entered by a revolving door).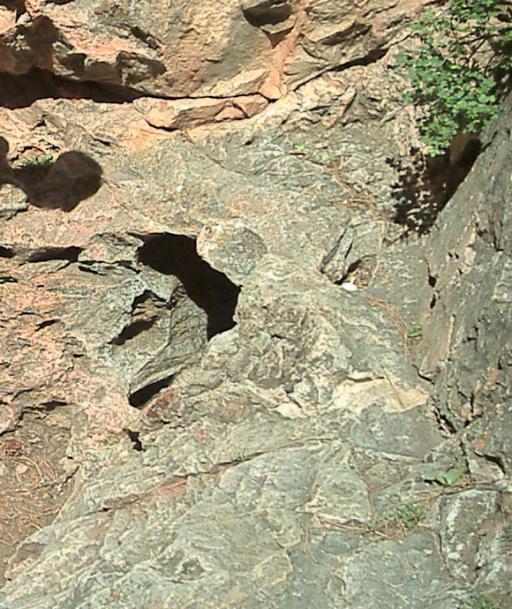 The Cave was one of the first national parks, although there was much controversy about it at the time and it almost got de-parked a few times. It is famous for its "boxwork" formations, which are rare in other caves. Here is an attempt at a picture of such a formation: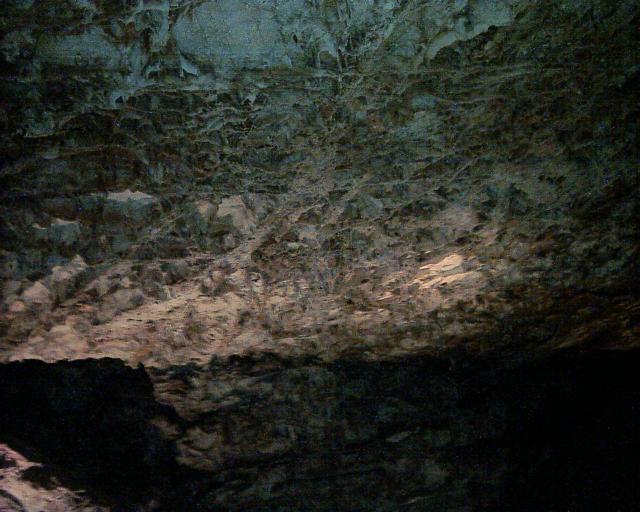 The cave is reputedly one of the largest in the world, and it gets higher on the list each time they send another expedition down to explore. It gets its name because sometimes the air pressure differences supposedly can be so much that wind will rush out of (or into) the gap, enough to blow hats off. Nothing quite so impressive was going on while we were there.

After journeying deep beneath the surface, we re-entered the sunlight and rushed to make sure Susie wasn't getting too hot in the car.

We next drove back to Custer park, along the Needles Highway, a really scenic (and mountainous) drive among pointy granite outcroppings. There were more tunnels as well. Here are some needles: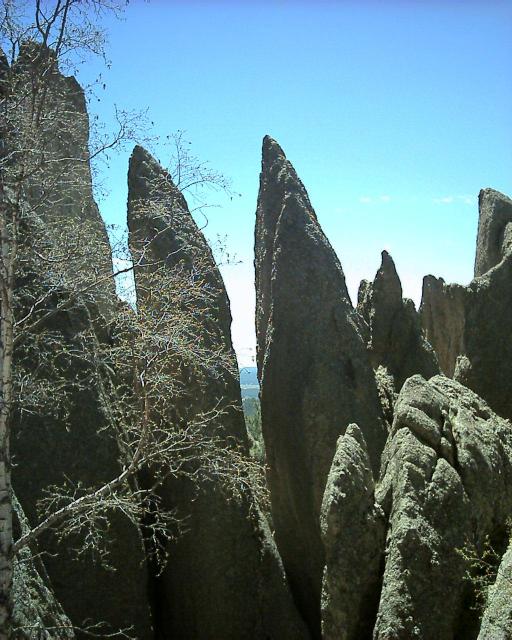 Here is another look, including a long narrow tunnel we drove through that was barely wider than the car: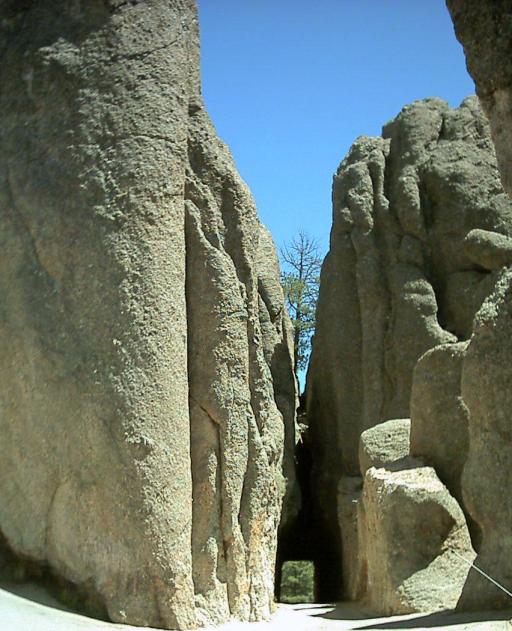 Along the drive we could quickly see Crazy Horse being carved into the mountain, but we did not stop to look at it closer.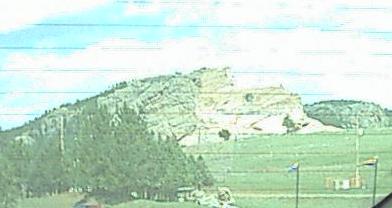 After this it was time to venture West again. We had hoped to go to the Minuteman Missile National Historic Site but unfortunately it is not very easy to get a tour there yet. We caught US-16 toward I-90.

221 Miles - Arrived Wyoming
Wyoming is very desolate in places. The most interesting scenery was all of the trains going by, often full of coal.

Once getting to I-90, I managed to convince Kristina to backtrack a bit so we could see Devils Tower National Monument. I kept expecting to be able to see if from a great distance, but you had to get close to get a good view. Around the area were canyons with pretty red rocks, which my camera did not capture very well, carved by the Belle Fourche River:




The tower itself is really neat: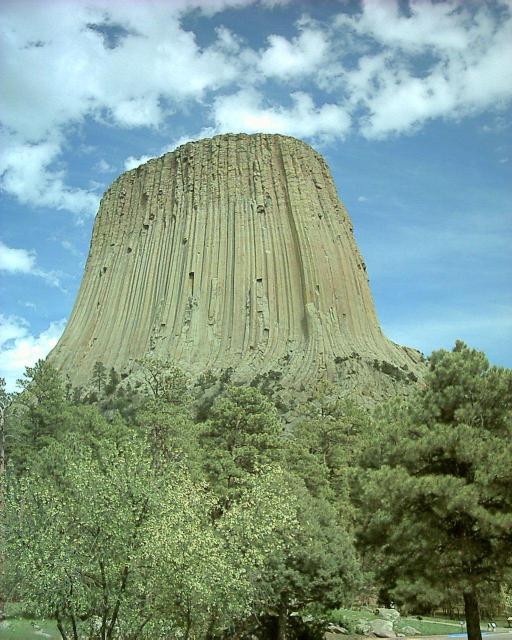 It is an old lava intrusion, and the surrounding rock has long since weathered away. We didn't see any Space Aliens but we did walk the loop trail the entire way around the tower. We could see people climbing near the top of it through binoculars. The north side of the formation is smoother, because there is less expansion-related weathering due to lack of sunlight.

It was starting to get late and the road was pretty desolate. We stopped in Buffalo, Wyoming (following I-90 to Buffalo in a different fashion than you would in New York) because Gillette, Wyoming was amazingly busy during rush hour. We stopped at a Hardees that when you ordered food "for here" they actually deliver it to your table for you.

We then took US-16 toward Yellowstone. Here we first hit major mountains. My car made it to the top of the Cloud Peak Skyway . There was snow all around, and impressive mountains. We even saw what we thought was a moose (it was much bigger and harrier than an elk is supposed to be). Disturbing signs proclaimed "Loose Stock," "Stock at Large" and "Open Range".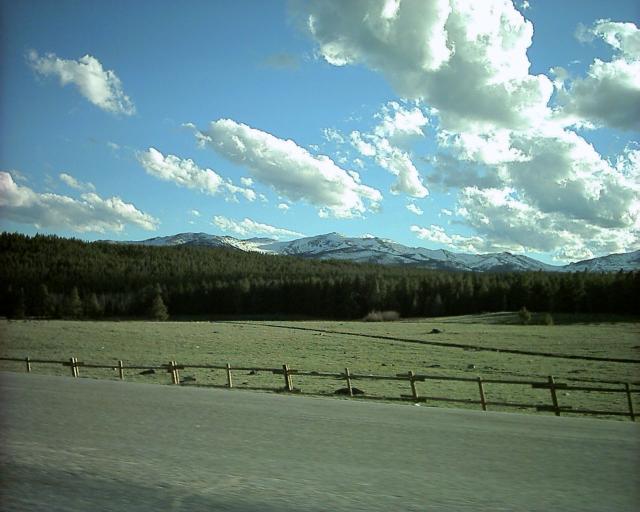 We passed over Powder River Pass (9660 ft) and got to the town of "Ten Sleep", known as that because old-time pioneers traveling across Wyoming typically got there after 10 days of journeying, or "10 sleeps". The rocks there were pretty, looking a lot like the ones in Zion National Park. An impressive stream rushed alongside the road.

After this the road got extremely barren and desolate. Except for tiny towns (where you had to be sure to slow down to 30mph before almost instantly speeding up to 65 again) there was nothing. It got dark, and a storm came through, and it made for some scary driving.

Eventually we made it, and stopped at the Econo Lodge in Cody, Wyoming.

634 Miles - Arrived Cody, Wyoming

---
Day 3 - 634 Miles Traveled, 2661 Miles Total
---
---
Back to the main trip page