Late Spring 2011
---
You'll notice a lull in the pictures. That's because various family members don't like their pictures on the internet, and that goes for babies/children too. Also most of the commentary would be boring childrearing observations, which I assume bores most people.

These picture pages are a condensed version of longer posts that do include pictures/commentary of said people and more mundane happenings. If you're truly interested in reading this drop me an e-mail and I can send you the username/password.

Eastertime! Lots of family were visiting to see the new baby. The weather had gotten warm again in Knoxville. Our dogwood is finally blooming: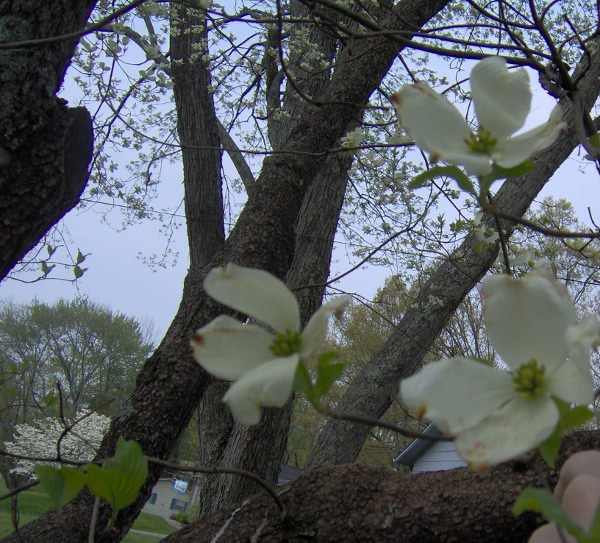 K's mom had stayed for a while, and the visit was extended when her car self-destructed not very far into the trip home.

On Saturday we went to Farragut to the Farragut Book Fest for Children which was in the park by the library. I think turnout was a bit lower than expected because it had rained all night and it was windy, chilly and damp all day.

Here we are at a bridge in the park looking at the storm-filled stream: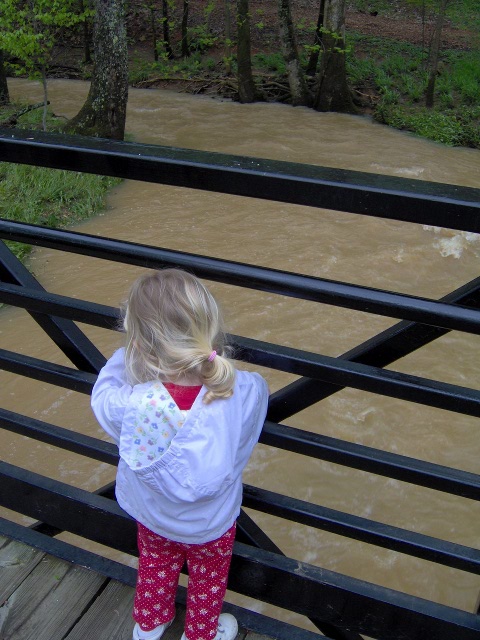 K's sister Laura stopped by, as we were halfway between Baltimore and Vicksburg Mississippi. Knoxville is centrally located, 8 hours from anywhere else anyone we know wants to be.

E has a new nightlight now. We had been using a ceramic Christmas tree, but that's probably not a good idea with a free-range toddler. The new one is a blue canary; it's unclear whether it's an intentional TMBG reference or not.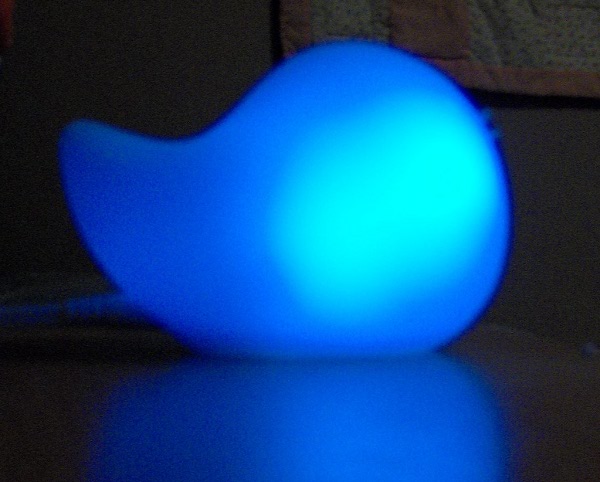 The only non-people picture during my Grandparent's visit was this Salamander at Walker Springs park: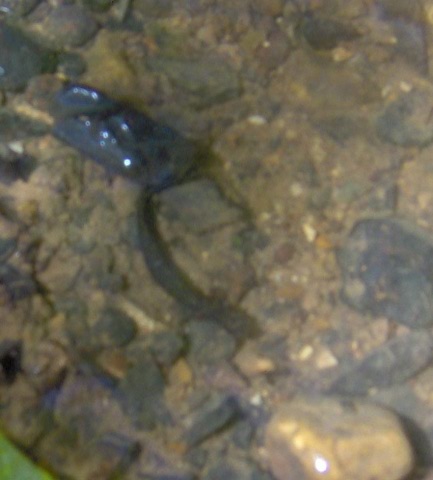 On Monday I managed to pull into the driveway after coming home from work just as a huge storm hit. It wasn't one of those big lines of storms you are hearing out about on the news, but an isolated thunderstorm that only affected maybe a 5 mile radius.

In any case it had a lot of wind, and knocked down trees all along my route home. Some of them were giant 150 year old trees. Lots of big trees on campus were split in two or had the tops blown off. Many traffic lights were still out the next day.

Our power was out for 3 hours, luckily K had just finished preparing supper. The storm itself was over quickly and the sun came out while it was still raining. There was a faint rainbow; I took E out (she likes rainbows in theory) but she was unimpressed. Instead she tried to catch raindrops with her spoon and then asked to go back inside so she could finish eating.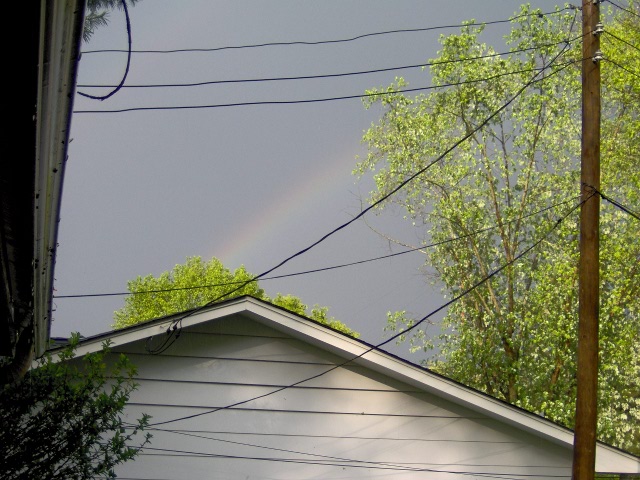 Not long after were the intense storms on April 27th. Here's the view monitoring the storms from the basement: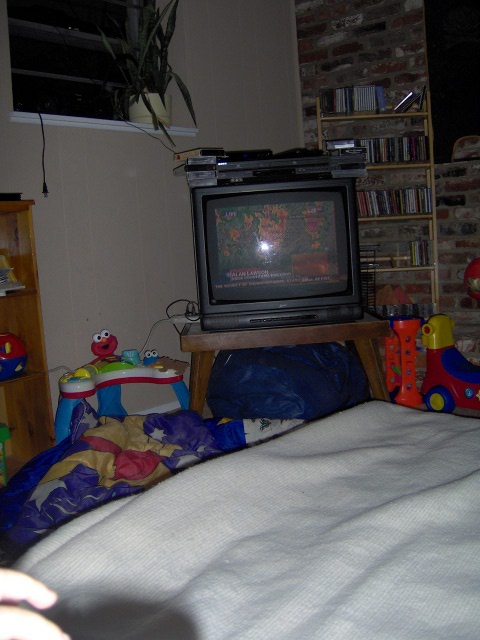 The hail is what convinced us to migrate downstairs: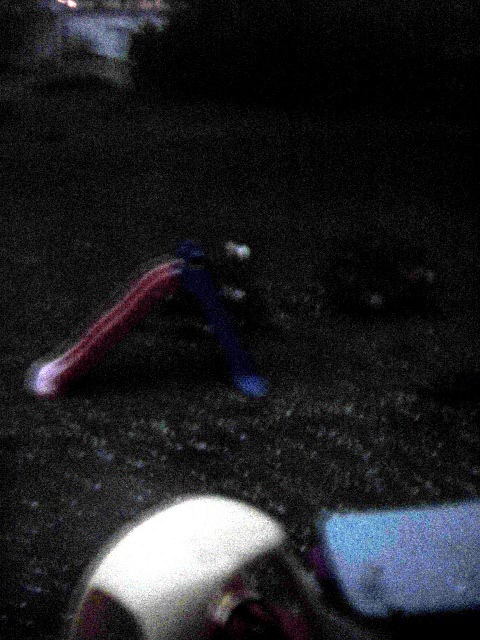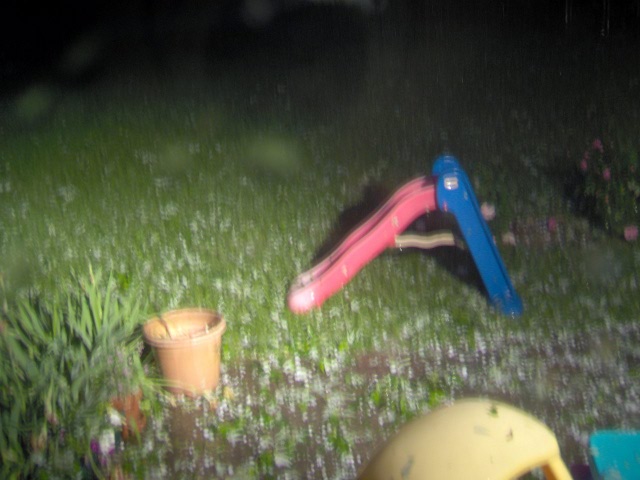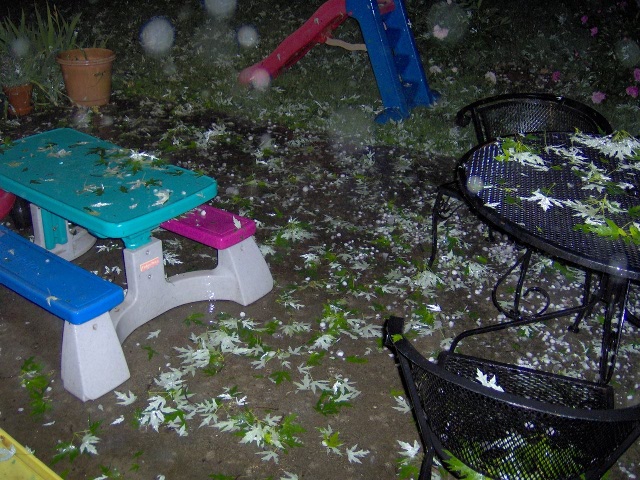 Apparently not far from here they had baseball-sized hail that was shattering windows. Ours was only quarter-sized: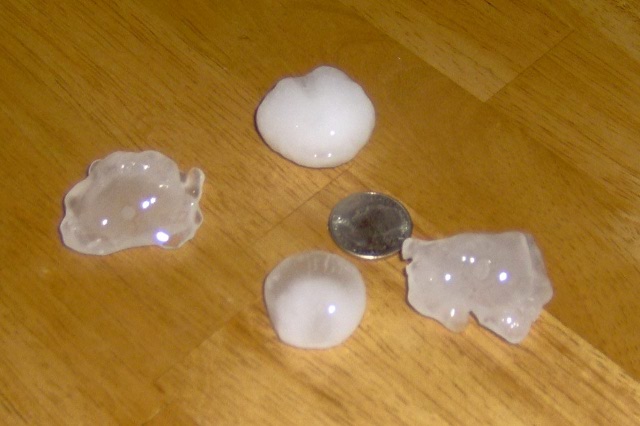 Being under a Tornado warning is interesting, especially whey people tell you an incoming tornado sounds like a frieght train. That's not very helpful when you live across the street from a busy freight rail line.

It's hard to believe it is Strawberry time here already. Luckily the crop was spared any storm damage. E was a big help; she picked a lot herself and was pretty good about telling which ones were ripe enough. We picked more than 14 pounds of berries, that's almost two baby-Xs worth! Note that as a father I do disapprove of her wearing an outfit that has a company logo splashed across her bottom.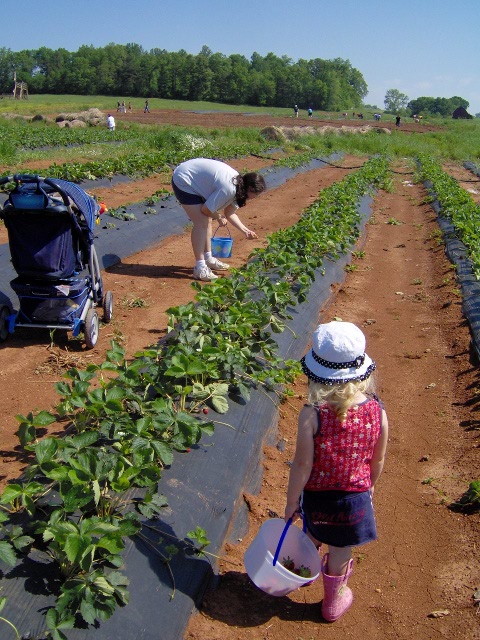 This is also peak garage sale season (you hear sad stories about people who have hail-damaged cars because they had all their garage sale goods filling up their garage). Luckily K has shown restraint so far.

We stopped at Sandy Spring Park in Maryville for lunch.

Spring it Tennessee is when you get to talk to all your neighbors: the weather is still cool enough to want to be outside and the mosquitos aren't out yet. Today I mowed the lawn, but all the neighbors (plus the landlord who stopped by to see if we had storm damage) came by just _before_ I mowed, so I got to be self-conscious about the really long grass.

We finally got around to planting our garden. Always too late, the cantalopes are always trying to make more fruit right as it frosts.

On Saturday we went for a hike in the Smokies! We managed to leave relatively early despite the fact that X still likes to wake every 2 hours during the night.

In Pigeon Forge part of the road was blocked off for a parade. It was a Shriner parade, with at least 10 different groups of Shriners driving around in their mini-vehicles. Here's a picture of the mini-18-wheelers:




Traffic dropped off dramatically once we got to the park. At every entrance sign we passed (at least 3 of them) there was a line of tourists having their picture taken with the signs.

We went to Laurel Falls, which is considered the easiest waterfall hike on the Tennessee side of the park. I had been here before when interviewing for my UTK job; this was K's first visit.

The mountain laurel was blooming. You might think this is how Laurel Falls got its name, but apparently it was mis-named for all the Rhododendron that's growing there too.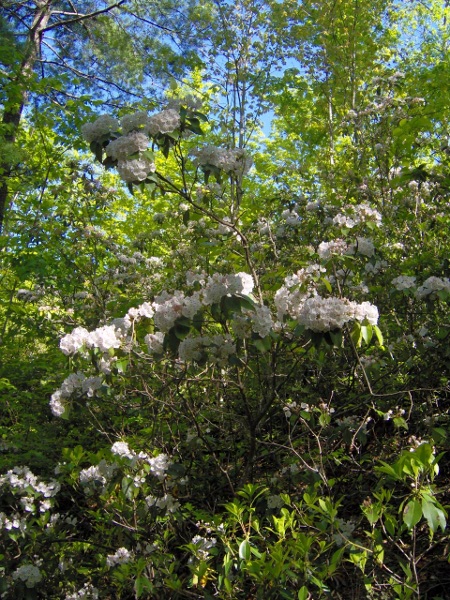 The hike up was uneventful. In theory this trail is paved enough for strollers, but it is a bumpy trail with steep cliffs so we carried the children. Here I am in front of the falls: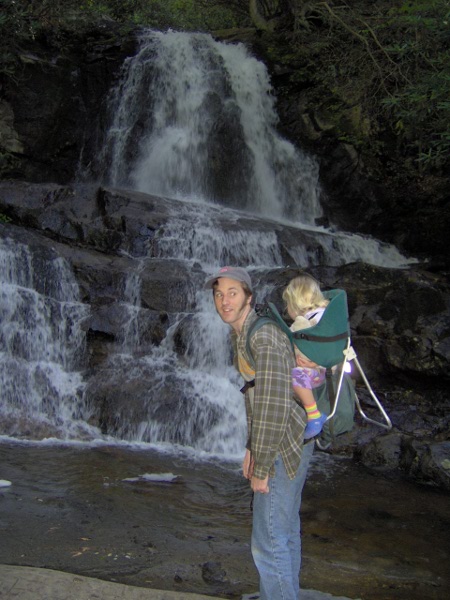 The trail passes over a bridge that splits the falls in two. You can climb down below the falls and walk around on the rocks, which is what we did. Here's the view from down below: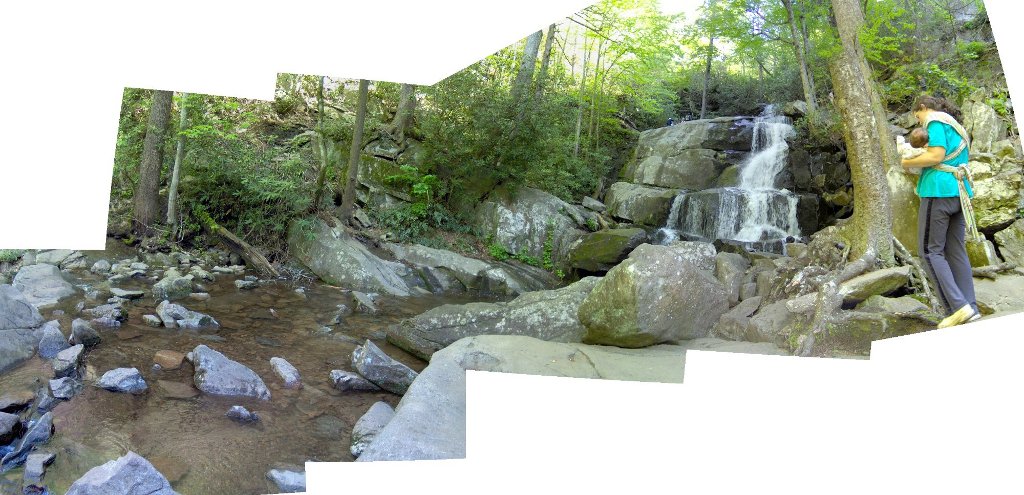 As you can tell I was playing with panoramas again. Here's a close up of the lower falls: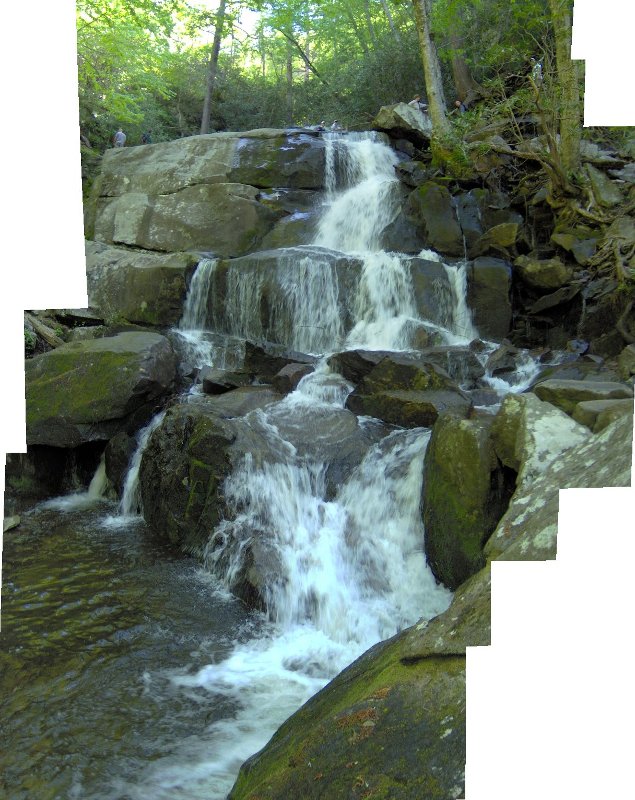 E and I went a bit further looking for more falls, but it was mostly rapids beyond that point: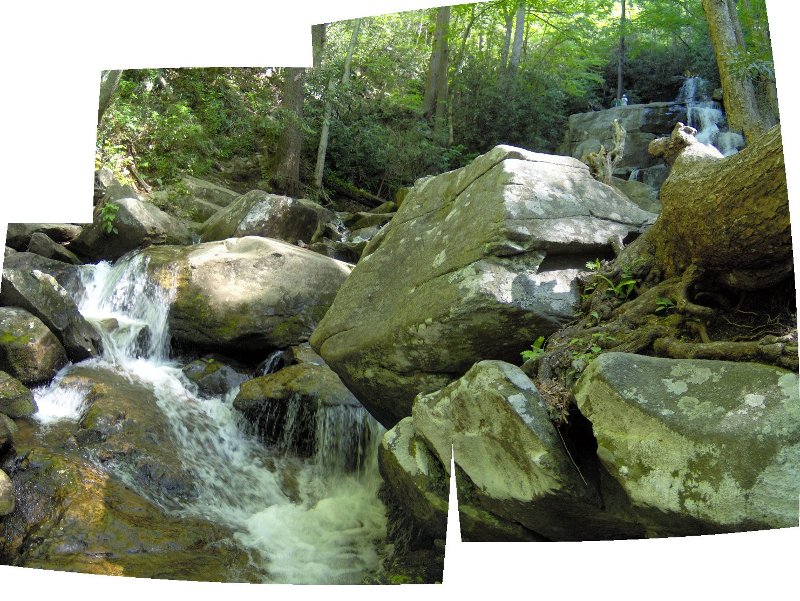 The waterfall was getting really crowded by this point, including lots of people with kids. We decided to head back to our car.

Here's our GPS track. Poor E, no one made any "wish I could ride in your backpack" comments. They've now shifted to "what a cute baby" comments aimed at baby X. That plus the one guy who answered his kids' "how long is this trail anyway" complaint by telling them K was only 8 months pregnant when she had started up the mountain.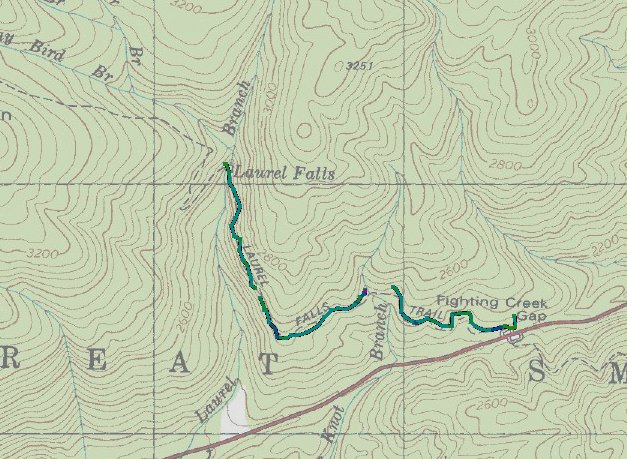 After the hike we continued on along the Little River. We stopped at The Sinks. We had been there almost exactly a year before, but it had been under construction.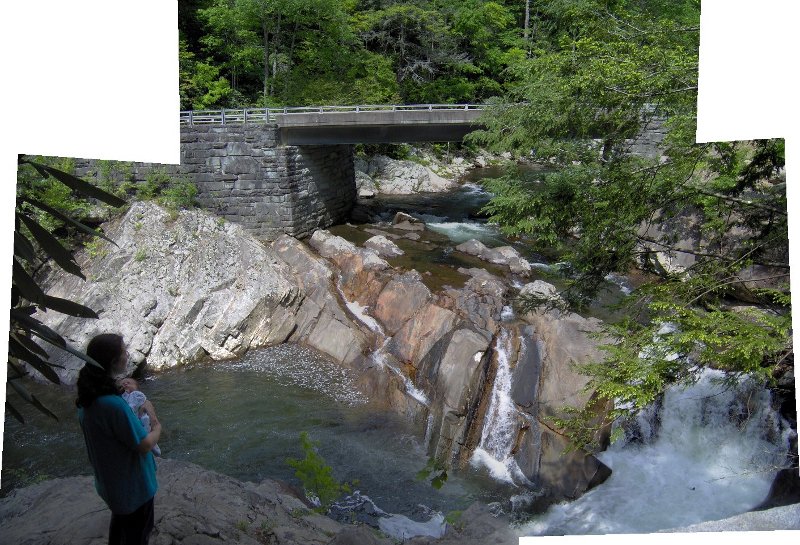 We drove past Lower Meigs Falls which you can see from the road. This time last year we had hiked along the upper Meigs Falls.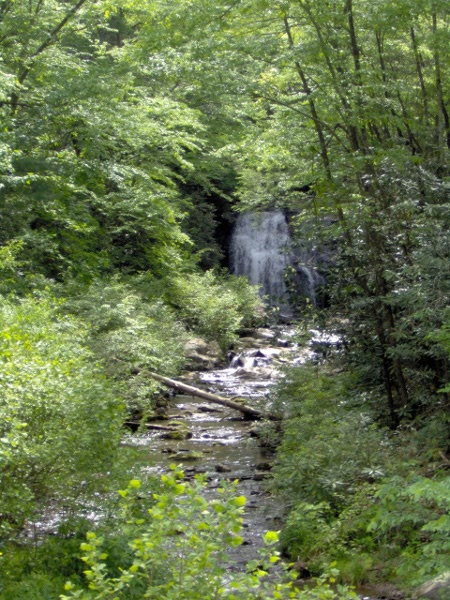 Just like last year we stopped at the Townsend Wye for a picnic lunch. Luckily this was upstream from the big Gatlinburg sewage plant collapse that happened a month or so ago. The water was freezing.

There were a lot of butterflies flying around. Here's a blue butterfly with orange spots which is officially known as a "Red Spotted Purple" for some reason.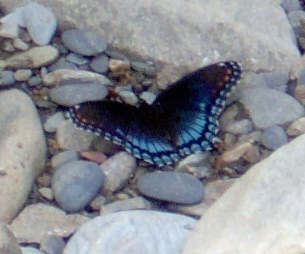 We finally went home after this. I drove the last leg as K hadn't had much sleep the night before. We made it, despite all the road construction. E spent the whole time looking for castles despite us telling her that she won't see many after we left Pigeon Forge.

May means it's time to spend afternoons pulling up bamboo shoots invading our yard from next door.

Aunt Laura stopped by returning from Vicksburg to Baltimore via New Orleans. She brought Beignets.

We haven't had many nature photos recently. Here's a picture of a robin that's made a nest on the side of our house: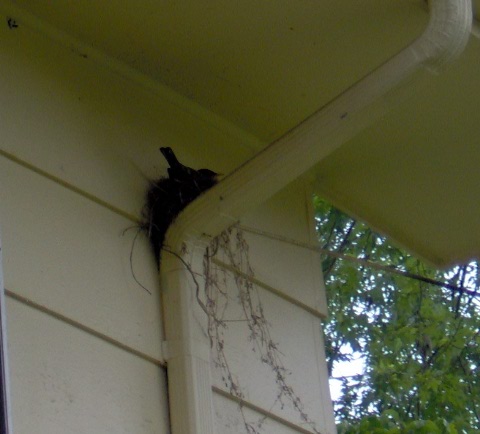 In the afternoon we tried to answer the age-old question of "how many engineers does it take to assemble a 1980s era 'Sir Edmund Hillary' tent that was bought off of Craig's list for $15 and didn't come with directions":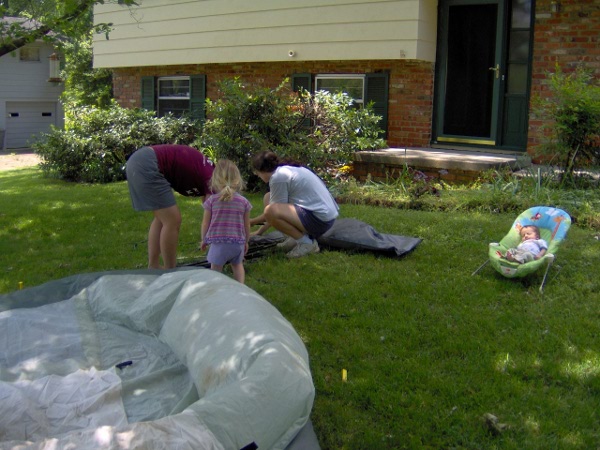 On Monday E started swim lessons. Of course the weather went from sunny and 90s to cloudy and 50s. That didn't matter in the end though, because due to some mixup her swim class is inside at 5pm instead of outside at 11am (As you can imagine this didn't make K very happy). The whole enterprise is run by semi-competent college kids and their website is not very helpful. To make up for it being inside, the steam pipes are out of commission so the water is just as freezing as it would be if the lessons had been outside.

Due to all the recent storms, our back neighbor (who apparently works in the insurance field) decided to cut down all of his trees that he thought might potentially fall. So we're losing the big pine tree out back:



Due to this we've been subjected to chain-saw noises long into the night, as well as piles of sawdust wafting in the wind.

On Saturday morning we went to the Knoxville Children's Festival of Reading. The place was packed; K despaired when there was no easy parking (she hates "big-city" life).

E and K enjoyed doing some crafts. I had to take a panorama to get the Sunsphere in the shot. Don't look too closely or you'll see the artifacts from people moving around while I was taking the pictures.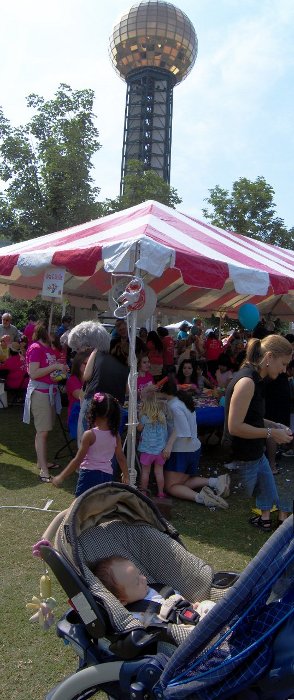 K was happy when she noticed the used-book tent next to the crafts area. There were a lot of good books there, as there was no pre-event access, so the dealers hadn't snatched up all the good finds. She ended up getting two boxes of books.

Meanwhile I was trying to help E do complicated crafts while also keeping an eye on X in his stroller. I don't know how single parents do it.

They've activated the fountains in the park. Baby X was not impressed.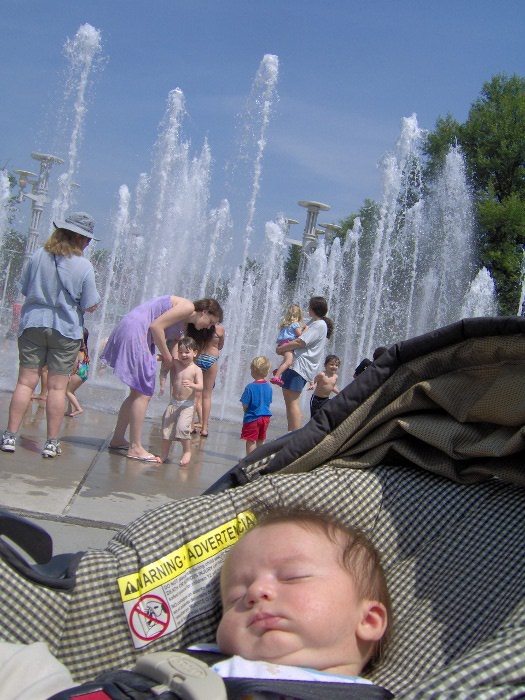 By this time everyone was hot and tired. We had to use various elevators to get back to our car (due to the stroller). Everyone else kept letting their kids run the elevators, incompetently. I thought K was going to start throttling people, especially when we ended up at the top of the Sunsphere (rather than at street level) due to improper elevator button pushing.

Our mini-red rose (which has been through a lot) bloomed again. Since I took the picture it's being eaten by something new. Unknown animals are also eating our bean plants, and they ate E's sunflower that she got at the festival of books. I guess that's the hazard of not using exclusively planters but planting in the actual ground. The shards of plastic in the flower pot are hail-storm damage.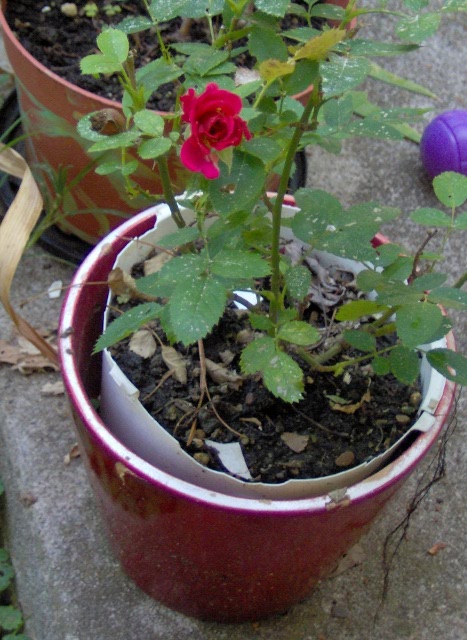 Our tomatoes are doing amazing though, and for some reason the smallest one has grown a tomato that is possibly starting to ripen already.

Swim lessons changed venue yet again, this time to a different indoor pool. There was additional frustration this week due to the international finals for Destination Imagination (used to be Odyssey of the Mind) that are being held on campus. You can't get anywhere on campus [including the swimming pool] without having hundreds of colorfully clad middle schoolers of various nationalities getting in your way. In any case they had to take lessons in one swim lane while lap-swimmers were in the rest of the lanes.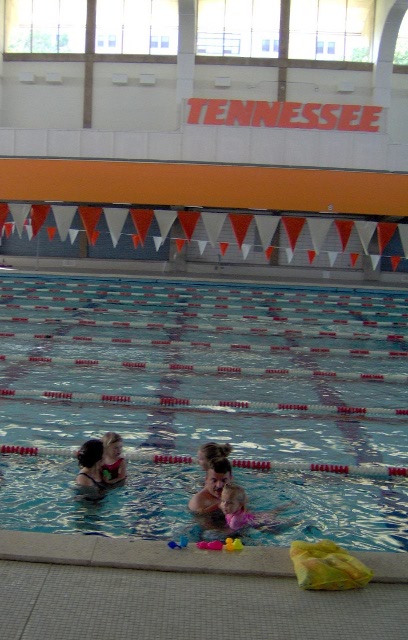 The International Biscuit Festival is being held in Knoville this weekend. Sadly for you, we didn't go. But in celebration K made a really nice set of biscuits for us for breakfast.

K's college friend Jess came to visit us for the weekend. We went to Louisville Point Park before she got there, because it's convenient to the airport.

They had one baby swing there so we spent a lot of time pushing E. These other kids came up and started making sad faces at us until K started pushing them on the swings too.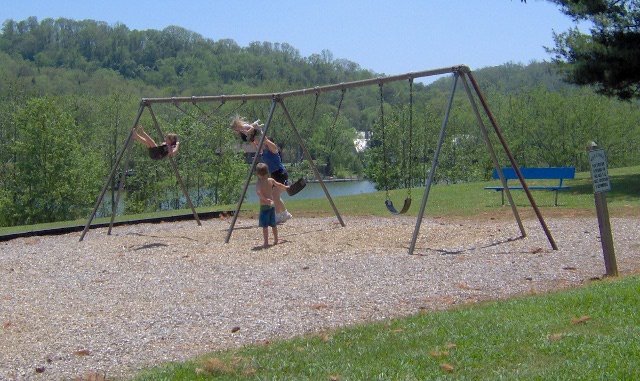 Here's a GPS track of where we were. It's a narrow point with water all around: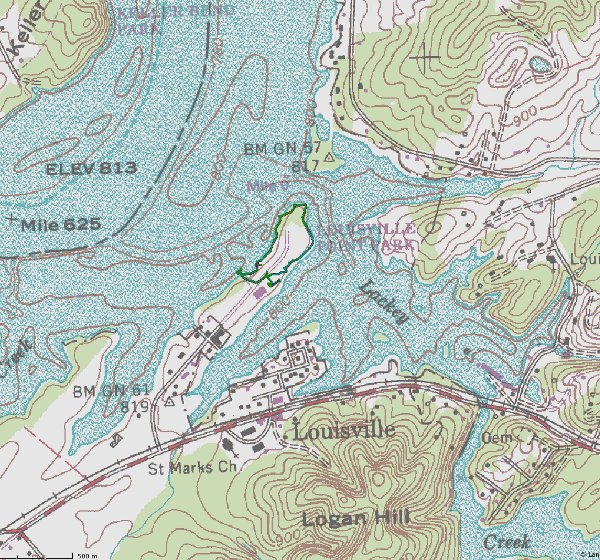 Monday was Memorial Day. We took Jess to see Knoxville, which tends to mostly involve seeing the Sunsphere. From the top you could see a fire truck with a big flag by the veteran's memorial garden: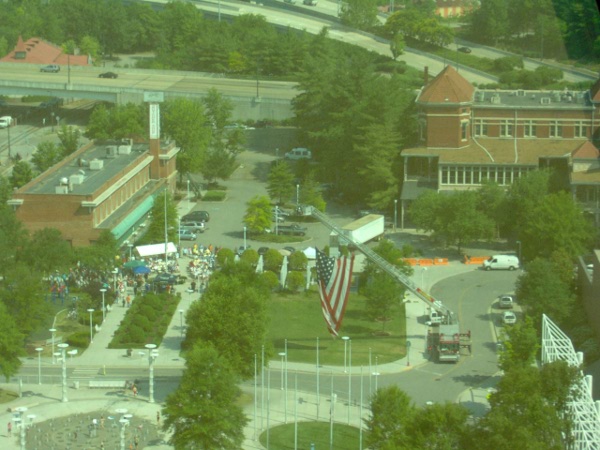 We then tried to go to Volunteer Landing Park. There are actually three narrow waterfront parks in a row here, with various restaurants and bridges getting in the way. Parking is mostly reserved for the restaurants too, which greatly annoyed K.

The first park you come to is the Treaty of Holston Park. The Treaty of Holston was signed with the Cherokee there in 1791 and promised peace. I think it lasted about 10 years. There's a big monument there: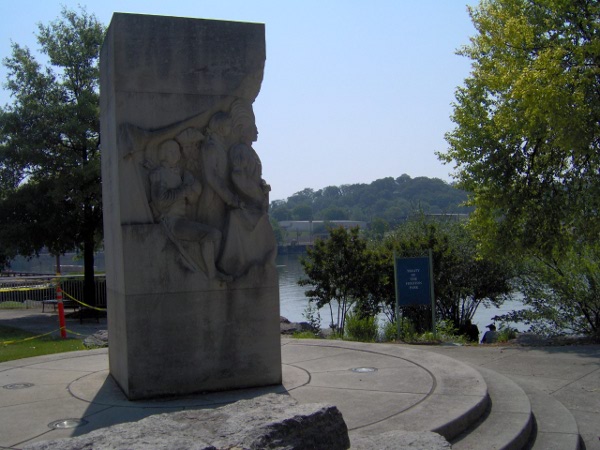 The park page promised "swings" which got E excited, but they turned out to be porch-swings not child-swings.

Next you pass the site where Frances Hodgson Burnett lived for a while (she wrote The Secret Garden and A Little Princess).

Then you get to River Mountain Park which has fountains. Baby X and I chilled in the shade while the others got a little wet. We saw a lizard (possibly a Six-lined Racerunner):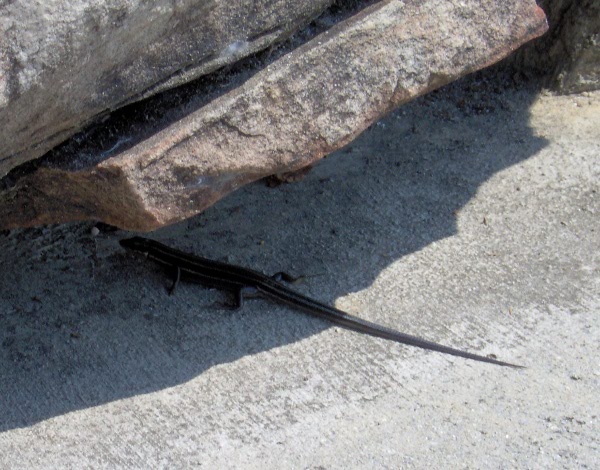 Here's Jess and a little girl (who managed to almost fall into the fountain shortly after this picture was taken).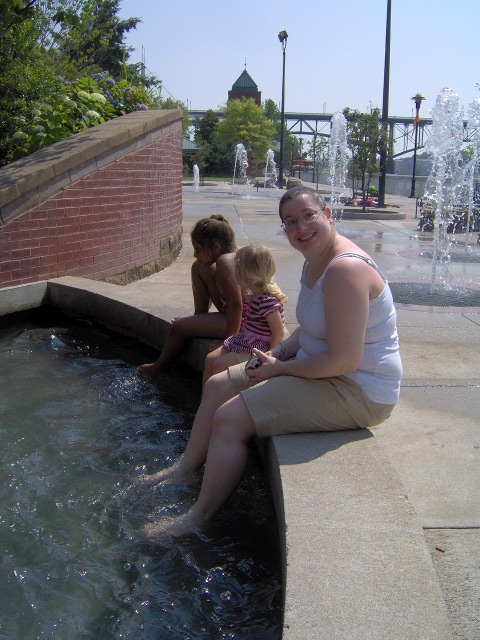 Here's K behind a waterfall: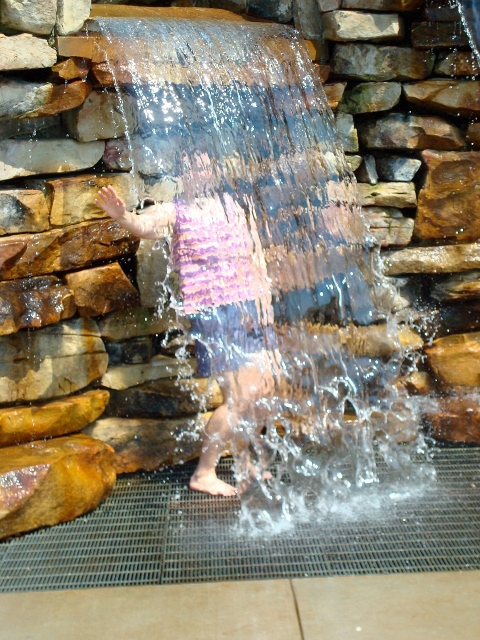 Some hydrangea and the Henley Street Bridge which is currently being reconstructed: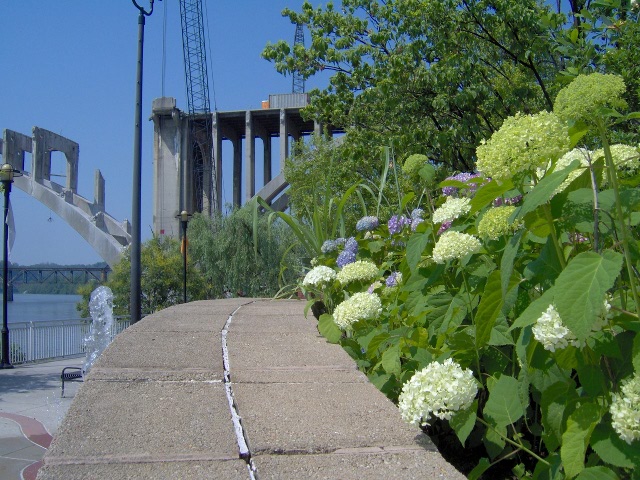 We were mostly unimpressed with the park. So we went home, had a quick lunch, and then Jess had to leave.

We woke early on Saturday to go on a hike. Well, we sort of woke early: we only managed to leave around 8 or so. We went to see Piney Falls which is in a Tennessee Class II Natural-Scientific State Natural Area.

The road to the falls is an unlikely looking road which quickly turns isolated, one-lane, and (at times) gravel. We were the first people there. Here is E gathering a chunk of gravel for her "rock collection":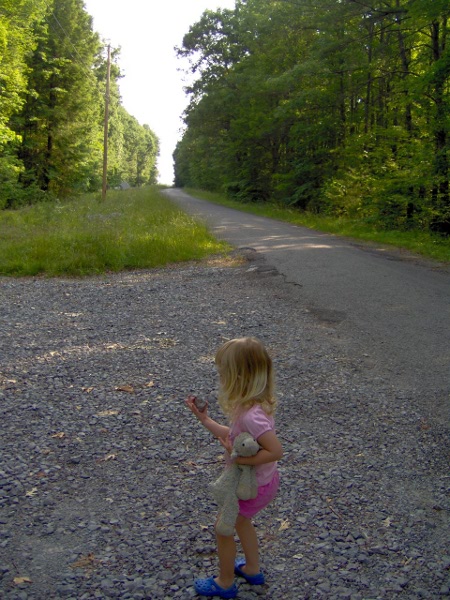 The area is not well signed, and (as always) we made the mistake of leaving the guide book in the car. So at first we ended up above the falls: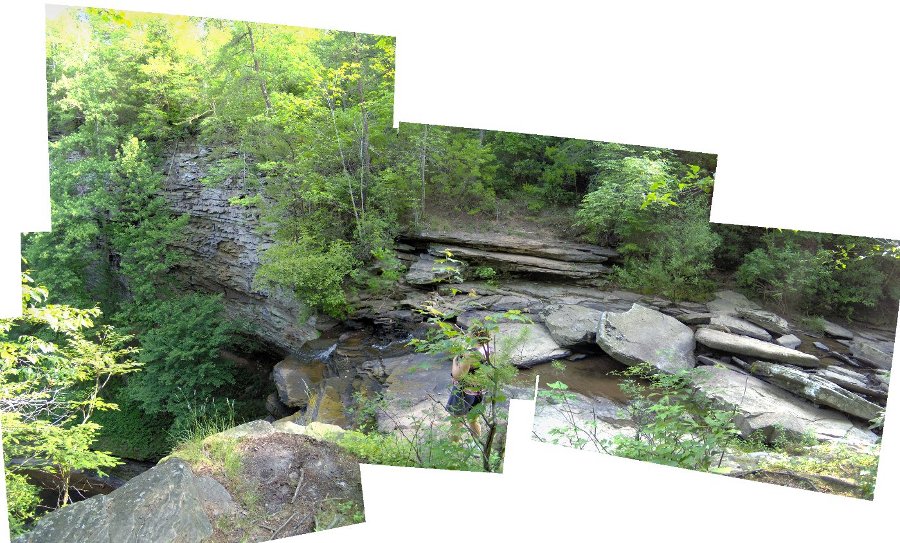 We did eventually find the right trail and got to the bottom. We had hoped that the one week of dry weather would not have dried up all the waterfalls; we were wrong.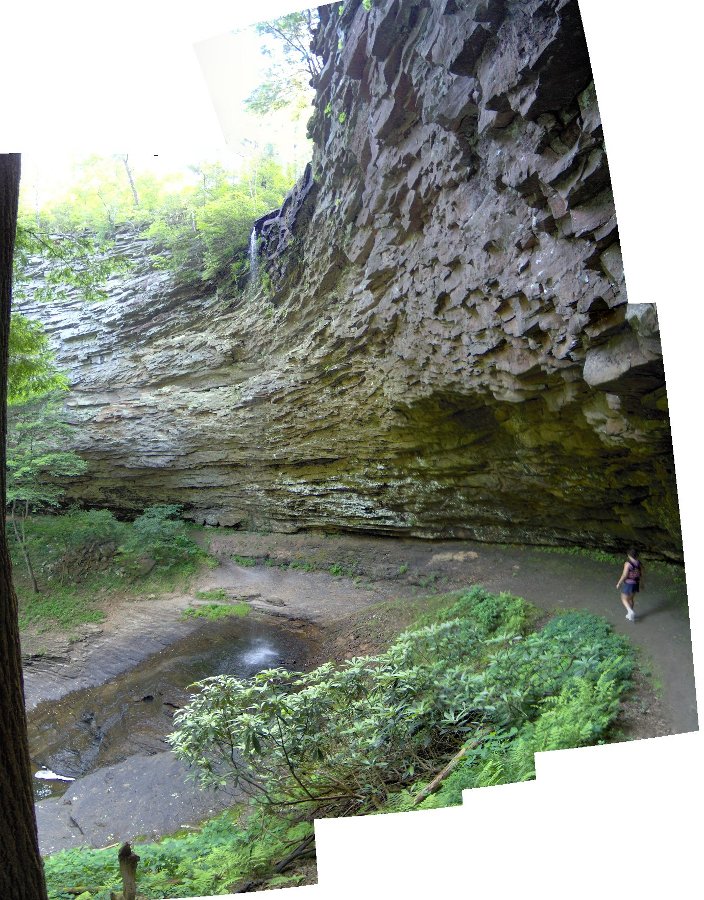 You might notice these falls look a lot like others we have seen recently (such as Yahoo Falls in Kentucky). It turns out many of the falls along the Cumberland Plateau look the same: narrow falls with a big rock shelter behind them.

The cliffs and overhanging rocks along the trail were impressive: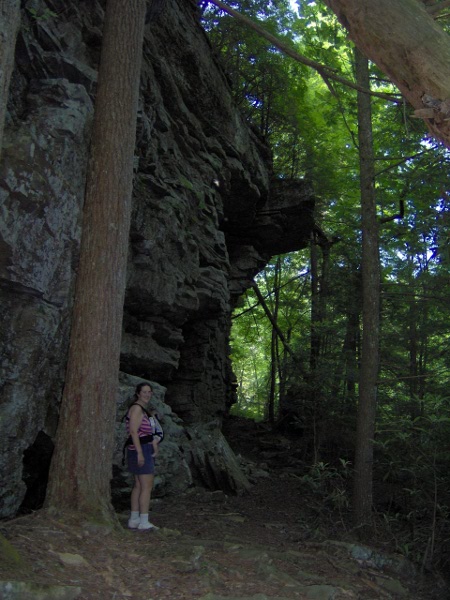 We decided to see Lower Piney Falls too, as we were only a steep spur trail away (also it was the only signed feature in the park). You can't really see these falls, only look down from the top: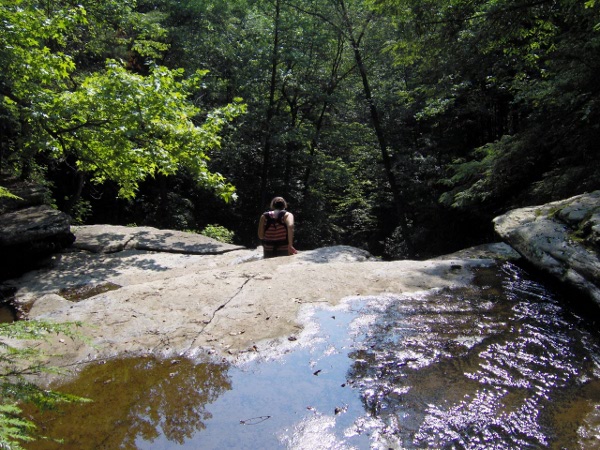 Despite having two noisy children we did see some birds. They looked fairly exotic, not just the robins we typically see on hikes. As best I can tell they were just various sorts of yellow warblers. You can tell I'm not really a real bird watcher.

Here's the GPS track for where we hiked. The cliffs blocked the signal for part of the way.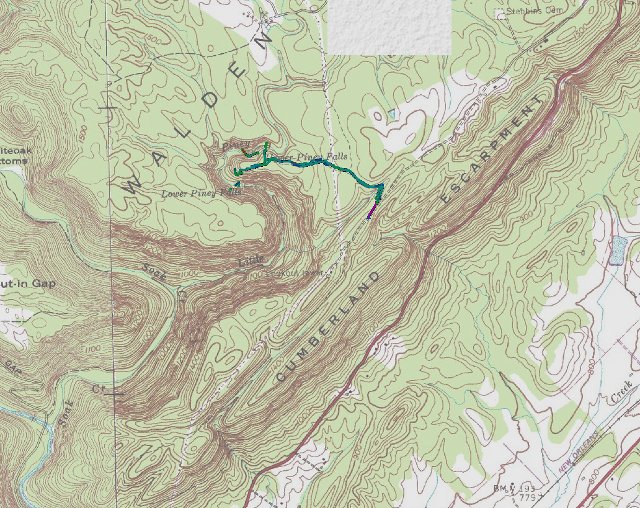 After the hike we decided to take a break at a park. We were going to Spring City / Going to have some fun. Despite insufficient mappage we did find the park in the end.

Desite it being lunch time on a June Saturday the park was absolutely deserted. Maybe the hot weather kept everyone away.

I think these monkey bars were designed by M.C. Escher: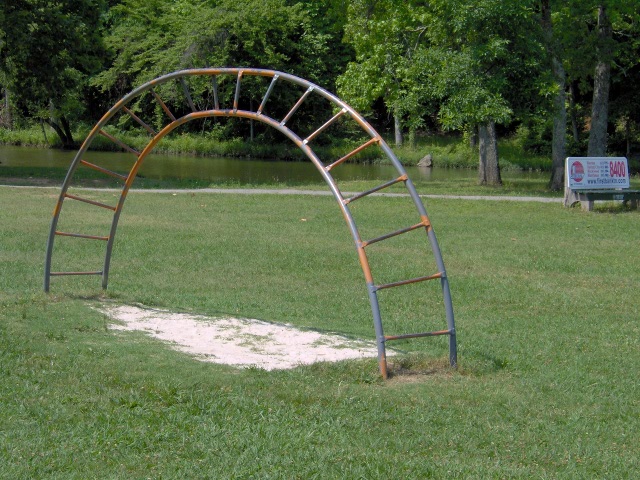 The park was right along the dammed up Tennessee River. The steam on the horizon is from the Watts Bar Nuclear Power plant: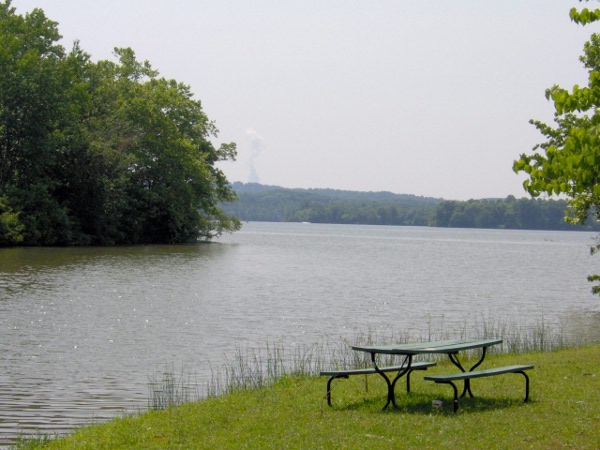 Here's a GPS track, in case anyone cares: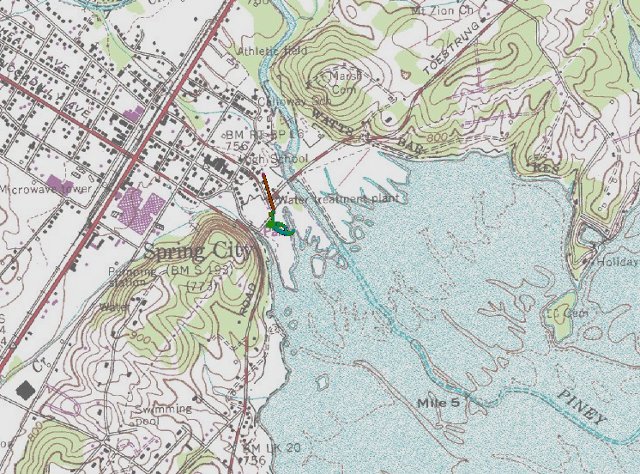 Eventually we went home. We did not have much time to rest: E's friend Lucas had invited us swimming that afternoon. Lucas's family belongs to a super-fancy country club; going there to swim was an interesting experience.


---
Back to pictures page