Mid Summer 2010
---
There's been a lot going on this summer; enough that I am splitting it up into another page.
---
My friend John and his family drove down from Maryland to visit; we appreciate how people are willing to drive 9 hours to see us, epsecially when they have small children. They drove straight through the night and surprised us by arriving at 6am.

We took them to the splash pad, the lake, and Steak 'n Shake. We also watched the US lose in the World Cup and figured out how to get a propane refill for our grill. Then I got to play a network Civ 4 game where I wasn't being crushed by the AI. Then the next day we dragged them on a hike at Frozen Head Park.

We hiked to Emory Gap falls. The water is a lot lower this time of year: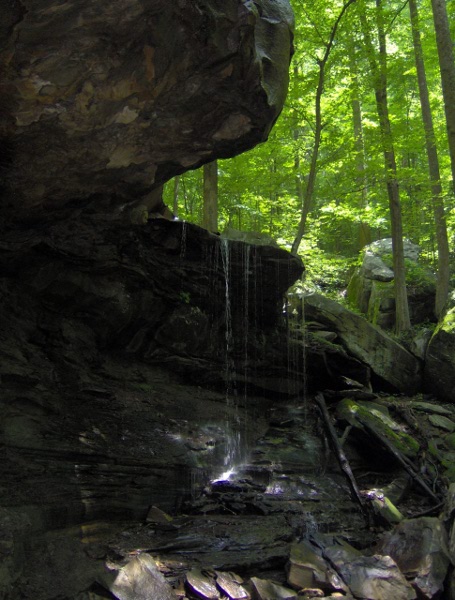 The pool below the falls was filled with scores of crayfish. Here's a picture of one that was nearly 6" long. (It was a lot of trouble taking a picture of something that's underwater):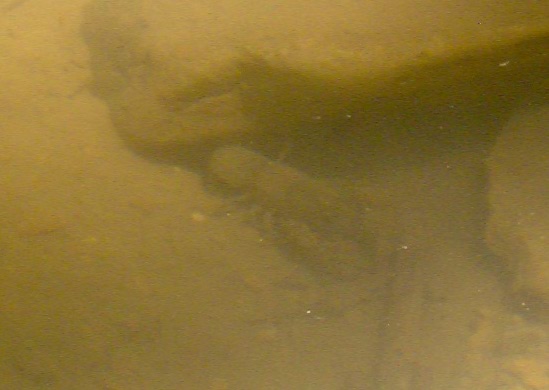 We also saw some insect life, including a Tiger Swallowtail and some sort of yellow and black millipede: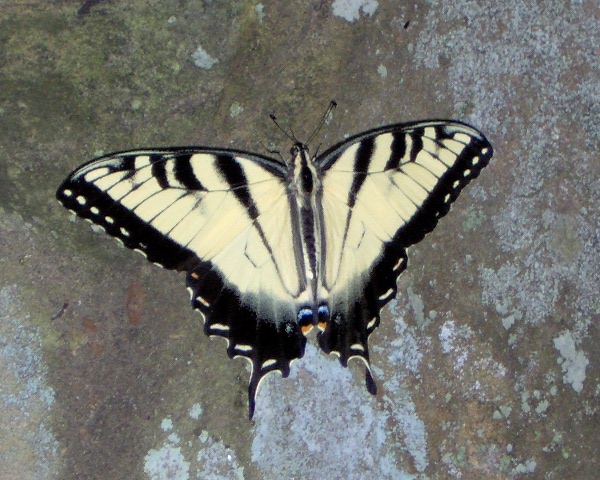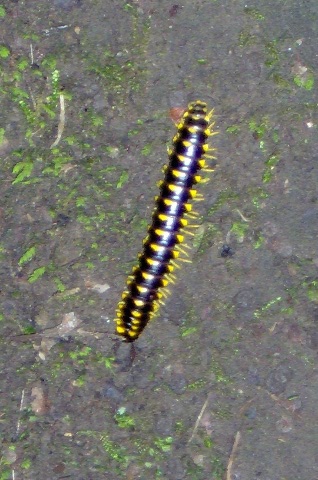 I somehow ended up with Baba and we climbed up above the falls. Here's Baba enjoying the view: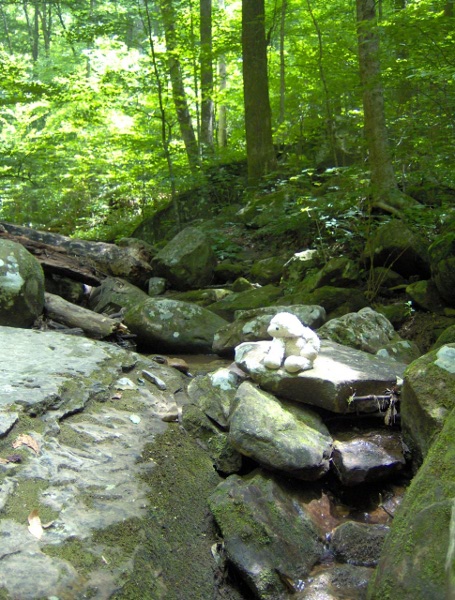 Here's the view looking down from above: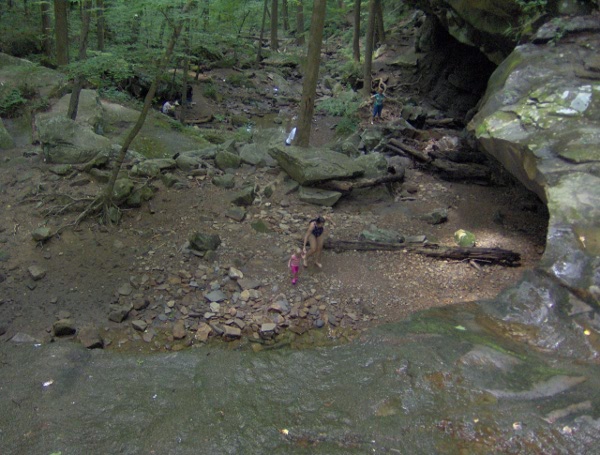 Some shots of hiking in the woods: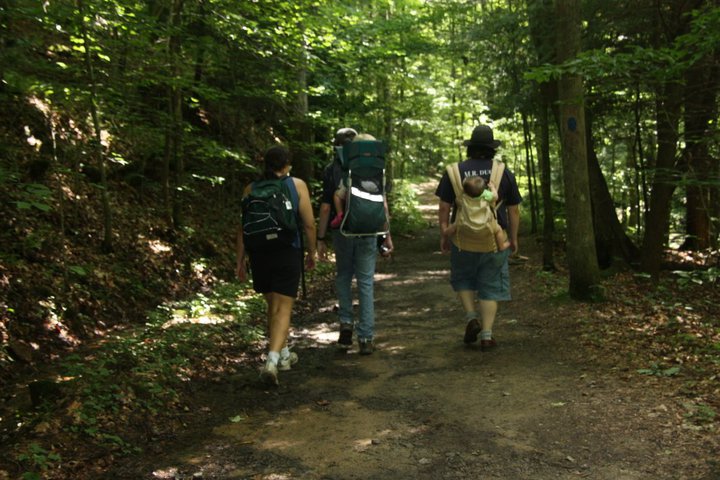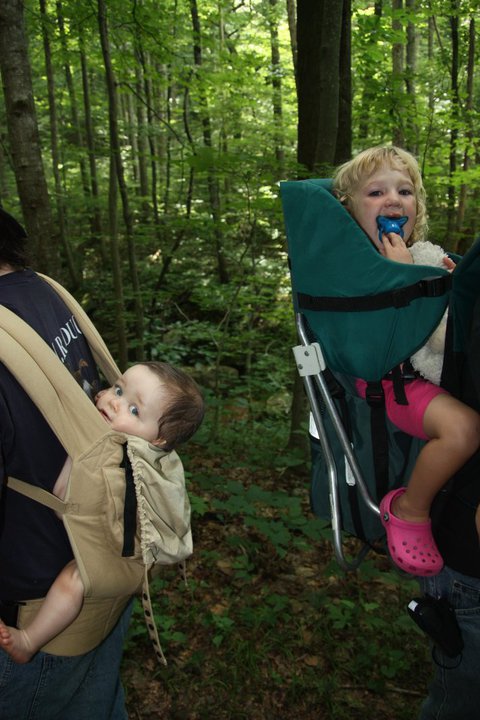 As we were heading back there was some ominous thunder. That made us rush a bit, but in the end it only rained for about 15 seconds. We had a picnic lunch, played on the playground, and then played in the stream for a while. We then went home (after a side-trip to Sonic for some shakes. It's fun having visitors, we get much more fun food than normal).
---
The next weekend we went camping at the Big South Fork National River and Recreation Area, which straddles the Tennessee / Kentucky border to the northwest of us.

We stayed at the Bandy Creek campground: here's site A18, the most happening campsite in the whole park: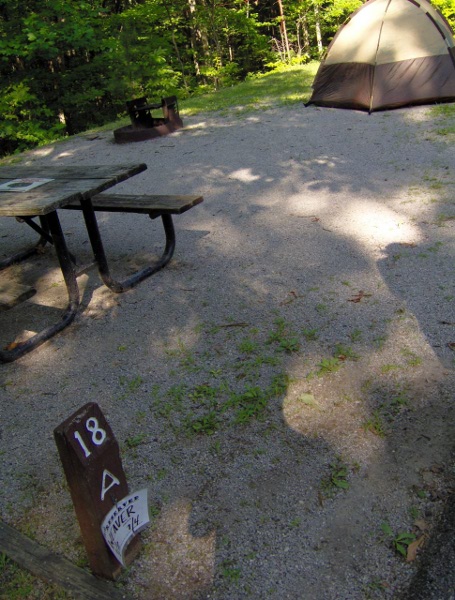 The campground had really strict rules about having coolers left out overnight, due to bear problems. The people across from us got in trouble for not putting theirs away.

We explored the area a bit. There's a playground and a pool. The main camp store is in the horse area of the camprground. If you're driving a car, are you obligated to stop for a "whoa" sign?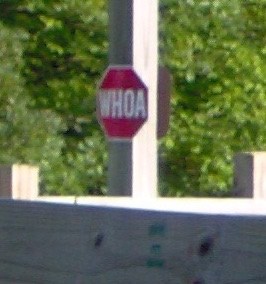 We cooked chicken kabobs and corn-on-the cob over the campfire; it worked out surprisingly well. Then it was time for s'mores. We had these humongous marshmallows we bought last time we were in Ithaca; they are much larger than they appear in the picture: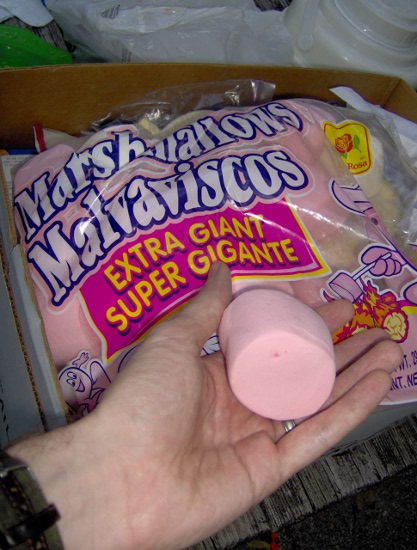 It was light out fairly late; the time zone boundary for Central time was literally about a 1 mile hike from the campground.

We woke early in the morning. My side of the tent was comfortable; poor K had the lumpy sleeping bag. The toddler decided to scream a bit at 7am which I'm sure made us popular with the rest of the campers.

We drove down some scary switchback roads to the Leatherwood Ford area. We were going on a hike to the Angel Falls Overlook.

The route was open to hikers and John Muir's disembodied head: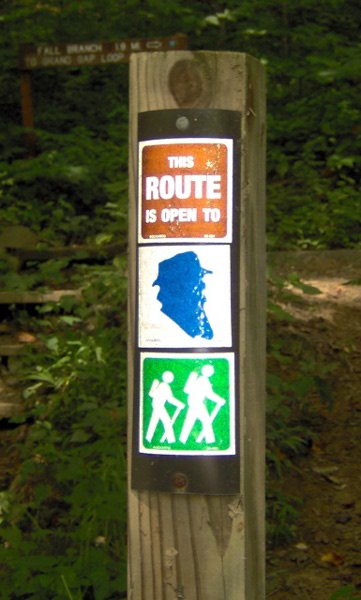 Apparently John Muir, before he went to California and founded the Sierra Club, spent some time hiking around Tennessee.

The hike started out relatively level following the Big South Fork of the Cumberland River. (The Cumberland River eventually goes to Nashville, it's the river that was flooding recently). There were many giant rocks in the river: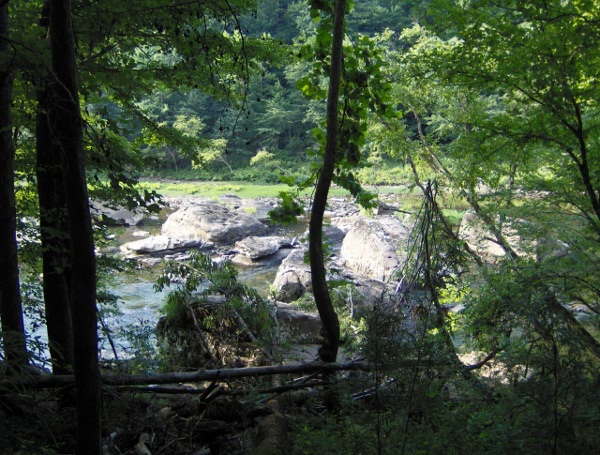 We were the first people on the trail that morning, if you go by the number of spider webs I walked through.

Here we are at a cool angled bridge over Fall Branch. We've not had much rain recently so the stream was low and there weren't any falls: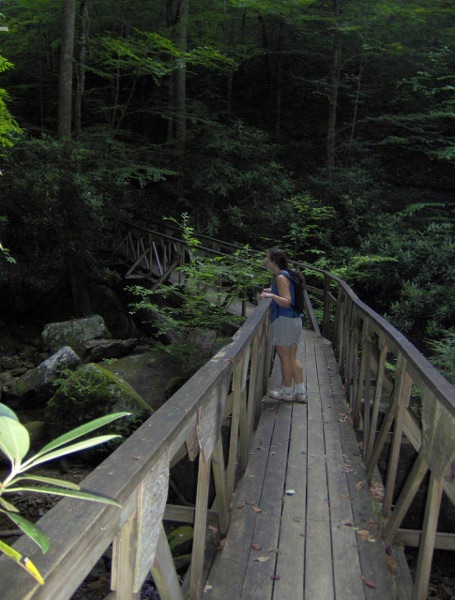 The trail began to climb. Halfway up was this giant boulder on the slope. The picture isn't tilted, the rock was at this angle: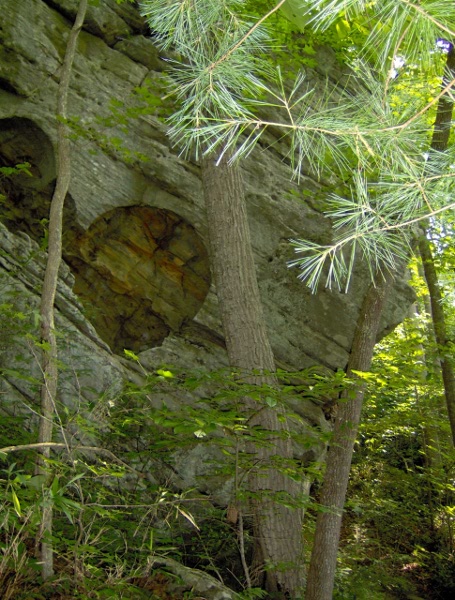 We finally made it up to the top of the ridge, with a cool rock formation at the top. (Soon we'll be up there too):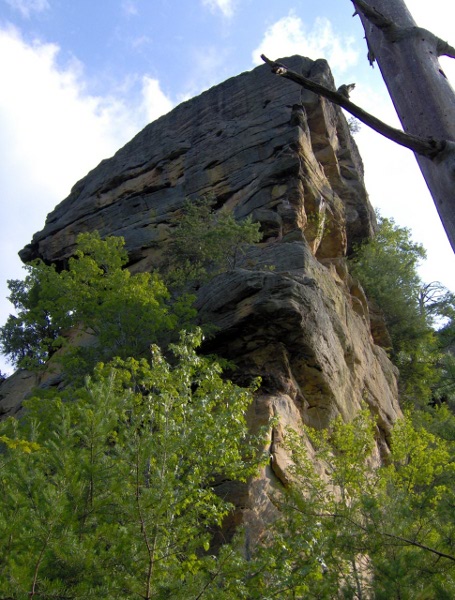 K didn't notice the cool rock at first, because the trail was overrun by a large family semi-lost with lots of children. We were confused about how this large a group could have hiked 3 miles already and still look so fresh; it turns out there's another trailhead we didn't know about.

The trail curved around the back of the rock. Here was a rock shelter, something this area is famous for (we must have seen about 20 of these at least). This one had a pretty wide overhang: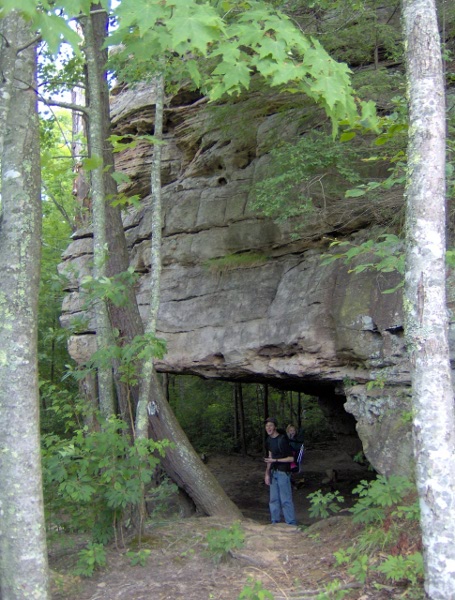 We passed a dried-up waterfall, and then went along a cliff that had a wire rope you could hang on to:



The trail follows a gap in the rock. There was a rock step high enough for a small ladder, but the ladder had fallen so we had to just climb up and over.

Finally we were at the top! It's called Angel Falls overlook; Angel Falls is more of a rapid in the river (it was dynamited in the 50s) and you couldn't see it anyway due to trees. I took a 360° panorama, since this is apparently the best view in the whole park:




Here's a shot including the cliffs: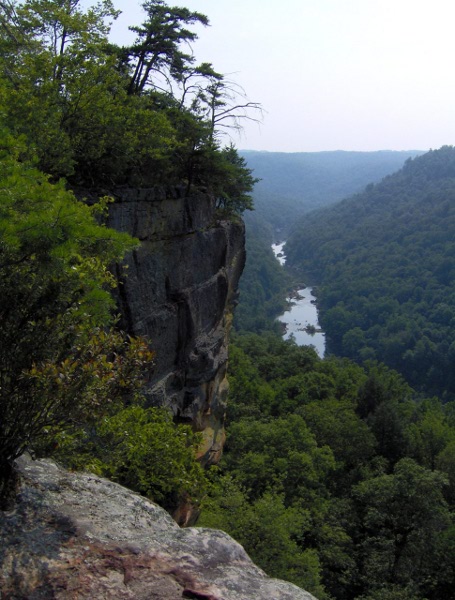 Since we were at the top, we decided to walk a bit of the loop trail that was there before heading back. Wild blueberries were growing all over, but K wouldn't let me have any: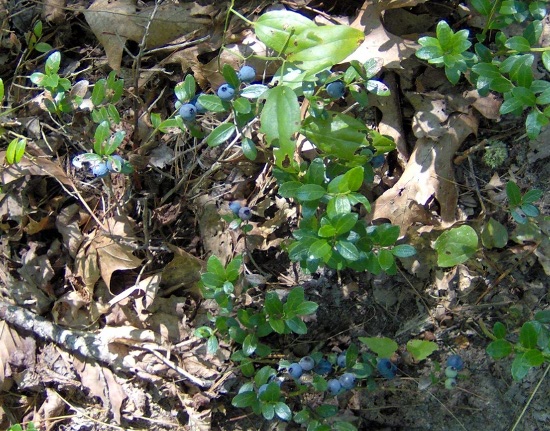 We went into what looks like a rock shelter or cave, but turns out to be the other type of feature famous in this area: it's an arch: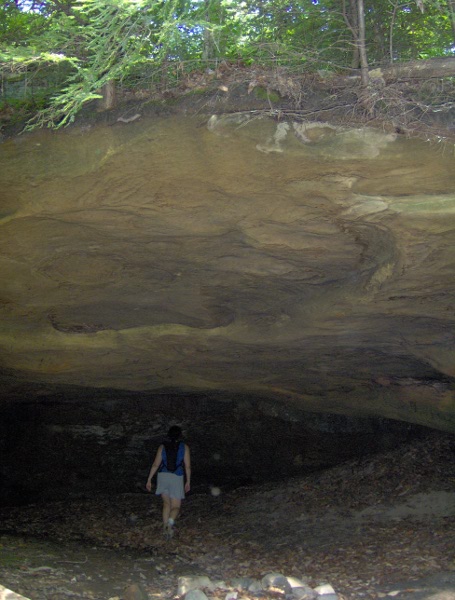 You have to go the whole way in and look up to see the gap in the roof: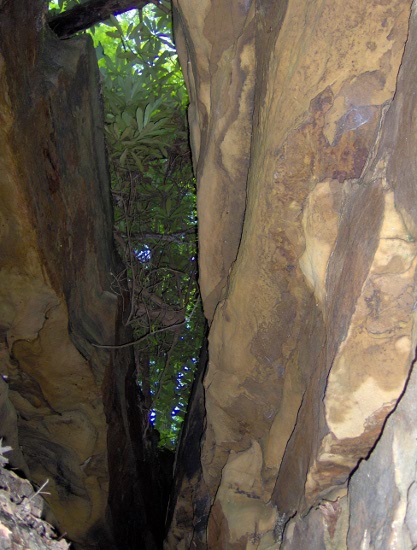 After that it was time to turn around and head back the way we came.

K misunderstood my shout of "Watch out!" and froze in place instead of running for the hills. That meant she nearly stepped on this copperhead snake (which is poisonous):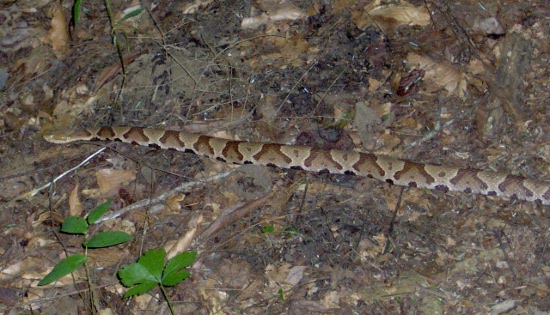 Not long afterward we were startled by some turkey vultures who were possibly hoping the snake had gotten us: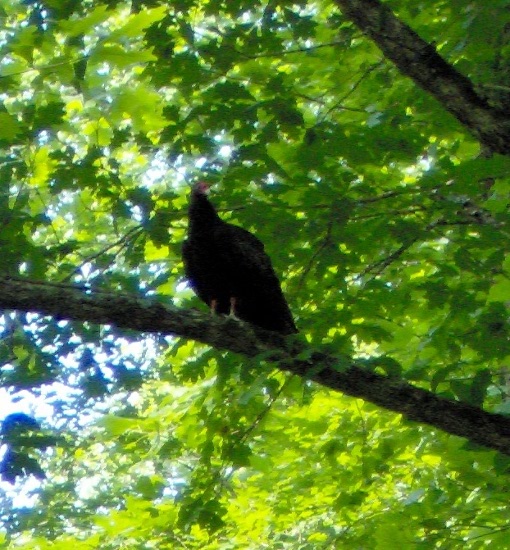 We were getting close to the end and my shoulders were killing me, so we let the toddler out for the last part. Here's E&K crossing the bridge back to the parking area. This used to be the main highway bridge until 1983. When the bridge washed out, it was a 186 mile detour to get to the other side.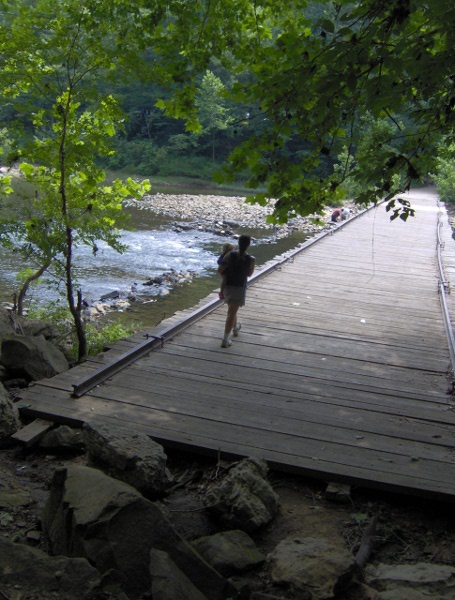 We stopped and splashed in the water a bit, then had a picnic lunch.

Here's the GPS track for our hike; round trip it was over 6 miles: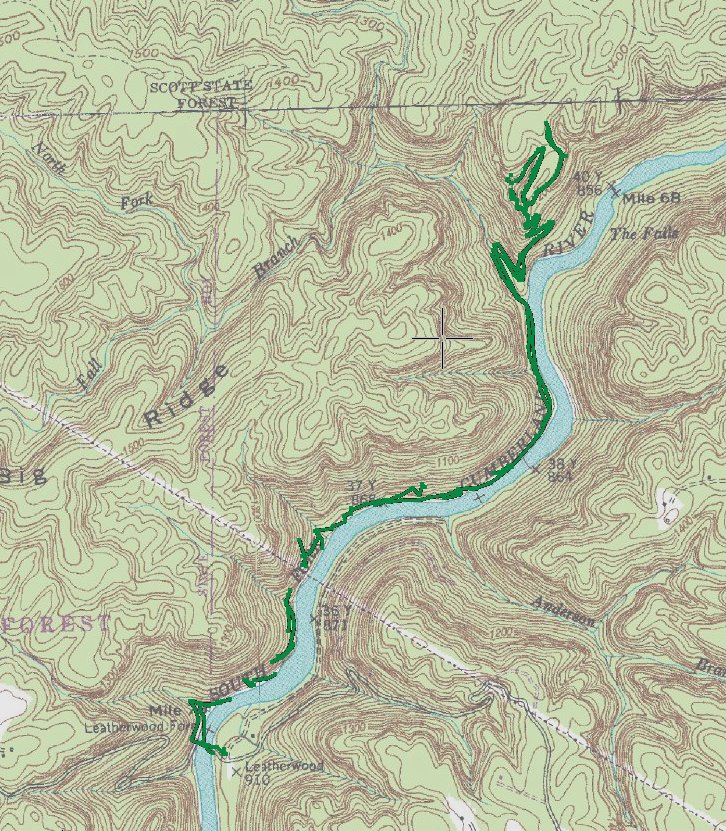 We next drove down a long gravel road, crossing the time zone border at least three times. Our destination was the twin arches, the most famous arches in this park.

As always in this park the trail to the sights of interest involved walking along a cool sandstone cliff: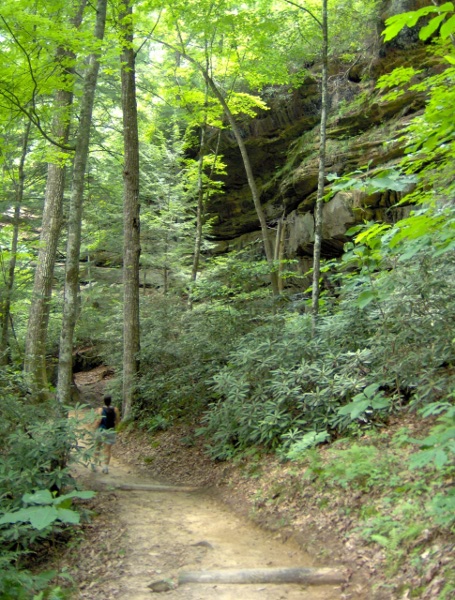 There were neat patterns in the rocks, both ribbon-like and full of holes: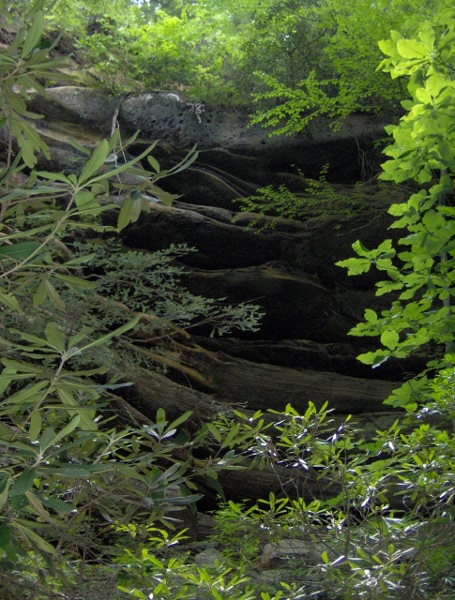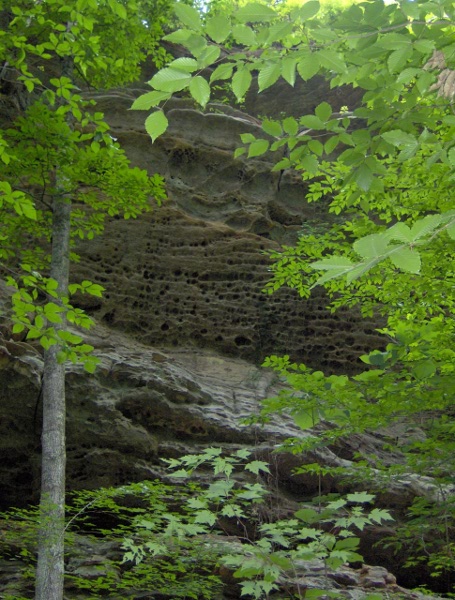 You came across the first arch suddenly, peeking through the trees: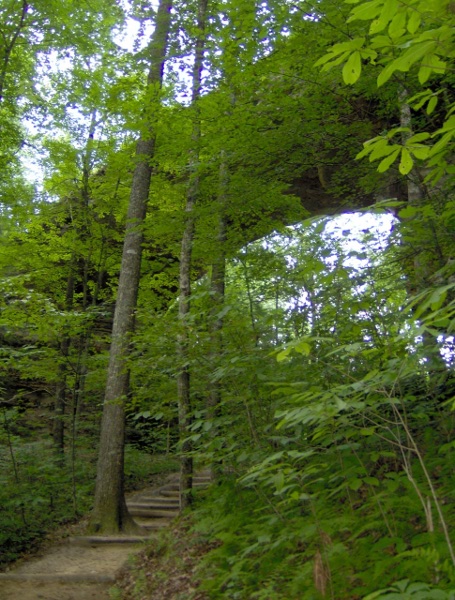 Here's an attempt at a panorama: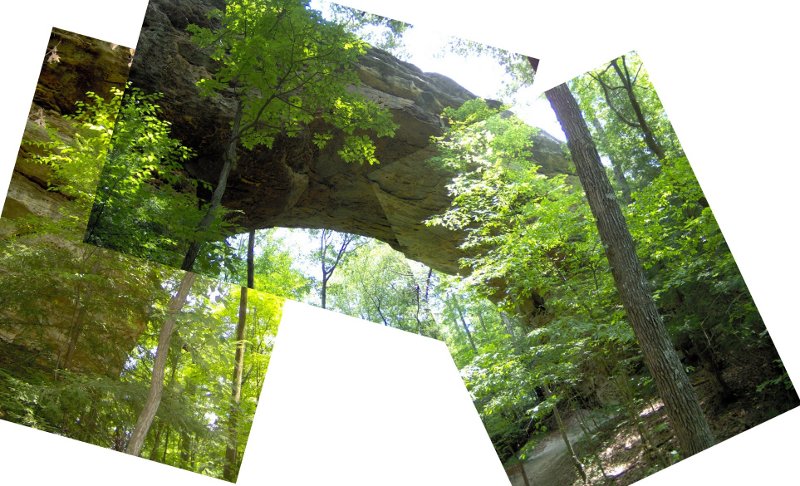 Right next to the first arch was a second one. I found this second arch to be one of the most impressive things we saw on this trip. The pictures of it don't really capture how massive it is. (Also note the thick layer of sand on the ground. The eroding sandstone made the soil very sandy; in places the plant life looked very much like Cape Cod).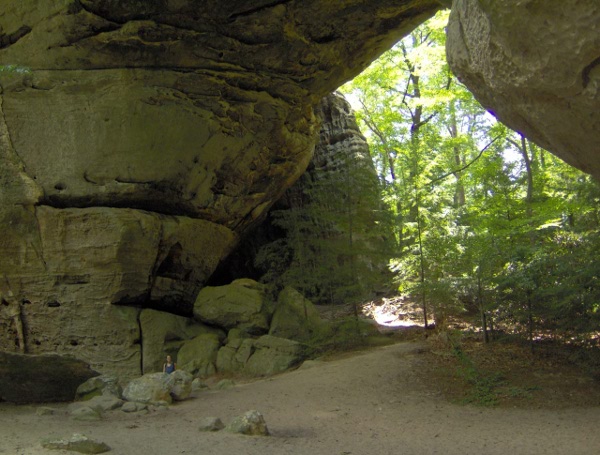 Here's a panorama looking up, though it makes the arch look smaller than it is.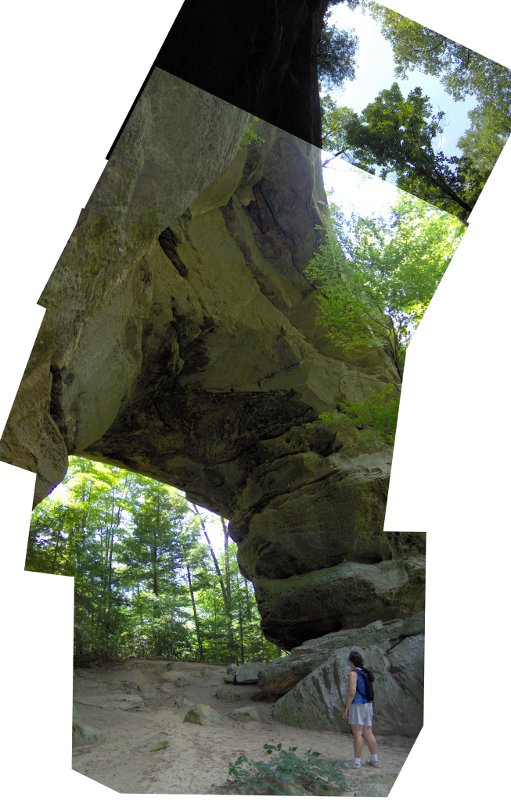 We then went up some steps to the top of the first arch. Here I'm on the top, though you can't really tell: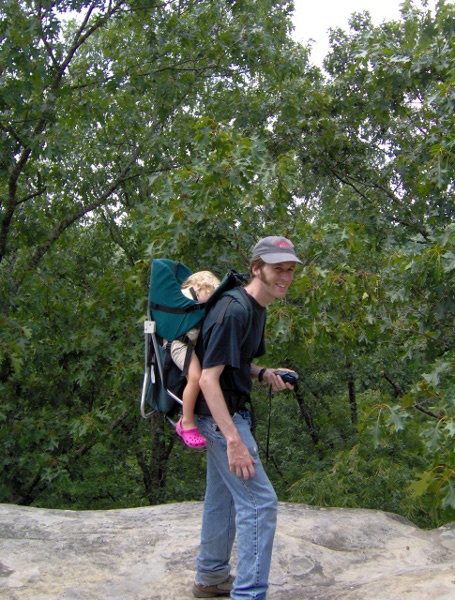 This trail had lots and lots of very steep steps, which made the trip back to the car a bit tiring. Here's a track of our path: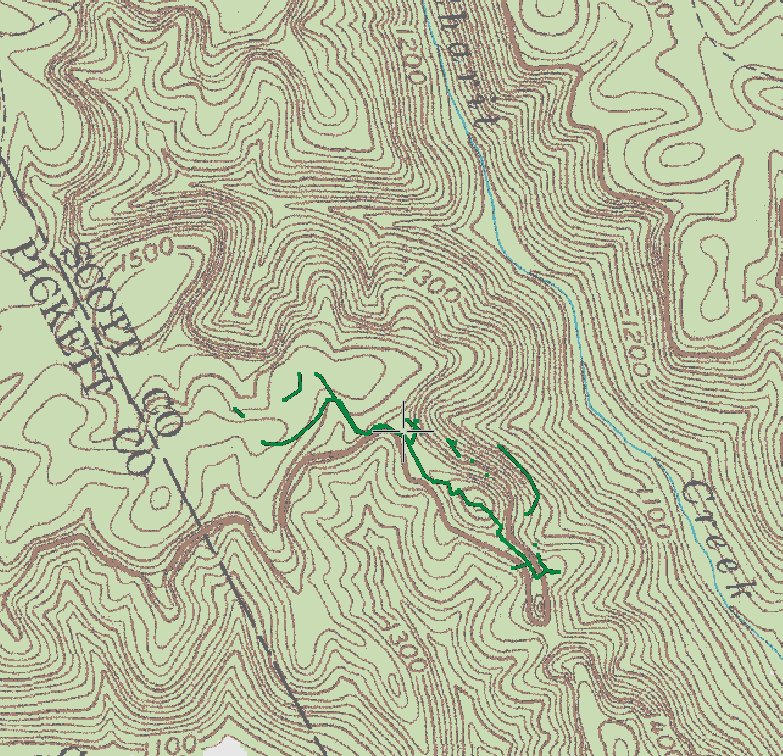 We then decided that since we had turned my car grey from all the driving on the gravel road, that we should try another hike in that part of the park. So we went to see Slave Falls, even though it was likely to be dry.

And here we are, and indeed it was dry. The plant life felt very Jurassic-park-esque though: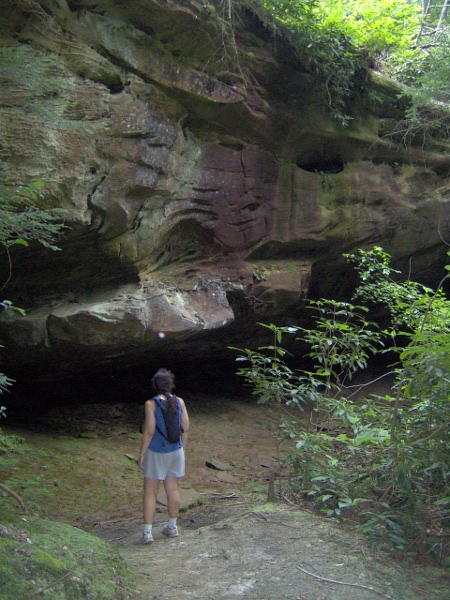 We then went to nearby Needle Arch, but we wasted time on a wrong turn because I misread a sign.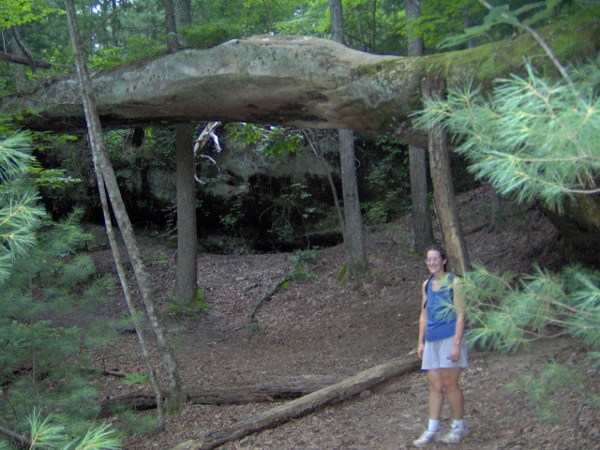 Here's our GPS track: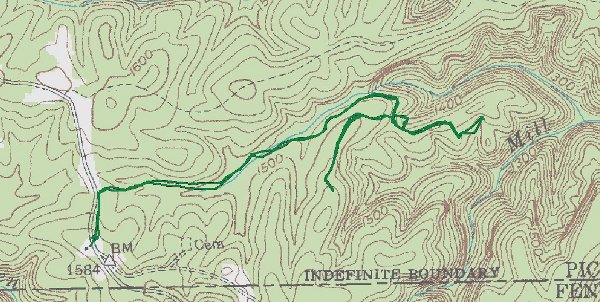 By this time we had gone at least 11 miles so we were a bit tired. It was time to head back to our campground.

We stopped by the visitor center to stamp the park service passports, and bought some ice and some firewood. We had to get the firewood at the horse ranch, and I didn't realize when I bought a "stack" that a stack was like 4 feet high. So we ended up with a lot of wood debris in the back of my poor car. While I was wrestling with the wood, K and E had a nice conversation on the porch with some friendly southerners.

After finally getting back we went for a swim in the pool! For some reason you had to pay for pool usage at the check-in kiosk so I had to trudge off and do that before finally getting to rest.

It was a very safe pool (or maybe very dangerous) as there were 4 lifeguards watching a pool not much bigger than one you'd find in an apartment complex.

We moved the tent in the hopes of a better sleeping surface. This time I ended up on the lumpy sleeping bag and didn't sleep well. E and K woke early, but they were nice enough to let me sleep in.

We packed up our campsite, then went to Pickett State Park which is a park immediately adjacent to the national park.

The attractions here were just off the highway so we didn't have to walk far. We first went to the natural bridge. Here it is from the side: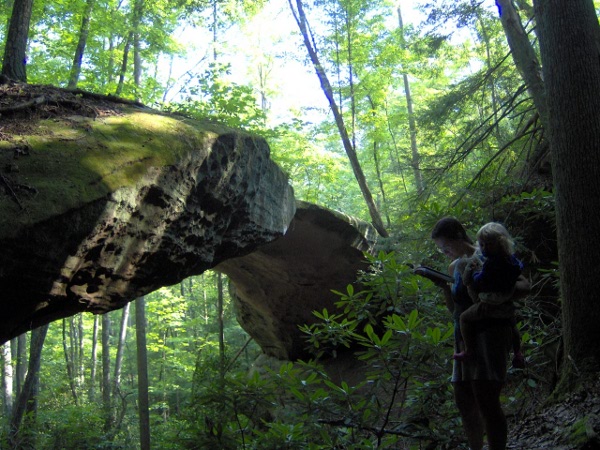 Here's a panorama on the arch:




We then drove back down the highway to see Hazard Cave. The cliff leading up to it was pretty impressive: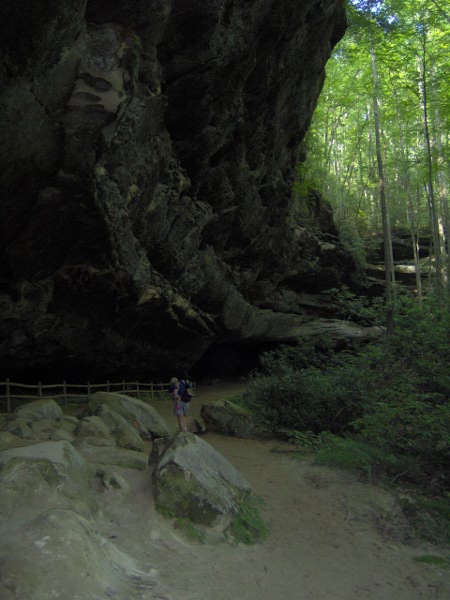 Here's the entrance:



When looking out from the inside, you can see the cave entrance has an inscribed arch: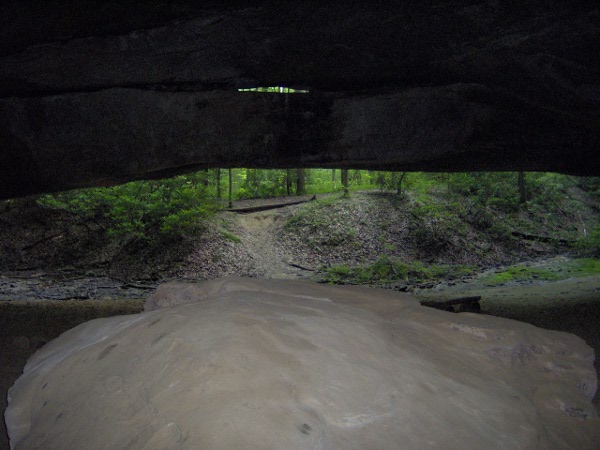 There were fences protecting the endangered Cumberland Sandwort which is only found in this area. If you look closely you can see some blooming in the background: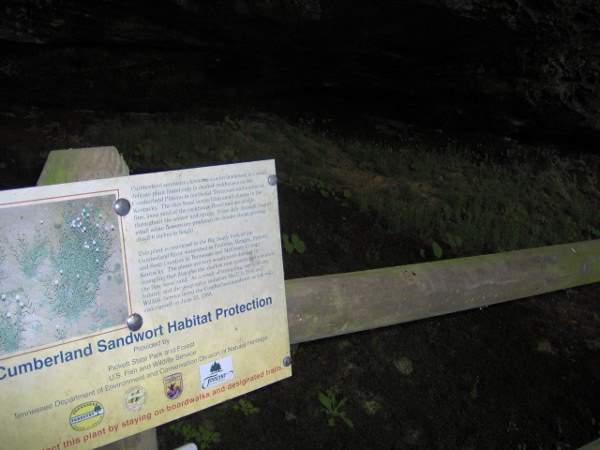 We then crossed the highway to see the Indian Rock Shelter. Of course it didn't look much different than other rock shelters in the area: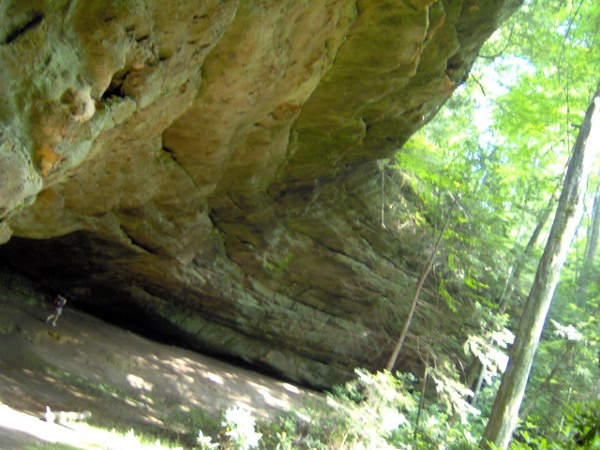 Here's our travels in the park: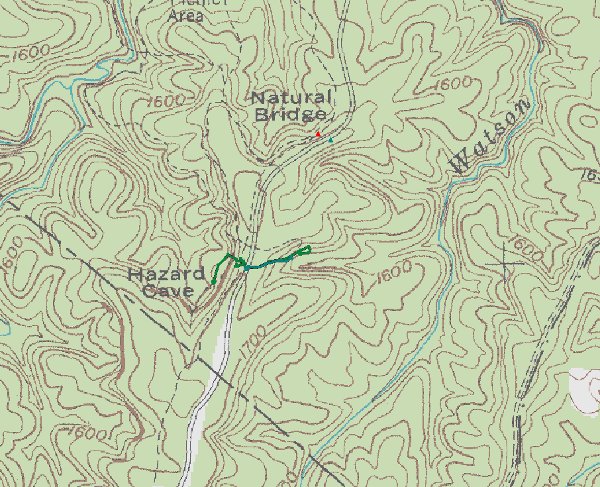 Now we started the long journey home. We stopped at Colditz Cove near Allardt (which was a German enclave of some sort at one point).

You hike down an unremarkable trail, and suddenly you come to a giant gorge. You circle down along some impressive cliffs, and you come to Northrup Falls: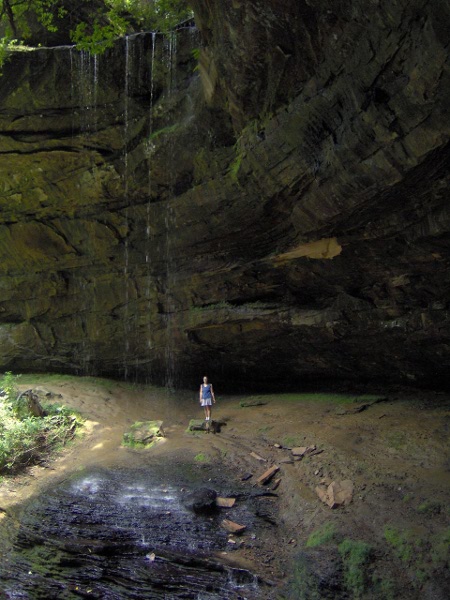 This was K's favorite site on our trip. Here I am under the falls: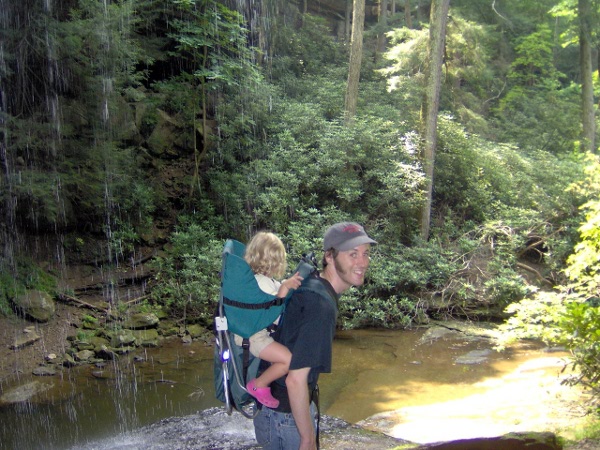 E asked if we could stop and get out, so we did and played in the pool at the base of the falls for a while.

After a nice rest, we walked on and saw some smaller falls coming out of the cliffside: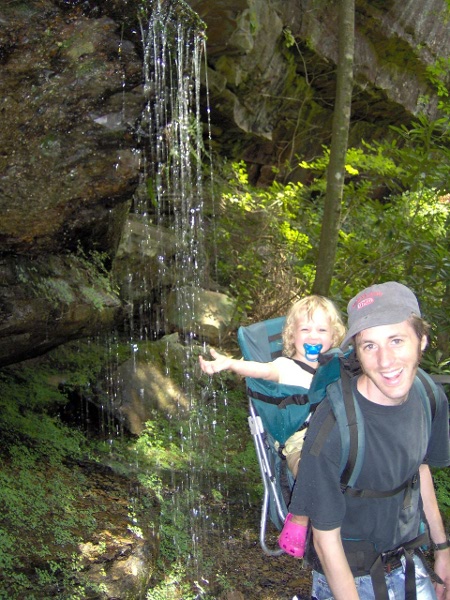 We looped around to the beginning and tried to have a picnic lunch. Unfortunately there was an overly friendly stray cat there who wouldn't let us eat in peace.

Here's GPS of where we were: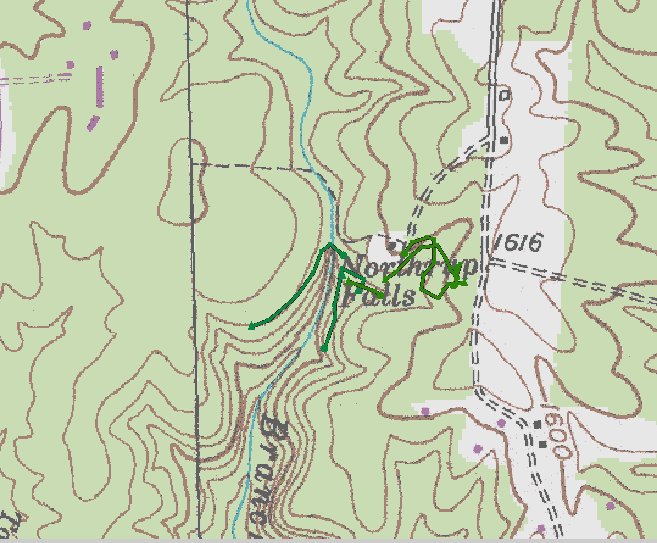 We drove down through Rugby, which was an English utopian colony in the 1800s; it's famous for its Victorian houses. We crossed back into Eastern time and made more progress toward home.

We stopped in Wartburg at the Obed Wild and Scenic River visitor center. We mainly stopped in to get maps and get the park passport stamped (they actually had a stamper outside for when they were closed; we wish more parks did that). The center looked pretty abandoned, so I think we made the ranger's day when we went inside and he had someone to talk to. E got a coloring book and some crayons.

We then drove down a long winding road to the Nemo area of the park. Here's the river looking wild and scenic: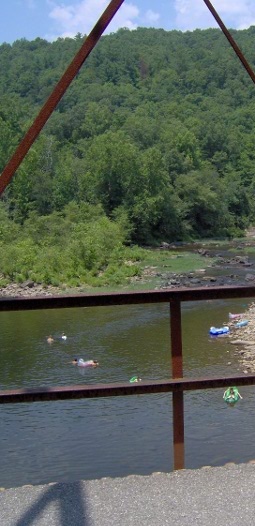 We went swimming in the water, but the rocks were very hot on shore and very slippery in the water so it wasn't much fun.

This park was filled more with locals than other parks we'd been to. Some park rangers stopped by, wishing they could get wet. They stopped to talk a bit, they recognized me from earlier when we stopped in the visitor center.

Here's a brief GPS track of us walking around: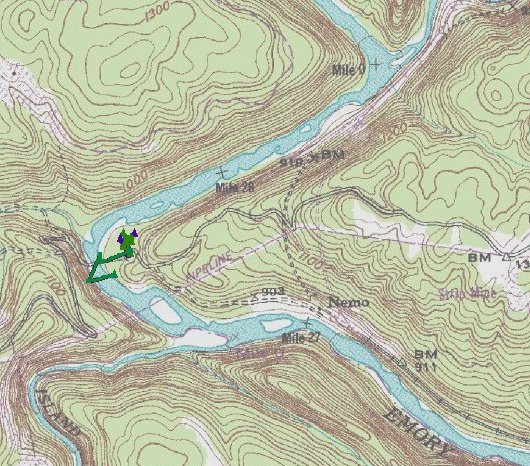 After that we finally drove the last leg to home. We unpacked the car; it was good to be home.

It was the 4th of July though; we felt bad not giving E the whole 4th experience. So despite being tired, we went to Pelissippi State College for a 4th celebration thrown by a church. It was pretty elaborate; there were rides and inflatable bouncy houses and lots of free food.

At the end they had fireworks!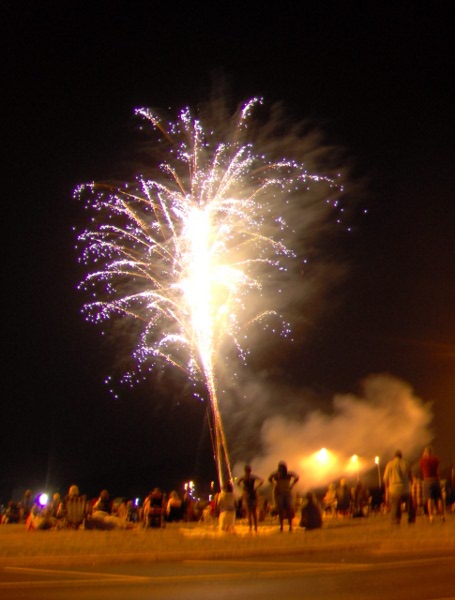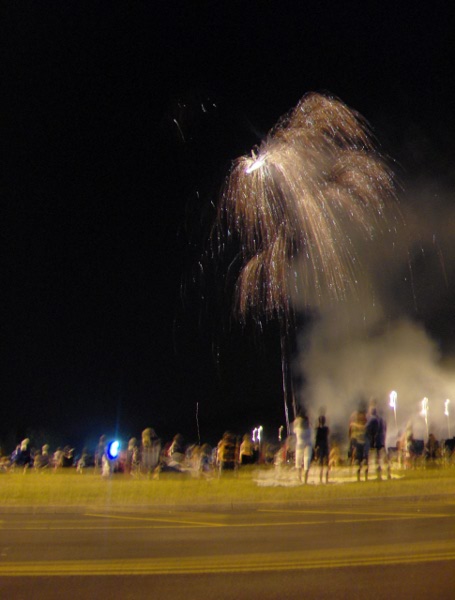 Despite heading for the parking lot early, we managed to get trapped forever waiting to get out on the highway. So we had one last late night on our weekend adventure. We slept in late the next day, even the toddler.
---
The following week Marie drove 9 hours to visit us, we are lucky are friends are willing to drive so far to see us. Then, soon after she left, we went to Chattanooga!

We went to Chattanooga because I had to present a poster at a conference. E and K tagged along. It's only about a 90 minute drive from Knoxville, even though it's down at the Alabama/Georgia/Tennessee border.

The first thing we did was go to the top of Lookout Mountain to the Chickamauga and Chattanooga National Military Park. We got our passports stamped and then the rangers eagerly told us about good hiking opportunities.

We first drove to sunset rock. It has a commanding view of the river below; in Europe there'd be a giant castle here. Also in Europe there'd probably be a cute village with red tile roofs below, not an industrial park. Here's the view looking away from the industrial park: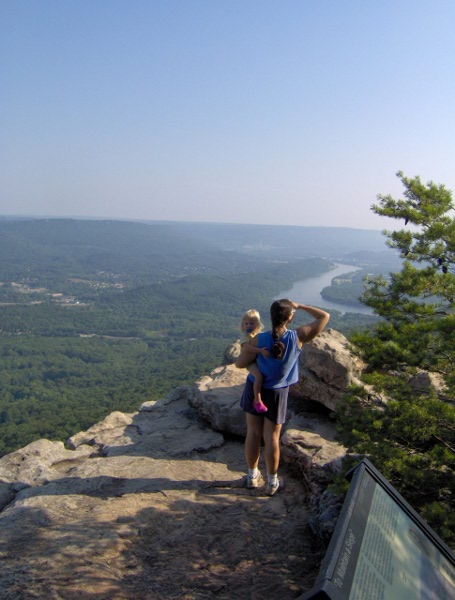 We then drove down and parked at the Craven House area. On the way we briefly drove into Georgia just to say that E's been there. As unlikely as it sounds, there's a fancy neighborhood on top of the mountain.

The "battle above the clouds" was fought here during the Civil War. When hiking you'd stumble across signs telling which troops were where and when.

I bet the memorial to Illinois soldiers wasn't there at that time either: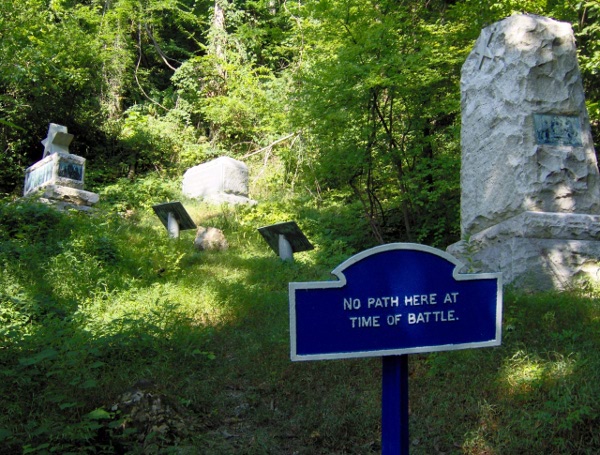 We tried to take the direct route up the hill to Point Park, but our advice from multiple parties was "be sure to keep to the right". We kept to the right and ended up on a different trail (which luckily was a lot less steep than the original).

The trails weren't signed very well. It's hard to make out, but the close sign says sunset rock is 0.6 miles, while the one right behind says it is 1.0 miles.



There were a lot of cool rocks and springs. Unfortunately most of the springs were diverted into pipes; you can see such a pipe in this picture: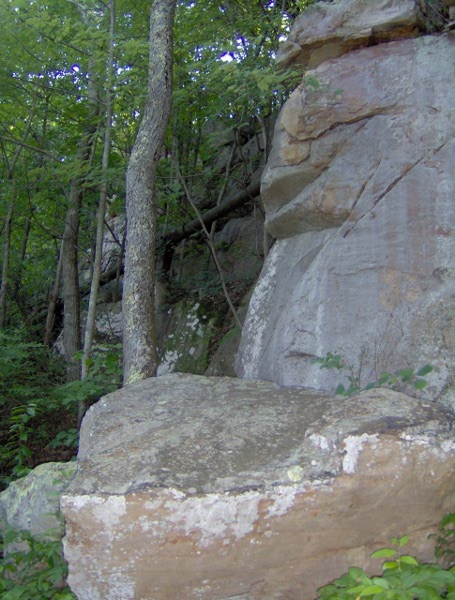 After walking forever along a sandstone cliff we made it to the Point Park overlook. Here's the view of the Moccasin Bend in the Tennessee River, with Chattanooga off in the haze to the right.




Some claim you can see seven states from up here on a clear day, but according to Wikipedia they are exagerating. Unfortunately for us it was really hazy.

Up in Point Park is the New York state peace monument: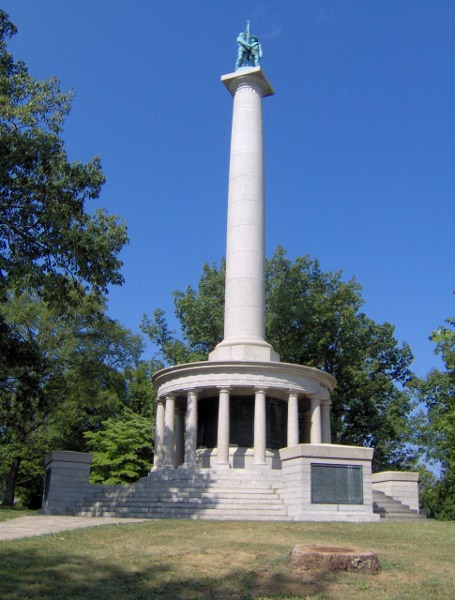 And no visit to a national battlefield is complete unless you see some cannons: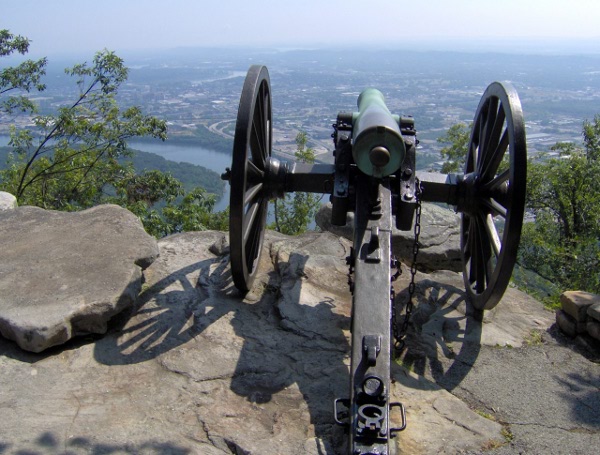 We then took the steep trail (the "Mountain Beauty Trail") back down. It was definitely the road less traveled. We accumulated a lot of spider webs (and as we found out later, a lot of ticks).

Here's a cool rock overhang: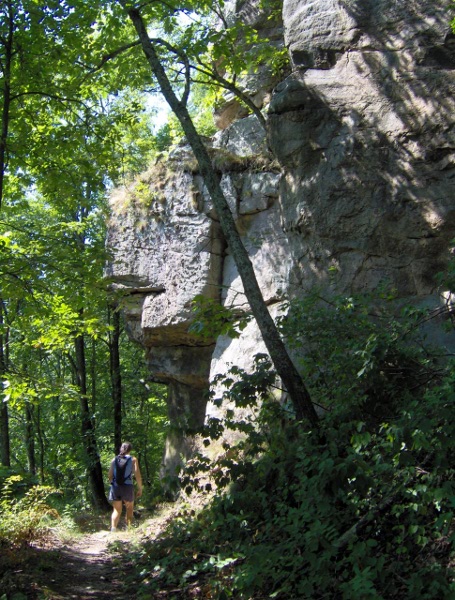 Lookout Mountain is famous for three tourist traps: Ruby Falls, the Incline Railway, and Rock City. I decided that Ruby Falls sounded more interesting, even though K had been there already 10 years ago.

Ruby Falls is actually in a cave. The original opening to a different cave was closed off when a train tunnel was built. So in the 20s someone decided to re-open it by digging an elevator shaft. On the way down a new cave was discovered.

The new cave system was at first less than 2 feet high; the discoverer crawled for 7 hours until he could stand up. You can see that original passage to the right of us here: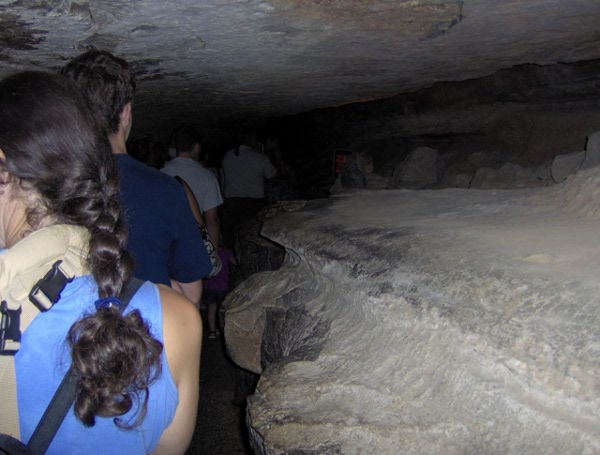 The formations in this cave aren't that exciting compared to others we've been to, but a cave is still a cave: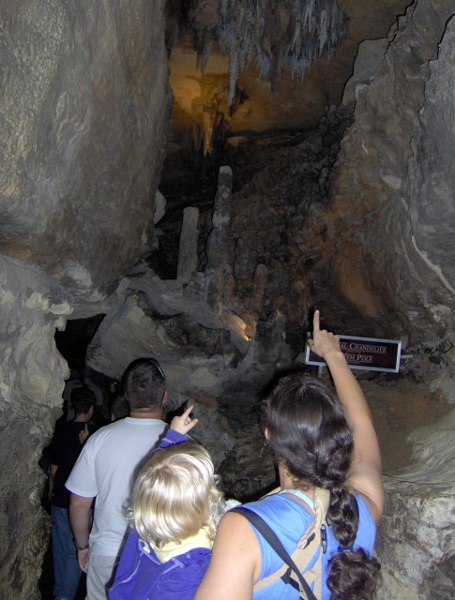 It took a while to get to the main attraction. We kept having to stop to let returning groups pass us.

Our camera really doesn't do it justice. K thinks I should steal a picture from elsewhere to put here, but that would be cheating:




We then returned to the surface and had a nice lunch.

Here's a poor GPS track of our adventures on the mountain. The red is at Sunset Rock, the Blue is roughly our hike, and Ruby Falls is underlined in black.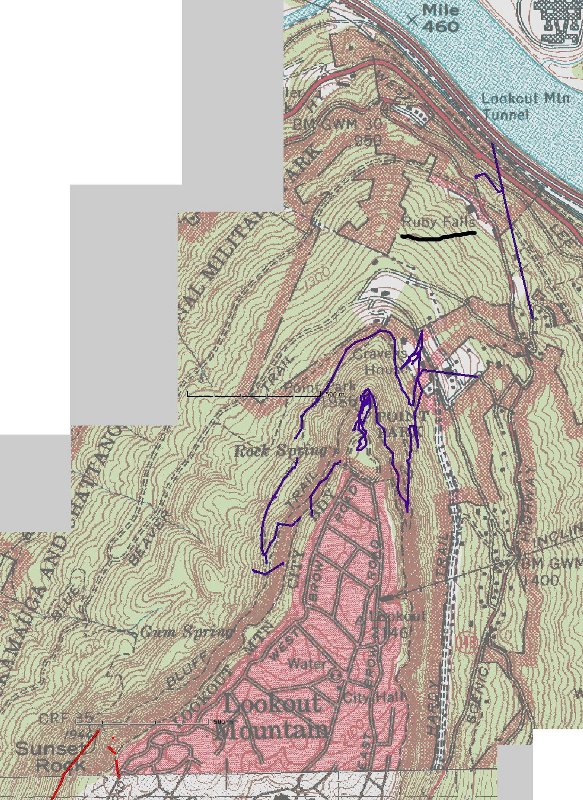 Our Chattanooga adventure continues with a trip to the Tennessee Valley Railroad where we took a ride on the Missionary Ridge Local.

Here's E waiting to get her ticket punched. The train car we were on was split into two compartments, as it was originally a segregated train back in the day.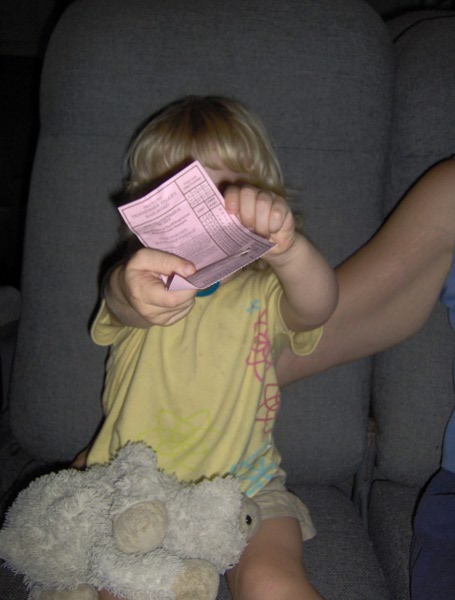 The ride wasn't long, but we did get to go through a Civil War-era tunnel. At the end there was a turntable and they reversed the engine with it.

Don't taunt the safety rope: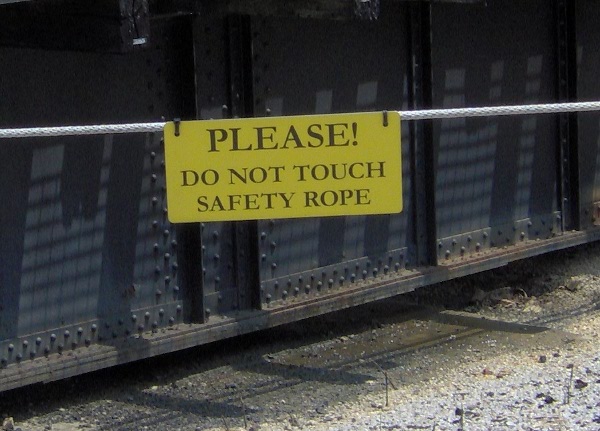 Here's the engine turning: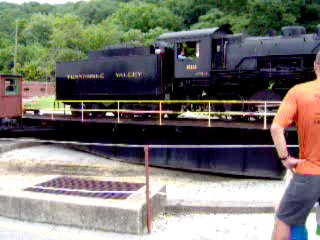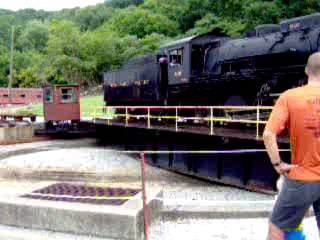 We then got to look around their repair yard. We couldn't stay long or they might have put us to work.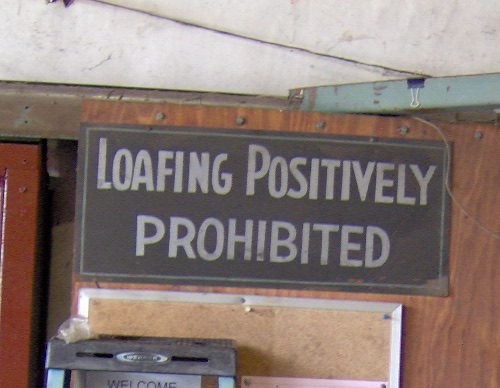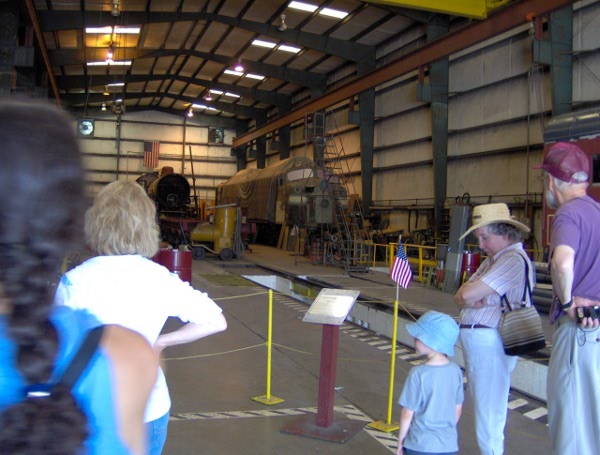 The train ride was soon over! It was relatively short, but matches a toddler's attention span: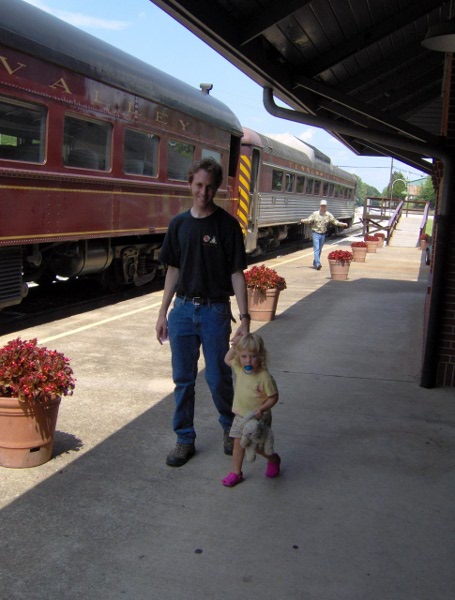 I didn't think to take the GPS along, but I can fake it. Marked is either end of our route, and you can see where we crossed a river, went over a few roads, and then went through the tunnel:




After that we checked into our hotel. I was boring and didn't swim in the pool. The next few days I was at the conference while the women explored town.

They went to the Creative Discovery Museum, AKA the Children's Museum. We've been in the middle of a long dry spell here in Tennessee, but the moment they tried to leave the hotel it started pouring rain. Luckily they had a poncho. E had a lot of fun there.

The next day the weather looked threatening, but it stayed mostly cloudy. K and E went to the zoo. Here's the chimpanzees: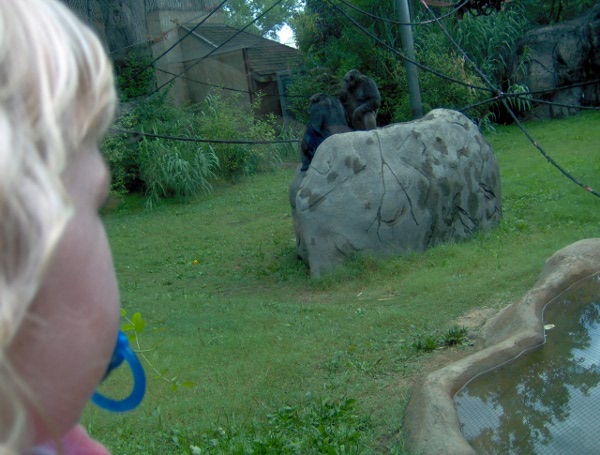 We somehow acquired a peacock feather from some random other toddler.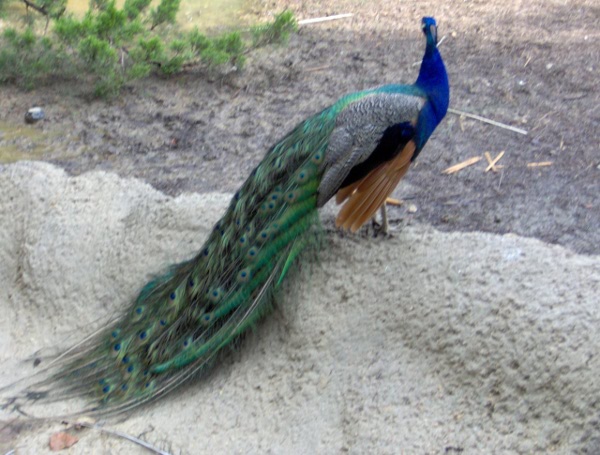 A cool looking crane: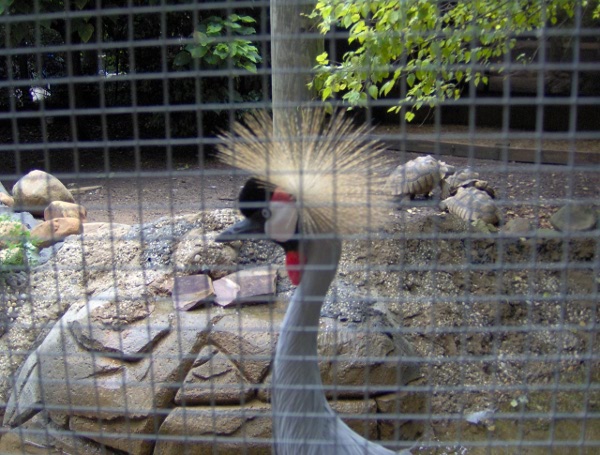 The poor camels had a major train line running in their backyard: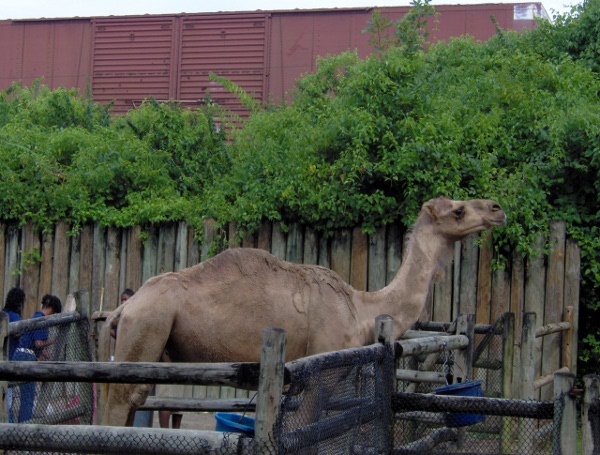 They had capabaras, which are essentially giant aquatic guinea pigs. K's always threatening to get some for our house.



A lot of time was spent at the library, there was a giant sculpture outside: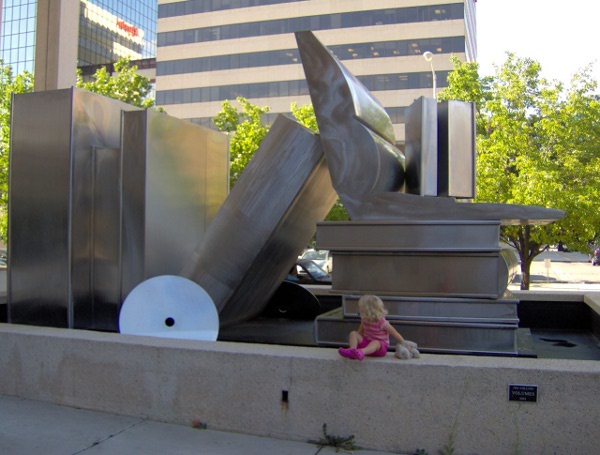 And that ends my time at the conference! There was some nice snacks there, including IBC rootbeer and moon pies.
---
Back to pictures page