Late Fall 2010
The massive wall of storms that hit everyone else in the Southeast was mainly just rain for us. That meant the trees held onto their leaves, which is nice because we're just hitting peak foliage this week.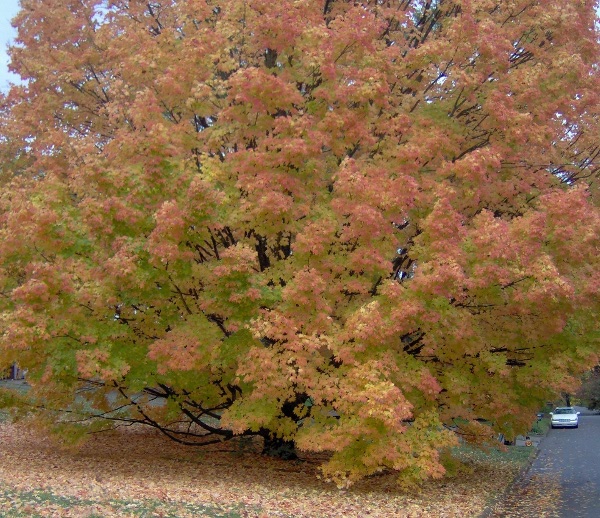 ---
The weather has turned colder here in Knoxville. Our house which never cooled off in the summer now refuses to warm up even when it's in the low 70s outside. Also, the noisy birds have returned to their roost in the bamboo. It's not so bad that they all wake at 8am, but it will be in a week as I assume they don't understand the concept of Daylight Savings.

We spent a large amount of time at various Halloween events, accumulating more and more candyas we went (this candy stash will last past New Years).

Here's a foliage picture that turned out better than the last attempt: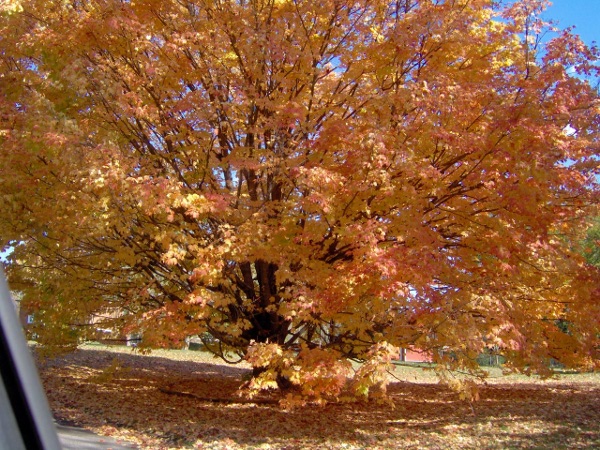 Halloween is of course Reformation Day too, celebrating the day Martin Luther nailed his theses to the cathedral door. Our church made it quite the event, with a full brass section and timpani, combined choirs, red vestments, and a brunch. E probably thought it was some strange custom related to Halloween.

You might recall that my typical costume is that of a Union Civil War soldier; I decided that might not have gone over well this far south of the Mason-Dixon line (though in the 1860s eastern TN was very pro-Union, much more so than Maryland and especially Harford County). So instead I wore my Russian hat and was an extra from the Hunt for Red October. Later I cut my finger on E's costume (which was full of mirrors and metal shards) and upgraded my costume to "Russian guy with bleeding finger".

Here at the Western end of the time zone (and without daylight savings yet) it was still light out until 7pm. Thus we didn't start trick-or-treating until relatively late. We were dissapointed at the low number of houses with lights on, considering the large numbers of children in our neighborhood. The street behind us ended up being better.

We didn't get many trick-or-treaters at our house; that's good because we were gone half the night with E. The warm weather wasn't kind to our jack-o-lanterns, you can tell the one developed a bit of a cleft palette.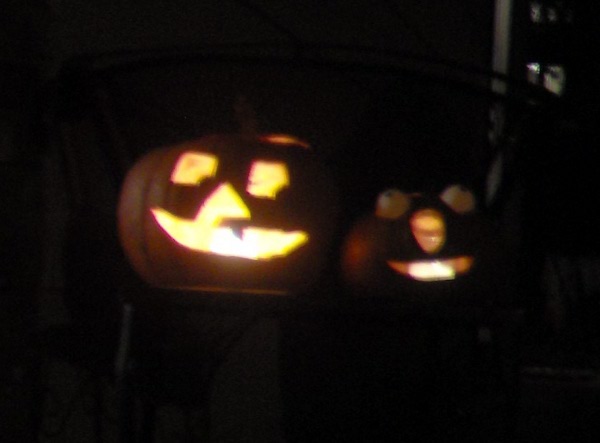 ---
On Saturday we woke early and drove to the Smokies.

E was excited to be heading through Pigeon Forge again, especially when we reminded her there are Dragons, giant ships (the Titanic) and upside-down buildings along the way.

The trail we took starts at the popular Newfound Gap parking area; we pondered whether the views would be just as nice from the overlook there as they would be 5 miles up the mountain. We started out at the state line: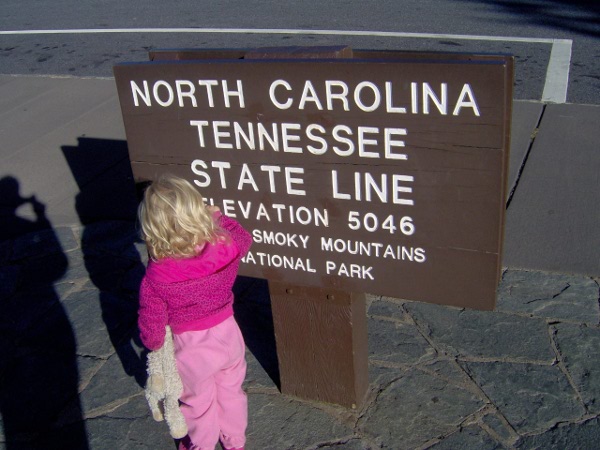 The trail is part of the Appalachian trail (pronounced "app-a-LATCH-in" down here in the South) that follows the NC/TN border. Needless to say we weren't continuing on to Maine: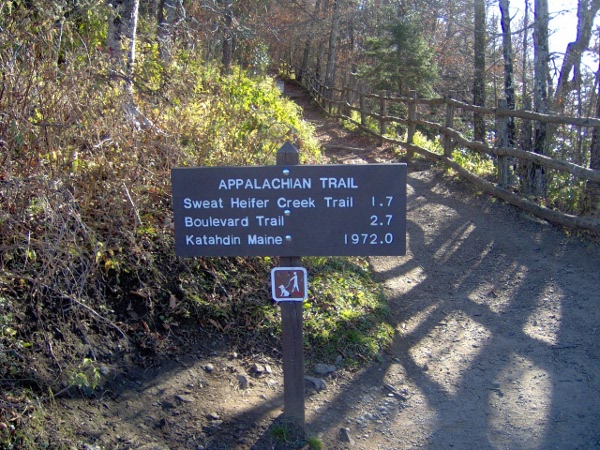 The first part is a very steep ascent. Here we are taking a brief break at the first overlook: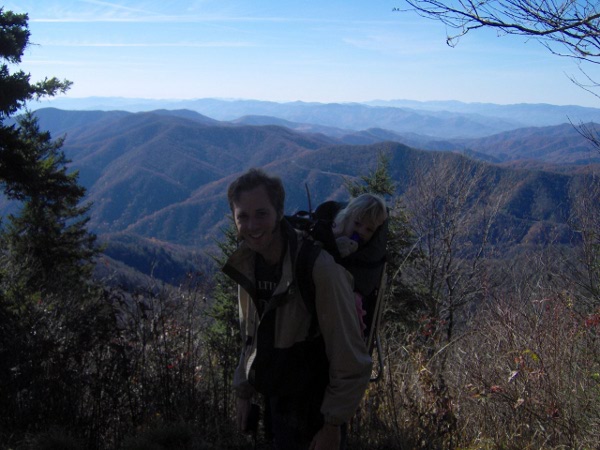 We pressed on about 4 miles until we made it to Charlie's Bunion. After cresting above 6000 feet the trail suddenly started going downhill along what appeared to be a stream bed. We were worried for a bit, but it was the right trail, though a bit poorly blazed.

Charlie's Bunion is a bare rock outcrop. It was heavily logged in the 20s right before the area was made a National Park. Soon after there was a forest fire that killed all the remaining plants, followed by a storm that washed away all the soil, leaving bare rock. The name is an inside joke by the first survey team to get there after that all happened.

The trail here is narrow with steep drop offs and a strong, cold wind (and a sign reminding you to control your children). We declined to clamber across rocks to get to the top. The views were impressive, but they never come out very well on our camera: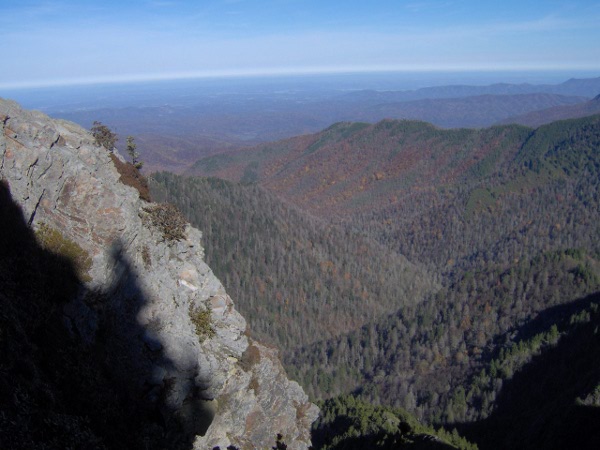 We decided this would be a poor location for a picnic lunch, so we turned back.

The trail followed some impressively narrow ridge lines with steep drop-offs. We stopped at the Icewater Spring Shelter for lunch.
We took a steep mile long spur trail to the Jumpoff which was supposed to have nice views. We got to the top and came upon a large amount of somber people; they were having a funeral for one of their friends which included flinging ashes off the cliff. As you can imagine that was a bit awkward. Here's a picture looking back at Charlie's Bunion where we had been not long before: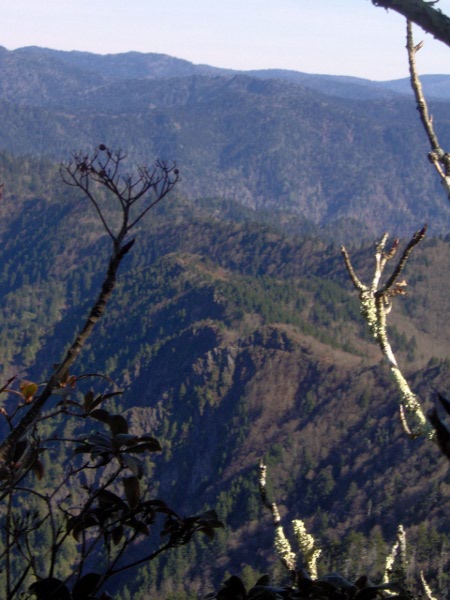 After one of the funeral people came up to us to apologize for monopolizing the view and then broke into tears we decided it might be best to head back.

We lost count of the number of people going the other way making jokes about E getting easy ride in her carrier. You feel obligated to pretend to laugh at them even when it's the 20th time someone has made the same comment.

The hike down seemed to take forever. Here's a view from the first overlook again, this time with the Smokies doing their stereotypical lost-in-the-fog act: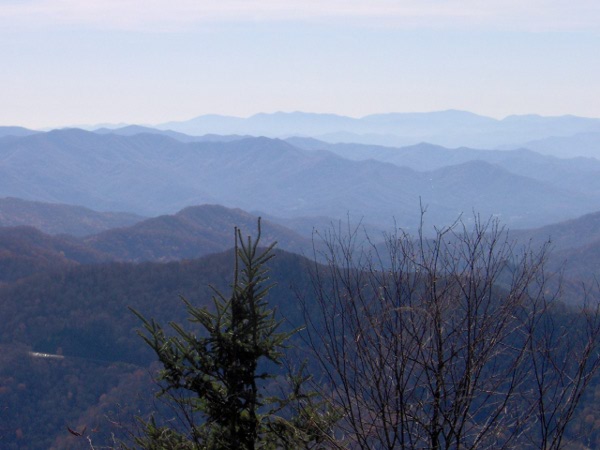 We made it to the end after 10 miles, exhausted. We started undoing E's pack near the trail sign pictured previously, when we had multiple tourists bug us to take their picture as they "pretended" to hike the long trail we just took. They're lucky we didn't refuse on principle.

Here's the GPS track. The track makes it look like we didn't actually make it to Charlie's Bunion, but I assure you we were definitely there even if we didn't explore it thoroughly: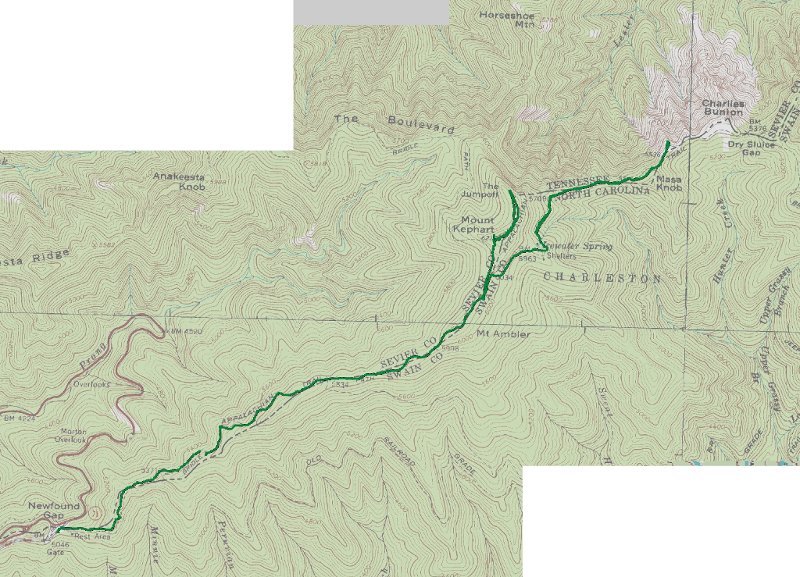 We were mostly past peak foliage time, though there were some nice views occasionally. Taking pictures from a moving car isn't the best way to capure that though: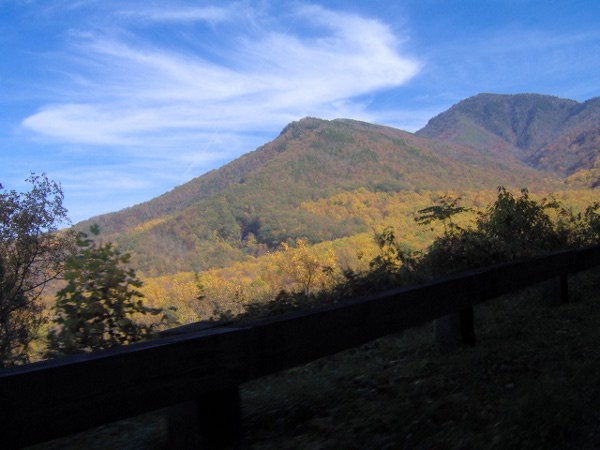 The road back to Gatlinburg goes through a few neat tunnels, including one thats's part of a loop. Unfortunately the tunnels are ruined because everyone else insists on honking their horns as they drive through them. I'm not sure what the deal is with that.

We eventually made it home; it always seems like it takes forever to get back from the Smokies even though you can practically see them from our house. It's good we did this hike this weekend, this coming weekend they are calling for snow up above 3500 feet.

---
The next Sunday we went back to Frozen Head; you might remember that two weeks ago we had to abandon our ascent because I wasn't feeling well. This time we made it much further.

Here we are an hour into things, resting at the site of our previous defeat. That rock behind us impressively massive and cubic.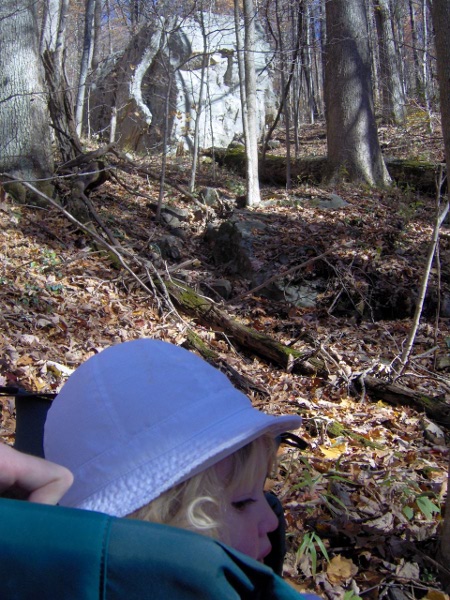 True to its Frozen name, there was snow once we hit about 3000 feet.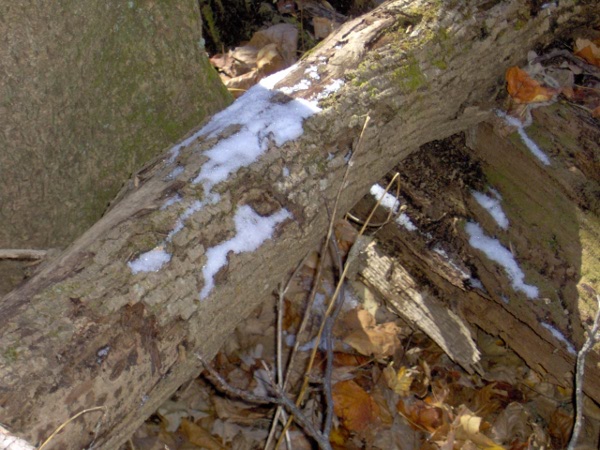 With a final burst of energy we made the last bit of trail to the lookout tower. We had climbed 2000 feet and 5 miles from where we left the car. We just beat some boy scouts to the summit; we were impressed with their energy level until we found out that they had camped overnight nearby and had apparently slept in until nearly noon.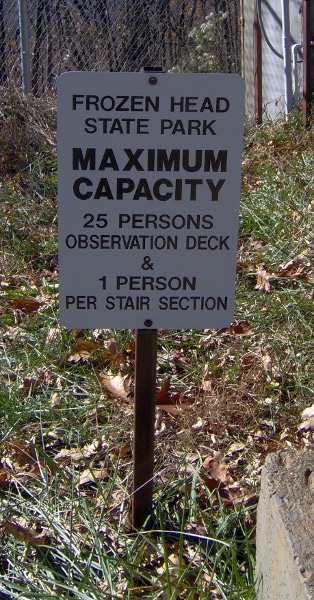 As per the sign, here I am waiting for them to clear the first landing before I start climbing: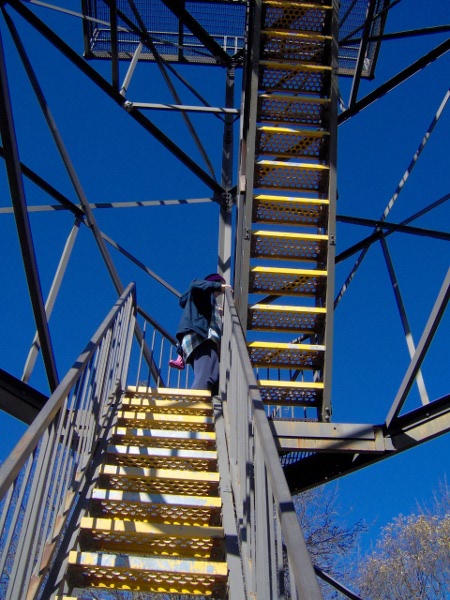 Here's a panorama. Instead of wasting time making panoramas by hand I'm now using the "Hugin" program to create them automatically. We're not sure what the big square thing is in the center there; it's not a solar panel.




Looking to the south you could see the Smokies being impressive. That doesn't come out at all in my pictures so I drew some arrows so you can squint and see them: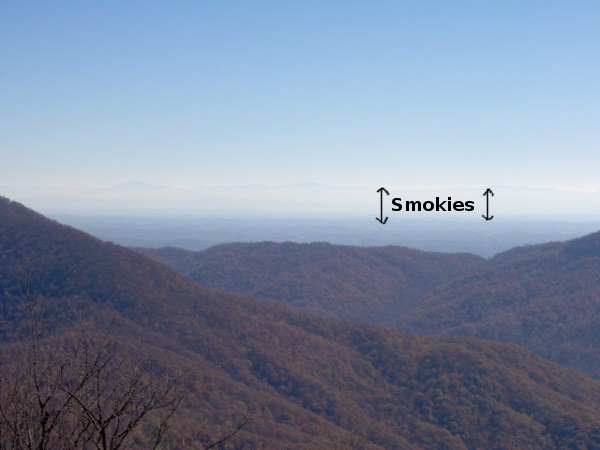 We had a picnic on top of Frozen Head; it was still cold even in the sun.

There were some cool trees growing out of the cliffside: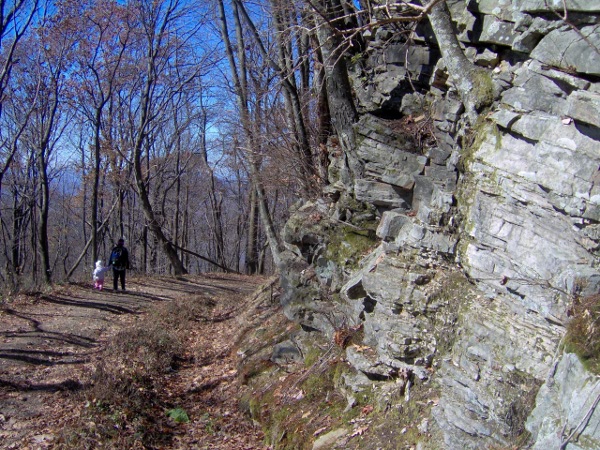 We took a short detour to see the "Rock House" which is a rock shelter. You can camp there, but it's pretty damp so I'm not sure why you'd want to.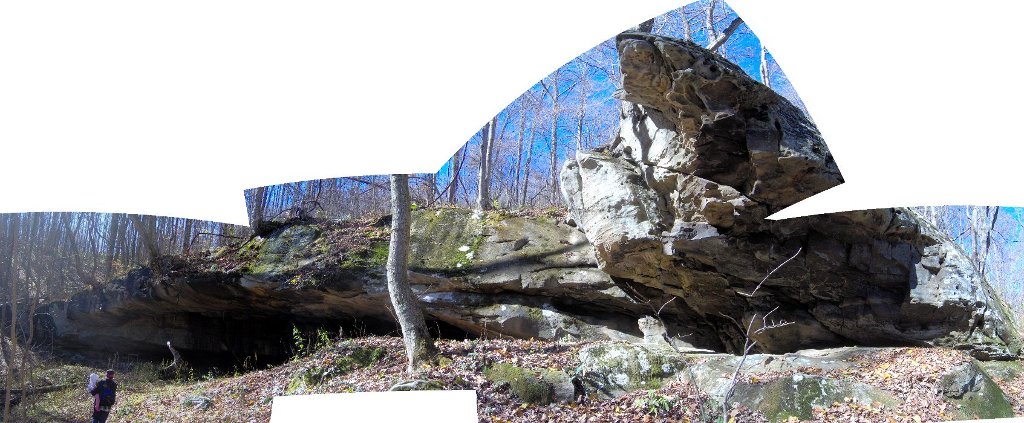 We had taken the South Old Mac trail up, and we took the longer (but less steep) North Old Mac trail back down. It was pretty but took forever. Here's our GPS track; I had trouble getting signal on the north side of the mountain: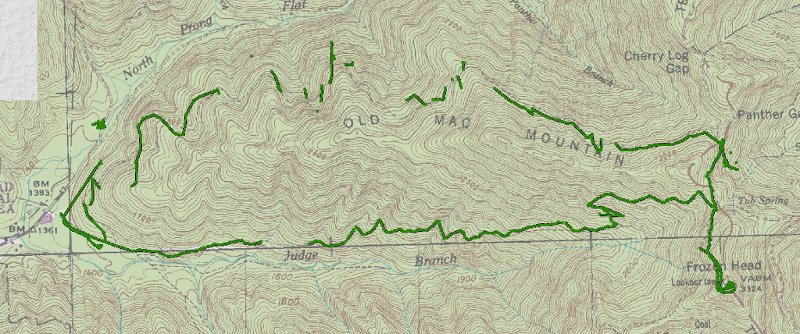 On the way home it was between 2 and 4pm, so we stopped at Sonic for slushes/milkshakes. Then we finally made it home and K&I collapsed as it was a very tiring hike.

---
The following Saturday we woke early and drove North to the Cumberland Gap National Historic Park. We weren't sure if it would be any fun, as it's really hard to find info on it on the web. In the end we had a nice time, made even better by the beautiful weather.

We got to the first trailhead, and the gates weren't open yet! We weren't sure what to do, but then 30 seconds later (at 9:18AM) the park rangers drove up and unlocked it.

We parked our car in Tennessee, and we walked briefly up the trail to this Iron Furnace which is in Virginia: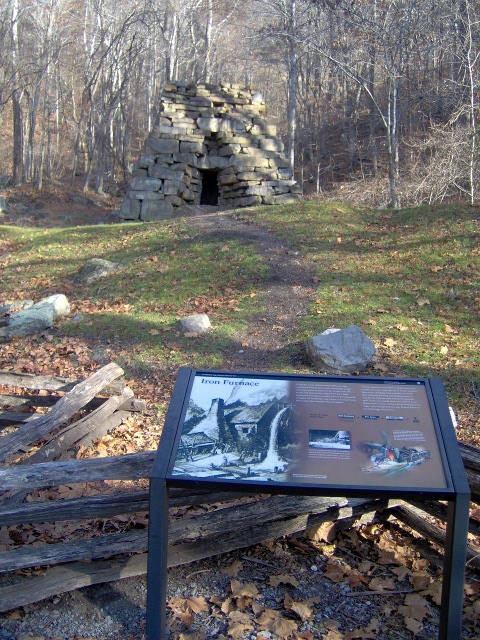 There was a waterfall (former millrace) behind the furnace: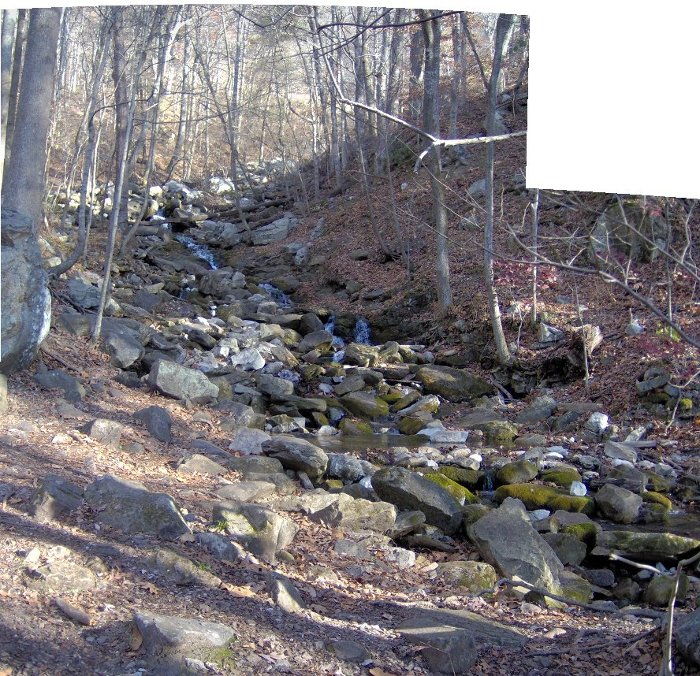 We then took the steep Tennessee Road up until we hit the Wilderness Road (the famous Wilderness Road blazed by Daniel Boone). It is the trail that goes through the Cumberland Gap. Until 1996 a major US highway ran through here, but they re-routed it into a tunnel and are attempting to restore it to its original condition. Here we were right at the "saddle" of the Gap: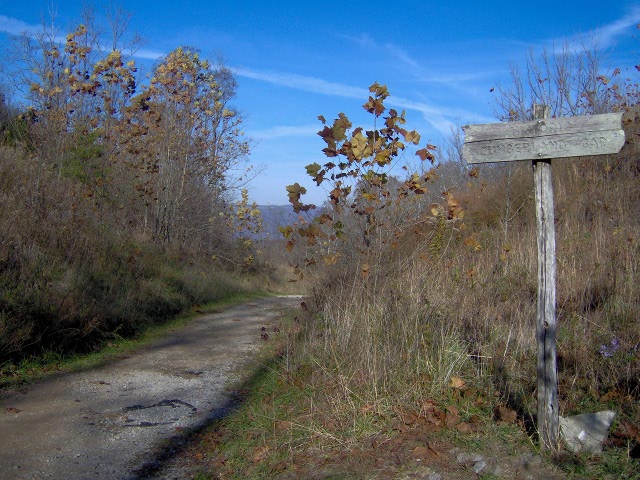 This area was littered with Civil War forts. The scar on this rock was left when the Union troops blew up their ammo dump in front of advancing Confederate forces: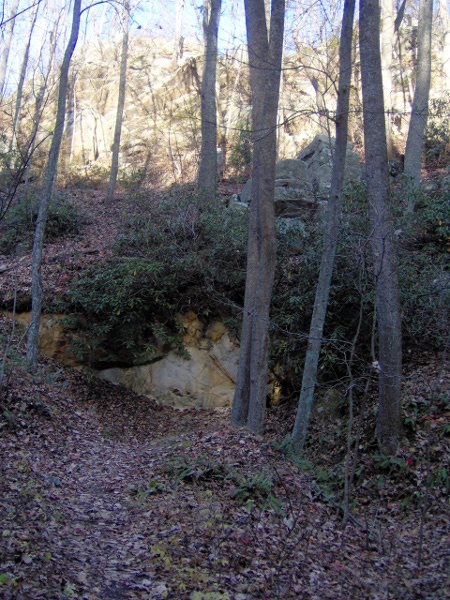 We climbed to the top of Tri-state peak, which is pretty self-descriptive. We spent some time each being in our own state, and then we ran around between states. There's a little pavilion on top with placards about each state. I attempted a panorama but it's not the best as I didn't take enough pictures:




Behind the Kentucky marker you can see the town of Middlesboro, which is built in an ancient meteor crater.

The Cumberland trail (which goes all across Tennessee) starts right at the tri-state marker. A sign said there was a fort .2 miles down the trail; we thought maybe we should go see it. It really wasn't worth it; in the end K and E turned back but I scrambled up a cliff to see the earthworks of Fort Farragut:




We then turned around and climbed back down to the Gap. We passed a cool rock formation that K liked. There was a fort on top of this too, but we were already forted-out and didn't climb up to see it: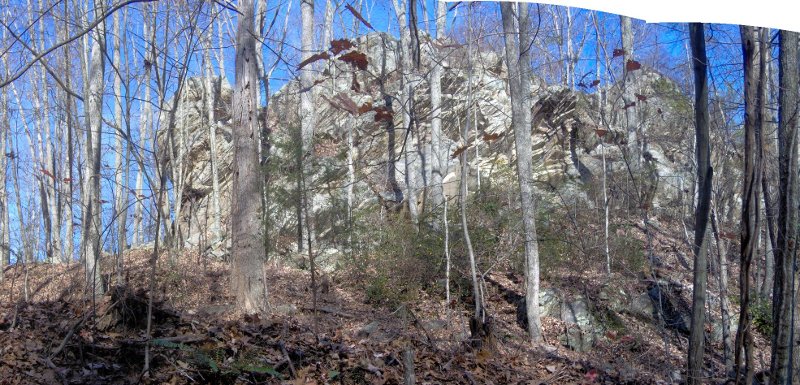 We got to the bottom of the Gap, and then took a trail up to the Pinnacle overlook. This was a very steep trail and we were tired by the time we got to the top.

Half-way up was yet another fort, Fort McCook, which had a cannon: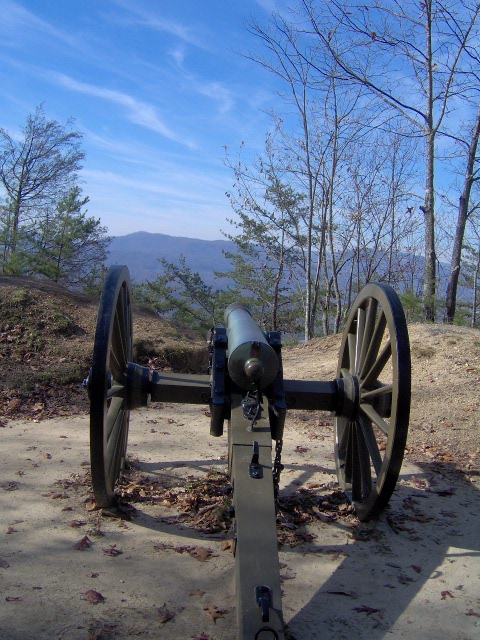 And finally we made it to the top. You could see really far. Ignore the floating rock, that's an artifact of the panorama process. Slightly right of center toward the bottom you might be able to see a parking lot with two cars in it; one is our car, over 1000 feet below us.




At the very highest point was Fort Lyon. The number of forts does seem excessive, but remember there are three different states involved. As you can see, this area was declared to be as hard to take as Gibraltar, though obviously that wasn't true in the end as the forts were captured at least once.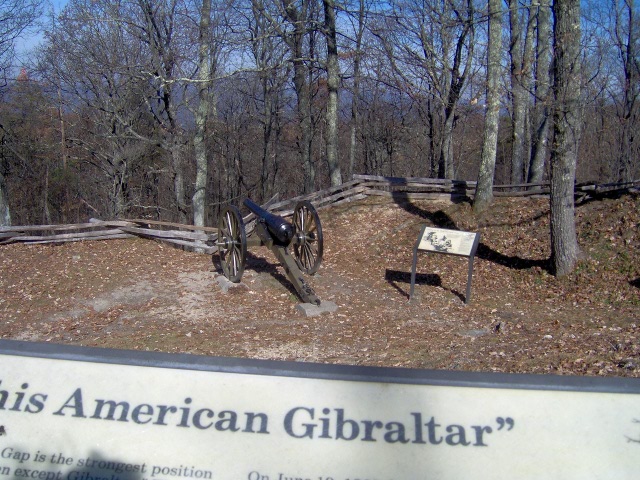 We walked some more to the Powell Valley Overlook. Then it was time to walk back to our car! E had accumulated a big stick (another "fishing rod") so we got comments from passerbys about what she'd use it for, including "fighting off bars" ("bears", I bet you didn't believe people talked like the Davy Crockett song).

We made it back to the car; here's the view looking back to where we were at the very top.



Here's a GPS track of where we were. The USGS maps are a bit old, it stil shows US 25E running through the Gap: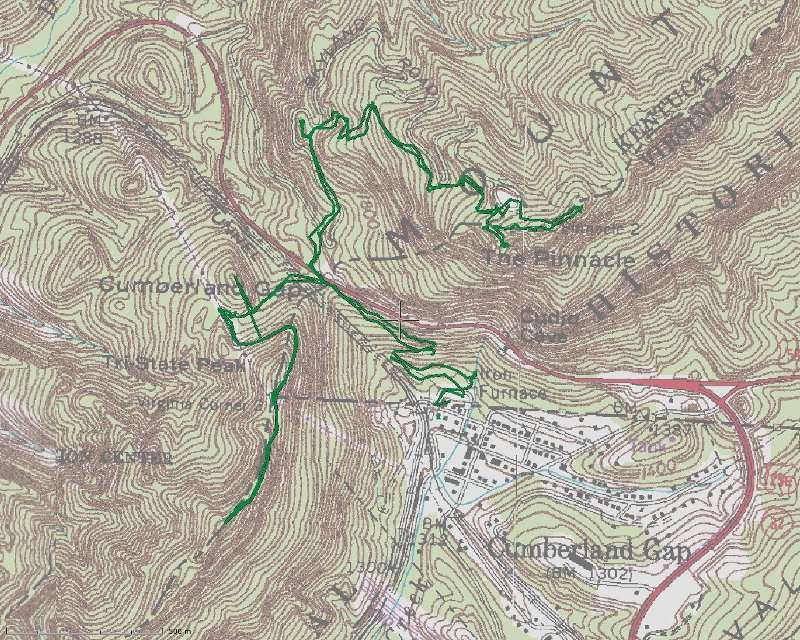 Next we drove through the tunnel under the mountain to Kentucky and the visitor center. We ate a picnic lunch, got the park passport stamped (sadly we were just barely still in the Purple region, so no new section for E's passport). Then we went back through the tunnel to Tennessee for another hike.

This park has a really cool sounding cave right near where we were, but you have to be at least age 5 to go in, so we weren't able to do that. Instead we hiked a steep trail halfway back up the ridge to Skylight cave. Here's what it looks like from the outside: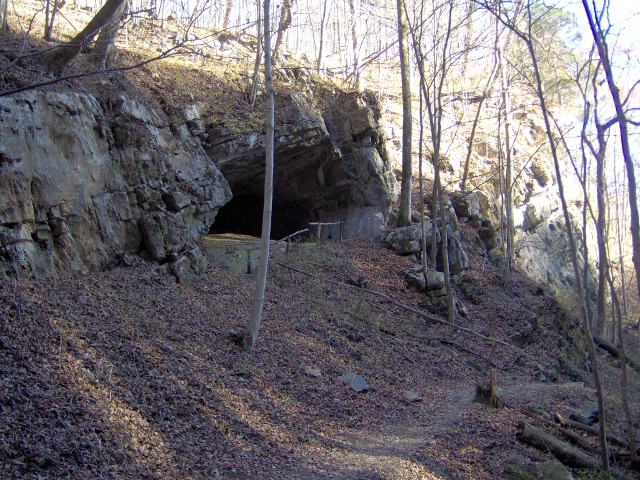 It's called Skylight cave because... well... it has a skylight. Luckily we got there while the sun was still shining in: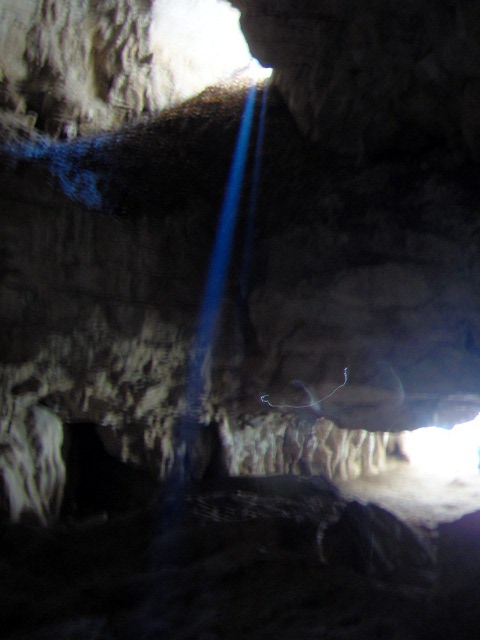 We felt like we needed a treasure map that said "On November 13th at 2pm dig under the rock where the sunlight falls."

Here's the inside of the cave. It was a lot more dramatic than it looks, the camera flash washes things out: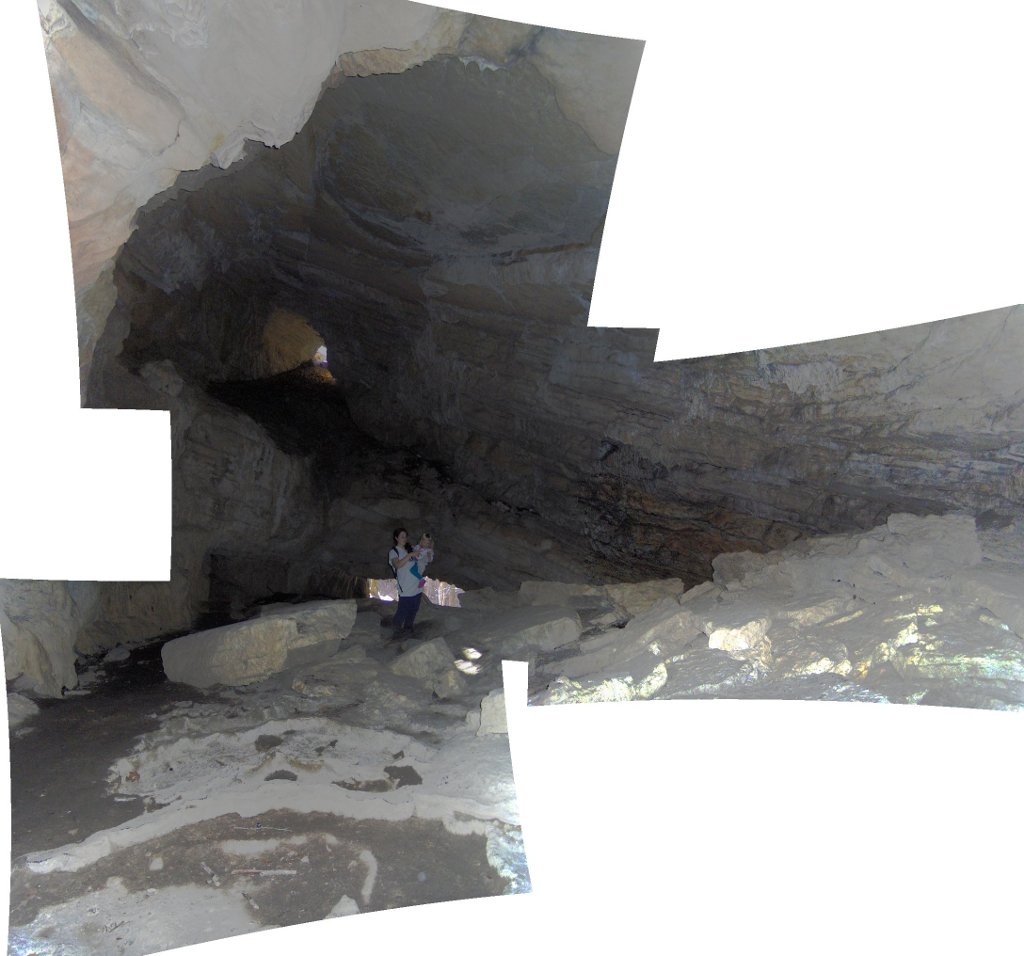 We were expecting a rock-shelter like previous trailside "caves" we've visited. This one has some real cave features, like flowstone.

Here's our gps track: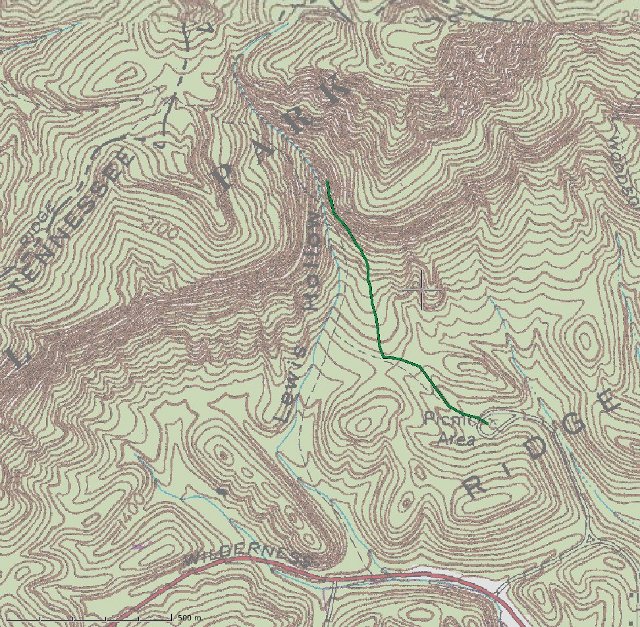 After a brief unproductive trip back to the visitor center we started on for home. We drove through the town of Speedwell, and true to its name everyone was driving 80mph. The road paralleled the mountain ridge; it was impressive how it continued forever, you can see why the Gap was such a big deal.
---
On the next weekend we drove to Kentucky in the eventual hopes of seeing a moonbow.

The moonbow doesn't happen until after dark, so we stopped at some other places along the way. First we went back to the Big South Fork National River & Recreation Area. This time we went to Yahoo Falls.

Right at the parking area is an overlook of the Cumberland River (well, lake, since it's apparently not possible for there to be a river around here w/o a dam on it):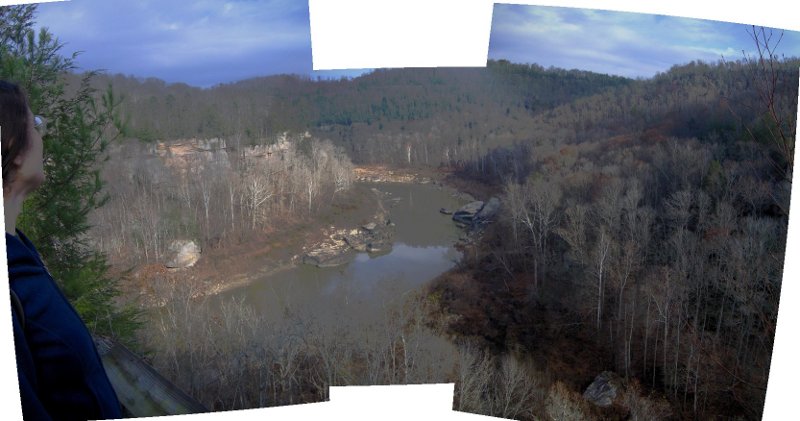 The maps of this part of the park (including the official one at the trailhead) are more or less incomprehensible. We did manage to find the falls after a short hike. If you look carefully you might be able to see K standing behind the falls: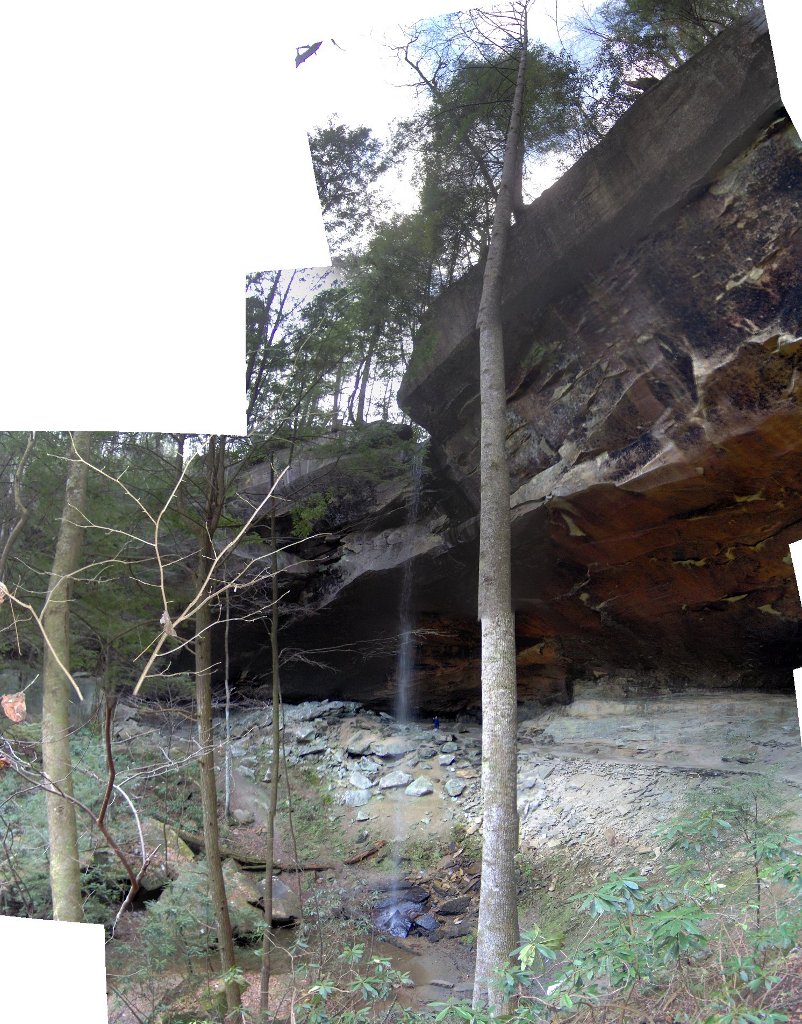 This falls is supposedly the highest uninterrupted-drop falls in Kentucky.

There was a large rock-shelter behind the falls which E really enjoyed.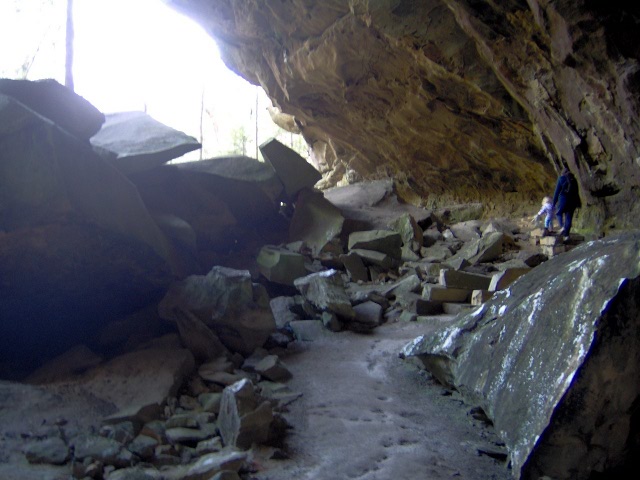 We then got really lost trying to find the trail out. This ended up being OK though because we ended up seeing some cool things.

Are these Mayan ruins in Central America, or just random rocks in Central Kentucky?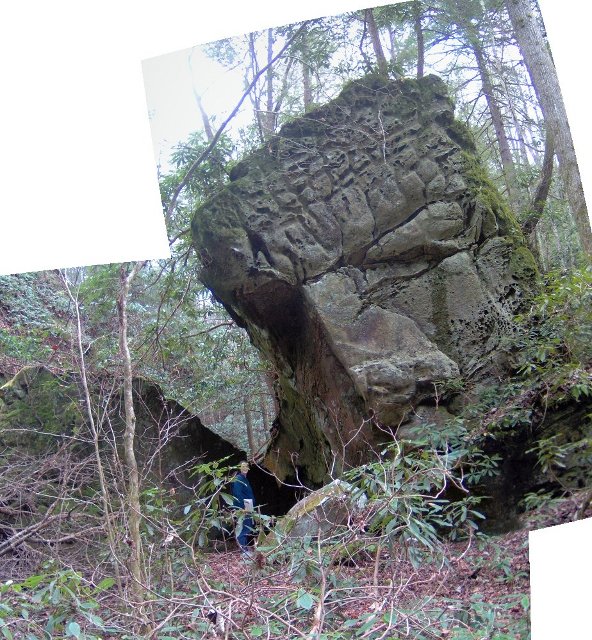 We found a small arch, and streams that went all around the rocks: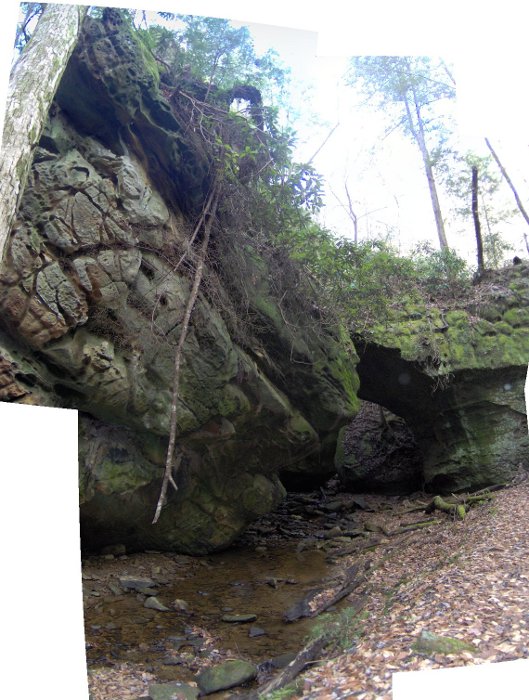 You start to worry when the trail markings start taking you places like this: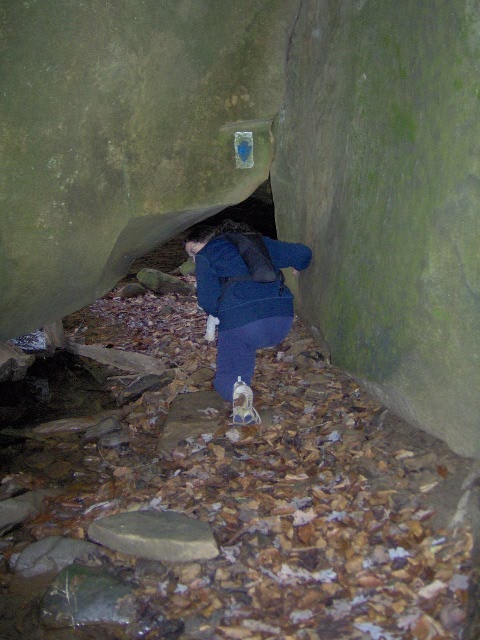 I had to crawl on my hands and knees there; no mean feat with a baby on your back. Around the corner we had to wade a bit to keep following the trail.

Here's a narrow falls: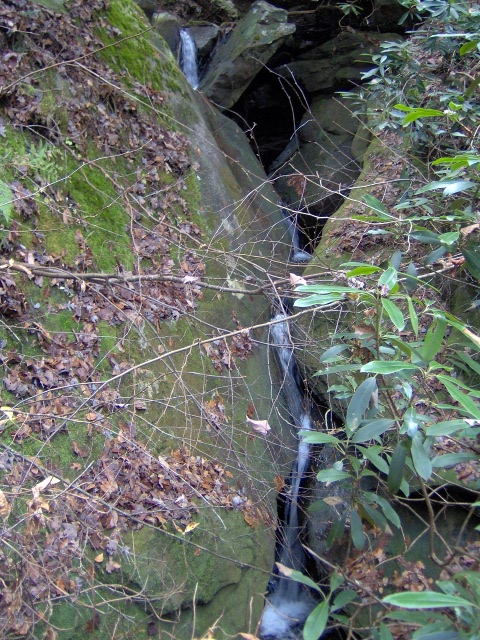 And after all that the trail dumped us back on the trail about 50 feet from where we initially got lost.

We then decided to take a .8 mile spur trail to Yahoo arch. This involved going up a big hill with switchbacks.

Here's Yahoo Arch, with K on top. Notice there are various levels of rock shelters all around too.




After having the whole park to ourselves, we finally started running into other hikers about now. It was good we started early and had the fun parts to ourselves. It's also better running into other hikers rather than running into hunters, as we never remember to wear blaze orange.

We looped up the hill on the way back which overlooked the falls from the top. The views weren't that impressive, but had more fun signage: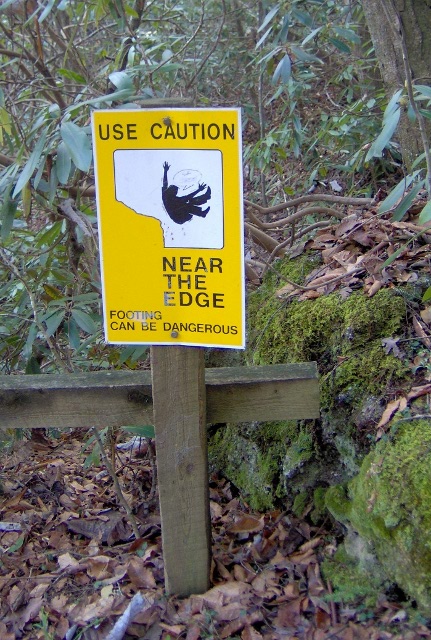 Here is the GPS track. We had trouble getting signal with all the cliffs, though it's probably for the best as you can't see all of our lost wanderings: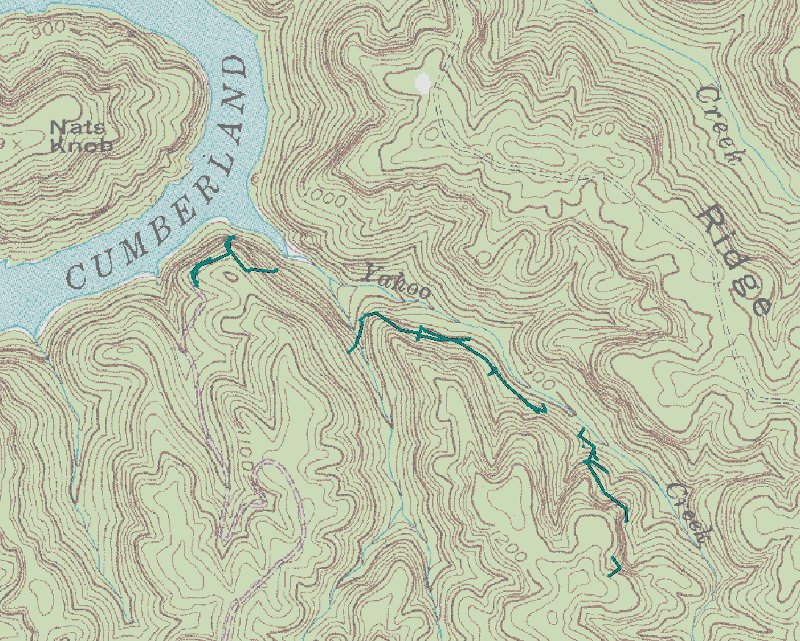 Anyway, back to the hiking adventure. We left Yahoo falls and drove a bit north into the Daniel Boone National Forest. We were there to see Natural Arch, which is one of the biggest in the East.

Natural Arch from the overlook: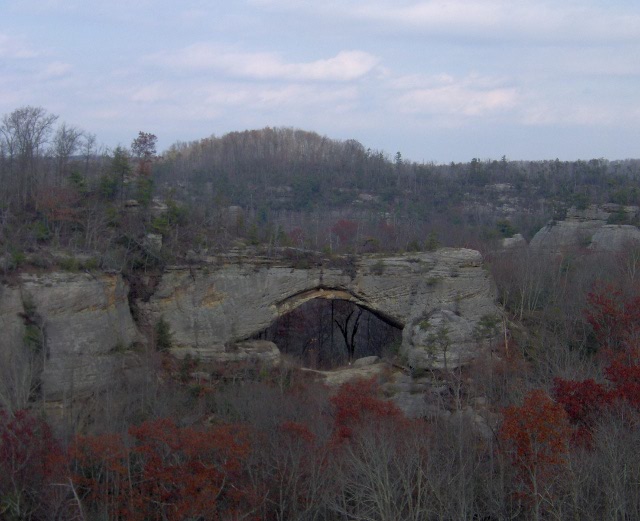 We actually ate lunch first before exploring; there was a very nice picnic area there. We had to pay $3 for the privledge, which shows how spoiled we are that all the other State and National Parks in the area are free.

We walked down a lot of steps and then right up to the arch: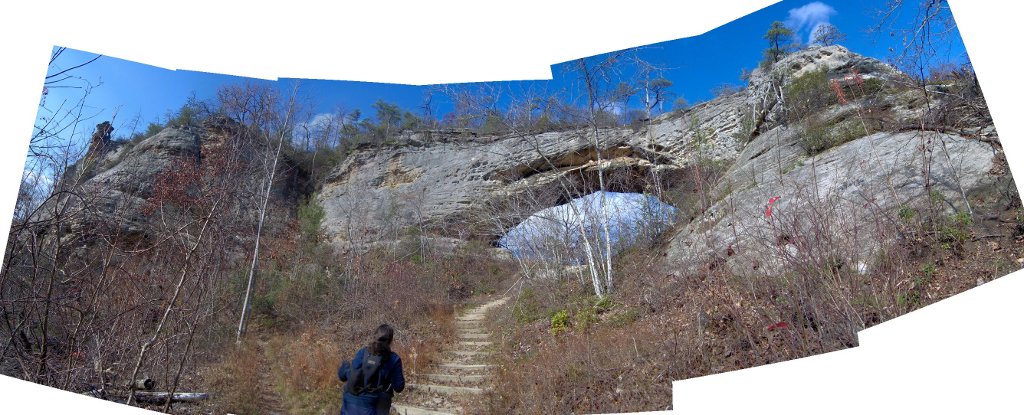 We took a trail that circled the entire arch; as always the rocks were pretty cool. Eventually we came to the back of the arch:



The sides of the arch are fenced off because there are Indian artifacts buried there.

This park wasn't very busy, though we kept running into this couple with photographer in tow that were possibly getting engagement pictures taken all around the arch.

Here's the track of our hike: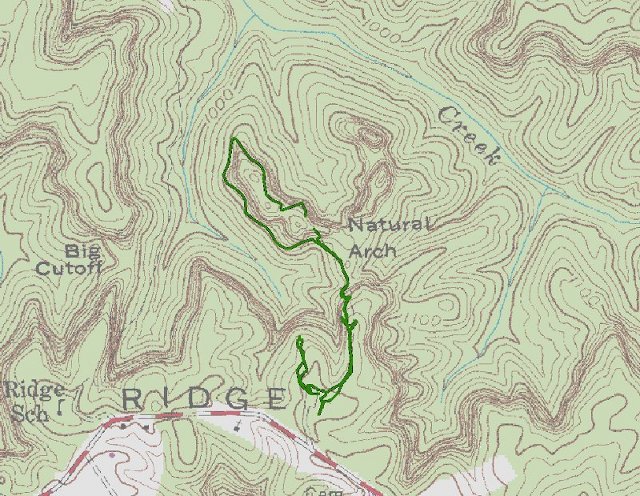 After that, it was finally time to drive to Cumberland Falls State Resort Park, home of the "Niagara of the South".

This is the first claimed "Niagara of the X" falls I've been to that actually had a lot of similarities to the real thing. Here's a panorama view:




No, below isn't a moonbow, it's a regular falls-induced rainbow: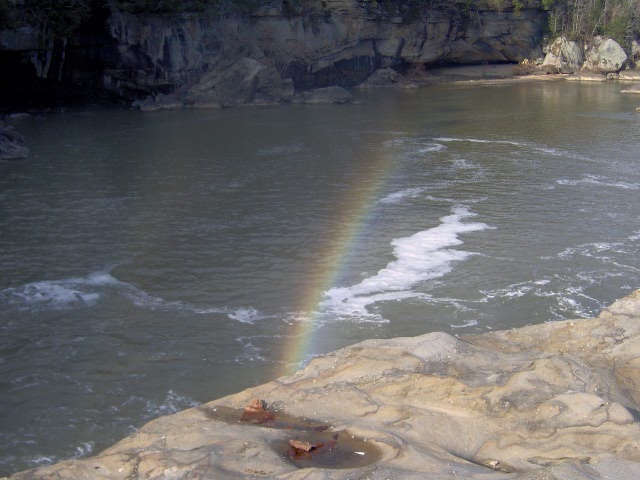 They had a plethora of overlooks. Here we are at a lower one.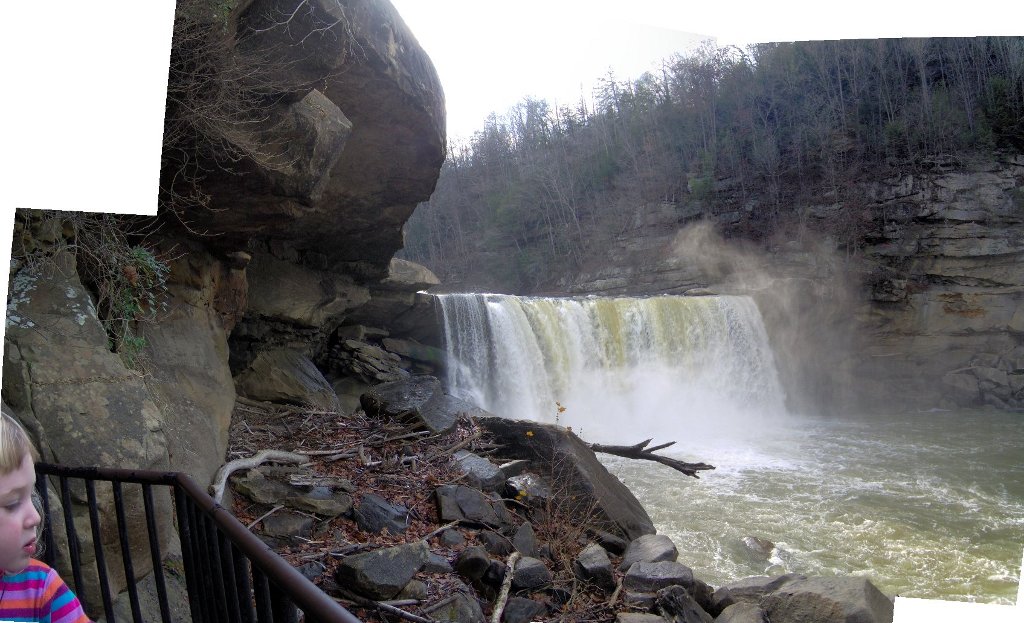 We still had some hours to kill before dark, so we went for another hike. We decided to go see nearby Eagle Falls.

The trail climbed up above the falls, and walked through a neat long row of rockshelters. Then the trail climbed steeply down, down, down back to water level. We then encountered a large group of hikers. [I was curious enough to use google to track them down after we got home, it turns out they were the Great Smokies Hiking and Adventure Group].

Eagle Falls looked pretty cool: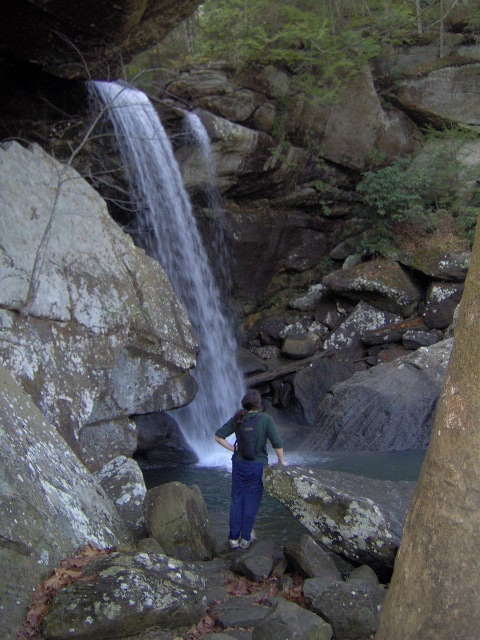 There were so many people jostling for position, I had to be careful because my balance is off with E on my back and the last thing I needed to do was fall off a boulder. I tried taking a Panorama from the Falls to the river, but for some reason some of the pictures didn't take, so there are more gaps than normal:




We decided to beat the rush and head back up the steps. Very tiring! Then there was a sign for an upper overlook; that involved a huge amount of steps that took us to an old CCC shelter. It had a nice view, but probably wasn't worth the climb.

It was nice and peaceful up there, until suddenly all 30 members of the hiking club marched by. It turns out the trail didn't go any further so they all marched back going the other way a short time later.

We returned back the way we came. Here's a view looking at the falls from a distance: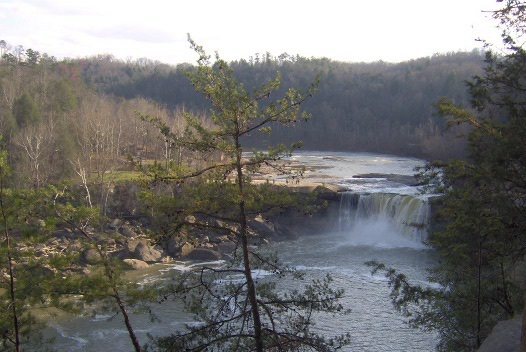 A GPS track, but due to rock shelters the satellite signal was never that great: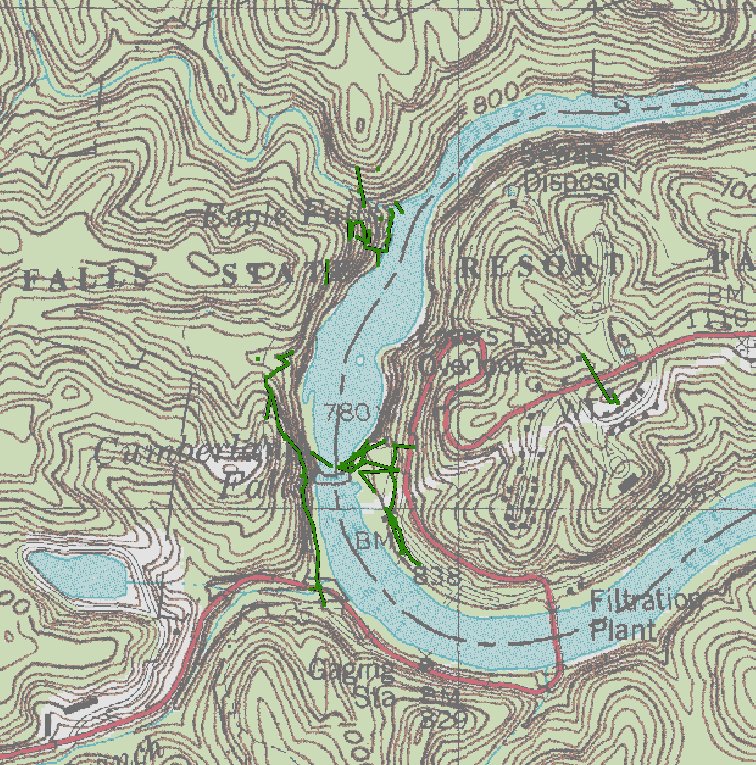 It still wasn't dark, so we drove up to the Lodge way up on the hill overlooking the park and found a playground. (The Lodge was named for a DuPont. Surely we thought it couldn't be a Delaware DuPont way out here, but it was). The swings kept E entertained for a while: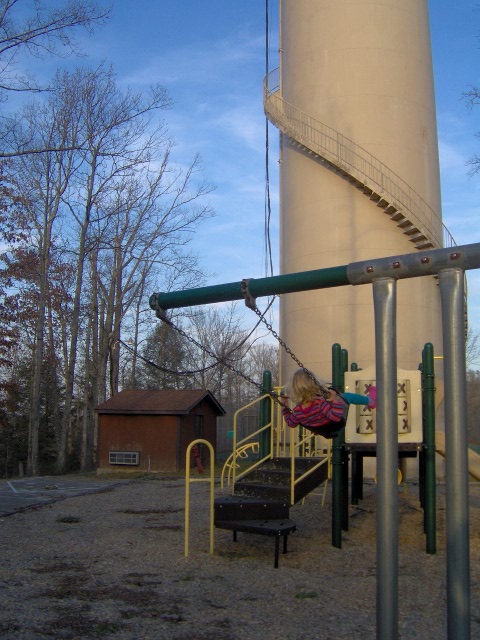 Then we drove back to the park to secure a parking spot and we ate a picnic supper.

Finally it was getting dark! We killed some time in the gift shop they had there, it was full of local Kentucky crafts. I bought an Ale81 (pronounced "A-late-one") soda and some postcards.

Finally we stumbled out to the falls in the dark, and jockeyed for position amidst what appeared to be a sorority outing. It was suprsingly crowded considering we were in the middle-of-nowhere Kentucky in late November and the campground was closed.

As predicted, at 6:30PM the Full moon cleared the ridge: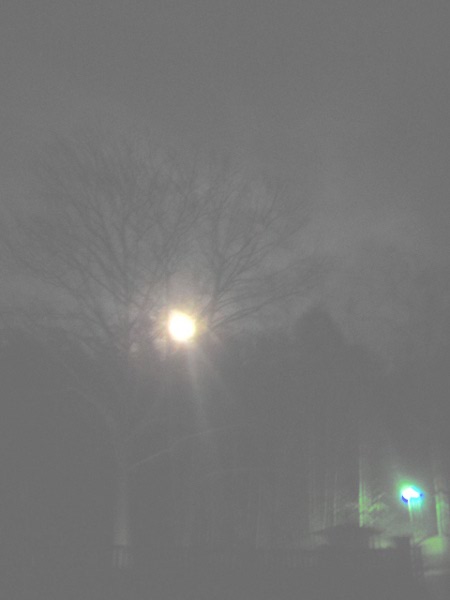 And there it was! The moonbow! Well, there was a faint white arc of light that faded in and out as the spray from the falls blew in the wind.

It was too dark for my camera to get a good picture; here's the view after cranking up the brightness and contrast after the fact. It's the thin faint white arc to the right: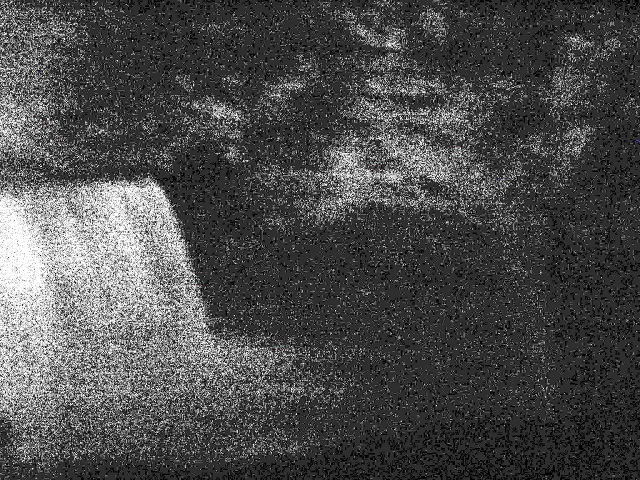 Again, this time without the falls: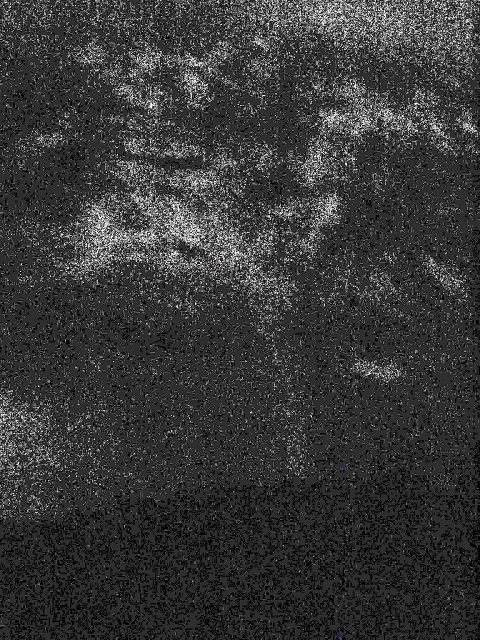 If you have a good camera and set it for a 5-minute exposure then you get something like this (I stole it from the website of those hikers we saw earlier):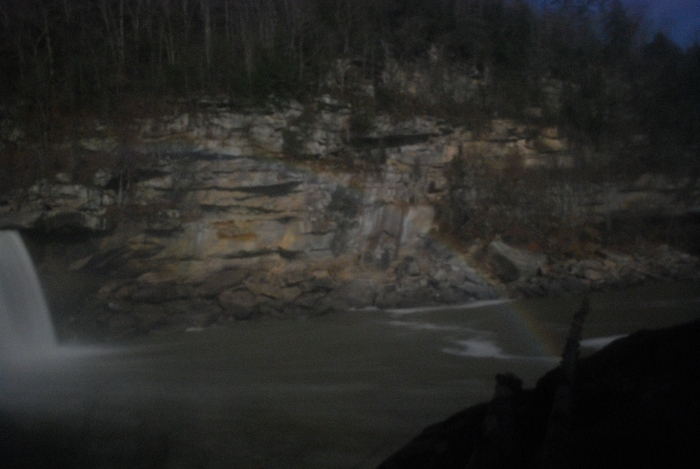 We watched the moonbow for 15 minutes or so, decided it was cold and dark and that we should head home. We had fun though! We're lucky we saw a moonbow on the first try, apparently it's very hit or miss with the weather and clouds.

(A note on the moonbow. Many people ask, why is it special? To get a moonbow you need a clear sky, a mostly-full moon, the moon has to be less than 44° above the horizon, you need a lot of water spray, and a place you can stand where your back is to the moon. Cumberland Falls is famous for meeting all of these conditions every month. I'm not sure why other places don't. Other famous locales for moonbows are Yosemite Falls in California and Victoria Falls in Africa).
---
Before Thanksgiving K&E went to the Fantasy of Trees.



Of course we live in East Tennessee, the land of Orange and White Christmas trees: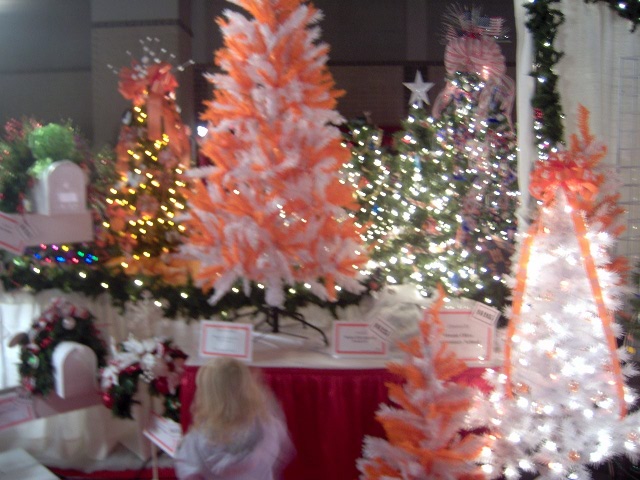 They had many gingerbread houses, including one that looks like the upside-down house in Pigeon Forge: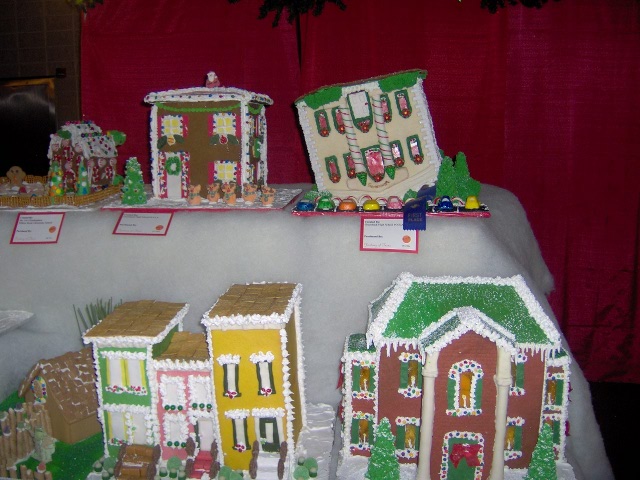 We spent Thanksgiving in Maryland, first at my parent's place in Joppatowne and then at K's sister's place in Baltimore. My brother brought his Wii, so we wasted a lot of time on that.

Kevin and I played all of Bubble Bobble. It took us nearly 4 hours to beat the final boss, here's the final screen proving we beat it; K objects that apparently the goal of the game was to save our 'lovers'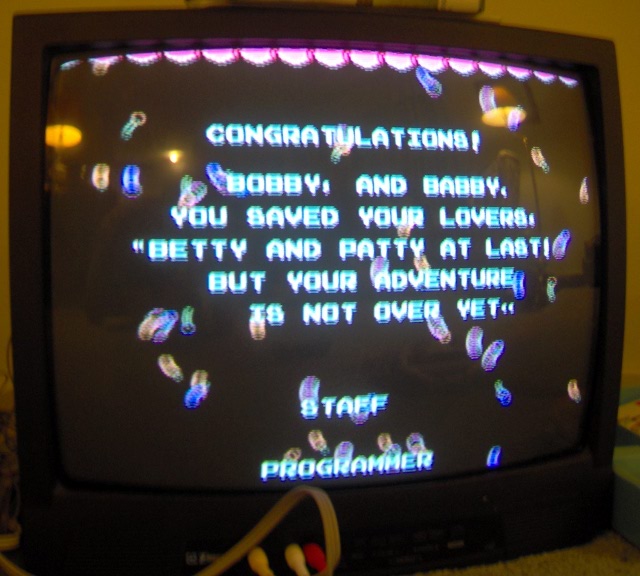 We celebrated second Thanksgiving in Little Italy. You can just barely see the Baltimore shot tower from out of her window.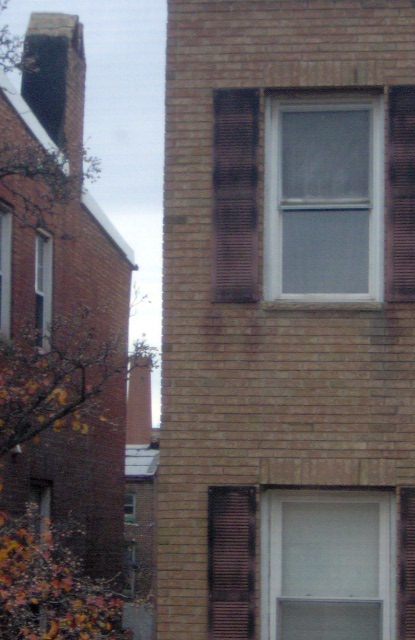 Saturday we drove up to northern Baltimore county to get Christmas trees. One of them traveled the whole way back to Massachusetts; apparently that's the only way they can get white pines.

Here's a picture of the Baltimore Inner Harbor taken from atop Federal Hill.




On Sunday morning we woke at 4am (ugh). As you can imagine there was not much traffic that early in the morning. We stopped in Central Virginia at Crabtree Falls. These falls are supposedly the highest cascading falls in the Eastern U.S.

Here we are starting at the bottom (note: no, the fence rails aren't actually broken up like that):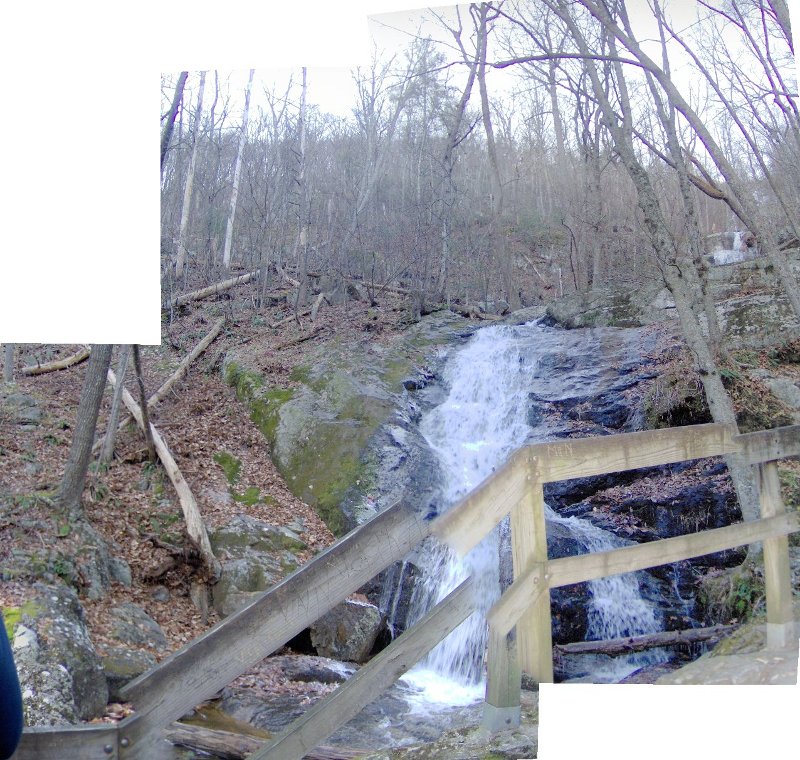 We went up some steps and there were yet more falls: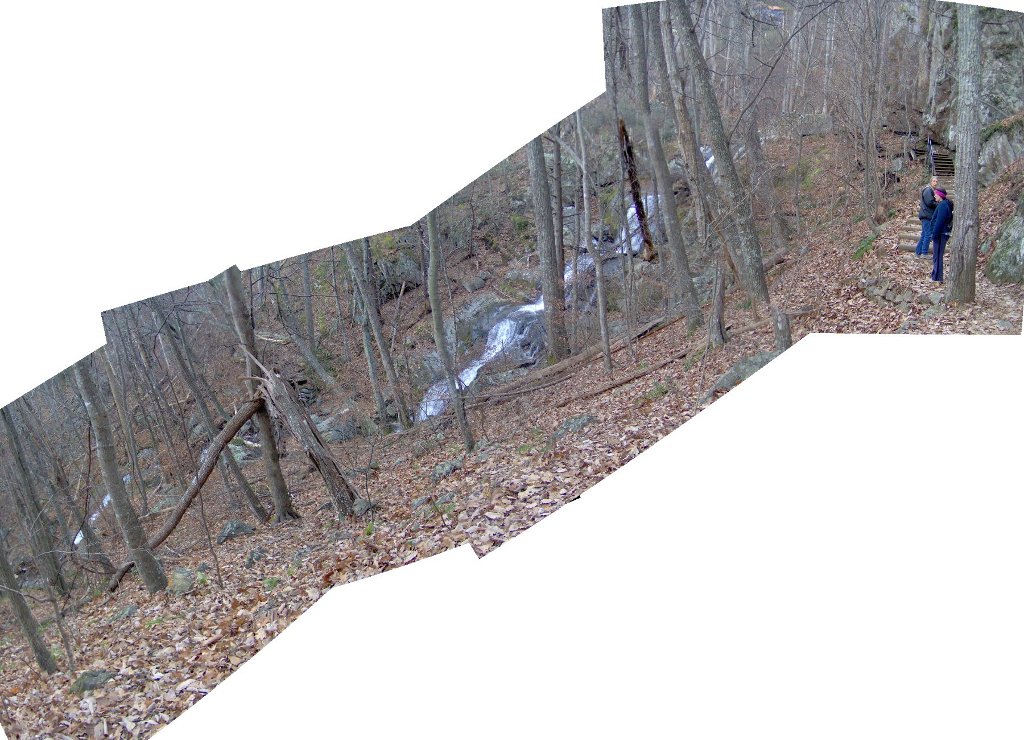 More switchbacks, leading to more waterfalls: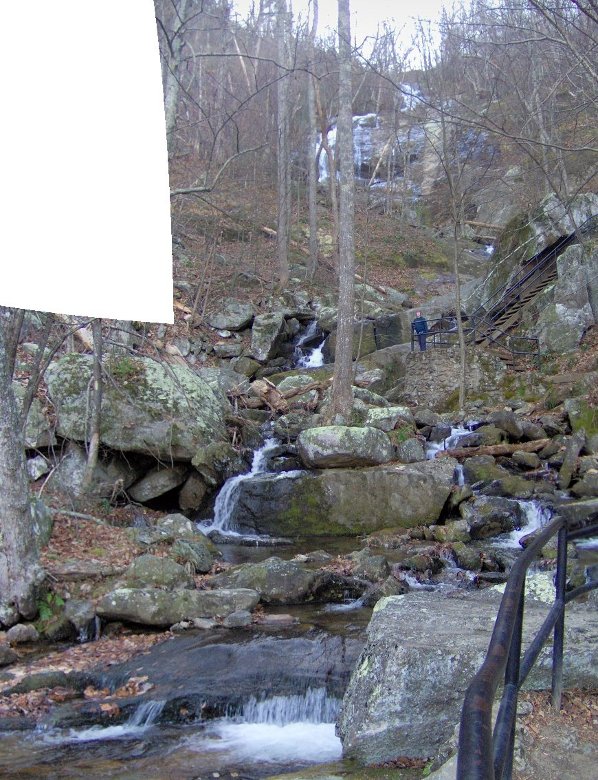 Along the trail were Needle Ice, which apparently form when the ground is above freezing but the air is below freezing.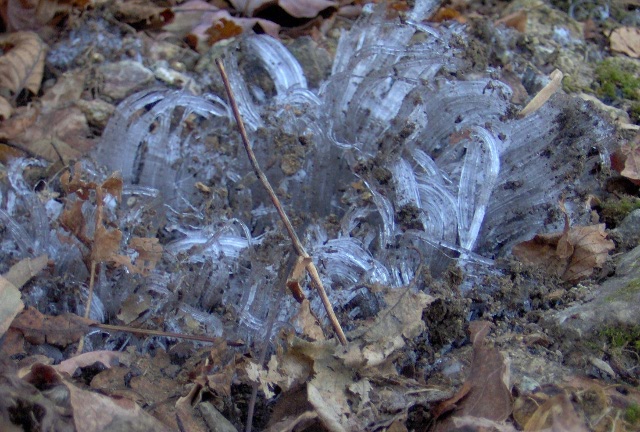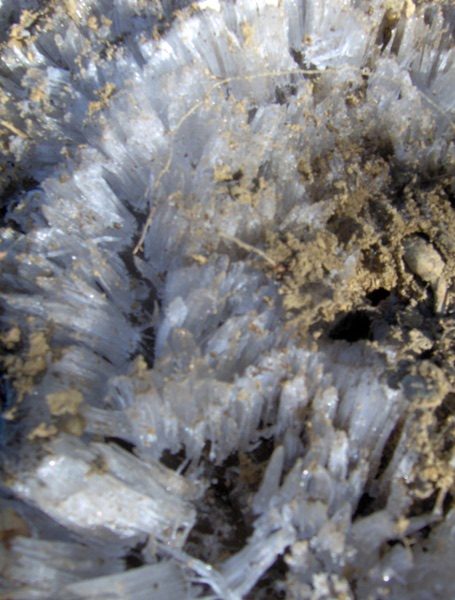 Yet another cascade: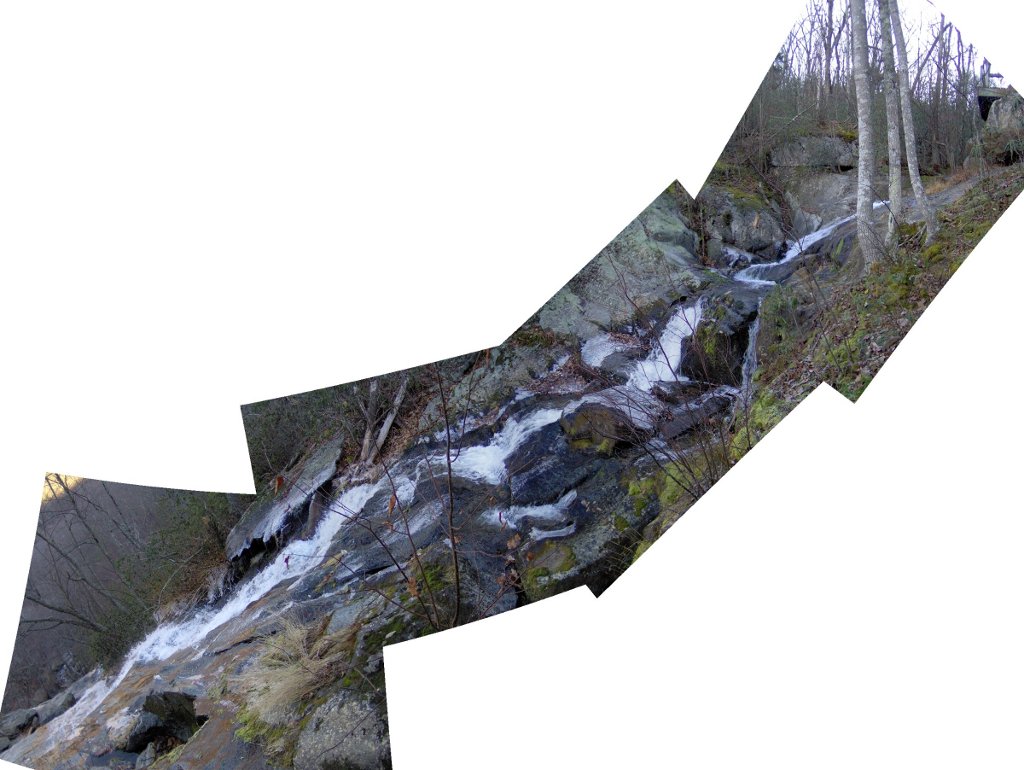 Believe it or not I had two more panoramas but I left them out because they are probably starting to get boring: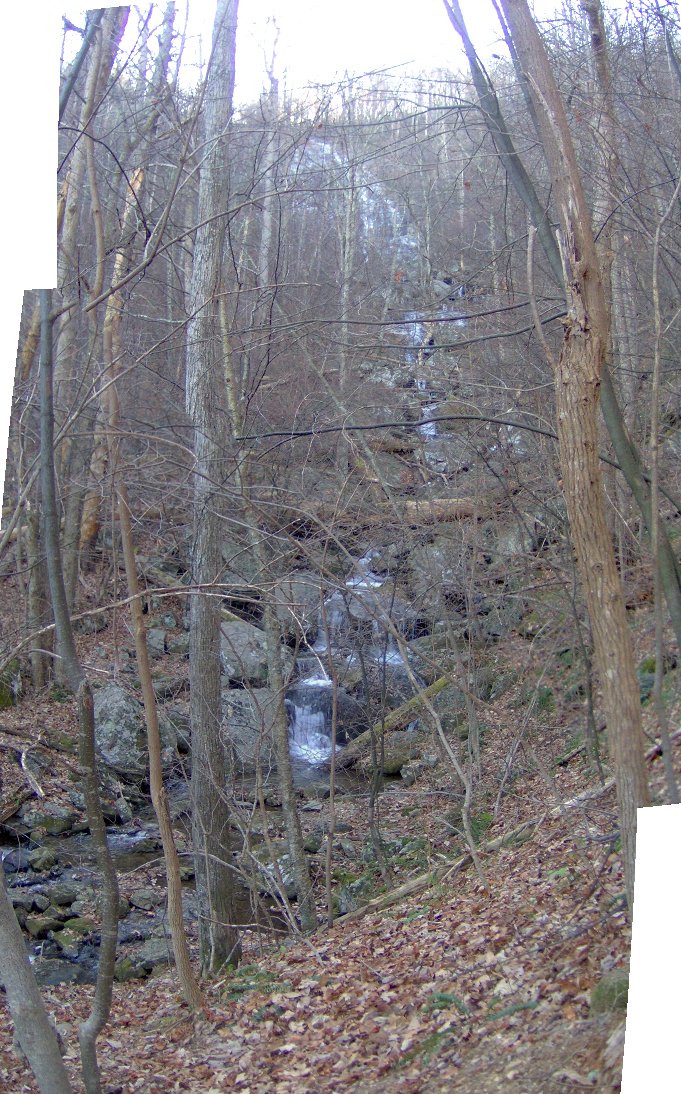 Finally we made it to the top! K said she'd eat her socks if there were any more falls (much to E's alarm ["We don't eat socks!"]). There was a small waist-high falls above this, but we decided to take a pass on the sock-eating.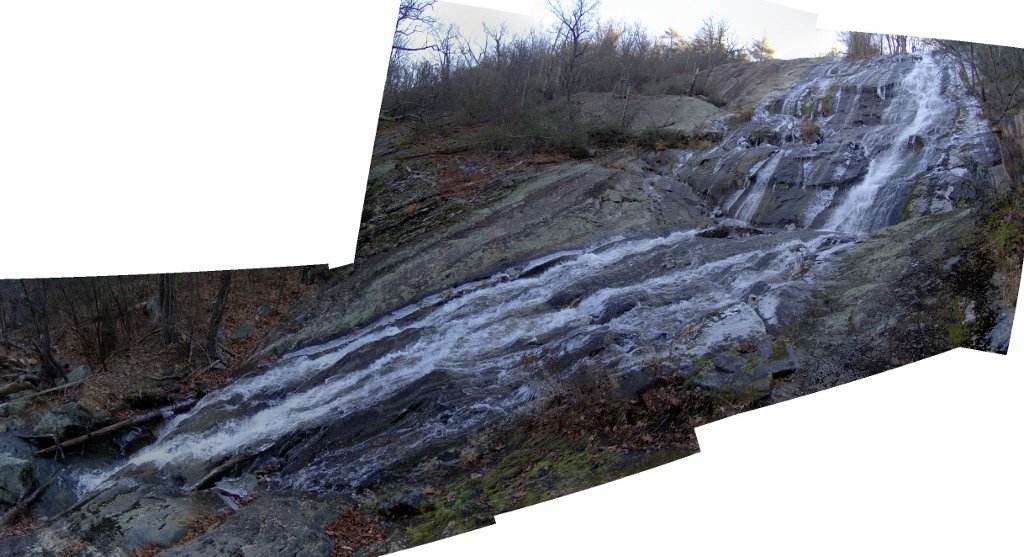 These falls can be dangerous if you stray from the main trail; 27 people have died here, including someone who fell from the top just last week.

Here's the GPS track. Due to the steep nature of the trail I left the GPS receiver attached to the backpack, which meant we didn't get a very good track. I'm not sure why the streams on either side of this one don't have large waterfalls too: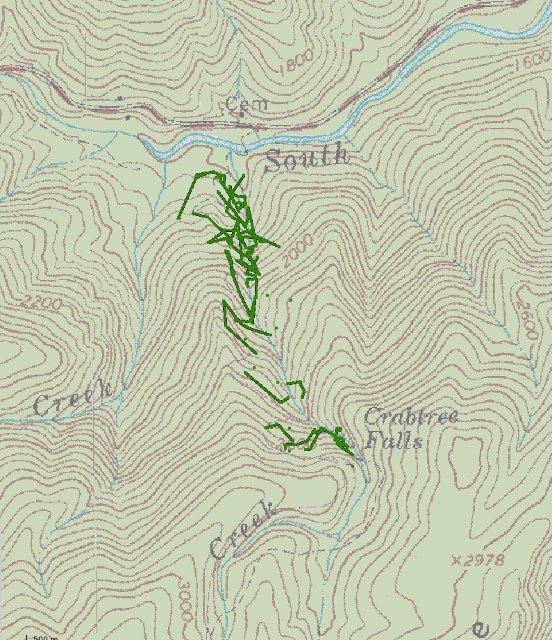 We walked around a bit at the top, and then returned the way we came.


---
Back to pictures page