Florida, Late April 2005
---
Kristina and I traveled to Florida to see her friend Jen's wedding.
Day 1
Getting there was a bit of an adventure. After ECE572 I had to run to pick up my take-home test for ECE696 (yes, I had to do it while in Florida) then rush to my apartment and then drive to Maryland. Luckily I made good time, arriving around 6pm. Kristina and I quickly ate and rushed to my parent's house, who drove us to BWI.

Sadly, I had to leave my swiss army knife behind. I was hoping no MacGyver-like adventures would happen that would require it.

We cleared security and our flight was uneventful. Southwest has much better snacks than Delta. We arrived at 11pm to an airport devoid of people except for those in front of us in the long line at the rental car counter. We eventually got to the front, and then answered correctly the extremely detailed (and nosy) series of questions. Off in search of a car, only to find none in the lot! Luckily someone dropped off a compact car and we grabbed it before anyone else could, a Chevy Cobalt.

By now it was quite late, so we went to the hotel (paying $.75 to drive one exit to get there) and fell asleep.
Day 2
We slept in a bit, and then decided to see a few sights in the area. We first found our way to Winter Park. It has a very pretty park downtown by the train tracks. We went to the Morse Museum to see the Tiffany glass. Lots of amazing glasswork there.

Next we went to Blue Spring State Park. There is a huge spring there that gushes from a crack in the limestone at the bottom of the riverbed. You can swim or tube down the fast-moving river, which we did. But first we ate lunch (from an elusive Subway that took much driving to find) and Kristina had to grill me on all kinds of wedding trivia. I tried to take a picture of the stream, but my camera had issues: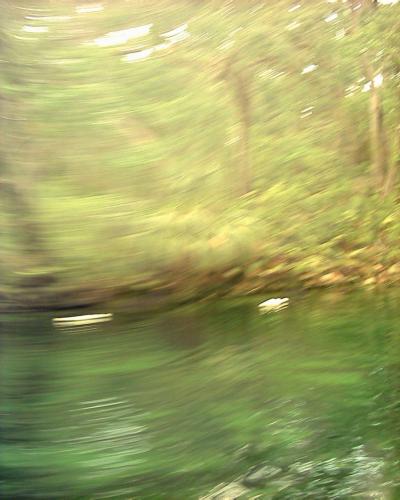 After that we took some back roads and headed for our final destination, Cocoa Beach. We checked into the Motel 6 there, which was only a block away from the ocean. It was an OK place, although the first night a noisy bunch of high-school kids was staying in the room next door. We got some food and bought some beach implements, and went for a twilight walk on the beach.
Day 3
Saturday was the day of the wedding. We got up and drove to the Kennedy Space Center. It was easy enough to find, and they actually had special signs up pointing the way. The wedding was at 11am in the Rocket Garden, and luckily I thought to put on sunscreen because it was very sunny.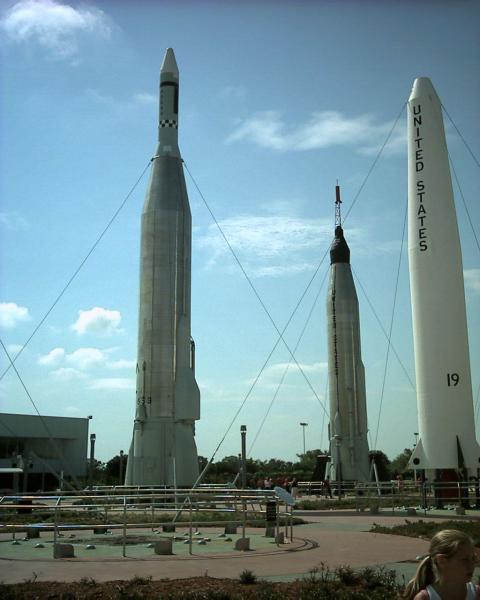 Kristina and I had time to look at all the sights, and I attempted to bore her with obscure rocket knowledge. (I was even wearing my NASA tie, but no one noticed). Here is a Saturn IB rocket:



The ceremony was nice. Kristina was annoyed I didn't take more pictures. Here's one of the bride and groom.


We got a chance to poke around the exhibits before the reception started. In the 10 or so years since I'd been there last, the visitor's center had been privatized. It is now more of a very expensive theme park than a science museum. Soon the reception began, and it went well. The NASA employees seemed a bit ill at ease; apparently this was the first ever wedding there.

Just as things ended a front went through. This is the one that brought April snow to Detroit and Cleveland; in Florida it just brought 70s temperatures, rain and wind. Luckily everyone managed to leave before the rain became too heavy. Kristina and I returned to the Hotel, and I got to work on my 696 take home test.
Day 4
This day was a day to do beach things. So after going to church (where we were practically the only people under 60) we went to the beach. I put on plenty of sunblock, but still managed to get burnt in spots, most annoyingly on my feet. Here is a picture of what the beach looked like: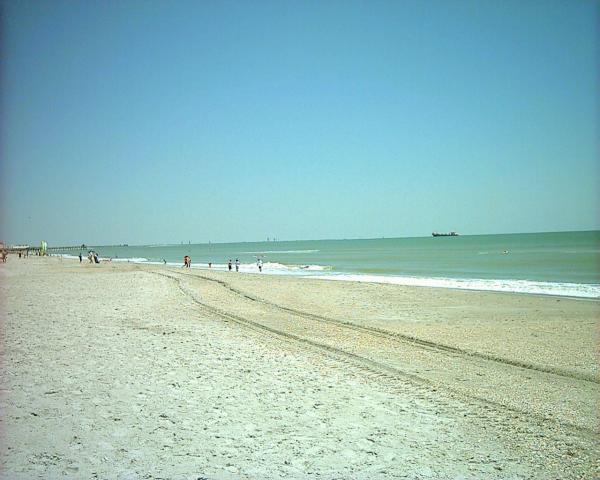 The ship at sea was doing beach replenishment work. There was some debate as if the towers on the horizon were related to the Port Canaveral ship terminal, or rather were launchpads at the space center. The space shuttle Discovery was on the pad for the return-to-space mission, so it's a shame I didn't have binoculars to see.

We used a big shovel and sand castle mold we had bought earlier to build some sand castles. First we built one way inland: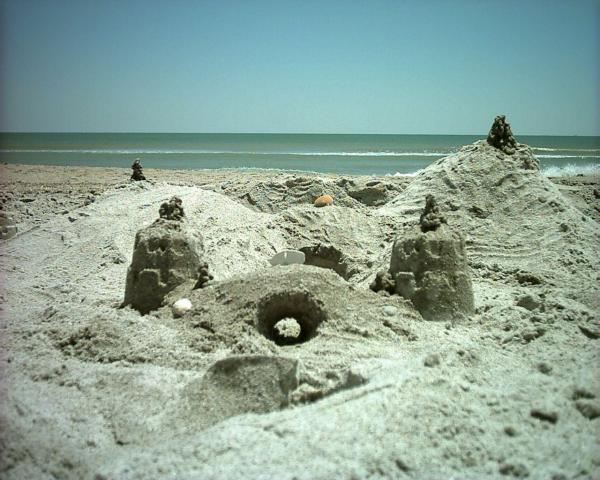 We then built a less pretty one right near the water, and fortified it with walls and moats in an attempt to keep it from washing away. The tide took forever to turn, so we were there most of the day waiting for the castle to meet its demise.

In the evening we went to a fancy restaurant, though neither of us was brave enough to order Alligator from the menu. We went mini-golfing, and then sadly it was time to call it a night. I had to finish the ECE696 exam.
Day 5
We woke early and checked out and drove back to Orlando. We made fantastic time and got to the airport early. Our beach-shovel was too big to fit in our luggage, so we got to annoy the southwest people by checking it. The flight home was fun, we had a window seat and got to plot our course across Georgia and the Carolinas. We made it in to Baltimore early, and eventually found my parents. But sadly we had to rush back to Joppatowne, and then rush back to Abingdon to get Susie the guinea pig, and then I had to rush back to Ithaca so I could go to class the next day. And thus ended the Florida adventures.

Here are a few more (password protected) pictures of Kristina and I.
---
Back to the pictures page