Exploits of the 1994-1996 John Carroll It's Academic Team
---
Starring:
Captain Steve D, Vince W, and John C - Class of 1996
Gus T, Brighid T - Class of 1997
Marie P - Class of 1998
Many others
---
Many hours were spent practicing in the Math Room: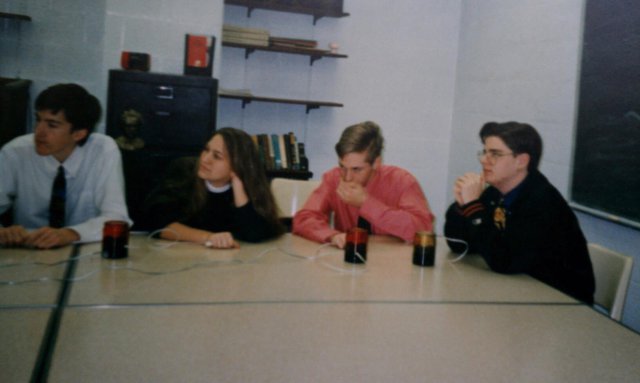 ---
The actual exploits:
Two-time champions of the Bel Air Invitational Tournament (1994, 1995)
Team "I-1" won overall best team at the Baltimore Archdioescean Math Competition (with Scott D) (1996)
Made it to the final match of the Harford County Tournament, losing both times by a narrow margin (1995, 1996).

After losing once in the 1995-1996 Data Race competition (Essex Community College / Baltimore County Public Access Cable), we won the entire loser's bracket, won the loser/winner game, but then narrowly lost the very final match to Perry Hall (1996).



Here is the actual diagram that Captain Steve made up to encourage us after we lost the first round of double elimination.
To balance that out, here are some competitions we didn't really do that great at:
The It's Academic TV show (Baltimore WJZ). Made it to the second round in 1994-1995 but lost in the first round in 1995-1996.
Johns Hopkins Tournament
University of Maryland Tournament (grr, two-name schools)
Overlea
Catholic League Competition
Knowledge Masters Open (KMO)
---
Always remember Reyerson's Rule: "Any given team can be beaten on any given day."